Short of sounding like a rep from the tourism board, Puerto Rico really is one of those special places where you can do, get, or experience almost anything. And that's not even a wink, wink "anything". Ok, maybe a little bit. From brilliant white sand beaches, to lush rain forests, to one of the world's largest underground cave systems, this no-passport-required US island territory of 3.6 million blends its natural wonders with a rich history, culture, and the Caribbean's only ice skating rink (!!!). A one-stop vacation paradise, Puerto Rico is -- like your girlfriend sophomore year -- sexy, no-strings-attached, and always ready to party.
When to go: While one might argue any time is a great time to be in Puerto Rico, the San Sebastian Festival in January is ideal if you like Mardi Gras. Noche de San Juan (which goes down in June) is another epic event that brings virtually the entire island to the beach for an all-night party.
How to get around: Puerto Rico's roads are on-par with the US, and renting a car is easy if you're eager to explore the island.
Traveler's tip #1: Taxi fares are regulated from the airport to the tourist zones; don't fall for a sketchy cabbie who tries to run the meter for a simple trip to Isla Verde, Condado, or Old San Juan.
Traveler's tip #2: Assuming you left your Rockport Prowalkers at home, your feet are bound to get tired strolling about Old San Juan. Do yourself a favor and duck into Anam for relief; it's a combo day spa and bar (!!) located at the far end of Cristo Street, next to the tiny Chapel of Christ the Savior.
Dining: Salty, fried, and full of flavor is how most Puerto Rican cuisine used to be described; a modern wave of inventive local chefs, however, has changed the landscape of cocina criolla (the term used to describe PR's cooking style), melding more American and European techniques to add a new dimension to fine dining. The Parrot Club, Toro Salao, Aquaviva, Augusto's, and Pikayo are just a few of the restaurants successfully blending old and new. For more traditional fare, La Fonda de Frank and La Mallorquina have been at it for years -- you can't go wrong with either. Finally, if you want to keep things simple, go for the arroz con pollo at Orozco's in the Condado district, or a Tripleta, a hearty sandwich made with, you guessed it, three meats: ham, chicken, and beef.
Local brews: While Medalla Light's the country's most ubiquitous beer (and you're likely to drink a lot of it), try Magna Special Craft. It debuted two years ago from the same brewery (Compañía Cervecera de Puerto Rico), and is billed as PR's first premium lager.
Nightlife: Locals and visitors alike agree that San Juan's best nightlife is actually found in the lobbies of the city's top hotels. The El San Juan, La Concha, the Caribe Hilton, and even the San Juan Marriott all boast lively lobby bars that spill into connected casinos and nightclubs. Party goers come dressed to impress, and it's not uncommon to spy international celebrities hob-knobbing with the crowd.
Over in Old San Juan, on the other hand, the scene is more laid back and gets quieter the further north you venture from the cruise port. La Sombrilla Rosa is a solid find, particularly on Thursday nights when they have live reggae. Be sure to stop in at Maria's to try her lethal signature cocktail, La Nota.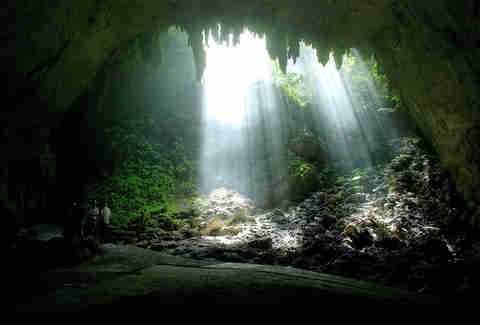 Activities:
Eco-adventure at Toro Verde: You could spend an entire day testing your physical prowess at this eco-adventure park; zip lines, rocks to climb, suspension bridges, and waterfalls to rappel are all within an hour's drive from San Juan.
Bioluminescent Bay in La Parguera: Arguably the best of Puerto Rico's three bio bays can be found in the sleepy fishing village of La Parguera, which comes to life on the weekends when San Juaneros flee the big city for some fishing and fun. Naturally, you'll want to visit on a dark, moonless night, but for the best experience, try hiring a local fisherman with a small boat to take you out instead of joining a group tour boat.
Explore the Rio Camuy Caves: No visit to Puerto Rico is complete without experiencing the wonder of the third-largest underground cave system in the world. There are more than 220 known caves in this 268-acre park (with an estimated 800 or so still to be discovered!), and its size and supreme beauty will straight up blow your mind.
Where to stay: There's no shortage of places to crash in San Juan, it just depends on what you're looking for. In town to party? In that case, the Beach House is your move: it's basic and "in the sand" (literally, on the beach), but hosts some of the city's hottest weekly throw-downs. At the opposite end of the swank spectrum (not spank! Come on, focus), the stylish La Concha Resort is all the rage for dinner, drinking, and late-night revelry.
Or maybe you're an eclectic, artsy type, in which case the Gallery Inn, Old San Juan, is probably more your scene. This one-time studio of renowned artist Jan D'Esopo was transformed into a funky hotel that boasts an array of whimsical art and a roof deck that lays claim to being the highest point in the old city.
Steve Bennett is the Editorial Director of UncommonCaribbean.com.