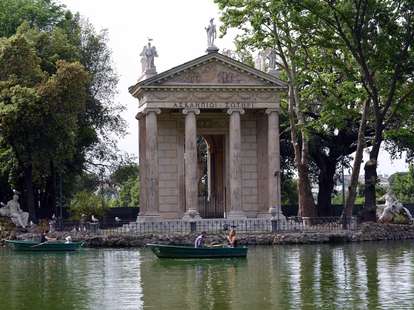 With a backdrop that's essentially one giant, open-air museum, there are plenty of ways to take advantage of Rome while sticking to a serious budget. Here are 32 things to do in the Eternal City for €10 or less.
1. Enjoy the happiest of hours with an aperitivo
Various locations
Price: €5-€10
Romans don't typically booze on an empty stomach, so most bars and restaurants host happy hours (aperitivo) that offer a cocktail to "open the appetite" but really focus on food from 6-8pm. You can easily eat enough to forget about dinner by finding a bar that includes unlimited grazing with your drink order. Standout crowd favorites are Doppiozeroo and Freni e Frizioni.
2. Get creeped out at the Capuchin crypt
Via Vittorio Veneto, 27
Price: €6
The bones of 4,000 friars fill six small rooms in the crypt of the Church of Our Lady of the Conception of the Capuchins (Santa Maria della Concezione dei Cappuccini). Seventeenth-century Capuchin monks created altars and chandeliers from ribcages and femurs, and the result is both disturbing and beautiful. Perfect for a Saturday afternoon!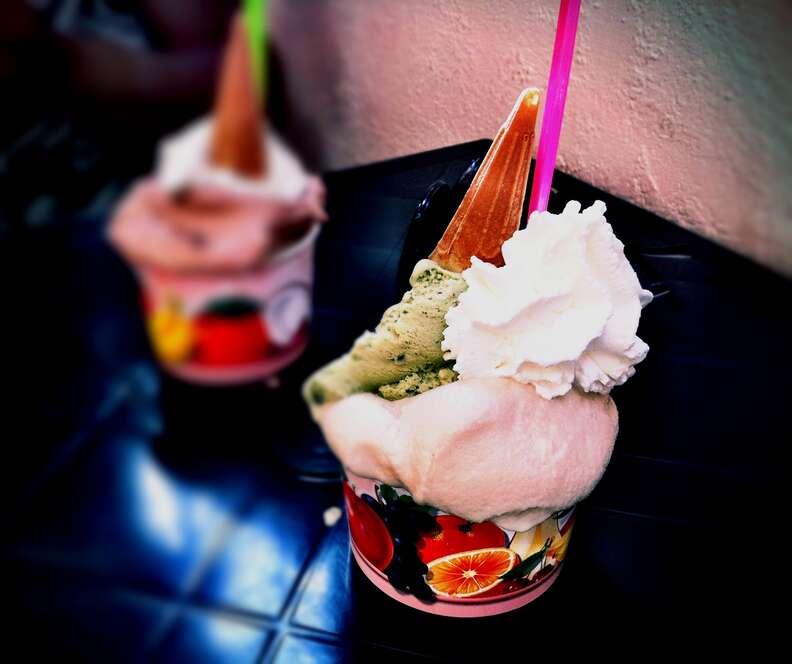 3. Indulge in a scoop (or three) of gelato
Various locations
Price: €2-€5
Rome's version of a cheap date night is a passeggiata (a sunset stroll) and a scoop of gelato. The sweet treat won't set you back much, so splurge on a large cone with three to four flavors from Fatamorgana, or go for chocolate nirvana at Frigidarium.
Via Appia Antica 58/60
Price: €3/hour
The Appian Way was once the most strategic road in ancient Rome because it allowed the military to deploy quickly and efficiently. Today, the road is shadowed by pines and dotted with both modern villas and ancient ruins. Rent a bike to explore the nearby countryside, and ride without having to worry about getting clipped by a Vespa.
Via di Benedetta, 25
Price: €3-€5
The name is a mouthful but this pub is the liveliest (and tiniest) place to sample Italian craft beers. It translates to "but what did you come here to do?" Drink beer. Drink plenty of Italian craft beer out on the street. That's what.
6. Get cultured at church
Piazza del Popolo, 12
Price: Free
No need to visit a museum to see world-class art, because many of the best-known Renaissance painters were commissioned to create pieces for various churches in Rome. Case in point: two incredible Caravaggio paintings are hanging in the east altar of Santa Maria del Popolo.
7. Rent a rowboat in Villa Borghese
Villa Borghese
Price: €3 per person/20 minutes
Take a rowboat out on Rome's most adorable lake, the laghetto in Villa Borghese. Twenty minutes is plenty of time to paddle past the temples and statues while admiring the park from the water.
Via del Gonfalone 29
Price: €2
Just off of one of the most exclusive streets in the city, you can find Rome's crime museum housed in a former prison. For a couple of euro you can peruse an eclectic mix of medieval torture devices and slightly more modern prison shanks.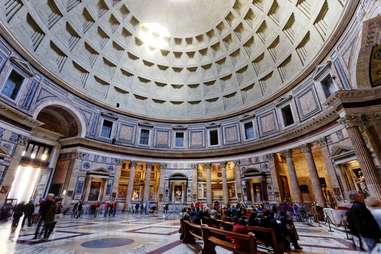 9. Pay homage to the Pantheon
Piazza della Rotonda
Price: Free
Originally built as a home for Roman gods, the circular building is now a functioning Catholic church. While the free-standing dome and oculus are the most famous attractions, walk the perimeter to find the tomb of painter Raphael.
10. Visit the Trevi Fountain at night
Piazza di Trevi
Price: Free
The Pantheon closes after sunset but the Trevi Fountain is always open. Recently restored, it's most impressive at night when the crowds die down and the massive facade is lit from all sides.
Piazza Sant'Eustachio, 82
Price: €1.50
Pay first and take your receipt to the barista, then sip a perfect cappuccino at the bar of this historic café. Be wary of different prices at the outdoor tables, and instead enjoy your coffee while standing like a local.
Vicolo del Gallo, 14
Price: €3.50
The bustling market outside its door is slowly being taken over by tourist knickknacks, but Forno Campo de' Fiori remains a traditional bakery. Stop by for pizza bianca -- a white pizza bread stuffed with seasonal pickings like prosciutto and figs.
13. Get romantic as you gaze at St. Valentine's skull
Piazza della Bocca della Verità, 18
Price: Free
Rather than waiting in line to stick your hand in the Mouth of Truth, walk straight into the church behind the famous portico. Here you will find a mishmash of ancient architectural styles, as well as the skull of St. Valentine nestled on a small altar and decked with a garland of flowers.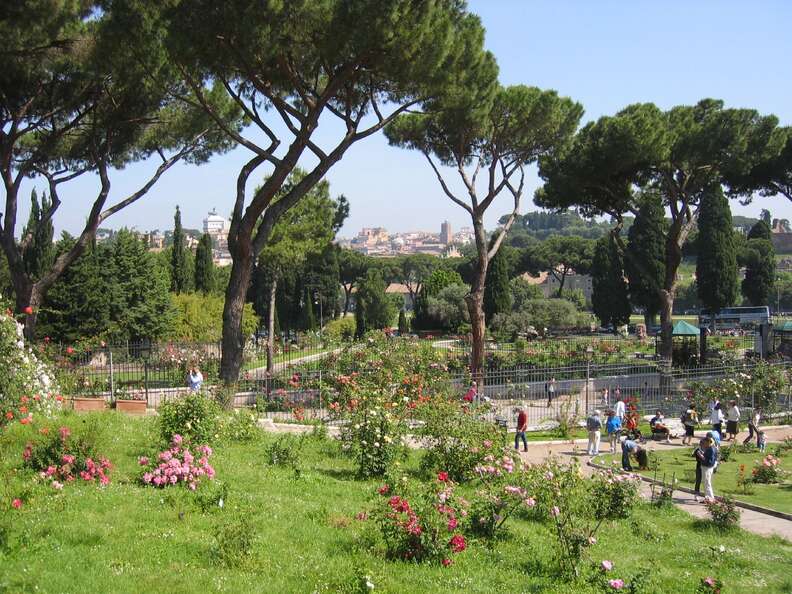 Via di Valle Murcia, 6
Price: Free
Rome's public rose garden is open for a few months a year when the blooms are at their peak. Take a quick stroll around the grounds as you gaze down at Circus Maximus and the Palatine Hill.
15. Play foosball by the river in summer
Lungotevere
Price: €3
The concept of air conditioning is still treated with skepticism in the Italian capital, and when the heat of summer sets in, the bars simply move down to the river. Along the Tiber you can find tents serving beer, entertainment, and plenty of places to play calcio balilla -- aka foosball -- for just a few euro.
Vicolo de Cinque, 11A
Price: €4
Naughty cocktail names? Staff skilled in innuendo? Shot glasses made of chocolate? Check. Check. Check. Pro tip: don't hesitate -- take it all at once.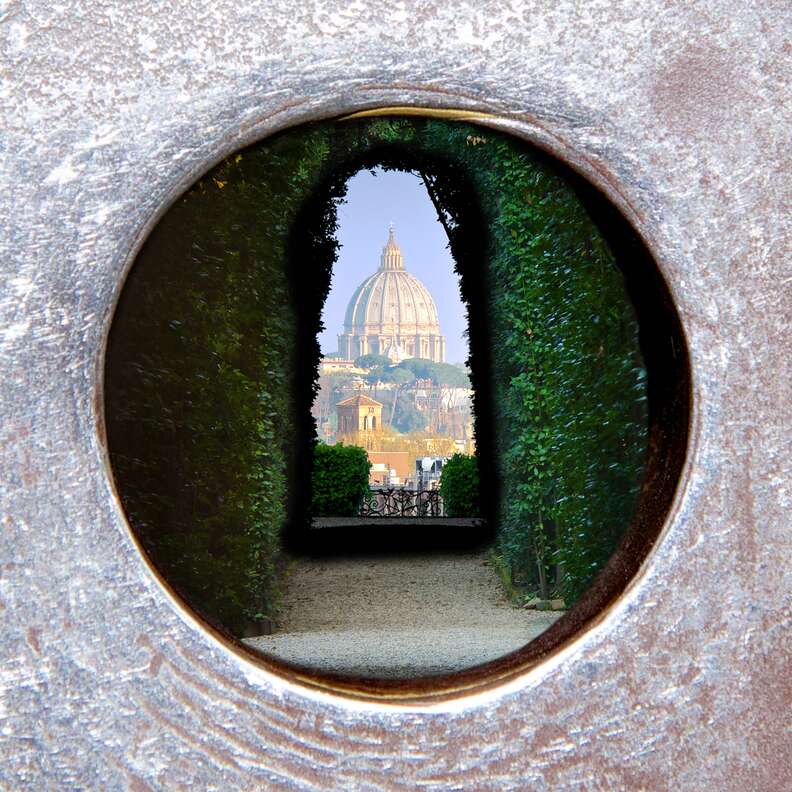 17. Peep St. Peter's through the keyhole
Piazza dei Cavalieri di Malta, 3
Price: Free
Climb the Aventine Hill anytime, day or night, and look for the green door on the outside of the Priory of the Knights of Malta. Lean down to gaze through the gate's keyhole and you'll be playing peek-a-boo with St. Peter's: the dome is perfectly framed by the priory's manicured hedges.
Via di Santa Sabina
Price: Free
Just beyond Rome's keyhole, you can put up your feet and sit in the shade of orange trees in the Giardino degli Aranci. The park has a stunning terrace that looks out over the river and towards the Vatican.
Via San Francesco a Ripa 100/101
Price: €5 for a drink
Every Monday you can watch the brave (angry?) souls who let it all out at Lettere Caffe's slam-poetry night. Order a beer, settle in, and listen to the original works.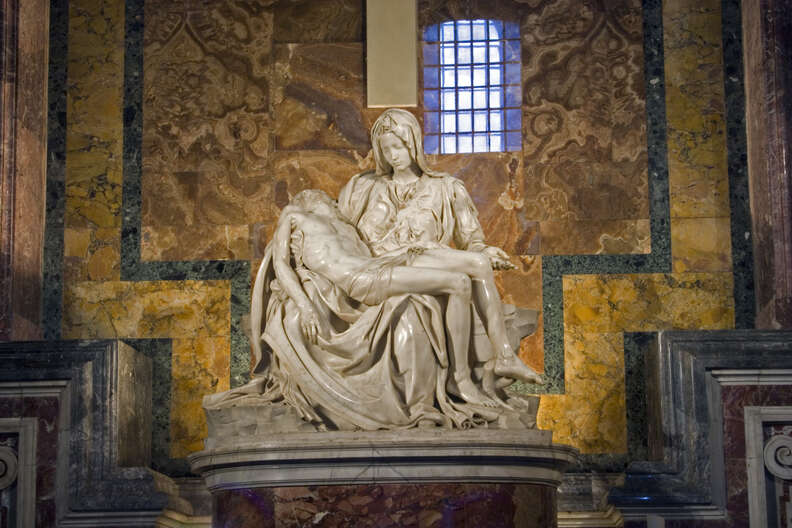 Piazza San Pietro
Price: Free
The Vatican Museums charge entry, but you can find some impressive artistic wonders in St. Peter's Basilica for free. The church is home to Michelangelo's Pietà, a marble statue of Mary holding the baby Jesus. Keep in mind that Michelangelo completed the sculpture when he was 24 years old… so no pressure while you use the quiet church time to contemplate your life choices.
Piazza San Pietro
Price: €5 (€7 if you use the elevator to skip half the steps)
Once you've seen the Basilica, find the portico and buy a ticket to climb to the cupola. The first set of steps will lead you to the base of the dome where you can admire the decorative mosaics up close (or you can cheat and take the elevator to this point). Climbing 320 more steps up a spiral staircase takes you outside for a panoramic view of Rome from the city's highest point.
Via dei Banchi Vecchi, 14
Price: €4-€7
This cozy enoteca in the center of Rome offers a rotating selection of wines by the glass from 60 Italian producers. Take your pick and sit on the steps outside to savor your wine while taking in the scenery. If you get peckish, find Supplizio a few doors down and sample some traditional Roman street food.
23. Stuff yourself with pizza
Various locations
Price: €5-€10
Sharing pizza is simply not done in Rome. The massive disks are cracker thin, so you can (and will) eat the whole thing yourself. Traditional pizzerias like Ai Marmi or Da Remo charge a maximum of €10 for even their most gourmet homemade pies.
24. Jog in Circo Massimo
Via del Circo Massimo
Price: Free
Work off the pizza and pasta you've been inhaling with a quick run around Circo Massimo (Circus Maximus). The rounded theater once hosted ancient chariot races but is now a free park… except when the Boss is in town.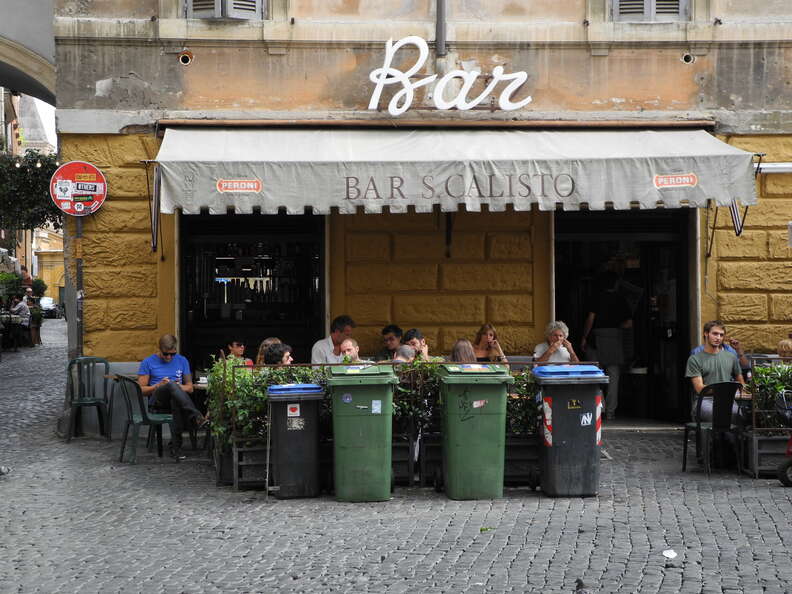 25. Drink beer with the locals at Bar San Calisto
Piazza di San Calisto, 4
Price: €2.50 for a large Peroni
Bar San Calisto is just the right kind of grungy, and cheap beer makes it popular with local art-school kids. The trick to enjoying the real atmosphere is to find an empty table outside and listen to neighborhood philosophers and wandering opera singers while you down your Peroni.
26. Admire the crazy architecture in Coppedè
Piazza Mincio
Price: Free
Outdoor chandeliers, Dr. Seuss-like houses, and fountains decorated with frogs define the characteristic neighborhood of Coppedè. Get a break from the Renaissance architecture of the rest of Rome by finding this hidden corner of the city.
27. BYOB to Piazza della Madonna dei Monti
Piazza della Madonna dei Monti
Price: Depends on your drink of choice
Every night, penny-pinchers descend on one of Rome's trendiest neighborhoods to drink by the fountain. With open containers legal until 10pm, and lax enforcement meaning that people usually stay much later, it is perfectly acceptable to bring your own booze and join the crowd at Piazza della Madonna dei Monti.
Largo di Torre Argentina
Price: Free, donations welcome
Smack in the middle between a bus stop and a taxi stand, kitties snooze among the ruins on the spot of Caesar's assassination. Humans aren't allowed to walk among the ancient temples, but in the back of the complex is a small cat sanctuary and hospital where you can take a break from the traffic to meet the rescued felines.
Via Panisperna, 101
Price: €5-€10
Most nights of the week, Blackmarket hosts small live gigs. You can catch performers playing everything from jazz to grunge, depending on the lineup. The best part? You can listen to it all for the cost of a single drink.
Via Caio Cestio, 6
Price: €3 suggested donation
Part cat sanctuary, part pyramid, and part graveyard, Rome's non-Catholic cemetery has a bit of everything. Best known as the final resting place of English poets Keats and Shelley, the working cemetery near Testaccio is strangely appealing. You can wander the rows of tombstones or sit on the bench in the shade of the Pyramid of Cestius.
31. Visit Rome's street art "museum" M.U.Ro.
Quadraro
Price: Free
Suck it up and hop on the metro to Rome's periphery neighborhood of Quadraro to wander around M.U.Ro. -- the Urban Art Museum of Rome. The movement was started by artist Diavù, and is now comprised of more than 20 murals on different apartment blocks and neighborhood walls. Follow the map and stick to daylight hours.
Piazza Venezia
Price: €2.50
Easy to pick out in Rome's skyline, the large white building beyond the forum is the Altar of the Fatherland -- a monument and museum dedicated to the unification of Italy. While it will cost you €7 to ride the elevator to the top terrace, you can climb to the half-balcony for free. There you will find a great view of the Colosseum, as well as a small café where you can order an iced coffee that is shaken, not stirred.
Sign up here for our daily Thrillist email, and get your fix of the best in food/drink/fun.
Natalie Kennedy ditched the daily grind and moved to Rome in 2010. You can follow more of her excellent life choices @natalierae.