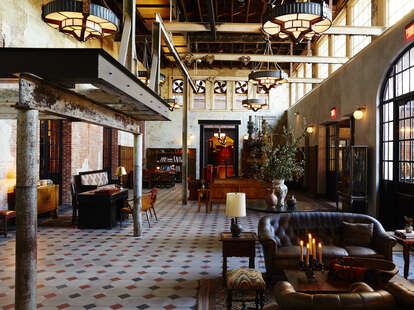 It's a former brewery! It's a hotel! It's both!

| Photo courtesy of Nicole Franzen
It's a former brewery! It's a hotel! It's both!

| Photo courtesy of Nicole Franzen
When you check into San Antonio's Hotel Emma, you're offered your choice of welcome beverage. One option is a Pearl beer, naturally: From 1894 to 2001, the hotel was home to its brewhouse. Designed by Chicago architect and brewery aficionado August Maritzen, the stately building was once the tallest in the city, towering in grandeur, ornate cupolas pointing to the sky.
The Pearl factory was the largest employer in San Antonio until Pabst closed the factory in 2001 and moved production to Fort Worth. But in 2015, the brewhouse was reincarnated as the 146-room, steampunk-chic Hotel Emma. Its stylishly raw interiors were designed by Roman and Williams, known for their adaptive reuse projects like the Ace Hotels, the Chicago Athletic Association, and New York's Highline Hotel.
You can drink your Pearl in the lobby—formerly the factory's engine room—where the original compressors, exhaust pipes, and CO2 tanks co-mingle with supple vintage leather furniture and colorful concrete tiles. Or head to the hotel's Sternewirth Tavern (named after the 19th century Sternewirth Privilege, which entitled brewery workers to free beer during the workday provided they didn't overdo it) where 10,000-gallon fermentation tanks have been split and transformed into cozy banquette seating. And in the Elephant Cellar (named for the trunk-like pipes coming out of the brewing tanks), you'll find bronze chandeliers constructed from repurposed bottle fillers dating to 1940, handcrafted by local metal craftsman Robert Diaz de Leon.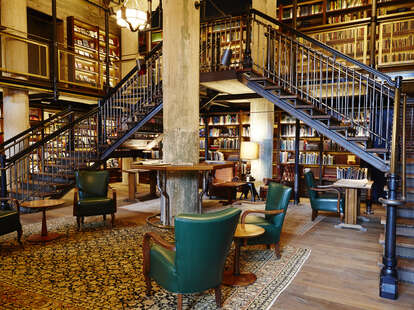 This could be your library (for the length of your stay).

| Photo courtesy of Hotel Emma
This could be your library (for the length of your stay).

| Photo courtesy of Hotel Emma
The hotel's library features two floors of 3,700 literary volumes acquired from Sherry Kafka Wagner, a Harvard Fellow and San Antonio notable. The tomes are a striking backdrop for sipping your second choice of welcome drink: the Three Emmas cocktail.
Named for the wife and two mistresses of the brewery owner Otto Koehler, this is the choice for the folks who like a little drama. Otto, wealthy German immigrant and brazen philanderer, was shot and killed with a .32 revolver in 1914 not by his wife Emma Koehler, or her nurse Emma who he was cheating with, but by a third Emma, also a nurse and also his mistress. (She was acquitted by an all-male jury, married one of the jurors, and they lived together in the house where Otto was shot. Somebody, really, make this movie!)
The Three Emmas cocktail starts with Pearl beer and rose syrup for Emma Koehler, and mixes in sweet sherry for Emma the nurse. "The one he really loved was Emma number two, probably," says Bill Petrella, CEO of the hotel. The third booze gives the cocktail its kick. "It has gin, for the hardcore killer." Add fresh-squeezed grapefruit, lemon juice, and a jaunty sprig of basil. Serve in an etched Nick and Nora glass and toast to Cher, who was a big fan of the background story, apparently.
The day after her husband's death, Emma Koehler took over brewery operations, successfully seeing it through Prohibition when she pivoted to bottling soft drinks, selling ice, and running a dry cleaning and auto repair shop.
Petrella likens her hustle to the lengths it took to keep Hotel Emma open during the pandemic this past year, leaning heavily on the hotel's grocery concept, Larder. "We put that on steroids, selling produce and everything possible—even toilet paper and sundry items," says Petrella. "All the residents of the Pearl community were using us as their grocery store."
Emma Koehler turned the company over to a nephew in 1933, the same year Prohibition was repealed in Texas, but continued to manage it until 1942. She passed away a year later and lives on as the hotel's namesake.
If you or I explored the area around the brewery in the time following its 2001 closure, we would have seen a riverbed run dry, derelict acreage with empty tanks, and asbestos-filled shells of factory buildings. Inside, ashtrays overflowed, cups sat empty on office desks, and clothing still hung eerily in lockers. It was as if the workers were taken by the rapture.
But developer Christopher "Kit" Goldsbury looked at the Pearl complex and saw urban renewal. Bred in San Antonio, he could probably recall a time when everyone knew a brewery worker and residents could snag a beer at the back door. In 2002 Goldsbury—whose fortune is in picante sauce, as the former president of Pace Foods selling the company to Campbell Soup for 1.1 billion—bought Pearl's 22 acres with visions of a mixed-use culinary destination.
"Locally, everyone thought he was crazy," says Petrella. The buildings had structural problems, and the soil was contaminated. "One developer said 'you know what? Just turn it into a Wal-Mart and run away.'"
The plan—which, spoiler alert, worked beautifully—was to construct apartments and extend the San Antonio River Walk so that water taxis could access the area. He envisioned a food-focused neighborhood, helping fund a new 30,000-square-foot campus for the Culinary Institute of America in one of the brewery's old buildings. An education and research center with a focus on elevating Latin American cuisines, the CIA offers cooking classes and allows the public to sample meals made by students at CIA Bakery Cafe or Savor restaurant. And if you're a guest at Hotel Emma, you can participate in their culinary concierge program, with free events and activities as part of the hotel's amenities.
Today the Pearl has more than fulfilled Goldsbury's vision, with offices, residences, and an impressive roster of upscale independent retailers in the district. Purchase some reading material at the Twig Book Shop, a San Antonio staple since 1972 that moved to Pearl in 2009; indulge in a spa treatment at Hiatus Spa & Retreat; or outfit yourself with a handmade guayabera from Dos Carolinas (you'll find their robes at Hotel Emma, as well).
For food, try the comforting French Brasserie fare of Mon Chou Chou and finish with pastries from Bakery Lorraine. Grab a taco at Chilaquil, a smoked burger at Fletcher's Burgers, or stuff yourself with Caribbean street food at Mi Roti (the jerk chicken option sounds mighty tasty).
You could also try some Taiwanese popcorn fried chicken or black bean sauce-glazed short rib at Best Quality Daughter. One of the latest additions to Pearl, the restaurant opened during the pandemic but has already earned itself a New York Times feature, with food inspired by the Chinese, Taiwanese, and South Texan heritage of chef-owner Jennifer Hwa Dobbertin.
Stick around Hotel Emma and you can connect with its past at the Southerleigh restaurant and brewery on the first floor, which brews an ode to the original recipe of Pearl from 1894. Grab a pint and take it on a tour through the original Brewmeister's Office, virtually unchanged since 1939, now used for private events. Peruse the historical corridor, with pictures of Emma and Otto. And end at the rooftop pool, where a 1960s-era Pearl beer delivery truck has gained new life as the Poolside Provisions bar and restaurant. Getting it up there must have been fun.
Vanita Salisbury is Thrillist's Senior Travel Writer. She'd be the gin in the Three Emmas cocktail.