A tourist in Puerto Rico these days may notice a sense of desperation. The island is in fiscal crisis, with the governor warning in January that the economy faces a "total collapse." Mosquitoes carrying the Zika virus continue to buzz about, inspiring a warning from the CDC that, if you're of a paranoid disposition, sounds positively frightening. Puerto Ricans know you have other options, that you can choose to vacation in Mexico or Miami or even in Cuba.
They'd really prefer that you come to their island instead. Come to where you can feel like you're in another country, which you are (Spanish language, gas by the liter, roads by the kilometer), while still being in the United States, which you also are (same ol' dollar, no need for a passport). Have a good time, then please convince your friends to come, too. "You leave a five-star review on TripAdvisor, yes?" says the housekeeper at a hotel in San Juan. "You put down Hilton Caribe, five stars, please? Yes?"
I'll see what I can do. I can definitely recommend a visit -- it's a buyer's market for fun in PR right now. While the entire island is worth checking out, even if you set up camp only in San Juan, there are plenty of interesting things to explore. And some of the highlights of the trip cost a pittance -- if they cost anything at all.
Recommended Video
There's a Stock Market-Themed Cocktail Bar in Hong Kong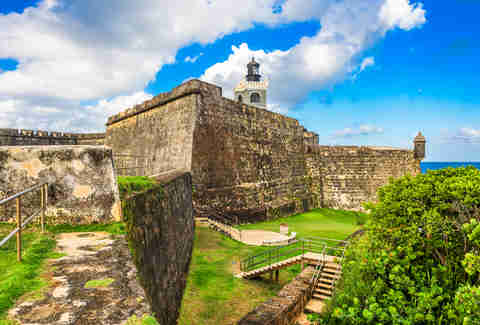 The forts of Old San Juan are some of the best in the Americas
I mean, you have to check these out. Old San Juan is the most striking of the Caribbean ports with forts, naturally interacting with the sea more beautifully than Cartagena or Havana. Two gigantic citadels front the city's northern face, both centuries-old defenses against Dutch pirates and English corsairs. Together the Castillo San Cristobal and Castillo San Felipe del Morro form the San Juan National Historic Site, and $5 gets you into the pair. It's about a mile walk from one fort to the other, and the stroll alone is breathtaking. (Pastel colonial houses on one side, an arresting blue sea on the other.)
El Morro was once Spain's main defense in the New World. San Cristobal is larger, descending in five tiers down to the water, and built after Dutch invaders revealed that El Morro wasn't quite defensive enough. A mammoth esplanade fronting El Morro serves as a national gathering spot, and is a great place to fly a kite. Afterwards, stroll the waterfront down to La Fortaleza, another walled compound where the island's governor still lives.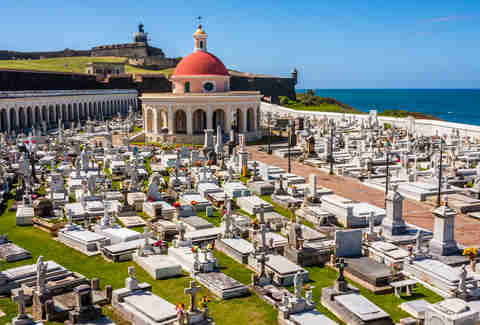 Make up your own San Juan walking tour
Walk around and around. Then walk some more. Old San Juan rewards aimless exploring. Meander narrow streets paved with blue cobblestones originally used as ballast on Spanish cargo ships. Check out Casa Blanca, a museum that began as a house built for Ponce de Leon and his family, though he died before he could move in. Walk a few blocks to the cathedral where Ponce de Leon did move in, and where he'll stay for eternity; he's entombed inside.
Check out the other dead in the San Juan Cemetery, which has to be the most beautiful place to possibly be buried. Maybe walk to Teatro Tapia, a grand old neoclassical theater and the center of cultural life in the city for 185 years. There's a museum of contemporary art. There's a museum of colonial architecture. Stumble upon the San Juan Gate, which used to be the main way into the walled city. There's a lot of other stuff. Take it all in. Old San Juan is a terrific walking city.
Cool off with a paleta
These are Popsicles of a sort, homemade, sold here and there at residents' front doors for $1 usually, and flavored with just about every fruit on the island. Guava. Coconut. Other stuff. I bought one that was an orange-and-cream mix, and I found it somehow gooier than I'd expected. It was also really refreshing. Which was necessary that day. The city at midday can be, ah, I'll just say it, oppressively hot.
Slow down and indulge in moments that just happen
There are six shady plazas carved into the Old San Juan street grid. Doing that walking-around thing one afternoon, I came across Plaza Felisa Rincon de Gautier. It's named after the city's first woman mayor, and it's right outside the old cathedral. A busker who works the plaza every day was strumming an old island ballad on his guitar. Two women, maybe in their 60s, very likely sisters, were singing along with him. They were belting it, really loud, getting really into it. The song brought out such emotion in them that I found myself choking up. When the song ended, the women cheered and hugged the guitar player. Then they went on their way. "That's very Puerto Rico," said a friend who lives on the island. "That's what we do."
Visit the Puerto Rican Capitol
This recommendation is pure hearsay, I will admit. The territory's capitol is a marble structure fronting the Atlantic, not far from San Cristobal. Entrance is totally free, Monday through Friday during regular business hours. The constitution of Puerto Rico is displayed on the first floor. The artwork on the dome, I'm told, is impressive.
I say this because if you return from a trip to San Juan and you happen to have a friend who was born and raised in the city, he's probably going to ask you about your trip. And at some point he's very likely to ask if you toured the capitol. You don't want to say no, believe me. "You went to Old San Juan and you didn't tour the capitol? Why the hell not? How could you miss it?"
Hit up the best bars in Old San Juan
Sure. Why not? Look, at its worst, Old San Juan can feel a tad artificial, like a stage set for the cruise ships that dock at the port. If you've disembarked from one of those ships for an afternoon, or if you're unlucky enough to just be there when the cruise ships pull in, then the stage-set sensation is unavoidable.
One of the things you're "supposed to do" in this port-of-call role-playing is visit the bars on and around Calle San Sebastian. My advice is to embrace it. You're in a tropical city. You're on a groovy little street paved with those blue cobblestones. Sure, everyone around you is a tourist. But so are you. Drink it in. Thaw a piña colada at Barrachina, where they say the icy cocktail was invented (sure) and where tourists get free luggage storage from 9 to 5 each day. Sip Ron del Barrilito at a dive called El Batey. The best bar is La Factoria. It's kind of a speakeasy. It's tourist-friendly, too, but if you can find your way inside you'll find more than tourists drinking -- and dancing -- there. You might even get really spendy and drop $9 on a cocktail.
Driving out of San Juan
This is what I most recommend. While I enjoyed Old San Juan, once I got away from the tourist epicenter, Puerto Rico really opened up. It's a fascinating island. Small enough that you can get anywhere in just a few hours. Yet it's so diverse -- mountains and flat farmland and even a rainforest. The beach towns in the north, the south, the east, and the west all have different cultures and personalities. I really enjoyed drinking Medalla beer in this tin shack of a bar in Vega Baja.
Driving out to the west coast, I stopped for food in the town of Acebo, in the north. There was a movie theater in the strip mall where I stopped. A Babies"R"Us anchored another strip mall nearby. And right there, behind the Babies"R"Us, was such a magnificent beach. The waves came in tall, with power, crashing into a white mist on the packed sand. It wasn't really a public beach, I don't think. I had to climb over a guardrail and down a hill to get there. But there was the sand and the water and palm trees and I found it so beautiful. Right there, behind a Babies"R"Us. Puerto Rico will boggle you with how much beauty is tucked away in these nondescript corners.
I suggest you check it all out. Go everywhere, if you can. If you're looking for things to do in Puerto Rico at large, I suggest three highlights to shoot for...
The best cheap hike: that rainforest, El Yunque
You don't even need to decamp from San Juan to do this one. El Yunque National Forest -- yep, run by your very own US Forest Service -- is an easy day trip; ride up in the morning, be back in the old town in time to watch the sun set over the harbor. Just $4 cash money gets an adult into the park.
The best surf spot, maybe in the world: Rincón
The west coast of Puerto Rico features the best waves on the island, and arguably some of the best in the world. Rincón, Puerto Rico's surf capital, hosts an infrastructure of surf shops to take care of everyone from the most experienced surfer to the newbie looking for lessons. Obviously it's the ocean, so jump on in if you know what you're doing. Renting a board may cost you in the neighborhood of $25 a day.
The best kayak spot: Laguna Grande
There are three bioluminescent bays in Puerto Rico. That means the water glows, or the organisms floating in it do when they're agitated. Laguna Grande is the closest to San Juan, another easy day trip. Make that a night trip. Best to go in the darkness of a new moon.
Sign up here for our daily Thrillist email and subscribe here for our YouTube channel to get your fix of the best in food/drink/fun.