This Tiny Michigan Town Is One of America's Best LGBTQIA+ Destinations
The Midwest's greatest gaycation spot is also a haven for the arts and star-caliber dining.
Arrive in Saugatuck for the first time and it hits you almost immediately: This is not your average Small Town USA.
Downtown, the streets are lined with impeccably preserved, century-old storefronts that house locally owned boutiques, renowned art galleries, and star-caliber dining. Surrounded by lush forests and farmland to one side, and the stunning sandy shores of Lake Michigan to the other, it's easy to see why Saugatuck earns its spot as one of America's best beach towns.
Yet, this Michigan outpost of roughly 900 residents (twice as many if you include neighboring "sister city" Douglas, as most locals do) is more than just good looks. The charming resort town is also one of the country's most inclusive, as much beloved by the LGBTQIA+ community and its allies as it is by the Midwestern families who return each summer.
"Saugatuck is hard to describe. It's a little bit of magic," explains Mike Jones. "We're right in the middle of Dutch Christian West Michigan, and yet one of the largest LGBTQ+ resorts in the country sits right here."
The iconic Dunes Resort, of which Jones is a co-owner, is one of the longest-running LGBTQIA+ resorts in the country—a gay haven that, for the past 40 years, has helped transform Saugatuck into the accepting, dynamic destination it is today.
"There's no shaming. There are no odd looks," Jones says. "People can truly come here and be whoever and whatever they want to be."
Where to stay and play on a visit to Saugatuck
Since 1981, the Dunes Resort has been the beating heart of Saugatuck's LGBTQIA+ community. The sprawling 81-room resort sits on 22 acres with an outdoor pool, restaurant, game room, nightclub, cabaret theater, and covered patio known as the "Tea Deck." Following pandemic-related restrictions, Jones says things are finally getting back to normal.
That means the return of a packed events calendar that includes karaoke, live piano, DJs, and more. Dunes Cabaret features drag divas and lounge acts every weekend at its storied Show Bar theater, while the infamous "Tea Dance" Sundays, open to the public, bring the uninhibited vibes of a Vegas dayclub to the Midwest.
For a different kind of LGBTQIA+ resort experience, the Campit Outdoor Resort is a 33-acre wooded property just 10 minutes from Saugatuck/Douglas catering to the queer community, friends, and allies. The rustic retreat offers space for drive-in tent camping and RVs, as well as log cabins and vintage trailers for rent. Campit also hosts the annual Saugatuck LGBT Music Fest, slated this year for July 15-17.
If the party resort vibe isn't your, well, vibe, consider one of the private retreats at Hidden Garden Cottages, a queer-owned boutique experience in the heart of downtown Saugatuck. And if you're all about luxury, check in at the European-style Belvedere Inn and Restaurant. Built in the early 1900s, it was once the Gilded Age summer home of wealthy Chicagoans.
Explore the "Art Coast" of Michigan
Michigan's premiere gaycation spot is also a destination for the arts and antiques. The Ox-Bow School of Arts and Artists' Residency helped establish Saugatuck's reputation as "the art coast of Michigan" over 100 years ago when the Art Institute of Chicago began offering summer classes here. Today, it is the country's oldest continuously operating artist community, offering workshops, studio spaces, artist retreats, and events.
Dozens of artists and creative professionals call this area home. Spend a day exploring galleries like the queer-owned Amazwi Contemporary Art Gallery, dedicated to amplifying the voices of African artists and artisans throughout North America. Another queer-owned gallery not to be missed is Roan & Black, run by partners Doug McIntosh and John Newland. An attached store sells carefully curated, handmade accessories, where every item has a unique story behind it. While you're at it, queer-owned Kindel & Company has a gorgeous assortment of lifestyle items, from leather-bound journals to Art Deco table clocks; for authentic vintage furniture and home decor, head to Upscale Mercantile.
At the cultural heart of town lies the multidisciplinary Saugatuck Center for the Arts, which boasts a 400-seat theater where it stages ambitious productions annually, such as In the Heights in 2019. This summer, it's bringing an award-winning number to its stage: Legally Blonde: The Musical.
Wherever you are on your journey, Target wants you to celebrate pride in your own way. From limited-edition collections by queer- and female-founded brands—like swimwear from Humankind and underwear and activewear by TomyboyX—to partnerships with six designers from the LGBTQIA+ community, Target takes pride in celebrating all that you are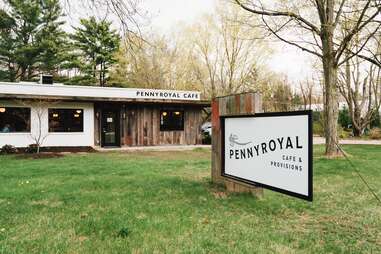 Eat your way through West Michigan's farm-to-table offerings
"Honestly, I think this is one of America's best-kept secrets," says Kristin Armstrong, the executive director of the Saugatuck Center for the Arts. Along with the town's robust arts community, it's the food scene she raves about.
"There are a billion restaurants here that are all Chicago-good," Armstrong says. "You could rattle off a dozen places that I could say 'Oh yeah, that should be in Chicago,' but it's not—it's right here, at half the price and with free parking."
Thanks to its location in the middle of Michigan's fruit belt, Saugatuck's farm-to-table scene is particularly impressive. Pennyroyal is helmed by Executive Chef Melissa Corey, a Chicago transplant with an extensive James Beard pedigree, and a previous champ of Chopped. Inventive seasonal cuisine and whole animal butchery are her forte.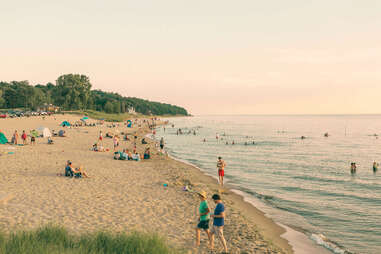 See what makes the Great Lakes so great
One of the things that make Saugatuck so special is its location on the stunning shores of Lake Michigan, a lake so vast it might as well be an ocean—in fact, you can even go surfing. Spend the morning exploring rugged wilderness areas, like the Saugatuck Dunes State Park, where you can climb coastal dunes over 200 feet tall. Or skip the cardio workout and just lounge the day away on the world-famous white sugar sand Oval Beach.
If you'd rather explore the water by motor, Retro Boats is a new addition in town that offers pontoon boats, "donut" boats, and more launching from the Kalamazoo River. If you want to let someone else do the driving, the Star of Saugatuck is an authentic sternwheeler paddleboat and a beautiful way to spend an evening.
Nicole Rupersburg is a freelance writer covering food, travel, arts, culture, and what-have-you. She winters in Las Vegas and summers in Detroit, as does anybody who's anybody. Her favorite activities include drinking beer and quoting
Fight Club
.