Don't Sleep on This Way Overlooked Asian Megapolis
When even the most seasoned travelers think of Asian trip destinations, popular stops like the Thai islands, Hanoi, Tokyo, Shanghai, and Bali spring to mind. Fantastic locations, all of 'em, but it seems like one East Asian metropolis -- despite its deep pop-culture influence of late -- gets overlooked as a cool place to visit: Seoul, South Korea. Nowadays, Korea may get you thinking of K-pop, beauty products, and kimchi (and more recently, the hit movie import Parasite), but trust that there's so much more to this city of 9 million people. It's a bustling, never-sleeping center of business, culture, food, and fun.
Seoul surprises newbie visitors with its endless options for urban adventuring (thanks to a world-class transit system), closeness to nature, low-brow and high-end dining (and drinking) options, and wealth of historical sites best experienced in traditional Korean dress (called hanboks). Whether you pick any of the city's neighborhoods and boroughs to traipse through lazily, or opt to burn major calories in a K-pop dance class, you're bound to entertain yourself. 
A huge upside to traveling here from the West is that the exchange rate works in your favor; as of early 2020, the Korean won is worth about US $0.86 -- that's a lot of KFC (Korean fried chicken)! Actually, that attractive cost of living is what draws loads of Americans like myself here, not just to visit, but to live. I've been here for nearly four years, and I'm still wowed daily by the colorful culture; the mountains framing every viewpoint (hey, I'm from the flatlands of Dallas!); the widespread WiFi; the zippy mass transit; and the local food options, most delivered to your door. (Not gonna lie, I'm also all about the legal-drinking-outdoors thing. The corner 7-Eleven can be a legit night out.) The options are limitless in the Land of the Morning Calm. Here's how to do Seoul right.
MORE: Everything you need to know before your first trip to Seoul
Rent a hanbok and roam through the Gyeongbokgung Palace.

| Light of Peace/Moment/Getty
Venture To Seoul's prime cultural hotspots
One of the coolest things about Seoul is its seamless blend of ancient scenery and ultra-urban landscape. It's too easy to pop out of a subway station, cross the street, and find yourself lost in an old Buddhist temple, in the shadow of a fortress or even along Seoul's ancient city wall. Jump right into local culture at Gyeongbokgung Palace, a 14th-century landmark near City Hall. Join the locals and tourists alike and rent a hanbok ensemble (think shantung silk-like wide-legged pants under a long, roomy robe for guys; a floor-length, ball-gown-type skirt and long-sleeved, cropped-blazer-like top for ladies) to stroll the grounds in; not only will this snag you a discount on entry into the heart of the Palace, but the photos you capture of yourself in the style of centuries past will serve as priceless memories.
 
As for the previously mentioned subway-stop historical monument, walk out of exit 6 of Dongdaemun Station and you'll land right at Heunginjimun Gate (aka Dongdaemun Gate), a majestic Joseon Dynasty relic designated as the No. 1 historical treasure in Korea. From here, walk along the city fortress wall for a kilometer or two to get a scenic view of the whole of Seoul. 
Art and architecture lovers will love the swooping curves and clean lines of Dongdaemun Design Plaza (DDP), a giant complex of shops, restaurants, and galleries -- check ahead to see what exhibits are on tap. Enjoy more art exploration not far from Gyeongbokgung, in the bustling, narrow lanes of the Insadong neighborhood, which, past its touristy main drag, also holds a wealth of charming art centers, tiny galleries, traditional tea houses, and artisan shops perfect for buying the perfect, non-tacky, Korea-centric souvenir like handmade tea sets and ceramic wedding ducks. Right around the corner from Insadong, the street spills out into Jogyesa Temple, great for a meditative stroll and across the street from which is the Korean Temple Food Experience Center, where you can try your hand at the vegan eats enjoyed by Buddhist monks like pumpkin porridge or mushroom stew. And if you're up for a deep dive into temple life, reserve an overnight stay at a participating temple that allows visits -- partake in a tea ceremony and even chat with a monk.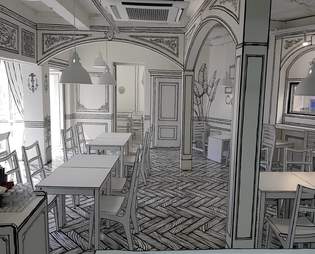 Cafe 2 Dimensional

| CAFE 연남동223-14 그림2D cafe
Cafe hopping is a way of life in Seoul
Coffee is king in Korea, and locals love to have a supremely fashionable environment in which to sip, hence the explosion in cafe culture. For an especially Korean experience, sidestep the chains and sniff out the independents that go above and beyond to provide the sumptuous setting that your legion on the 'Gram will ooh and ahh over. Skip on over to the Mapo district for amazing choices in the Mangwon, Yeonnam, and Hapjeong neighborhoods. The Yeonnam neighborhood, right near Hongik University Subway Station, is an old train track converted into a park area with handsome cafes aplenty. In this area you'll find Cafe 2 Dimensional, which looks like the hand-drawn landscape of Aha's "Take on Me" come to life. 
Like Yeonnam, in recent years the Mangwon corner of Mapo has soared in popularity as the perfect locale to get lost in, and its cafes range from artsy minimalism (the egg salad-on-toast-dainty Atelier Kreta) to colorful decadence (the sugary-sweet fluff of Social Club Seoul). Meantime, Hapjeong has a whole boulevard called Cafe Street, so you can't help but bump into coffee shops that make you want to pop in. Also in Mapo is Zapangi, the Insta-viral pastel fever dream of a cafe that can only be entered via faux vending machine. Other notable neighborhoods brimming with brews include Seongsu and Sinsa.
Street food at Dongdaemun district

| SAHACHATZ/Shutterstock
Score ALL of the classic Korean foods
While there are some designated Korean food streets scattered throughout Seoul, it makes more sense to learn what to eat, rather than where. Korean food is, after all, EVERYWHERE here, and, as long as you avoid the tourist centers (and even there!) it's pretty hard to go wrong if you stick to the classics. The top must-eat dish, of course, is Korean barbecue, a sit-down restaurant experience where you choose your preferred cuts of beef or pork and cook them yourself over a grill at the center of your table. Samgyeopsal, or pork belly, is the most popular and budget-friendly option, but steak is a terrific choice too, especially if you shell out for Korea's own premium Hanwoo breed. If you can find it, the black pork breed from Korea's tropical Jeju Island is among the most premium and delicious types of belly meat, and if you happen upon Jeju's luxuriously marbled ogyeopsal pork belly, it's well worth the extra won: the "sam" in samgyeopsal means "three," as in the number of layers of fat; the "o" in ogyeopsal means "five" -- so imagine the deliciousness once that's all rendered. Whatever you choose, enjoy the bowls and bowls of banchan, little side dishes of prepared in classic Korean marinades.
Street food seems to get harder to find in Korea in recent years, but the crowded Myeongdong neighborhood, packed with giant department stores popular with overseas visitors, still comes alive with food vendors in the evenings. They hawk grilled meat skewers; ice cream swirled into fish-shaped pastries; torched lobster tails; and gyeran bbang, a whole egg baked into a slightly sweet mound of bread -- a terrific winter snack. Gwangjang Market is packed with food stalls dishing out kimchi pancakes, seafood pancakes, noodle soups, and dumplings right in the midst of the outdoor mall's main alley. Meantime, fresh seafood lovers can pick their favorite live fish and shellfish and have it prepared on-the-spot at the upstairs eateries at Noryangjin Fish Market. If you couldn't tell from previous mentions, Korean fried chicken is always a must-try, too, available at any number of shops in pretty much every neighborhood. It's perfect for eating as the locals eat most everything -- communally and with a beer. 
If you're a fan of soup, Korea makes some of the tastiest, good enough for eating year-round: Seek out the chicken-in-every-pot specialty samgyetang; the spicy, beefy sogogi gukbap, meant to be eaten over rice; galbitang, starring loads of beef rib meat and glass noodles in a potent clear broth; and gamjatang, a huge, shareable stewpot of red-pepper broth decked with potatoes and tender pork spine meat. Then there's naengmyeon, an icy-brothed buckwheat-noodle soup similar to Japanese soba that you may think sounds perfect for summer slurping. Have at it, but it's actually enjoyed locally in the winter. It's believed that making your insides as cold as the outside chill will keep you warm. Give it a shot!
Culinarily adventurous? Then you'll want to sample sundae, Korea's sweet-yet-savory blood sausage; yuk hue, freshly ground, raw beef topped with a raw egg; or gopchang, grilled pork or beef intestines served alone or in a soup. 
The illuminated Han River is a sight to see at night.

| COPYRIGHT, Jong-Won Heo/Moment/Getty
Eat, drink, and karaoke like a Seoulite
Far be it from us to send you into the throes of Itaewon Road, the Yongsan district thoroughfare where most expats and visitors (and the Koreans who dare to hang among them) party. But a mere couple of blocks away you'll find the Kyunglidan neighborhood, an uphill-sloping street dotted with curiosity-inducing eateries and lounges just beckoning you inside. It feels uber-urban yet tucked away and almost secret.
After you've eaten well -- if you could even decide on just one place to eat -- take a tour of Korean craft beer shops at nearby microbreweries The Booth Brewing Company (which also happens to have a Eureka, California branch) and Magpie Brewing Co. (known for IPA and pale ale, but try and catch the seasonal Winter Souls ale, with a hint of the locally beloved red bean) and/or try a variety of Korean brews -- mostly sours from around the world -- at the dim, elegant, aptly named Sour Pongdang.
When the weather permits, you can really get to feeling like a local with a trek to the Han River for a picnic. Start off by renting a city bike, either online or at one of several stands near the river, and cycle along the water for miles on neat, paved tracks. Just keep out of the way of the professional-looking hobbyists who'll whiz by you en masse. Once you're ready to rest and eat, rent a tent (this service is good for the Yeouido portion of the river park) and set yourself up in one of the designated camping areas with a prime view of the water. Hope you brought beer, because outdoor drinking is A-OK here, and everywhere in Korea (but, like … be cool about it). 
If you've got some Korean-speaking skills or arrive with local pals, whip out your phone, order some fried chicken delivery -- there are convenient designated delivery-man meetup spots throughout the park -- and dig into Korea's most popular dining/drinking combo chimek. The BBQ and Kyochon are popular purveyors of classic, bone-in fried chicken, but most any local shop can grace your picnic blanket with soy garlic, kanjang (sweet soy sauce) or yangnyum (sweet and spicy) sauced boneless chicken with a side of fries and mu -- sweet radish cubes that are great palate cleansers between bites of fried stuff. With a wing and a pale ale in hand, sprawled out near the water, you'll be looking like a city dweller in no time.
If the weather doesn't permit outdoor merrymaking, your best live-like-a-local bet is to rent a room for fun. Every neighborhood has its share of noraebangs: private karaoke rooms that you rent by the hour, where you can sing your heart out. Smaller rooms have coin-operated systems, and some businesses, particularly near Hongik University and Konkuk University, will rent out a whole room and even sell beer and soju, Korea's cheap and ever-present liquor of choice. Another great indoor partying option is spending the evening at a pocha, a bar where you're required to also buy bar food called anju. I tend to stick to fried chicken or kimchi pancakes with mozzarella, if available, but if you wanna go full local, load up on ramen, tteokbokki (rice cakes in spicy sauce), dried squid and/or tofu with grilled kimchi. Pochas can be a great place to meet young, social Koreans -- get the ball rolling by asking a friendly group to show you Korean drinking games, and your evening is made. 
The Freedom Bridge is the only bridge connecting North & South Korea at the DMZ.

| Credit: Quynh Anh Nguyen/Moment/Getty
Get steeped in war history
Probably the top history-related draw in Korea is the DMZ, the Demilitarized Zone where North and South Korea meet, and pretty much the last front of the (technically ongoing) Korean War. Visiting takes some planning, as no one is allowed to just arrive there whenever -- you have to be part of an organized tour. Once there, you can explore underground infiltration tunnels built by the North, as well as above-ground Joint Security Area conference rooms where political wheeling and dealing went down. Don't miss peering through binoculars at the Dora and Odusan observatories and checking out what's happening over in North Korea. Of course, the biggest attraction here is stepping into the DPRK (which you can't do when border tensions are high), so don't forget to snap yourself in forbidden territory; you can even buy some Northern-produced goods as souvenirs -- imagine serving your friends NK rice and booze when you return home!
You might think twice before asking your new Korean mates to join you: While citizens can easily access some portions of the area (again, as part of a tour), they need intelligence agency clearance months in advance to venture into the JSA.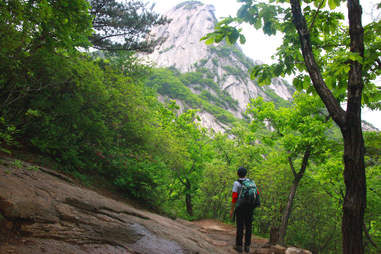 Care for a climb up Bukhansan Mountain?

| Steve Jangs/Shutterstock
Get right with nature ... right near the subway
In addition to the seamless blend of old and new here, pockets of nature somehow mix nicely into the urban topography here, and often just a stone's throw from a subway station or bus stop. Prime examples include Yangjae Citizen's Forest, a dense corner of greenery built for the 1988 Seoul Olympics and located right next to its namesake subway stop. At Seoul Forest, a sprawling park with an old-school feel, you can rent a city bike from right near the entrance and cycle through the greenspace. Farther west, a quick bus from Hapjeong Station will land you right at Seonyudo Island, a tiny stretch of park land right smack in the middle of the Han River. If you happen to find yourself in Seoul in the autumn, take snaps of yourself in the pink muhly grass at Haneul (Sky) Park in the Mapo district.
Probably the best example of immersive nature right near mass transit (especially for hiking fans) is the hugely popular Bukhan Mountain (aka Bukhansan), which anchors a national park that's accessible by a number of subway stations, depending on the difficulty of the course. Wear your good shoes and pack the traditional after-hike tipple, makgeolli (a sweet rice-based liquor); once you've enjoyed your spectacular view, you'll be just a quick subway ride back to the urban heart of Seoul. Now that's nature at your fingertips.