Seoul's got a knack for food, nightlife, culture—and pretty much everything else.

| Daengpanya Atakorn/Shutterstock
Seoul's got a knack for food, nightlife, culture—and pretty much everything else.

| Daengpanya Atakorn/Shutterstock
Why South Korea's Party Capital Is First on Our Travel Wishlist
The best things to do in Seoul (hint: eating and drinking are involved).
Editor's note: We know COVID-19 is impacting travel plans right now. For a little inspiration, we'll continue to share stories from our favorite places around the world. Be sure to check the latest CDC guidelines as well as local travel restrictions and protocols if you decide to head out.
No city loves a fad as much as Seoul. But if K-pop, K-beauty, and Parasite are the only things that come to mind when you think of South Korea's trendy capital, you've got another thing coming. This bustling metropolis of 9 million people surprises new visitors with its world-class transit system, fascinating historical sites, and endless options for both low-brow and high-end (and damned delicious) dining.
Perhaps most impressive is the locals' dedication to having a good time. Seoul is textbook work hard, play hard: drinking, karaoke, and staying out 'till dawn are basically national pastimes—and, let's be honest, things we're all looking forward to doing again as soon as possible. It's easy to get wrapped up in Seoul's whirlwind energy, but put down the soju long enough to take advantage of the city's lush parks, hikes, and contemplative temples—maybe even squeeze in a trip to the majestic Jeju Island. Here's how to do Seoul right.
First time in Seoul? Study up
We'd love to tell you that bingeing K-Dramas is the best way to prepare for a trip to Seoul. (Kim Soo Hyun, call us.) Unfortunately, that isn't quite the case. Fear not: Our first-timers travel guide to Seoul will get you up to speed on everything you need to know before you go—like how to get around the city, where to stay, the best neighborhoods, and probably most important, how to get your server's attention in a restaurant when you are very, very hungry. Get all the logistics right here.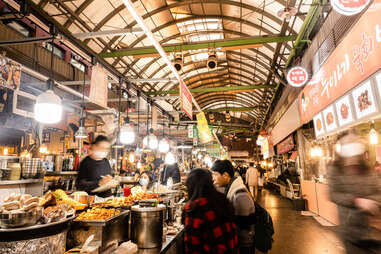 Hitch up your stretchy pants, it's time to eat
Food is the heart of South Korea—an essential part of family, friendship, and business. You'll find everything here in Seoul, from flashy Michelin-starred restaurants to homey and humble mom-and-pop diners, street-food stands, and kitsch cafes. (You can also dig into international fare—like delicious Moroccan food at Casablanca Sandwicherie and Morocco Cafe, Mexican cuisine at Elpino323, and Italian at Ricetta.)
Then there's the street food (insert drool emoji here). The crowded markets in the Myeongdong and Dongdaemun neighborhoods have the best selection of snacks. And Gwangjang Market, one of the oldest and most well-known, is packed with food stalls and offers a window into daily life in Seoul. Meanwhile, seafood lovers can pick their favorite live fish and have it prepared on-the-spot upstairs at the Noryangjin Fish Market. The list of street foods you'll want to sample is near endless… to get you started, here's our full guide to must-eat Korean street dishes.
In a city where mouthwatering meals are nearly omnipresent, it helps to know what you're looking for, instead of where. You'll run into classics like bibimbap, mixed rice and vegetables topped with an egg and spicy gochujang sauce; kimbap, Korean sushi rolls; and the ubiquitous Korean fried chicken, perfect for eating as the locals eat most everything: communally and with a beer. Keep an eye out, too, for Korea's many hearty and comforting soups, like the chicken-in-every-pot specialty samgyetang, and gamjatang, a huge stewpot of red-pepper broth with potatoes and tender pork.
The other must-eat dish, of course, is Korean barbecue, where you'll grill your own meat and veggies right at the table. (Try Byeokje Galbi or the popular chain Hanam Pig.) Samgyeopsal (pork belly) is the most popular and budget-friendly option, but steak is a terrific choice too, especially if you shell out for Korea's own premium Hanwoo breed. Either way, don't overlook the little bowls of banchan, side dishes like kimchi prepared in classic Korean marinades.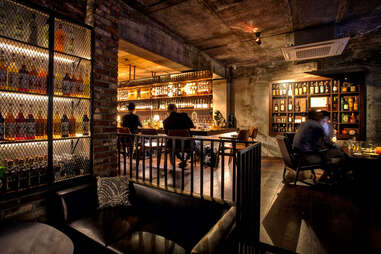 Find out why Seoul is one of the greatest drinking cities in the world
A bottle of soju is a ubiquitous sight on tables around Seoul. But for a comprehensive introduction to soju and makgeolli (lower ABV rice beer), go to Mr. Ahn's Makgeolli in the Gyeongridan neighborhood, where you can order from a wide spectrum of strengths and flavors.
For a sampling of some of the city's best cocktails, Bar Twelve (XII)—so named because, well, it only seats 12—has locations in Gyeongridan and Cheongdam. But Seoul is littered with upscale, speakeasy-style cocktail bars with highly photogenic interiors (and, almost always, an entrance fee). Find the speakeasy that speaks to you in our guide to Seoul's coolest cocktail bars.
If craft beer is your drink of choice, try The Booth, The Hand & Malt Taproom, or Magpie Brewing Co., some of the O.G. Korean craft breweries that helped popularize specialty-style brews in the land of Hite and Cass. You can also try a variety of Korean brews—mostly sours—at the dim, elegant, aptly named Sour Pongdang.
Club-goers should head to Hongdae, the area around Hongik University. It has everything from the divey to the divine: Club FF is one old favorite, or try Henz Club and Madholic. Itaewon is a go-to for expats and foreigners of Seoul due to the old US Army base located there—you'll find Cakeshop, Boombar, and other hip-hop and R&B hotspots.
Whatever you get into, be prepared for an all-nighter, and definitely prepare your best karaoke offering. A night out in Seoul often goes 'til sun-up and almost always ends in a noraebang: private karaoke rooms that you rent by the hour, where you can sing your heart out. For tips on what to order, the best neighborhoods to go out in, and what to eat along the way, check out our full guide to nightlife in Seoul.
Locals love sipping coffee in a supremely fashionable environment. For an especially Korean experience, sidestep the chains and sniff out the independents. Head on over to the Mapo district for amazing choices in the Hapjeong neighborhood, which has a whole boulevard called Cafe Street; Yeonnam, an old train track converted into a park with handsome cafes aplenty, like the surreal Cafe 2 Dimensional; and Mangwon, for cafes ranging from artsy minimalism (Atelier Kreta) to colorful decadence (Social Club Seoul). Also in Mapo is Zapangi, the Insta-viral pastel fever dream of a cafe that can only be entered via faux vending machine.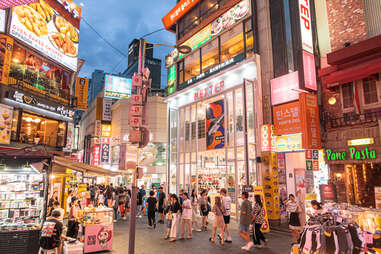 Walk off your food-and-soju hangover with a shopping spree
Outdoor bargain stalls and fast-fashion malls, underground markets, luxury department stores, high-end boutiques, vintage shops—Seoul's got it all. Even Incheon International Airport (ICN) ranks among the best shopping airports in the world.
Ground Zero for shopping is the Myeongdong neighborhood, where you can pick up all the most popular fashions and indulge in the K-beauty scene. Popular cosmetics and skincare stores include Etude House, Too Cool for School, Aritaum, Missha, Nature Republic, and Innisfree—just to name a few. To get the Korean spa and sauna experience, there's Dragon Hill (budget-friendly) and Sulwhasoo (much less so).
For upscale shopping, check out Rodeo Street and Garosugil, two brand-name streets in one of Seoul's wealthiest areas, Gangnam. For the hip and trendy, head to Common Ground, a shopping center built out of shipping containers, near Konkuk University. For the traditional and time-honored, hit Dongdaemun, Namdaemun, and Kwangjang markets. And for a mall with an aquarium, library, cinema, casino, and even a kimchi museum, there's Starfield COEX at Samseong Station.
Or lose yourself in the bustling, narrow lanes of the Insadong neighborhood, which, past its touristy main drag, also holds a wealth of charming art centers, tiny galleries, traditional tea houses, and artisan shops.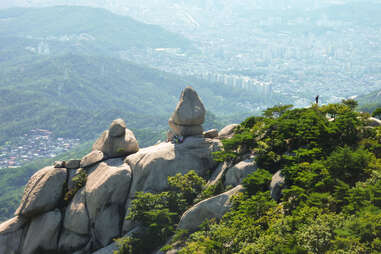 Or walk it off the old fashioned way at Seoul's best green spots
Sprawling Seoul reserves space for some of the largest urban parks in the world. Enjoy an evening light show along the Han River, where you can rent a pedal boat or listen to live music on a cruise ship. Or take a stroll through Seoul Forest, Yongsan Family Park, or Olympic Park, with green lawns perfect for picnicking and winding pathways for exploring on two wheels.
With mountainous terrain covering 70 percent of the Korean Peninsula, hiking is a truly cherished activity here. For a stunning view of the capital, head to the northern part of Seoul to Bukhansan National Park. Hike up Baegundae Peak, 2,755 feet above sea level. It's a moderate-intensity two-hour hike, with the most challenging bit at the end, where climbers will need to hold onto ropes to reach the summit. It's well worth the effort, though—climbers will be greeted with a panoramic view of verdant treetops set against cityscape, set against more mountains.
Leave time for a little history and culture, too
One of the coolest things about Seoul is its seamless blend of ancient sites and ultra-urban landscape. It's all too easy to pop out of a subway station, cross the street, and find yourself lost in an old Buddhist temple or in the shadow of a fortress. But like, literally. Walk out of exit 6 of Dongdaemun Station and you'll land right at Heunginjimun Gate (aka Dongdaemun Gate), a majestic Joseon Dynasty relic. From here, walk along the city fortress wall to get a scenic view of the whole city.
Wander through the National Folk Museum and National Museum of Korea for a lesson on the early Korean kingdoms. Tour the palaces that housed the royal family, including Gyeongbokgung and Changdeokgung—these mammoth structures, painted in striking reds and greens, are some of the country's most iconic landmarks. Each is filled with pavilions, lakes, gardens, and gates. And at Gyeongbokgung, you can rent a traditional hanbok ensemble to stroll the grounds in (think wide-legged pants under a long, roomy robe for guys; a floor-length skirt and long-sleeved, cropped-blazer-like top for ladies).
Also worth a visit is Jogyesa, Seoul's biggest Buddhist temple, great for a meditative stroll. Across the street is the Korean Temple Food Experience Center, where you can try your hand at the vegan eats enjoyed by Buddhist monks like pumpkin porridge or mushroom stew.
To understand the Korean Peninsula's division, take a day tour north to the Demilitarized Zone (DMZ), where you can go to the Joint Security Area of Panmunjom, peer into North Korea, and explore one of the underground tunnels the North dug into the South. (Note that you'll need to work with a licensed tour operator authorized to take people there.)
Swing a weekend trip to Jeju Island (and beyond)
Every city dweller has a go-to beach getaway: For New Yorkers, it's the Hamptons. For Tokyoites, it's Okinawa. And for Seoulites, it's Jeju Island. About a 70-minute flight from Seoul, this paradise offers the full spectrum of tropical adventures: Massive craters, jungles, waterfalls, mountains. Black, white, gray, and red sand beaches (did you even know beaches came in that many colors?). Hiking and meditation retreats can help you connect with the majestic landscape, or just visit for the seafood and some of the best tea in the world.
If, after Jeju Island, you find yourself craving more side trips, South Korea is in no shortage of options: Other great picks include Nami Island, known for being the set of one of South Korea's most popular dramas, and Busan, the nation's second largest city, situated on the southern coast.
Ann Babe is a journalist based in Seoul. You can follow her on Twitter and Instagram @ann_e_babe.