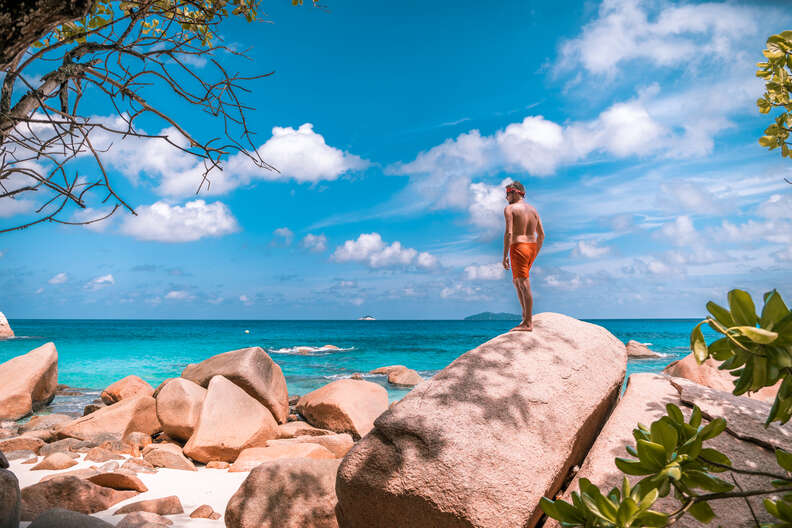 This Dreamy Faraway Island Is Ready for Vaxxed Visitors
Consider this the once-a-lifetime island vacation of your dreams.
The Seychelles are not somewhere you're going to go over a weekend, nor should it be. This is a trip for when you have a full week, ideally two. This isn't just because of the time it takes to get there—it's basically as far away from North America as it's possible to get—but it's because Seychelles is remarkably special, deserving of as many vacation days as you can spare.
And now that these stunning islands have reopened to travelers following months of coronavirus restrictions, it's time to put in all that accumulated PTO, delete Slack from your phone, and hop a plane to paradise.
Getting to Seychelles isn't cheap or easy, but once you arrive, you can eat and get around for just a few bucks a day. It costs nothing to swim in the ocean, and that is at least 70% of what you're going to want to do, because the water is the most absolutely bonkers color I have ever seen on any water, anywhere, ever. It starts out as that translucent light green color that coke bottles turn when they're really old, and then gets into all these teal shades I'm not entirely sure have names as you move away from the beach.
The other 30% of your modest budget will be food-related, and this is not a place where you have to throw down to get things that taste extraordinary. I paid in loose change for an octopus chapati that I've been thinking about ever since. Your higher power will reward you immediately and continuously when you arrive. Here's everything you need to know.
As of January 2021, all fully vaccinated travelers are able to visit Seychelles. Along with proving that more than two weeks have passed since you received your final shot, you're required to fill out a travel authorization form and test negative for the virus upon arrival. You'll also need to test negative before your return trip to the States, which you can do in Mahé, Praslin, and La Digue. Here's more info.
Ferries and flights between islands are fully operational with safety protocols, but schedules may differ from normal times, so check timetables in advance. As of April 2021, public restaurants, spas, gyms, swimming pools, select nature trails, Victoria Market, and other public facilities remain closed. But Seychelles' main draw—the pristine and generally crowd-free beaches, as well as the Botanical Gardens and Mission Lodge—are open, so there's still a good time to be had.
How to get to the Seychelles
When I visited Seychelles, the thing I remember most about introducing myself as an American was that everyone was surprised I'd made it all the way out there. The African island nation is way, way out in the Indian Ocean, a distinct jump off from the well-worn backpacker route that runs from New Zealand up the east coast of Australia into Southeast Asia.
A few major carriers like British Airways and Qatar Airways offer flights, but getting there from a major American city will probably require a layover in Dubai or Qatar—both of which are already a long way from home, so we highly recommend packing a good neck pillow and about a day's worth of snacks.
When to visit the Seychelles
It's ideal to make your trip during the off-season, a somewhat meaningless phrase in a place that is very nice year-round. But Seychelles is generally considered at its most nice around April/May and again around October/November. These are also times when you'll find flight prices nearly half of what they jump to during the summer months.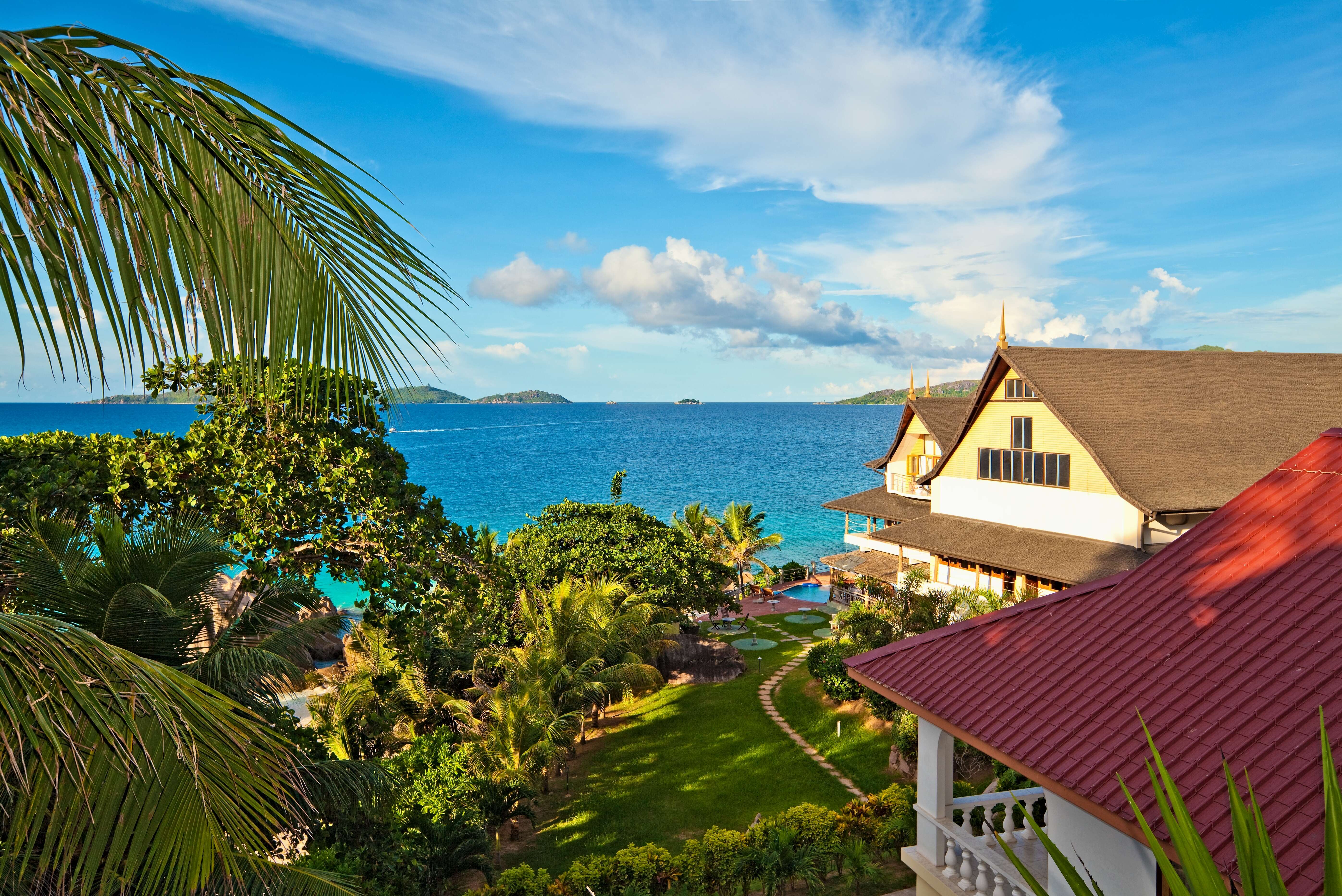 Where to stay in the Seychelles without going broke
If you don't have an Airbnb account, this is the time to make one. Lots of travel guides hype Seychelles as a place you don't go without being able and willing to really throw down for luxury accommodations. This is silly. There are some world-class hotels and resorts here, but don't let their cost intimidate you. The islands are stuffed with Airbnb listings where you can get a lovely room close to the beach that'll also offer you breakfast, maybe a pool, for around the $100/night range. By no stretch is that budget travel, but there's a huge difference between saying a place isn't a budget destination and saying it's out of reach for anyone who isn't prepared to drop, like, $10,000 a night.
The best islands to visit in the Seychelles
Seychelles comprises 115 islands, but we're going to focus on the three main ones since they're connected by ferry routes, thus allowing you to visit multiple islands without introducing any complicated getting-around logistics. You are here to relax, after all.
Mahe is the largest island, where the majority of Seychellois live and where the international airport is located, so this is likely where you'll start and finish. Spend a morning at Victoria Market where, along with souvenirs and clothing, you can get fresh fruits and vegetables. Go as early as you can manage, which is a good rule of thumb for most markets—the seafood's fresher, there are fewer tourists, and it's not yet hot enough to make you impatient that you're not swimming instead. Later, hike the Copolia Trail (about two hours) then cool off with a swim at Beau Vallon Beach. If you're looking to party, Mahe is where you'll find clubs like Tequila Boom that aren't a fixture on the smaller, quieter islands.
Praslin is home to Anse Lazio, one of those beaches that wins awards for looking like rich people's platonic ideal of a beach. Aside from the color of the water (perfectly seafoam green!), a big draw here is that there are zero rocks anywhere on the beach—just soft, naked sand, so that you can swim without ever having to worry about stepping on anything. It's a bit of a hike/bike ride to get to, and while it's absolutely worth it if you do make it there, don't stress if you don't; it's the Seychelles, so there are lots of nice beaches.
The other big-name, rock-free beach on Praslin is Anse Georgette, which has the air of being private but actually isn't. You have to call ahead of time if you want to visit—your Airbnb host can likely do this for you—and walk through the grounds of a private resort to get there. Fair warning, some of the beaches are a little better-suited to strong swimmers, which is how I ended up towing a Swiss couple back to shore with one of those old-school circular life-preservers after the tide started pulling them out to sea. Don't worry, it's OK for me to tell this story because A) I don't want any of you to drown and B) I generally have very few things to brag about.
If you can ride a bike, rent one and make that your primary form of transportation here. As a whole, La Digue is quiet and remote, but you'll probably still find yourself ducking a few other tourists at Anse Source d'Argent, one of the Seychelles' most famous beaches. Bet you thought the sand would be blindingly white here too. Ha, it's pink. Apologies. As with the rest of the name-brand beaches, this one is obviously excellent—but it won't make or break your trip, so don't panic if you don't get there (or if you do, but then find it too crowded to bother with). Though a lot of people visit La Digue just as a day trip from Mahe or Praslin, it's worth booking a night or two there—that way, in the early mornings before the ferry comes in, you can have Anse Source d'Argent more to yourself.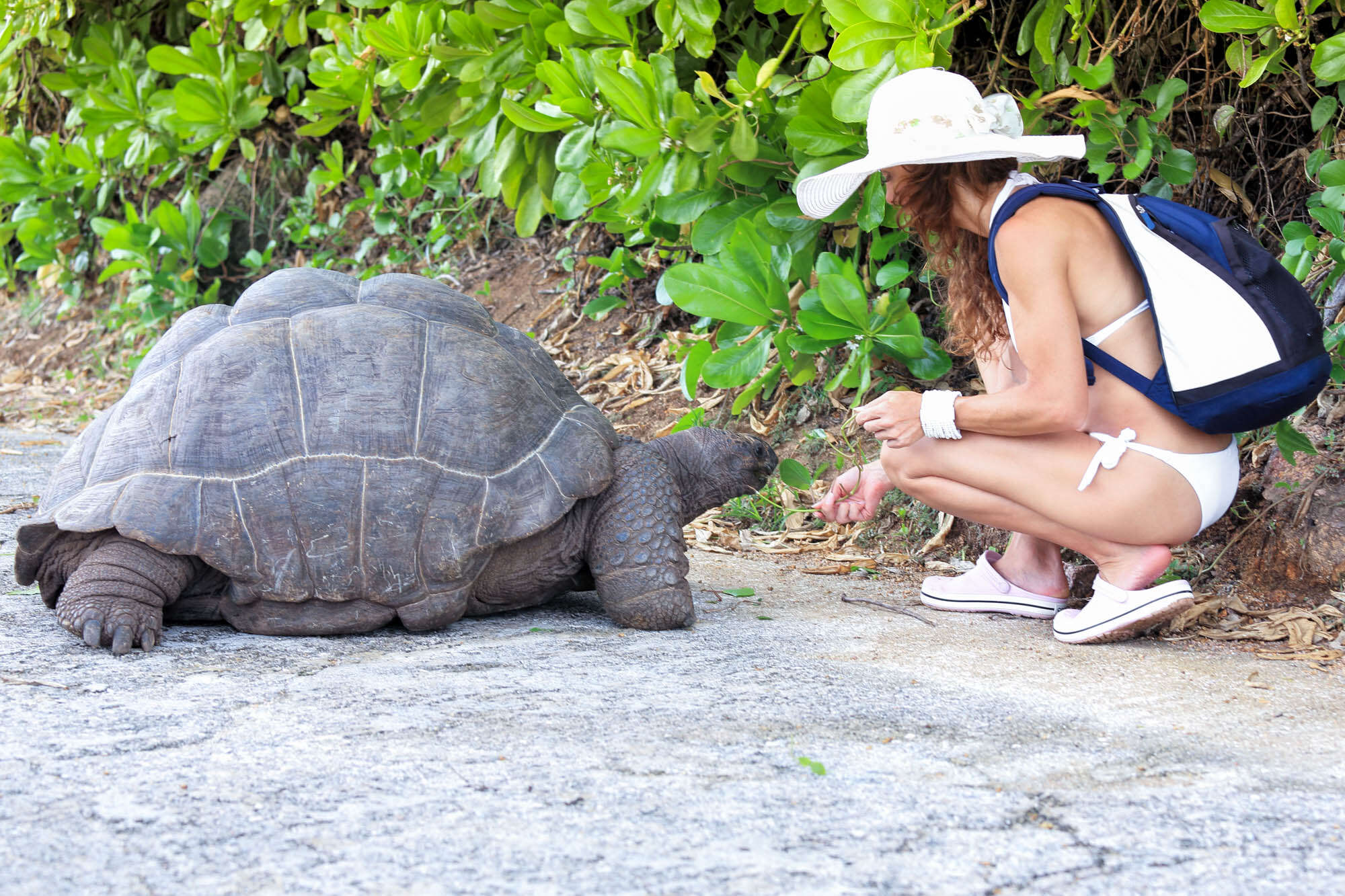 How to meet giant tortoises and maybe baby sea turtles
From Praslin, you can take a quick boat ride to Curieuse Island, and from there hike your way to a conservation and rehabilitation center where you'll find tortoises with shells the size of bathtubs. The only other place they exist outside Seychelles is the Galapagos. You can see more tortoises on Cousin or the coral atoll Aldabra, but the latter is more remote and you can't just breeze over without booking in advance the way you can with Curieuse. It would be worth taking a boat to Curieuse even if it wasn't a magical dinosaur island, just because the stretch of water separating it from Praslin is so spectacular. Any time you can spend on a boat during your trip is going to be a good time.
This part of the Indian Ocean is also the only region in the world where Hawksbill sea turtles lay their eggs in broad daylight. Take a boat to Cousin, North Island, or Bird Island for optimal viewing. But you have a good chance of seeing them—and their tiny progeny—on beaches around La Digue as well as Praslin.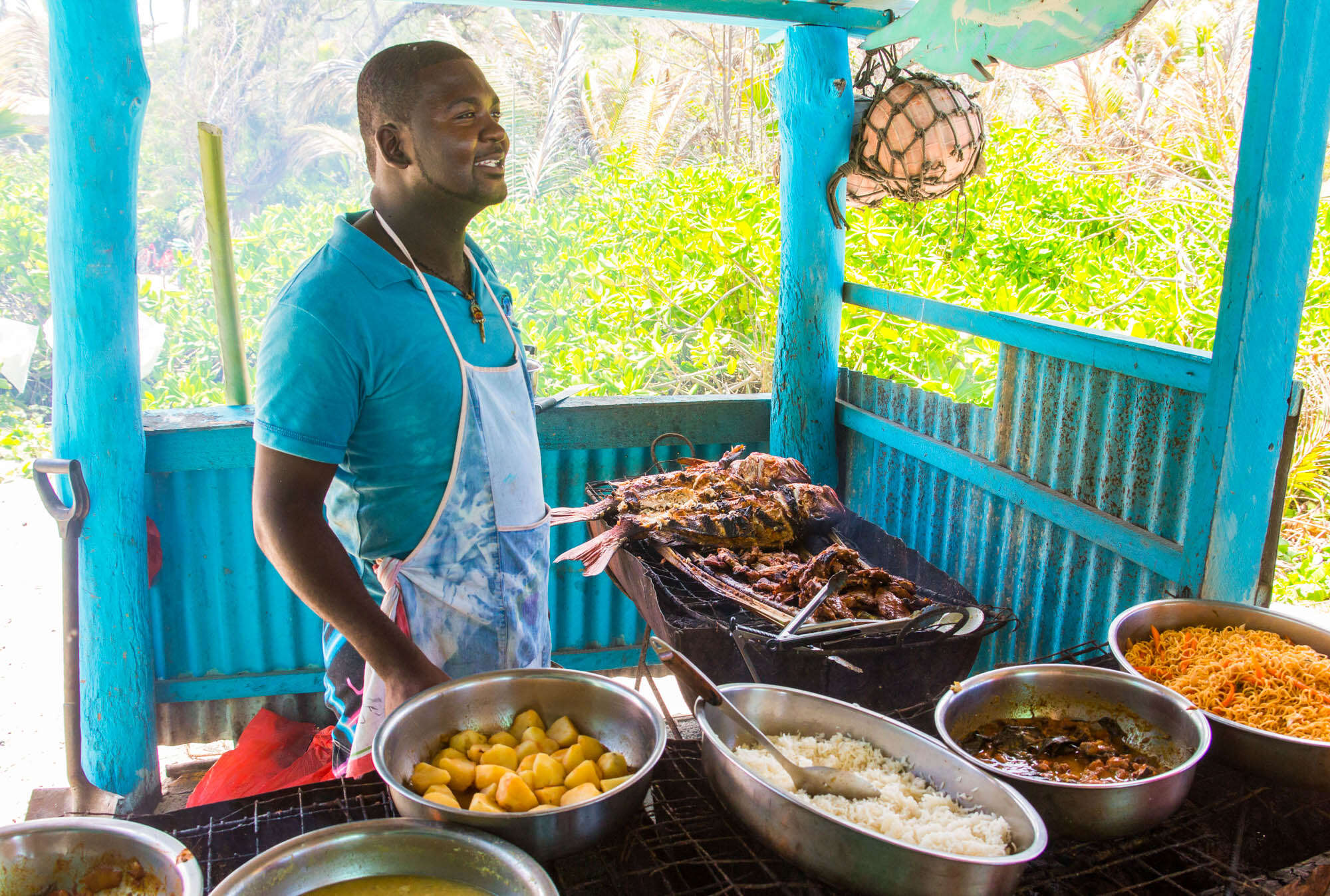 What to eat in the Seychelles
The best and cheapest way to eat in the Seychelles is at the many, many Creole takeaway stands, where you get a plastic foam box stuffed with rice, seafood, and green papaya (just try it). And because the islands' British colonizers relied heavily on indentured servants, a substantial portion of the country's population is of Indian descent, and—as is often the case—horrid imperialism resulted in innovative, unique, delicious foods. Anywhere you go here stands to serve you some of the best Indian seafood you'll ever have. This is where I tried octopus chapati for the first time from a street vendor, and it ruined me for both octopus and chapati in all other forms.
You can also pair your meals with live music at places like Boardwalk Bar & Grill on Mahe. And when you want to treat yourself to something a tiny bit more luxurious, watch the sun go down over dinner at PK's Pasquiere Restaurant and Gastropub. The food is great and the view is also really great, but the reason I will remember this meal for a long time is that there was a chutney so delicious I asked what it was made from. At the end of the meal, the waiter emerged with the recipe, written out by hand, on a notepad.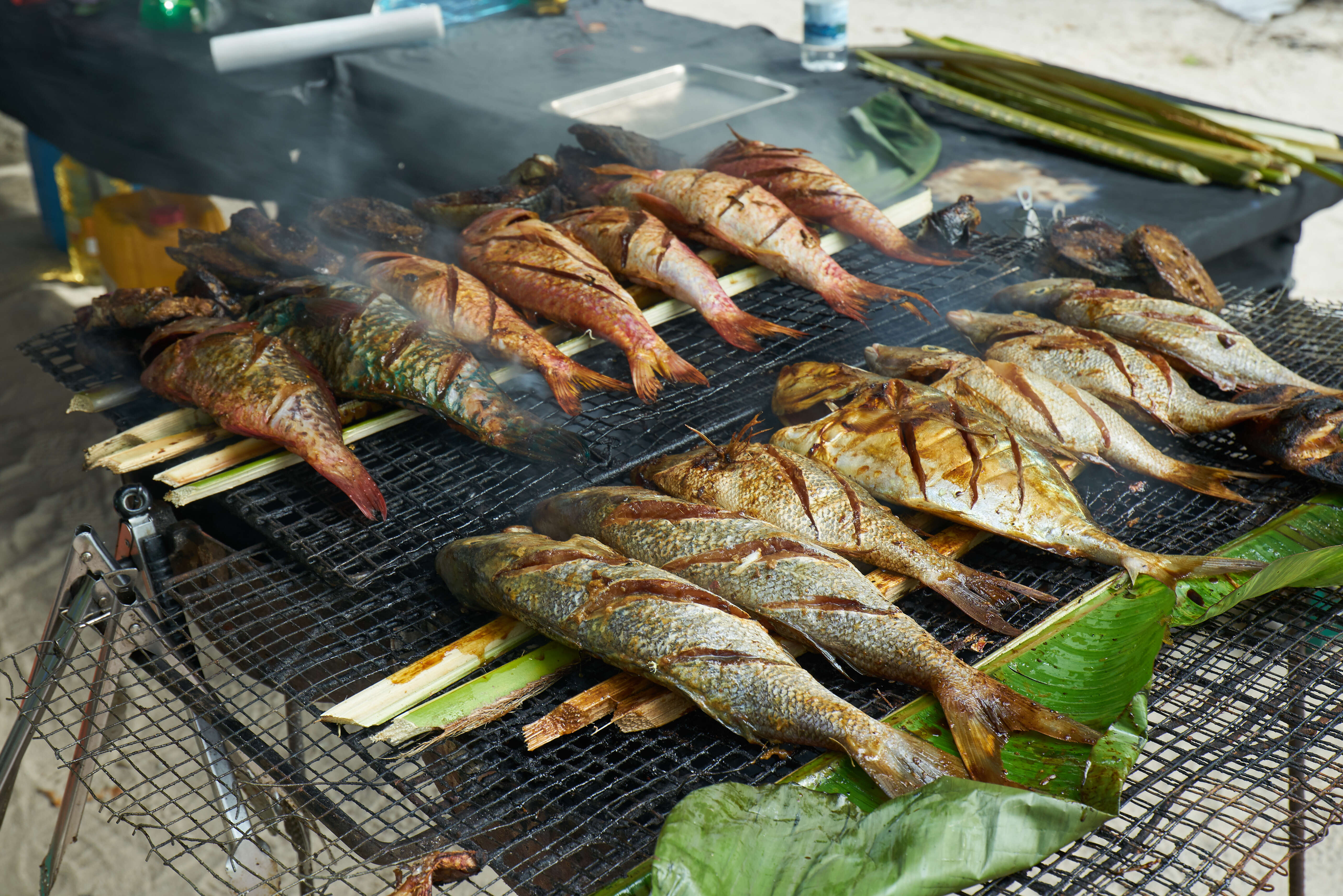 The fish here is as fresh as it gets and you should eat it because it's delicious. As a tip from me to you, though, stick to seafood because the landfood (beef and chicken) is almost certainly less fresh, by which I mean flown in from Brazil. The only exception to this is if you happen to be near the ferry port in Mahe and see a vendor selling beef rolls. Those beef rolls remain among the top 10 things I have ever eaten, and not taking a picture or otherwise recording the location of said beef roll stall will go down as one of the great regrets of my life. I'm sorry I can't be of more help; I told you I have very few things to brag about. The stand was reddish I think? If you find it, message me.
Sign up here for our daily Thrillist email and subscribe here for our YouTube channel to get your fix of the best in food/drink/fun.