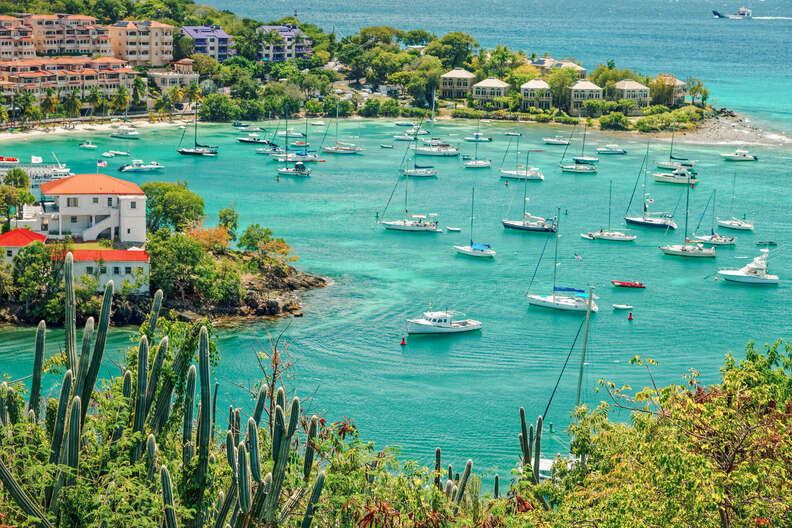 St. John's green mountains and blue water make it a perfect paradise.

| Mark Meredith/Moment/Getty
St. John's green mountains and blue water make it a perfect paradise.

| Mark Meredith/Moment/Getty
After the Storms, This Caribbean Beach Paradise Is Still a Stunner
The last time I came to St. John, one of the islands that makes up the United States Virgin Islands, was eight years ago. I was there to leave my father's ashes behind. It was his favorite place, and, in memory, at least, it was mine, too. He visited before my birth, and then many times after. He loved the solitude, he told me, the permission to sit on the beach with nothing but a book, a mask, and a set of fins. He loved to snorkel, a whole world unfolding beneath the turquoise water, always a surprise, even when you had seen it before. For many years, we went to the island as a family, my father -- my ever-adventurous water companion -- chasing turtles and rays and whatever great adventure the water promised next.
Sometimes, it's hard to feel the same way about a place that looms large in memory. But St. John, I recently discovered when I recently returned, doesn't suffer that indignity. In 1956, Laurance Rockefeller placed 60 percent of the island in trust with the National Park Service. Since that time, the majority of the island has remained pristine, with no buildings sullying the coastline. On any number of beaches, you can look up and see not a single thing besides the undulating green of the mountains; the island rises from sea level to 1,200 feet in elevation, a stunning aesthetic element.
The feral world is reclaiming its land.
In the near-decade since I last visited the island, many things have changed. Twin Category 5 hurricanes -- Irma and Maria -- pummeled the island in the fall of 2017, almost destroying this home to 5,000 people. Caneel Bay, the sole resort built within the National Park, took some of the worst hits, which meant that 400 people -- nearly a 10th of the island's population -- lost jobs while the federal government and private owner renegotiated a lease for the rebuild. To that end, things remain at a standstill, with six of the resort's seven beaches only accessible by boat or by kayak. Legal battles have prevented the resort from reopening, and debate wages on about whether or not it ever will.
You would think that such destruction might make this island less desirable, but that isn't true at all. Yes, the wreckage of the storm is still visible in the still-closed restaurants, felled trees, and tattered buildings, but so is the island's regeneration. St. John is the product of ingenious planning. Crowds have not ruined it. Even at Caneel Bay, the feral world is reclaiming its land. To me, this simple island, where the luxury is time, has no real match, either in memory or now.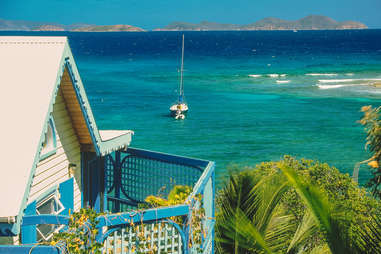 Vacation homes are the ultimate St. John resorts
St. John is an island that takes work. With Caneel gone, there are no resorts that open onto the protected stretches of beach for which this island is so well known. The Westin in Cruz Bay, one of St. John's two major towns, was once the only chain hotel on the island. That hotel has since been converted into timeshares, and although it sits on a (particularly underwhelming) beach, it lacks any of the finesse that Caneel Bay boasted. Apart from Caneel, St. John was never really known for high-end resorts. The hurricanes have underscored that point.
In fact, apart from the Westin, there is currently no other large-scale resort on the island, though visitors can opt for smaller hotels in town, condominiums, apartments, and home rentals. Home rentals appeal to a luxury traveler; many are perched on the green hills overlooking the water, with private pools and sunset views. With Caneel currently in flux, home and villa rentals are currently the more opulent option.
Because of the land agreement, few homes are built on the actual beach. To enjoy St. John, then, is to commit to renting a car. Parking at the beaches is free, but the extra effort is what keeps the island from attracting more -- and less ambitious -- people. Visitors would do well these days to rent a house. That's what I did, with my two toddler sons, husband, and best friend in tow. From our living room, with its panoramic windows and slight terrace, we could see the offshore squalls, the cruise ships headed toward St. Thomas, and even Jeffrey Epstein's private island, the recently FBI-raided Little Saint James.
St. John is an island where nature still rules the beaches
You come to St. John for the beaches, and it is hard to overstate how pristine these beaches are. I have come to expect, in my recent trips around the world, the muted palette of underwater life: the dying coral, the unintentional detritus, the mark of human beings everywhere. St. John has never fallen from grace in that regard, and one assumes -- if protections remain intact -- that it never will.
That's why Trunk Bay -- the most photographed beach in the Caribbean, with its crescent of white sand and true turquoise water -- is still soul-stirring. It is also, at times, the island's most crowded, with cruise ships sending boats of guests from St. Thomas for the day to snorkel the easy "underwater trail." If you go to Trunk Bay, check the cruise schedule ahead of time.
The entire North Shore of the island boasts impeccable beachfront, with nearby reefs for snorkeling. For calm, protected waters and turtle sightings, Maho Bay can't be beat. On windy days, this beach and neighboring Francis Bay have few waves or swells. Of the North Shore beaches, the only one still showing obvious damage is Cinnamon Bay, a large and unprotected swath of shoreline that took such a beating that its amenity structures were razed down to the rebar.
If you can find a parking spot at Oppenheimer Beach -- named for its former owner, J. Robert Oppenheimer, father of the atomic bomb -- snag it. This tucked-away slice of shoreline that lies to the east of Francis, Maho, and Cinnamon, has three spots at the top of the hill, and you'll have to walk down to get to the beach itself, but, once you do, you're likely to have it mostly to yourself. The same is not true of neighboring Hawksnest, a broad beach fed from a massive parking lot right off the main road. Still, Hawksnest, with its amenities (bathrooms, picnic tables, covered areas) provides a more curated beach experience, and its calm waters are especially good for families with young children.
Honeymoon Beach, accessible through the gates of Caneel Bay (for a fee, since it is now operated by an independent company called EcoTours), has amenities now, too: a casual restaurant that serves frozen drinks; paddleboards, kayaks, and snorkeling gear for rent; restrooms; and a gift shop that sells, weirdly, some of the items that once lived at the resort's gift shop and somehow survived the storm.
The reefs at Honeymoon, which jut out from the beach's outer edges, are home to rays, turtles, and one very large barracuda. Indeed, anyone can swim these reefs. I know because I took my 3-year-old snorkeling for the first time on them. Honeymoon remains a personal favorite, in no small part, I suppose, because my father took me snorkeling here, too. Barracudas live for a little over a decade, and my dad's life has been over for nearly that long now, so the stalking fish I saw in the misty blue sea wasn't the same as the one I saw with my father, but it's nice to think that maybe nothing ever really changes.
But my favorite spot on St. John is not a beach at all. It's an offshore reef. Most recently, I hired Love City Excursions to take our group out on a half-day charter to Waterlemon Cay. Located off the island's southeast shore, in the middle of Leinster Bay, Waterlemon is surrounded by a magnificent fringing reef. Leinster Bay also has a sloping reef further toward the shoreline, where lucky snorkelers might spy a rare and beautiful spotted eagle ray. If you can't arrange to get to Waterlemon by boat, you can hike the modest one-mile trail that connects Leinster Bay with a parking lot. The current-heavy swim to Waterlemon from shore, however, is best left to advanced swimmers. Once, on a trip around the cay, our family got caught in a nasty current, and my dad and I tugged our motley crew of tangled limbs back to the boat and laughed about the danger later.
The food and drink scene offers a taste of St. John past and present
My favorite restaurant on St. John did not survive the hurricanes. Asolare, known for its Asian-fusion cuisine and superlative sunset view, has no plans to reopen, and maybe that's part of the mystery of the island: It's still here, but it's different, just like my life on the other side of losing a parent is different. Goodbye, exploding sunsets from the patio. Goodbye, sesame-crusted tuna. Goodbye, dad jokes.
But even with Asolare a distant memory, excellent food is still a hallmark of St. John. In the space where chef Zak Pelaccio's Fatty Crab once stood is Extra Virgin Bistro. Reservations are hard to come by, but once there I realized what had kept everyone coming back. Handmade pastas? Addictive. A double fist-sized pork chop bathed in a salty, spicy banana pepper sauce? Necessary. The wine list was sophisticated without tipping toward erudition. You can order a great, obscure bottle of wine for under $100.
New to me and to the island is the Longboard, an open-air restaurant with a staggeringly long waitlist, hipster vibe, and delicious food. Their frozen painkiller proved the most compelling of all the versions I sampled on my recent travels; St. John designates this mysterious blend of alcohol and sugar as its official drink. And while poké bowls may eventually go the way of kale Caesar salads, I'm not ready to give up on the Longboard's oil-slicked cubes of ruby red tuna, served over plump sushi rice.
The St. John stalwart, the Lime Inn, recently opened a second outpost, Lime Out, a swim-up bar and restaurant serving tacos and drinks in the middle of the east end's Hansen Bay. The immensely popular 40-foot boat and taqueria was recently re-opened after being denied a mooring permit earlier this year, another resurrection in St. John that's cause for celebration.
One night, we threw caution to the wind and stayed in Coral Bay through dinner; the switchbacks between Coral Bay and Cruz Bay are harrowing, the streetlamps nonexistent. It was worth it for the food at Rhumb Lines, an inviting restaurant serving food inspired by the Pacific Rim. Rhumb Lines was originally a Cruz Bay restaurant that found new footing after the storms. The patio -- all lights and festive pillows and tropical plants -- recalls the casual comfort of eating dumplings in a creative friend's well-manicured home garden.
A place stitched in memory and time
St. John, even as it pushes through the pain of destruction and revitalization, is nothing short of perfect. I felt, upon leaving, as if I had been searching too long for the wrong things. Why keep looking for the perfect beach if you've already found it? There was a reason my father had been steadfast in his resolve. Take me there, he had said at the end of his life, and now, somehow, heading back to the island feels like going home.
There are other islands that are sure to astound, but maybe those islands are best left for other people. It's different, returning to a place that was important, when part of what made it important -- the person you shared it with -- is gone. In the first months after you lose a parent, you have to train yourself to stop doing the things that are normal, like picking up the phone, or sending an email, or buying a birthday gift. Eventually, you remember the finality of it. Eventually, your brain catches up. Eventually.
But going back to St. John opened that part of my brain again, a wide crevasse as big and blue as the Caribbean Sea. Wouldn't he have loved the spotted eagle ray I spied at Waterlemon? Wouldn't he have followed the pair of turtles at Honeymoon, the way I also did, those first turtles my son ever saw? Something about returning made me wonder why, after all, I could not pick up where we had all left off. Once I was back in cold, gray New York, I booked the same house for next January. I don't know if the barracuda will still be there next year, but I like to believe that he's waiting for us, a friendly enough adversary, stitched in time as we weave in and out of island life.