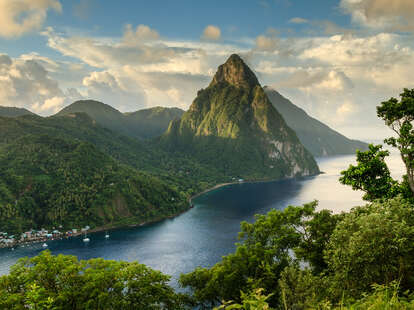 There are no bad views of the Pitons.

| Paul Baggaley/Moment/Getty Images
There are no bad views of the Pitons.

| Paul Baggaley/Moment/Getty Images
Ideally in St. Lucia, you end up on a boat. Getting around via the island's cobalt blue water is much, much easier than navigating its volcanic, cliff-heavy terrain. It's also preferable: If you're lucky in your travels, you'll float near local celebrity Blaze, one of a handful of vendors selling fruit and (heavy on the booze) frozen drinks from a frond-covered vessel. (If you see him, flag him down. You won't regret it.)
A boat is also the best way to pull up to the twin jewels of the isle: two verdant spires emerging majestically from the southwestern coast, dominating the skyline. They're the Gros and Petit Piton, a UNESCO World Heritage site so symbolic of the country that they're featured on the flag. They've also been rewarded with their very own beer.
There are multiple ways to enjoy the peaks. Perfecting both raw, biodiverse natural wonders and comfortable luxury, St Lucia appeals to adventurers and honeymooners alike. Take an aerial pic of the Pitons from a zipline or scale them on a rugged hike. Or enjoy one-of-a-kind views from two of the most unique hotel properties in the Caribbean. Both Jade Mountain and Ladera Resort feature rooms with private plunge pools and an open wall (read: missing a wall), revealing a spectacular front-seat view of the volcanic plugs. It all pairs nicely with a sunset and a Piton beer.
Relax on white sand beaches, duck under waterfalls, or helmet dive along the bottom of a seahorse-filled ocean. Take in the pungent air as you slather and detoxify at the Sulfur Springs mud baths, and while you're there, explore the Caribbean's only drive-in volcano (it's bubbly... and steamy). Whether you're looking to get lost in a jungle-like paradise or indulge in some fresh lobster with a side of jerk chicken, here's everything you need to do on your next visit to St. Lucia.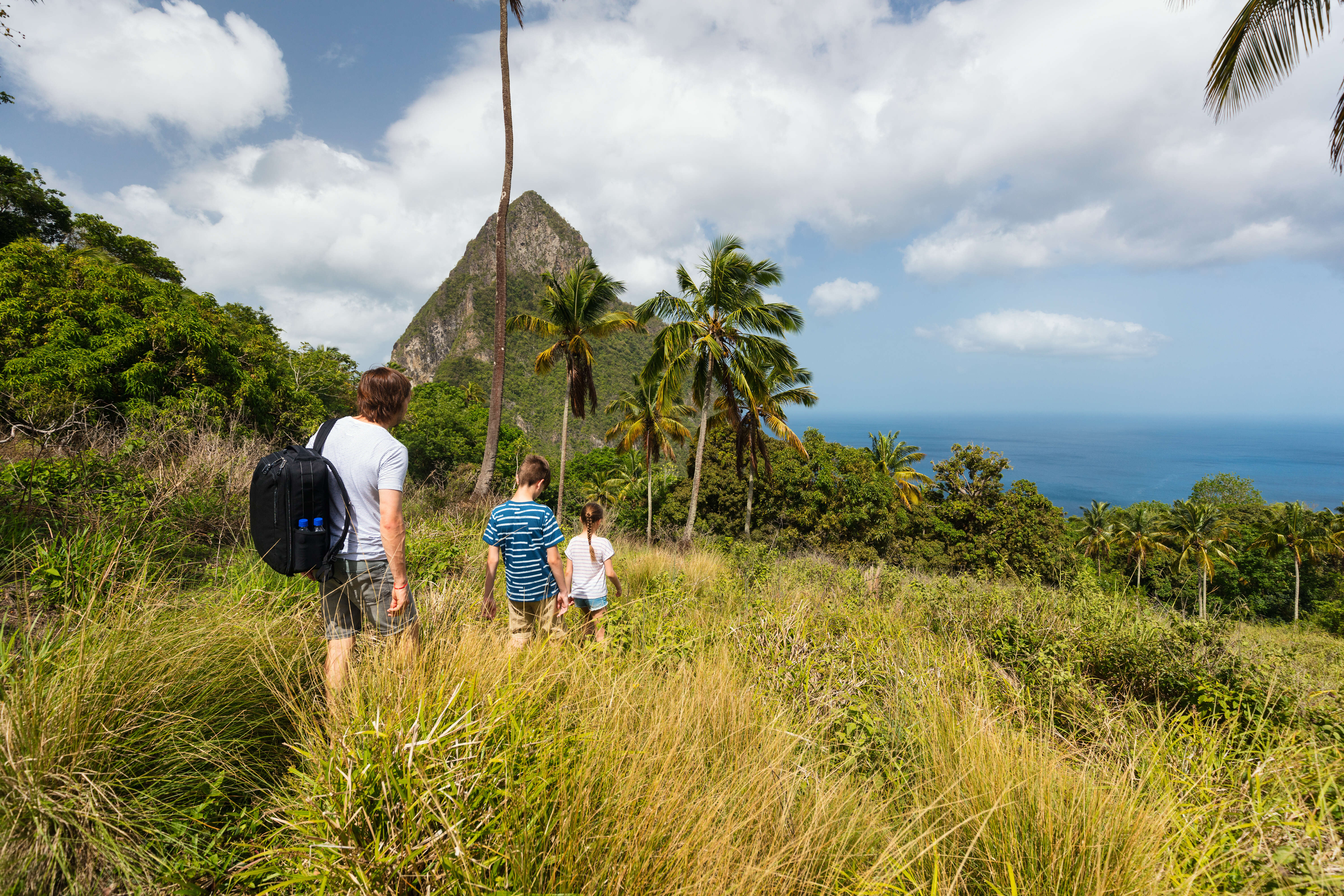 Hike volcanoes for incredible sweeping views
The Pitons aren't the tallest mountains on the island—that would be Mount Gimie, at around 3,117 feet up. A trek takes you through terrain you have to machete, but the payoff is 360 degree views out to the Maria Islands.
Plus, views of the Pitons, which admittedly are more difficult to see when you're actually on them. But you're definitely gonna want to get on them. The taller Gros Piton is your best bet, with a wide berth up to 2,619 feet and several marked trails of varying difficulty. Reaching the summit could take you three hours or six, depending on your skill level and selfie-snapping habits.
Only a few minutes from the town of Soufrière (French for "sulfur"), you can conquer an easy, 45-minute hike to the top of the Tet Paul. There you'll again find panoramic views of the Pitons and the nearby islands of St. Vincent and Martinique. Pack a lunch for an excuse to use the cute picnic tables at the top while listening to the birdsongs of endemic parrots and warblers.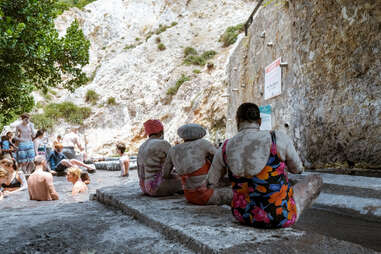 Heal yourself with mud and waterfalls
You'll smell Sulfur Springs before you see them. Located at the Soufrière Volcano on southwestern side of the island, here you can slather your body in the mineral-rich white and black mud believed to have healing properties for sun burns, eczema, arthritis, and sore joints. Afterwards, soak in the 110-degree spring to work out any residual achiness.
The volcanic geography of the island also gives way to the Toraille Waterfalls, located near Fond St. Jacques village. Dip into the plunge pool or indulge in an aquatic back massage at the base of the 50-foot waterfall that pours over the side of the cliff and terminates near a scenic garden.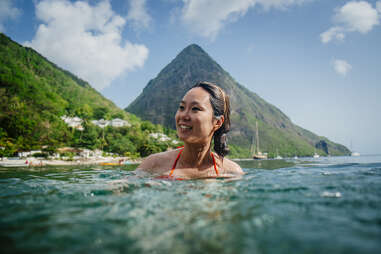 Walk underwater (or kayak, snorkel, or dive)
Best thing about a kayak tour in St. Lucia? You could either get your heartrate up for a workout or just listlessly float in the soothing water—the choice is yours. The Roseau River is located in the Anse-La-Raye region, and flows into the southern part of the island. Starting at Marigot Bay, take in the scenery that served as the backdrop for the 1967 film Dr. Doolittle, then spend the rest of the day paddling through lagoons, Banyan tree canopies, and mangroves.
Then duck—by way of diving and snorkeling at the base of the Pitons. The area is rife with eye-popping tropical fish, eels, sea turtles, and colorful coral landscapes. Don't forget to visit the Anse Cochon beach, the launch spot for exploring two of the island's shipwrecks. You could drift around the Lesleen M, a cargo ship sunk in 1986 to form an artificial reef, and the Danini Koyomaru, a 244-foot Japanese dredger transformed into an artificial reef in 1996.
If you aren't a certified diver but want to experience something a bit more thrilling than snorkeling, consider helmet diving, where you'll be connected to an oxygen source on a boat while you stretch your legs on the seafloor. Try it out at Pigeon Island, designated a National Park in 1979 and a National Landmark in 1992. You'll find marine life like seahorses, squid, and—if you have time to explore Pigeon Island's land mass—you'll also come across an 18th century British fort as well as Fort Rodney, used by the British to spy on the French during colonization.
Fill up on hot bread, spicy seafood, and a barbecue fête
On the western coast of St. Lucia, the fishing village of Anse La Raye is home to Rhumba Daiquiri Bar & Grill, where you'll find specialties like freshly caught lobster, barbecue ribs, jerk chicken and pork, and a standout catch-of-the-day. For dining with a view, the Treehouse restaurant in Anse Chastanet overlooks the Piton mountains. Try some of their locally caught Mahi Mahi, as well as vegetables sourced from the property's farm in the Soufrière hills.
Perhaps the best deals around the island can be found at family-run bakeries, where you can pick up baguette-shaped Creole bread for $1, made with baking powder instead of yeast, slathered with margarine, and stuffed with everything from cheese to caramelized onions to saltfish. If you find yourself in the hamlet of Norbert in Gros Islet on the northern side of the island, look for a local elder named Magdalene, who bakes her hot treats in an oil drum. Ask around, and you just might find the best steaming buns on the island.
And as long as you're in Gros Islet, stick around for the Friday night "jump-up," a weekly street party that's been taking over the friendly fishing town for over half a century. You'll find craft vendors, booming calypso reggae, and table-top setups serving up hot local pork, chicken, and barbecued seafood (try the conch or spiny lobster). Pair it all with rum punch or an ice-cold beer (Piton, of course).
Then finish off your meal with some chocolate
St. Lucia was once home to a thriving cacao industry. Thanks to their lush tropical rainforest, warm climate, and rich volcanic soil, they've been producing the prized fruit for centuries, and once exported their beans to Europe to be used as ingredients for the finest chocolate bars in the world. Over the past few years, St. Lucia's cacao business has gone through something of a sweet revival. Chocolate tourism has exploded on the island, and they even celebrate Chocolate Heritage Month each August.
While exploring, try cocoa tea, an invention of formerly enslaved St. Lucians that combine the British pastime with ingredients available on the island. Take a plantation tour at the Morne Coubaril Estate, La Dauphine Estate, or the Fond Doux Eco Resort. Come nightfall, book a stay at the Rabot Hotel from Hotel Chocolat, where you can tour cacao groves, taste all manner of chocolate dishes in the restaurant, or opt for a chocolate-infused spa treatment. Elsewhere, you can participate in a traditional "cocoa- rina" dance to polish the cocoa beans (it's quite the ab workout), visit a fermentation house, or do the whole shebang—Jade Mountain's Emerald Estate Organic Chocolate and Chocolate Laboratory provides the full beans-to-bar experience, including sampling the wares.
Sleep among nature in a jungle treehouse
And it's not just a chocolate hotel. The hoisted-up wooden rooms at Rabot Hotel make you feel like you're sleeping in a treehouse, complete with some of the best views on the island courtesy of balconies looking right at the Petit Piton volcano. And you're only a couple minutes away from beaches, waterfalls, and hot springs.
The Fond Doux Eco Resort is on a historic 19th-century working cocoa estate, with cottages so immersed in the rainforest you lean off the balcony (or your outdoor shower) and pick fruit off the trees.
And then there's Anse Chastenet Resort, which sits on 600 acres of tropical land and borders two serene beaches. Wooden shutters in the rooms unfold to let in the air (again, basically omitting some walls—St. Lucian staple). It's like having a balcony and room combined. Gaze out at the volcano from your bed, relax on a colorful chair swing overlooking the jungle from your balcony, or bask in the sunshine on an outdoor hammock—all without changing out of your bathrobe.