Spain's Best Kept Secret Might Be This Ancient Seaside Town Right Outside Barcelona
Gazing upon the Catalan gothic architecture of Barcelona, sipping beachside sangria in Ibiza, and gorging on tapas while shopping in Madrid are all top-tier daydream fodder when you think about a trip to Spain. But there's one city that packs it all -- the history, beauty, food, and wine -- into a smaller package, and it's just a short trip away from Barcelona. Yet most Americans are overlooking this compact, jaw-dropping Spanish destination.
I'm talking about Tarragona, a port city in the Catalonia region of Spain. Although many travelers have never even heard of this seaside city, it's somewhere I've known all about since I was young, thanks to my Catalan heritage. My mother's yayo (grandpa) was born in Tarragona in 1900 and her yaya (grandma) was born there shorty after. Since then, most of my Spanish relatives never left. And for good reason.
My own yaya, however, married an American and settled in the US. Growing up, I heard endless stories from her, delivered in her near-indecipherable accent, and my mother about their family summers spent back "home." I'd curiously examine old black-and-white photos of my mom and our relatives in the '60s -- from her siblings and cousins digging in the sand outside of a small, bungalow-style cafe at the beach to Yayo's hillside house with an awning draped in greenery, the images left me in awe of the sights and people pictured.
After years of painting a picture in my head about what Tarragona was like, I finally had the chance to turn my fantasies into reality. And let me tell you, Tarragona blew my fantasy of it out of the water.
Look to your right, and you'll see a panorama view of the Mediterranean sea. To your left, a slew of ancient Roman ruins. But the real kicker? Unlike Barcelona -- a sprawling, gorgeous metropolis only an hour away by train -- there aren't masses of tourists crowding the long pedestrian walkways full of artisan vendors and cafes known as ramblas. When you're in Tarragona, you truly get a taste of the lifestyle and people who live there.
Despite all its appeal and its close proximity to one of Spain's most toured destinations Tarragona remains one of Spain's best-kept secrets. Here's how to experience this ancient, wholly singular city by the sea.
Explore millennia of history in Tarragona
While Tarragnoa might seem like just a cute little city that begs for the generic label of "quaint" on first glance -- with its quiet beach areas, old-school architecture, some cobblestone roads, and slow-paced atmosphere -- a short walk off the ramblas will lead you to ancient structures that showcase its immense history. Before it was Tarragona, it was a Roman colony -- the first in Spain -- known as Tarraco, which was founded in 218 BC. To this day, several of the colony's structures, like an amphitheater and massive river aqueduct, still stand. You can even spot many pieces of the Roman ruins built into Tarragona's more modern architecture.
What's great about the preserved Roman structures is that you can tour them all in a single day, and on foot, as the rich array of sights are all about a 15-minute walk from each other. Here are the must-see stops you have to make on your Roman tour through Tarragona.
The Tarragona Amphitheater: My personal favorite, the Tarragona Amphitheater is an arena on a coastal hillside overlooking the Mediterranean sea. When I stood at the top of it looking down on the spot where gladiators fought to the death thousands of years before I was even born, I was in utter amazement. Guests can roam freely around most of this second-century structure, from the old prison cells to the seats in which 12,000 spectators would gather to watch the carnage and even the main ground of the Amphitheater itself.
By the third century AD, the Amphitheater was built upon with a basilica to honor the Christians who were martyred there. The basilica became a church known as Holy Mary of the Miracle, then eventually a convent and prison. Standing in the middle of the amphitheater, looking up at the stands, you'll be able to feel the unique vastness of its layered history.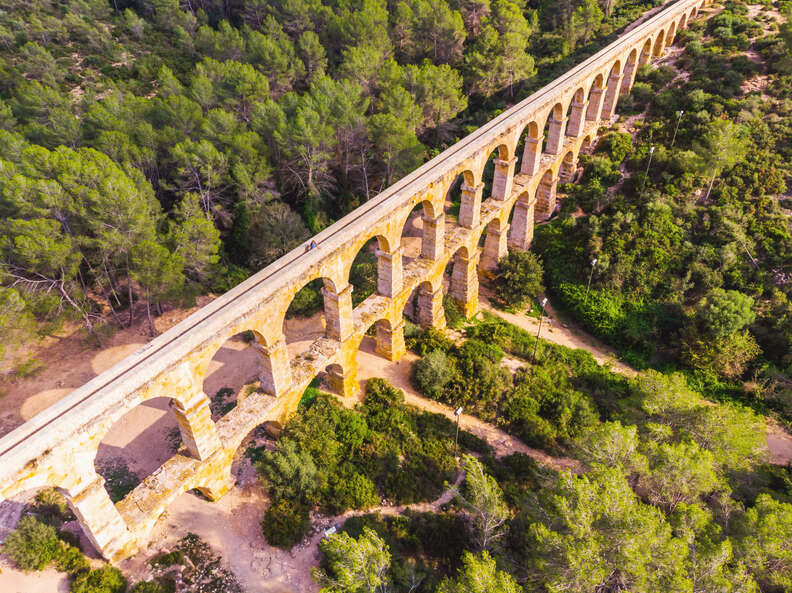 Praetorium and Roman Circus: The Circus was the sight of horse-drawn chariot races, and Tarragona's is one of the best-preserved circuses in the Western world. Although much of the structure is hidden under 19th-century buildings, visitors can still venture into the decorative facade, the stands and several vaults. While at the Circus, I felt like I was walking through what would have been the ancient Romans' version of a modern American football stadium. With a capacity of approximately 30,000, the Circus stretched 325 by 115 meters long.
The Praetorium is a tower of stairs that connected the lower city to the Provincial Forum, the political and nerve center of the city, by way of the circus using underground tunnels and passageways. When walking through these tunnels, I couldn't help but imagine the masses of people making their way from one part of town to the other. In the 12th century, it was converted into a palace for monarchs of the Crown of Aragon and was eventually turned into a prison.
Cathedral of Tarragona: In the heart of the Old City stands the Cathedral of Tarragona, which was built on the sight of the Roman Temple of Emperor Augustus (first century AD). Today, the stunning, more modern architecture still reveals hints of the old Roman temple walls. After gazing at the rose-shaped window and awe-inducing entrance of the facade, visitors can peruse galleries, see the Saint Tecla altarpiece, or opt for a guided tour through the cathedral.
Les Ferreres Aqueduct: OK, this site does require a short drive, but it is 100% worth the extra trip. The Les Ferreres Aqueduct, also known as the Pont del Diable (Devil's Bridge), is an ancient Roman bridge built in the first century AD that was used to supply the city with water from the Francolí River. The portion that's left of it today is 217 meters long and about 2 meters wide, and it stands 27 meters high atop two rows of majestic arch structures.
Those who visit the iconic site can even walk across the remains of the bridge. While I was shaking with nerves at the start (heights aren't necessarily my thing), the short journey across the aqueduct was worthwhile, and lead me to another stunning view of the structure from the other side.
The essential beach spots in Tarragona
Being on the coast of the Mediterranean Sea, Tarragona is home to a number of beautiful beaches. My favorite view in the city is from a terrace on a cliff at the end of the ramblas that overlooks miles of ocean and beach. Just below the terrace is a long stretch of sand known as Playa El Miracle, where I spent almost every morning of my trip strolling. To get to this serene beach, there's a pathway on the cliffside that leads you to a bridge going over a set of train tracks and a road parallel to the sand. While this beach is the closest one to the central area of town, it's ideal for less of a crowd and some relaxing downtime.
l'Arrabassada, on the other hand, is a hot spot for families and sunbathers alike. With just a short 10-minute drive, you'll find a boardwalk where kids are riding their skateboards and couples are strolling whimsically, in addition to a few bungalow-style restaurants on the sand where you can sip on sangria and snack on tapas. This beach is also adjacent to a rocky 20-foot cliff that you can climb on if you're feeling adventurous.
Just seven miles south and a 20-minute train or taxi ride from Tarragona is a small beach town called Salou, which is a more modern resort area where many young people from Tarragona go for the lively bar scene and families go for summer vacation. There are several family-friendly play areas and stages along the beach, as well as restaurants and bars on the waterfront. Aside from the gorgeous, golden-sand beach in Salou is PortAventura Park, a resort and theme park featuring tons of rides, shows, restaurants, and shops.
You'll want to eat and drink everything Tarragona has to offer
Of course, after a long day of sightseeing and beach-going, you're bound to work up an appetite. Trust me when I say the dining options in Tarragona are sure to satisfy your cravings. In the mood for casual tapas? Head to Plaça de la Font, one of the main squares in front of Town Hall. There you'll find a variety of restaurants with outdoor seating offering an array of tapas to choose from, such as croquettes, patatas bravas, and fried Padrón peppers. Even in the winter, you'll find locals dining outside here next to heated lamps. You can also try the cafes at the end of the ramblas that sit on a cliff overlooking the beach and sea, making the ideal spot for espresso and toast in the morning.
Being a port city, Tarragona has undeniably delicious and fresh seafood. To get your fix of fish, along with a gorgeous waterside view, check out the Marina Port Tarraco, which is filled with yachts you can fantasize about boarding while sipping sangria at one of the boardwalk restaurants. For a nicer, sit-down dinner, I suggest El Pósit -- try the monkfish in romesco sauce if you want to know what it's like to fall in love with a plate of food.
No Spanish meal is complete without a glass (or two, or three) of wine. So for the ultimate wine and dine experience, you'll want to try Arcs Restaurant, where dishes put a modern twist on traditional fare (think duck magret with foie and hibiscus caramel, or kangaroo with gooseberries and cacao). My family and I went here on New Year's Day, so we opted for a set menu, which you can reserve for larger parties, and enjoyed a four-course meal and downed several bottles of local red and white wines.
If you're looking for something a bit more unique, you need to go to El Restaurant La Caleta. This is where my family and I went on the last day of our trip, and its homey decor, flower adorned terrace and hospitable servers made us feel right at home -- being immersed in a neighborhood right off the coast, the restaurant even looks like a traditional family house or bed and breakfast from the outside. The menu offers Mediterranean cuisine that combines traditional recipes with new, innovative ones created by the restaurant owner, Romón Del Olmo.
"Don't be surprised if you find yourself walking back to your hotel when the sun is just starting to come up."
If you want to skip the sit-down restaurant, go to the Central Market of Tarragona, an indoor marketplace where you can shop for fresh fruits and vegetables, meats, baked goods, and more. It's housed in a picturesque modernist building located in Corsini Square that opened in 1915, so you can admire its decorative motifs while browsing the aisles. Plus, Corsini Square is also the home of many outdoor markets where you can find clothes, accessories, antiques, and other food vendors.
For nightlife, start near the Plaça de la Font, where there are several bars with terraces that are ideal for getting a few casual drinks. ANTIQUE, for instance, is the perfect place to start the night because of its charming ambiance and tasty cocktails, among them a mojito that might just render all other mint-and-rum combos disappointing in the future. . The modern gold and white interior, compact bar area and friendly bartenders make it the type of place you would go on a first date or with a small group of close friends.
Looking for somewhere to get your groove on? After finishing your drinks at ANTIQUE, go to Totem Café. It's more of a nightclub atmosphere complete with loud music and dancing the night away. If you're planning for a night of bar hopping, you'll also want to check out BLOOMSBURY and Sala el Cau.
But be prepared for a late night. The people of Tarragona (and Spain in general) run on a much later time than what we're used to in the US. Dinner usually happens around 9pm, which means going out to bars doesn't start until at least 11. So don't be surprised if you find yourself walking back to your hotel or Airbnb when the sun is just starting to come up. Luckily, here the sunrises are spectacular, too.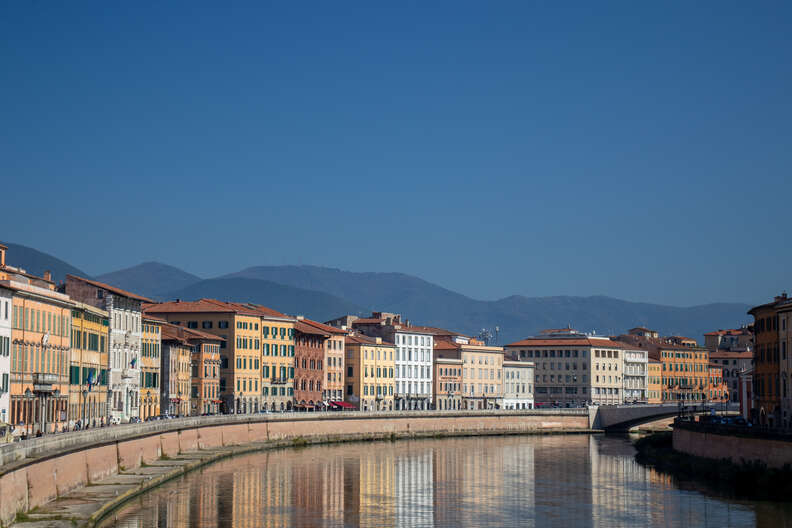 Getting around Tarragona and beyond
Tarragona is a city that all but demands to be explored on foot, and the variety of thin alleyways and cobblestone streets make exploration endlessly interesting. These alleyways can also make it a bit easy to get turned around, so it's a good idea to take note of landmarks that can help you find your way back to your hotel and carry a map of town. However, there are also taxi services readily available to take you where you want to go.
For getting in and out of town, the Camp de Tarragona Train Station makes it easy with trains running to and from far and nearby cities all day long. The train station is about a mile walk from the center of town with a long flight of stairs leading right to it -- my mom was relieved to see they've added an escalator since she was forced to drag her luggage up and down these stairs as a kid.
Human towers, festivals, and other Tarragona traditions
The people of Tarragona are a lively bunch who embrace the long-lived traditions of Catalonia, such as human towers, in which people literally stack themselves on top of each other in competitions to see who can build the highest structure. These usually occur at festivals, but you can even see a life-size statue of one in the middle of the ramblas walkway.
One festival you can count on seeing a human tower at is Santa Tecla, an annual 10 day-long celebration that occurs every September in Tarragona. Throughout the week, locals fill the streets for parades featuring giant puppet figurines, dancing to festive music played on traditional instruments, along with spectacular firework shows and lots of celebratory food and drinks.
While I wasn't in Tarragona for Santa Tecla, I was present for New Year's Eve and Three Kings Day (also known as Epiphany), a holiday celebrated on January 6 on which families feast, children can finally open their Christmas presents and yet another parade makes its way through the middle of town. On the night of Three Kings Day, after stuffing our faces with various cheeses, bread and meat, my family and I joined the locals on the ramblas to watch the show. Extravagant floats made their way through the crowd with children on them dressed up as traditional biblical characters and throwing candy into the crowds.
Regardless of season, though, Tarragona's a livewire kind of place. And because it's so under-touristed, it's easy to get swept into the spectacle, whether that involves great cocktails or holding your breath as a group of folks balance precariously on one another's shoulders.