North and South Bruny Island

| SAKARET/Shutterstock
North and South Bruny Island

| SAKARET/Shutterstock
This Freaky-Beautiful Island Is Australia's Most Underrated Treasure
Tasmania, an island off an island at the bottom of the world, may well be Australia's best-kept secret. As an Australian, it took me six years of traveling to finally reach this isolated paradise, and there was an instant attraction. As I stood on the boardwalk looking out over North and South Bruny Island I knew I'd found the most magical corner of my homeland. Imagine hand-selecting all the incredible things from a country the size of the United States and concentrating them onto an island the size of West Virginia. That's Tasmania.
Here you get an eclectic mix of farmland, lakes, islands, wine valleys, deep rainforest, turquoise water, rugged mountains, deserted beaches. Hell, they even have freaky/deadly animals. Shy of Mad Max-ready desertscapes, Tasmania offers just about everything to pique a traveler bound for Australia. Hit these highlights if you're lucky enough to go.
Hobart, seen from Mount Wellington
The whipping winds up here, 4,170 feet above sea level, have reached more than 100mph, and temperatures might be 50 degrees colder than at the foot of the mountain. But on a clear day, just a half-hour's drive from the middle of Hobart, the views make up for the weather.
Tasman Arch
This abnormal geological formation is a highlight of the Tasman National Park -- a place of rugged oceanside terrain and exquisite natural beauty.
The Garden, Bay of Fires
This 29-mile-long coast was named for actual fires in 1773 -- but the bright lichen on its granite boulders gave sticking power to the name. This dramatic landscape of pale sand, dazzling water, and orange-caked rocks draws visitors to Tasmania's northeastern coast.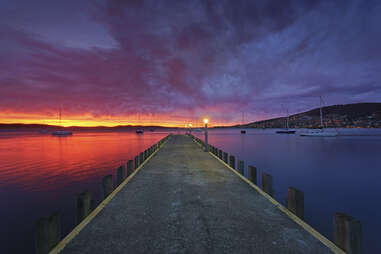 Battery Point
Named for the gun battery that resided here and protected Hobart from marine threats, Battery Point attracts history buffs from all over. This oceanside suburb has the ultimate finish line view of the annual Sydney to Hobart Yacht Race (and a spectacular sunrise over River Derwent).
Cape Raoul Cliffs
As you reach the jagged point of the Tasman Peninsula and see the raw, untouched beauty of the Cape Raoul Cliffs, you'll understand why the locals are proud to be Tasmanian. The majestic towering columns will leave you in awe. [Cue a whale spume below.]
Tasmanian Museum and Art Gallery
Although quite a young country in comparison, Hobart houses some of the oldest architecture in Australia. The Tasmanian Museum and Art Gallery was established in 1846, making this 171-year-old building one of the city's most historic and revered.
Gordon River Dam
In the heart of Tasmania's southwest wilderness, lies the Gordon Dam, a 460-foot-tall concrete wall that you can abseil down. So if you're looking for some adrenaline on your trip to Tasmania, Aardvark Adventures will let you descend the highest commercial abseil in the world. Dam.
Wineglass Bay
Located in Freycinet National Park, Tasmania's oldest, Wineglass Bay is a near-perfect curve of white sand and the bluest water you may ever see. An iconic destination for honeymooners, kayakers, and bushwalkers, Wineglass Bay is about a two-hour walk from the entrance of the national park, and a two-and-a-half hour drive from Hobart. Arrive early enough in the day and you may have the entire beach to yourself.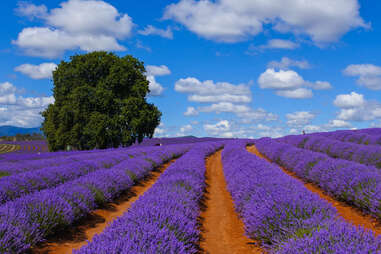 Bridestowe Lavender Estate
Welcome to the world's largest commercial plantation of lavender in the world. This place is pure magic year-round, hitting a zenith between late December and late January, when the lavender is in full bloom and dizzying to behold.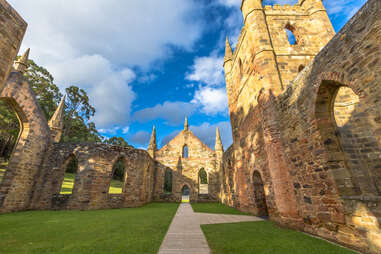 Port Arthur
Some 40 miles from Hobart you'll find Port Arthur, Tasmania's most-visited tourist attraction and the location of a 1996 massacre that still ranks as the worst mass murder event in Australian history. What does it say about us that our favorite tourist attraction is an open-air museum associated with atrocity? I'll leave that to you to theorize.
Table Cape Tulip Farm
The magnificent natural formation that is "The Cape," as locals call it, sits 600 feet high and commands the Wynyard coastline of Tasmania. It is also home to an astonishing outdoor exhibition each spring, when the vibrant tulips blossom and turn the field into a riot.
Stanley Circular Head, Sawyer Bay
This small town is your best stop for seafood, maybe anywhere. Coastal hiking trails and glassy ocean water are only a backdrop to the fresh catches that come into Stanley, the main fishing port on the north coast of Tasmania.
Iron Blow
This open-cut mine at Mount Lyell was created to source gold in 1883 (and was the country's earliest crucial mining operation). Today you can look over the water that now fills the old mine and look back into the country's recent past.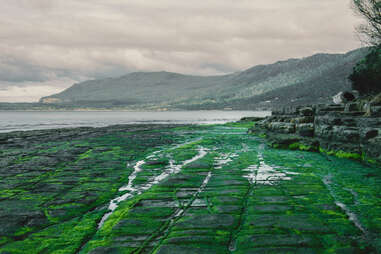 Tessellated Pavement, Pirates Bay
Caused chiefly by erosion, a tessellated pavement is a geological wonder. The most famous case of this rock formation? You got it, Tasmania's Pirates Bay. The rugged coastline in this unique bay in Eaglehawk Neck is strewn with these formations.
Dove Lake, Cradle Mountain
Sitting 5,000 feet above sea level, this UNESCO World Heritage Site is one of the most popular (and beautiful) tourist attractions in Tasmania. Bring your best hiking boots -- the Cradle Mountain hike is a strenuous 6.5-hour return hike that involves clambering over large boulders for hundreds of meters.
Sign up here for our daily Thrillist email and subscribe here for our YouTube channel to get your fix of the best in food/drink/fun.
Shylie Rimmer is a Sydney-born writer and nomad at heart.