Everybody knows that Portland is weird. Lord knows they won't let us forget.
But when it really comes down to it, the entire Pacific Northwest actually has its own unique flavor, thanks to decades of stewing in its own rain-soaked juices. Who knows whether it's the near-constant drizzle, the semi-isolation, or the overabundance of inspiring landscapes and mind-altering toadstools, but whatever the reasons, Washington and Oregon are brimming with weird people, places, and happenings. And these are 10 of the oddest.
1. Twede's Café in North Bend, WA
Located just over half an hour east of Seattle, Twede's Café looks like your normal, run-of-the-mill coffee spot. Take a closer look, however, and you'll recognize it as the café from David Lynch's bizarre show Twin Peaks, featuring backwards-talking midgets and Kyle MacLachlan's jawline. To this day, you can still order a slice of cherry pie and a damn fine cup of coffee.
2. The outhouse races in Conconully, WA
Talk about isolated. Located in a region of northwestern Washington that's the very definition of far-flung, the town of Conconully boasts a population of just over 200. What do 200 people do with themselves when the harsh snows of winter descend? Why, put their outhouses on skis then race them down Main Street, of course.
3. The Oregon Dunes
Follow Highway 101 down the Oregon coast to the town of Florence, and you'll come upon a region that is decidedly out of place in the lush greenery of the surrounding area. The Oregon Dunes National Recreation Area features miles of rolling sand dunes dotted by an occasional oasis of trees. Compared to the rest of the state, the Dunes make you feel as if you've suddenly landed on Tatooine. Except, they are the dunes you're looking for!
4. The Black Houses of Olympia, WA
Owned and rented out by a gothic dentist (and bar/coffee shop owner) named Dr. Duane Moore, the Black Houses of Olympia have become a thing of legend. Supposedly, Moore began painting the houses black in an attempt to drive down property values throughout the city, and some say they form a pentagram when mapped out. Who knows. What we do know is that many of the houses have cryptic names such as the Track House and the Black Womb, and one of them features a mural painted by one of the members of Slayer.
5. Prehistoric Gardens near Bandon, OR
What's to be said about the Prehistoric Gardens? It's, well... cheesy Jurassic Park. Located in a pocket of rainforest near the state's southern border, it really is a beautiful place. But with each ridiculous, plastic dinosaur you see along the tour, you may find yourself muttering, "Must go faster, must go faster…"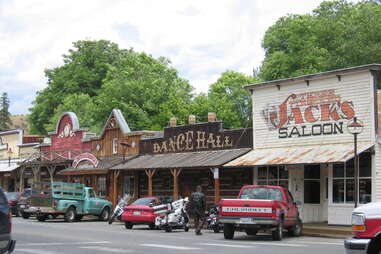 6. Winthrop, WA
Just over the eastern side of the Cascade Mountains along Highway 20 (which is undeniably one of the most scenic drives in the world), is the odd little tourist town of Winthrop. Façaded to appear as Old West as possible, Winthrop comes off as just another tourist trap. What makes the town so strange, though, is the mixed crowd that it draws: a hodgepodge of families, bikers, redneck ranchers, holistic hippies, and a whole mess of outdoors enthusiasts.
FYI: for a drink and a burger, drop by Three Finger Jack's Saloon, one of the oldest drinking establishments in Washington.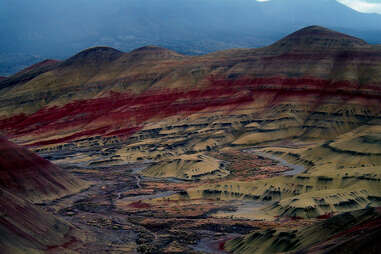 7. The Painted Hills of Oregon
Head to the central region of Oregon, and you'll find one of the great natural wonders of the world -- the Painted Hills. Simply put, they don't look real. It's as if someone came along with a giant roller and, well, painted them.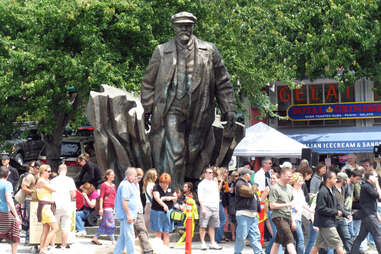 8. Lenin and a Troll, Seattle, WA
A lot of people are hip to the Troll under the Fremont Bridge in Seattle, but far fewer know that just down the street is a giant, bronze statue of Communist thinker Valdimir Lenin. Originally located in Poprad, Czechoslovakia, an English teacher from Seattle found the statue lying in a scrap pile after the Iron Curtain came down. At his own expense, he shipped the damn thing home where it sat in his backyard for a number of years. Shortly after he died in 1994, however, locals installed the statue in the Fremont neighborhood at N. 34th and Evanston, and these days it isn't uncommon to see it decorated as a clown, covered in Christmas lights, or dressed in drag.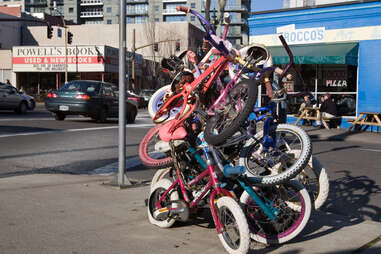 9. The Zoobombers of Portland, OR
So, it's pretty easy to explain the "what" of this one, but what's more difficult to understand is the "why". Simply put, the Zoobombers meet up occasionally to bike (generally on mini-bikes) to the zoo, where they proceed to tear ass down a really steep hill. This has become such a regular event that the city placed a special bike rack in the heart of downtown called the Zoobomb pile, which is exactly what it sounds like -- a pile of minibikes chained to one another. As for the "why"? It's Portland -- best not to ask.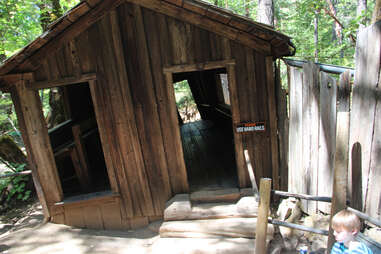 10. The Oregon Vortex, Gold Hill, OR
According to local lore, the Oregon Vortex was originally an office for a gold mining operation. After the building slid from its foundation about 100 years ago, it came to rest at a strange angle that some say drew it into a "vortex" that distorts visual perception, causes height changes, and forces things to roll uphill. Skeptics (or some might say "practical people") attribute all of all of this to optical illusion.