Mercado Hidalgo

| Flickr/Rebeca Anchondo
Mercado Hidalgo

| Flickr/Rebeca Anchondo
Why You Absolutely Need to Take a Trip Down to Tijuana, Mexico
If you're even thinking of being in San Diego, check out the rest of our DestiNATION: San Diego guide. It's stacked with expert advice from locals on what to eat, where to drink, and what to do.
Back in the day, when I went to Tijuana I didn't have a guidebook. I just had a friend I'll call Paco, one of my best high school buddies. His last name happened to match that of Tijuana's mayor at the time, and we all used to take his advice on Tijuana. After all, he was, we'd joke, the mayor's nephew or something.
At the end of one of our day trips (during which I may or may not have consumed meaningful quantities of high-test refreshments), Paco drove us back north, with me nodding off in the passenger seat. I snapped to when I realized the policia municipal had pulled us over. With the cop blathering at him, Paco, unfazed, flipped the table, yelling: "DO YOU KNOW WHO I AM?" He flashed his driver's license. Seeing Paco's name, the cop turned whiter than I am. He ended up bribing us.
We were very, very lucky. Paco was very, very stupid.
Don't be Paco. Don't be high school me. Do go to Tijuana, though. I've got another couple of decades of Tijuana experience to offer here to make your time fantastic, without the stunts.
Your super-gritty old-school Vegas, plus great food and wine
Once upon a time, Tijuana traded on its "wrong side of the tracks" reputation, selling itself (in more than one way) to off-duty Navy personnel and kids looking for fun (or trouble). Forlorn burros painted as zebras evoked notions of the mythical "donkey shows" and a pre-Vegas "what happens there stays there" attitude. But a Great Recession and drug war later, Tijuana has begun to remake itself into a broader, more upscale -- quite possibly more sustainable -- tourist destination. Its culinary scene is hot (both at the top and with street food), the beer scene is nearly as good, its cultural institutions are thriving, and there's still "edge" if you want it.
No matter how good the wine is, it still tends to impair you if you drink enough of it.
You can also venture further and hit the newest hot major wine region in the world: Baja's Valle de Guadalupe. An hour and a half south of the border, the Valle features a couple of the most celebrated restaurants in all of Latin America, a Michelin-starred chef, and a number of world-class wineries. And it's gorgeous.
Either way, just across the border from San Diego are a lot of places worth the trip.
Start with the excellent craft brew and street-food scenes
Perhaps the best way to approach the new Tijuana is through its craft beer scene. One of the most notable of Tijuana's microbreweries is Cervecería Insurgente at Juan Cordero 10021 in Tijuana's Zona Río district. While beer's been brewed in Mexico for a very long time, it is really Insurgente that put Baja's craft beer scene on the map. Just steps from Avenida Revolucion is Mamut Brewery Co., another excellent local artisanal brewery. But there's no better way to taste the range of the Baja craft beer scene than at the BCB Tasting Room with its huge range of drafts and bottles.
But it was not beer, but rather food, that began the renaissance of Tijuana and Northern Baja. And, perhaps, no chef or restaurant was more responsible for that than Javier Plascencia and Misión 19. Misión 19 offers a Mexican cuisine you haven't seen on this side of the border -- refined, but also unquestionably Baja.
The origin of the "Baja Med" movement, with which Plascencia is sometimes associated, is often attributed to Miguel Angel Guerrero. His La Querencia remains an essential stop. The "carpaccio" dishes are reason enough on their own. Or you could go to one of the Plascencia family's other restaurants, Caesar's Restaurant-Bar, where original owner Caesar Cardini invented the salad that bears his name. It's not the best restaurant in Tijuana, but it's a box to check off in life and it's fun.
Tijuana's street food is dynamite. The street tacos are legendary, none more so than on the strip of six taquerias known as "Taco Alley" or "Las Ahumaderas." Try the adobada tacos (think Mexican gyros) at Tacos El Paisa. Or ask for the combination birria and tripa tacos at Tacos Fitos near the Mercado Hidalgo. The heady combination of sweet spice-braised birria and crispy tripe is addictive. The show alone is worth it -- the taquero literally throws the birria juice into the tortilla waiting in his other hand. Or try the carne asada tortas at Tortas Wash Mobile or the unique steamed beef tortas at Tortas El Turco.
Dive into the gastro parks and haggle at the market
Tijuana's gastro parks offer the best sense of the food scene's creative ferment. Neither high-end nor precisely street food, these colectivos are permanent locations where food trucks and stalls offer restaurant-quality food in informal outdoor settings with tables and other amenities. If you only try one of these make it Telefonica Gastro Park on Avenida Melchor Ocampo, a block north of Agua Caliente. Among the Asian stylings of Javier Plascencia's Don Ramen, the home cooking of La Carmelita, and the smoked meats of HUMO Charcuteria, there's not a bad meal to be had. Don't miss the outstanding seafood at Otto's Grill where chef Otto Spahn won't deny he's the real inventor of "Baja Med" cuisine. He might even be right.
A foodie trip to Tijuana taken to its logical extreme must include the Mercado Hidalgo, Tijuana's permanent public market. It is a bustling, energetic, and extremely colorful working market consisting of 80 open-air stalls arranged around a central courtyard-cum-parking lot and a Virgin of Guadalupe shrine. The Mercado's stalls feature unbelievably fresh produce, dried chiles, spices, fresh moles, tortillas, a wholesale meat vendor, and kitchen supplies along with wonderful little restaurant options.
Hit the arts, fútbol, and a bullfight (while you still can)
But Tijuana is a lot more than food and drink. Trips to Tijuana -- and the mythology of trips to Tijuana -- revolved around Avenida Revolucion and the seedier side of life. The strip clubs, drugs, and prostitution are still on full display in Tijuana's Zona Norte. It's not a good idea to go there alone and probably best to go with someone who knows the place and the rules (written and unwritten) or to avoid it entirely.
Avenida Revolucion is also still there, and while you can feel that it's changed over time, you can still buy trinkets from vendors who say "Laaaady" or "You've found it!" to lure you in. Since 2009, the area around Avenida Revolucion has begun to sprout artistic roots and flowers. Artists and community organizers have redeveloped and retrofitted a number of arcades running off the avenue -- Pasaje Rodriguez and Pasaje Gomez in particular -- to cater to the arts, coffee shops, poetry readings, and similar events and institutions. These, together with a number of galleries -- such as Otras Obras, 206 Arte Contemporáneo, and Espacio Freelance (which began in the Pasaje Rodriguez) -- have turned Tijuana's Zona Central into something of an arts district.
Catch them while you can: a movement to ban bullfighting is catching some serious wind in Mexico.
The unofficial capital of Tijuana's arts scene is CECUT, the Centro Cultural Tijuana. Designed by architects Pedro Ramírez Vázquez and Manuel Rosen Morrison, it features an IMAX cinema, performances, festivals, and exhibits, as well as a museum space with rotating shows.
If your taste runs a bit more competitive, Tijuana's Estadio Caliente, right near the Caliente casino and racetrack, is the home to Club Tijuana (the Xolos), one of the top teams in Mexico's top soccer league, the Liga MX. For the serious fútbol fan the Xolos play a good brand of ball. For the culturally minded the atmosphere alone is worth the ticket.
Take a competitive sporting event and cross it with dance, culture, and a hint of Passion Play, and you get a bullfight. The venue for Tijuana's bullfights recently changed from the once-glorious Plaza Monumental in the Playas de Tijuana district to a new, if temporary, bullring near Estadio Caliente. Catch them while you can: A movement to ban bullfighting is catching some serious wind in Mexico. Some will celebrate that. I'm not one of those people.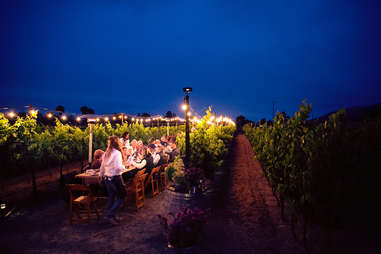 Further into Baja, a superior wine region awaits
South of Tijuana proper is the rest of Baja California, the spindly peninsula that's nearly as long as actual California. You only need to drive an hour and change down the coast to reach the Valle de Guadalupe, one the world's hottest emerging wine regions and food destinations, and an unappreciated jewel.
The Valle's most spectacular view might be from the deck of Monte Xanic Bodega Vinícola's majestic winery and tasting room. The winery's premium bottling, the Gran Ricardo (a blend of cabernet sauvignon, merlot, and petit verdot), is as excellent as the view. The other fantastic local white is the non-oaked chardonnay from Lechuza Vineyard at the east of San Antonio de las Minas at the Valle's southwestern end. I'm not the only one who likes it: Chef Thomas Keller recently put it on the wine list at his flagship restaurant, The French Laundry, in Napa Valley. No tricks, no wood, no deception, it is a pure expression of the earth and the grape.
Elsewhere, La Lomita winery makes some of the best food wines in the Valle. Its Pagano (grenache) and Sacro (50/50 cabernet/merlot) bottlings are particularly good, but the Cursi is one of the best dry rose wines anywhere, featuring caramel and red berry fruit flavors without being sweet.
But the odds-on favorite to take the Best Wine in the Valle sweepstakes is the "Cru Garage" Nebbiolo at Torres Alegre y Familia. To taste that you have to buy the top-level premium tasting, but it's well worth it. The Nebbiolo is a deeply concentrated wine with pronounced fruity flavors, especially red berries, and an earthiness and terroir that suggests this is exactly the wine that should be grown just where it is.
Two of the top 50 restaurants in all of Latin America
As great as the Valle's wine has become, its food scene may be better. The first place to get notice was Laja Restaurant (Carretera Ensenada-Tecate km. 83), currently rated number 46 on the San Pellegrino list of 50 best restaurants in Latin America. Rated higher still is the nearby Corazon de Tierra. Chef Diego Hernandez's food is contemporary, but deeply grounded in Mexican soul, Old World technique, and -- crucially -- the gardens surrounding (almost engulfing) the dining room.
Don't miss the work of the Valle's only (so far) Michelin-starred chef: Drew Deckman of Deckman's en el Mogor. The pastoral outdoor setting on the Mogor Badán winery's property provides all of the vegetables, as well as the wood that fuels the outdoor grill and oven that are Deckman's "anti-kitchen." Despite -- or perhaps because of -- this glorified campsite setting (and the creativity it both inspires and demands) the food that emerges is extraordinary.
How to get to Tijuana from San Diego
Tijuana is less than a half-hour drive south of San Diego down Interstate 5 or 805, less in good traffic. There are two primary reasons not to drive there: Tijuana traffic and the border wait on the way back. They both suck. Tijuana traffic is heavy and Tijuana drivers do have a tendency to view lanes as mere suggestions. But once you get outside of Tijuana it's pretty much smooth sailing.
The border wait on a Sunday afternoon can be brutal. Check that: The border wait on a Sunday afternoon is brutal. Short of getting your SENTRI/Global Entry pass, the best way to get around that is to get your teeth cleaned by a Tijuana dentist who can provide you with a "medical pass" in return.
Don't get pulled over by the cops. They actually do have speed limits in Mexico: 90-100km/h (56-62mph) on major highways inside cities, 100km/h (62mph) on major highways leaving or approaching towns or cities, and 110km/h (68mph) on major highways. If you do get pulled over by the policia -- whether federales, estatal, or municipal -- it's probably not a bright idea to bribe your way out of it.
Driving is not the only way to get south of the border. San Diego's Metropolitan Transit District offers trolleys that take you right to the Tijuana El Chaparral border crossing. Or drive to the border and park near the crossing. From there, walk across and grab a taxi (easy, cheap) or an Uber.
Another option is a tour. They range from the near-luxurious to the rudimentary. Helmed by Angel Miron of Hamilton's Tavern, a super San Diego beerpub, Let's Go Clandestino offers a number of options, including beer and food tours to Tijuana and Ensenada. One of the more established (and conventional) tour operators is Club Tengo Hambre, run by a group of food bloggers who pioneered coverage of the burgeoning Baja food scene.
Getting to the Valle de Guadalupe is trickier
Options for getting to the Valle de Guadalupe are more limited. Driving is a very good option. It would be a truly great option if you weren't pretty much going there to drink wine. No matter how good the wine is, it still tends to impair you if you drink enough of it.
Hiring an Uber driver for part of the day works. But tours are probably the best way to do the Valle for the first time. Baja Wine + Food offers specially crafted Valle experiences tailored by Fernando Gaxiola, one of Baja wine's most prominent promoters north of the border. Tijuana native and journalist Julio Cesar Marruffo also runs some excellent Baja tours.
What to bring (and what not to)
On my last trip south of the border with Paco neither of us had a passport. That, however, wasn't dumb: We didn't need one. That was then. Now you need your passport. If you try to get back on your driver's license, birth certificate, or pretty smile, the best you can legitimately hope for is a long, dull wait in Secondary Inspection.
If you have any intention of using your smartphone in Mexico, be sure that you call your carrier before you go, turn on your international data roaming, and be positive you can afford to do so. If you're a T-Mobile customer, you're in luck (at least in Mexico).
The best rule of thumb when traveling abroad is: Don't be stupid. That's definitely Rule No. 1 in TJ.
Mexico is immune to your American auto insurance policy. If you're driving, grab Mexican insurance as you near the border. It's cheap and definitely worth it. Or plan ahead and get it online.
One thing you may expect you have to do is change your dollars to pesos. You don't. Oh, you could if you insist: You could try to play the retail foreign currency arbitrage game, but why? The game's rigged: You'll lose. You'll do far better calling your US bank and asking which Mexican banks it has deals with and then using those ATMs without additional fees. That way you get an exchange rate instead of a wholesale rate.
How safe is it?
The best rule of thumb when traveling abroad is: Don't be stupid. That's definitely Rule No. 1 in TJ. If you follow that rule -- if you avoid going to places that feel too sketchy, if you don't go to the Zona Norte alone at night, if you don't go to the places you definitely wouldn't think of going north of the border -- you are likely to be just fine.
There was, no question, a time when that wasn't so. A massive drug war gripped Northern Baja. A lot of the American press presented it as a war between evil (drug lords) and good (the police). That wasn't true then and definitely isn't true now. A better, if simplistic, picture is that it was a war between the Tijuana and Sinaloa cartels for control of the drug trade, with the police running interference (whether intentionally or otherwise) for one side, the other, or both. When the Sinaloa cartel won, things became less dangerous.
There are still drug-related killings and crime in Tijuana (just as there are in most major -- and some not-so-major -- American cities). For the most part the activity now is mostly in neighborhood-level skirmishes with nearly all of it limited to highly non-tourist areas of the city. That said, there is absolutely no doubt that you can still be in the wrong place at the wrong time. Always see Rule No. 1.
Sign up here for our daily Thrillist email, and get your fix of the best in food/drink/fun.