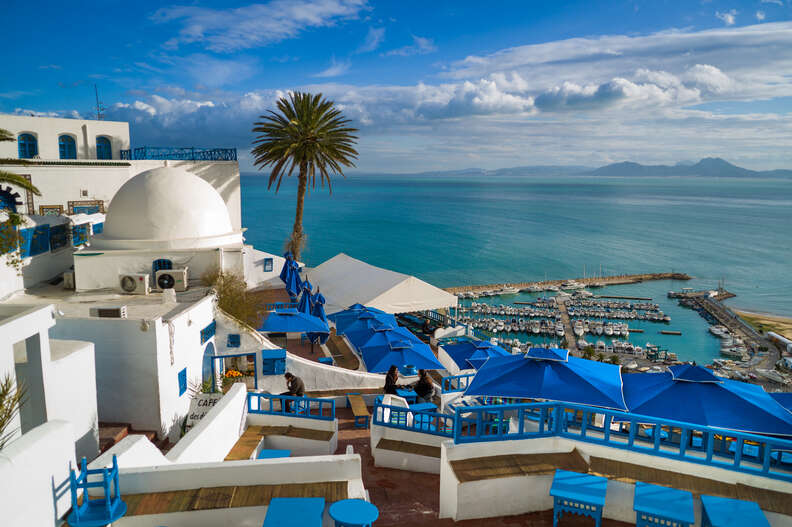 The Affordable, Off-the-Beaten Path Mediterranean City You Need to Visit
Looking out over a maze of whitewashed North African architecture from your seat at a panoramic rooftop café, you take in the minarets of mosques towering above a cityscape across which intricate mosaics abound, presenting the eye with colorful pattern upon pattern. Here you see the honey-colored façade of the Cathedral of Saint Vincent de Paul set behind a row of palm trees. There you spot the archway of the Bab el Bhar portal to the vast and chaotic markets of the Medina. Around the clock tower at the top of the main drag of Avenue Habib Bourguiba sit locals socializing late into the night. Neon signs advertising hookah bars tempt you in for a relaxing puff. You can smell the brine from the nearby sea.
The atmosphere is a stark contrast to cities on the northern side of the Mediterranean. Here in Tunis, the capital of Tunisia, you won't find the same crush of tourist hordes, nor the price-gouging they tend to elicit. The European riviera is a circus of Greco-Roman antiquity overrun by vacationers. In Tunis you are firmly in the realm of Islam, Ancient Carthage, and the Phoenicians, and the outside world doesn't seem to know it's there. What a relief.

"It used to be 1984," a friend tells me over beers on a flower-scented bar terrace downtown. "They monitored everything we did. But not anymore."
This might require explanation.
Before Tunisia's 2010 Jasmine Revolution ended the 23-year reign of its then-president Zine El Abidine Ben Ali and inadvertently launched the Arab Spring, the country was a very different place. Back then repression was the rule, replaced now by openly democratic elections. In 2018, Tunisians chose not only its first female mayor, but the first female mayor of any capital city in the region.
"Of all the places I have gone, rarely have I felt as welcomed as I was in Tunis."
So what is Tunis all about these days? From my experience, it's a lot of laid-back walks on warm evenings through jasmine-scented air. It's a place of happy families gathered at beach alcoves swimming and cooling off during the heat of the day, or watching the expansive coastal sunsets later on, usually followed by watching soccer. It's going out to nearby La Marsa or Gammarth to drink, dance, and talk late into the night -- or even late into the morning.
In other words, it's similar to the Mediterranean lifestyle I'd come to expect from southern Europe, but with a North African twist. It's the Mediterranean of mosaics and mosques, and it offers a reprieve from the tourist hordes and high costs that are found in the cities on the other side of the sea.
When you're there, be sure to support the jasmine sellers. Buy their necklaces woven of flowers, and put a blossom behind your ear. It's a small way to help the local economy.
And for many Tunisians, the jasmine flower is fragrant with meaning. It is the perfume of their freedom.
You'll still find evidence of the old way throughout Tunis -- rolls of barbed wire and barricades that were never cleaned up -- but a noticeably open and optimistic attitude can be felt, especially among the young people who have made Tunis an essential but overlooked destination for travelers.
Tunis is a lively, affordable city that demands to be explored
Of all the places I have gone, rarely have I felt as welcomed as I was in Tunis.
There is an eagerness among the Tunisians I met to share their country and culture, and they readily suggest must-see ruins, districts, and bars (of which there are many detailed below). Taxi drivers were consistently amazed and thrilled to learn that I was American, as Americans are a relative rarity. They often took this as an opportunity to try out their English, which was usually better than my poor French and always better than my non-existent Arabic. While English isn't common, the Tunisians are patient and helpful, but if you can speak a few words of French it won't hurt. S'il vous plait and merci will go a long way.
Affordability, too, makes the city a huge draw. The Tunisian dinar falters against the dollar at a rate of nearly 3:1. Translation -- your money will go far. Food and booze are cheap. You can easily find an Airbnb or hostel for under $50/night. A room at the luxurious Villa Didon in Carthage -- (nestled just beneath the ruins of Byrsa, boasting a lovely restaurant and bar with a view of the sea -- will run you around $150 a night. At the vibrant bars of La Marsa or Gammarth, you would have to seriously tie one on to receive a bill over $30 or so.
Wandering the streets of Tunis is a full-sensory experience
The clock tower of Habib Bourguiba is a fine place to start your tour. A rather minimalistic metal structure surrounded by a fountain and roundabout and named after the country's first president who oversaw its launch into independence from colonial France, Habib Bourguiba is essentially at the heart of everything. It's the main taxi stop, and more or less the de facto meeting point for locals.
A walk along the promenade that runs from the clock into the depths of the city serves as a pleasant introduction -- busy restaurant terraces and shops, families at play, palm trees lining the avenues, and the looming presence of an impressive cathedral. But it's at the end of this stretch that you'll come upon perhaps the most important site in the entire city: the Medina.
The markets of the Medina -- an old, walled in, carless district -- extend across kilometer after kilometer of passageways lined with street vendors selling goods that dazzle the eye, and might just fit nicely in your suitcase: tea sets, hookahs, coffee, rugs, and bolts of patterned cloth, leather-goods, shiny touristy things, fruit and meat, spices, and so on. Give yourself a good couple of hours to wander its wares, because you will get wonderfully lost.
The air is richly-scented with spices, old men poised on little stools sip coffee and smoke hookah, venders haggle relentlessly, and with any luck your lost wanderings will lead you into the courtyard of the stunning and historic Zaytuna Mosque, which is nothing short of a masterpiece of Islamic design.
Seek out a café called Panorama Medina. Its prominent sign is placed over a set of nondescript doors, and after entering these if you are put off by the decidedly unbusinesslike atmosphere of the stairway (it feels rather like you're climbing into someone's apartment), don't lose heart. You will be rewarded at the top by a richly mosaiced café offering a stunning 360-degree view of the city.
Tunis' street food and bar culture are a never-ending feast
There are many great restaurants around, but be sure to explore the random grab-and-go spots. These will provide you with a wealth of richly flavored dishes and sandwiches/shawarmas built around lamb, chicken, and beef. Or there's fricassee, which is tuna, egg, olives, potato, and the Tunisian hot-sauce harissa all packed into a doughnut-like bun. And if you get the chance try traditional Tunisian dish brik. It's somewhat difficult to describe -- like a calzone of tuna and parsley with a soft-boiled egg in the middle, wrapped in a thin pastry dough then deep fried.
Just because I'm a proponent of street food doesn't mean there is a shortage of delicious restaurants. Restaurant Neptune is renowned for its grilled fish and offers a solid range of various Tunisian dishes, including their tasty take on brik. If you're willing to pay for peak-luxury, you'll be hard-pressed to find a better option than the stunningly appointed dining room of Dar El Jeld. And if you're in the mood for something quick, check out Jbali Fastfood. Don't let the name fool you -- you'll get your meal fast, but it's been cooking for hours in preparation.
If you're looking to party, you really want to do your drinking in the areas of nearby La Marsa or Gammarth, but we'll get to that in a minute. For boozing in downtown Tunis, you'll find two types of bars.
First are typical bars like you'd find anywhere else in the world. Frida Bar is a good choice for quality cocktails and a hip atmosphere, as is Le Malouf. But you didn't come here to find places you could find anywhere else in the world.
For a different experience, there are the male-centric beer bars. You can recognize these when passing by because they're generally loud, simply-adorned, smoke-filled rooms packed with men pounding beers seemingly as fast as they can. While women are technically allowed, different establishments tend to have varying degrees of acceptance toward them. In some, women are drinking right alongside the men, while more conservative places refuse to serve women at all due to Islamic tradition. These bars are scattered all over town, and if you do decide to pop in you'll often be welcomed by curious locals who want to buy you a round or several.
The so-called suburbs of Tunis are essential stops for any Tunisian vacation
Tunis itself is a few miles off the coast straddling two sizeable lakes. A quick taxi ride east brings you to a series of suburbs on the Mediteranean sea that offer distinct, can't-miss experiences.
When I used the term "suburb," you should know that it doesn't mean the same thing as it does in the United States, where the word brings to mind endless rows of cookie-cutter houses and restaurant options limited to Chili's or Olive Garden. In Tunis, the suburbs are more like satellite districts of the city itself that offer substantially more culture than the word might imply.
In other words, embrace the suburbs of Tunis. They're only a 10-minute, eight- to 12-dinar cab ride away, and you will not be sorry.
Carthage: Ruins and relaxation in the heart of ancient Tunisia
I spent a month in the heart of upscale Carthage, where you'll find a relaxed gathering of fine, whitewashed houses of typically North African design decorated with palm trees, hanging vines, and vibrant flowers of violet, cerulean, and crimson. Here it seems like walking a handful of blocks in any direction will bring you to ruins dating back thousands of years.
Carthage is a history nerd's paradise. Situated around a once-military port, now-fishing lagoon that was built by the Phoenicians some 2,700 years ago, it is the birthplace of Hannibal, famed for his elephant march through the Alps against Rome. The Romans leveled the original Carthage as retribution for said march and other disputes, then later rebuilt it in their own manner, the ruins of which you can explore today. Later still, Carthage became an important gathering place for early Christians.
Today home of Tunisia's presidential palace, Carthage is the region's most affluent town. In their spare time its predominantly Muslim residents can be found relaxing in cafes where they sip coffee, smoke hookah, and watch the football match. Or they're swimming with their families along one of the many shore accesses.
Each of the suburbs mentioned here offers beach access. Many of these are little more than swimming spots where it's convenient to take a quick cool-off from the heat, but in Carthage you can also go to the sandy Salammbo beach, where locals come to swim and fish.
The more festive beaches are to the suburbs slightly north, which is also where you'll also want to go enjoy the nightlife.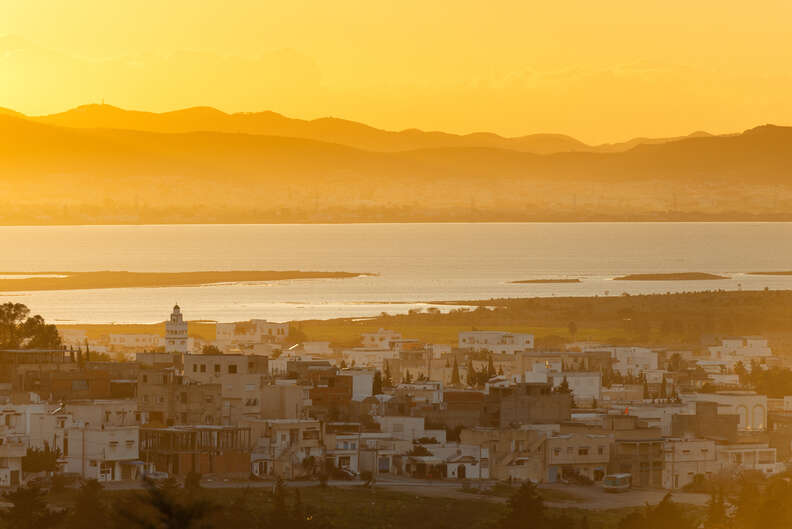 La Marsa and Gammarth: The unexpectedly boozy late-night heart of Tunisia
The party rages every night in the towns of La Marsa and Gammarth -- two small suburbs strung along the coast that are home to a slew of elaborately decorated bars, many of which stay open until well after 2am.
Frankly, I was surprised (and delighted) by the amount of revelry that can be had here. Wild, all-night booze-fests don't fit the American preconception of a Muslim majority country, but the bar scenes of La Marsa and Gammarth prove this presumption wrong.
These hangouts tend to offer abundant personality. Open-air dancefloors driven by big-beat music, hallucinatory lighting, swimming pools, beachfront locations with access to the sand -- Tunisians know how to cut loose.
Several bars stood out. Yuka is an elaborate complex of several bars, each of which offers a different vibe, all of which are raging. And thanks to its beachside location, whenever you need a break from the party you can always go chill in the sand. Play Bar is a hip spot with a swimming pool, tapas, and a pleasant beach view. And Hotel Plaza Corniche not only offers an expansive menu of late-night food, but is one of the most ornate bars I've ever seen, decorated to the hilt with paper lanterns, chandeliers, vines, fountains, streamers, and so on.
Sidi Bou Said: Shopping and sand on the Mediterranean
Between La Marsa and Carthage is Sidi Bou Said, which sits upon a hill providing vantages of the Mediterranean and surrounding coastline that are certain to inspire envy in your social media followers.
This is the place for market shopping, coffee or drinks with a view, and wandering the gorgeous high-walled streets lined with baby-blue doors and trim. Here I recommend Café des Delices for coffee or refreshments with an expansive and somewhat renowned coastal vista, or la Villa Bleue, a more out-of-the-way hotel and restaurant with a hidden balcony that overlooks the sea and provides a nice breeze when the day gets too hot.
Landmarks in and around Tunis are eye-popping history lessons
There are a number of historical landmarks traversing the Carthage-La Marsa stretch, three of which should be at or near the top of your list.
First, it is essential that you visit the ancient Carthaginian city spanning the Antonine Baths and the walled-town of Byrsa -- a collection of ruins leftover from when the Romans rebuilt the city that have a real Indiana Jones vibe. Up the hill from these you'll find a Roman amphitheater nestled in the woods that is so casually unmarked by fencing or signage that you basically have to stumble upon it by accident. This is a popular picnicking spot among the locals. Then just between Carthage and Sidi Bou Said is a cemetery for Americans who were killed during the WWII battle for Tunisia, back when Patton and the Allies chased the Nazis and Italian fascists out of North Africa, which was a key turning point in the war.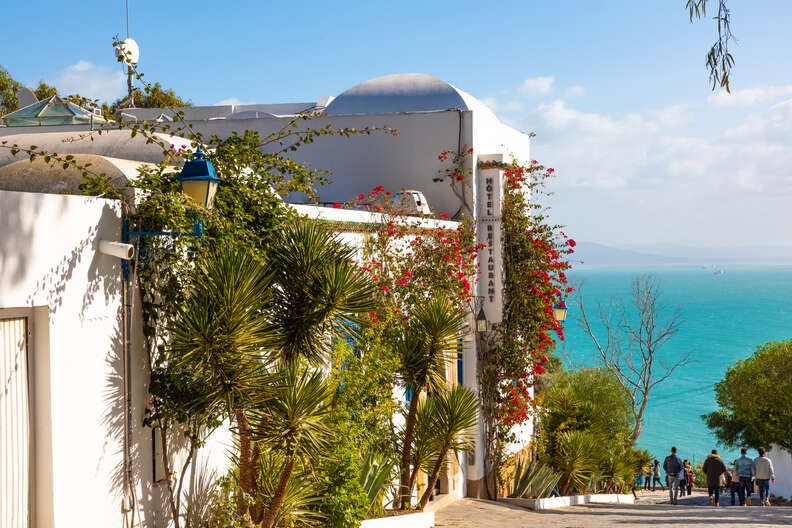 The best time to visit Tunis
Tunis is fairly temperate year-round, but the Goldilocks times -- not too hot, not too cold -- span mid-March to mid-June and September to November. Later in the winter it can get a little chilly, and when I was there in July and August there were definitely days when the 100+ degree heat made air-conditioning my truest friend.
The Goldilocks-weather periods constitute the closest thing Tunis has in the way of tourist high seasons. The city sees a steady trickle of visitors from France, the Middle East, and other North African countries, but for the most part it's still off-the-radar, which is why now is the perfect time to go.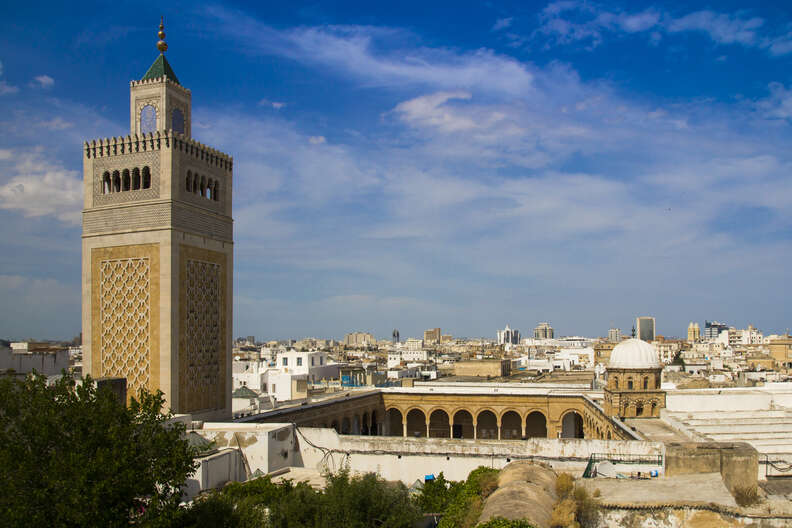 How to get around Tunisia's sprawling capital city
Taxis, taxis, taxis. There are cheap light rail lines that go through the city center out into the surrounding areas, but the inexpensive taxis will be your primary mode of transport.
While most drivers are on the level, beware that airport drivers will occasionally attempt to inflate the rates for inexperienced visitors. The rate from the airport shouldn't cost more than 12-22 dinar, depending on where you go. And for getting around town or to the surrounding suburbs, it will cost considerably less.
Where to stay in Tunis
Personally, I recommend staying in one of the suburbs due to their beach proximity, historic ruins, and access to better bar scenes. But if you're looking for a place in downtown Tunis, focus your search around Avenue Habib Bourguiba or in the Kasba/Bab el Bhar/Tourbet el Bey regions spanned by the Medina.
The hostel Dar Ben Gacem has a stellar reputation thanks to its gorgeous 17th-century building, comfortable appointments, rooftop terrace, and friendly staff. If you're looking for a hotel, the Royal Victoria is among your better options as it's in a beautiful, 400-year-old embassy, and it goes all-in when it comes to its luxuriant North African décor.
But wait, is Tunis safe?
Every city has crime, and Tunis is no exception. Tunisia is grappling with a high unemployment rate of around 15%, so of course a certain level of criminality and street hustle happens -- just as it does in any city in the US. But I can report that I never once felt unsafe downtown, and in the district of Carthage where I spent one month I felt quite the opposite. It's an exceedingly welcoming place. I was warned that there are dubious streets and areas scattered around, so as with any city, situational awareness is advised.