This Stunning Canadian Village Is the Best Place to Get Your Next Adrenaline Rush
Whistler. Just the name is enough to get skiers and snowboarders salivating at the prospect of 200 trails cutting through 5,000 acres of mountain, blanketed in an average of 35 feet of snow each year. But, hang on -- there's more to Whistler than the ski scene. And the après scene.
This storybook mountain village, located just north of Vancouver in Canada's beautiful British Columbia, is incredibly well-endowed geographically. Surrounded by endless pine forest, cerulean lakes, and glacier-fed rivers, it's prime territory for just about any alpine sport you can think of -- although admittedly there's no infrastructure for extreme ironing. With so many options, here's a rundown of the coolest things to do in Whistler, whether you're there in snow season or summer.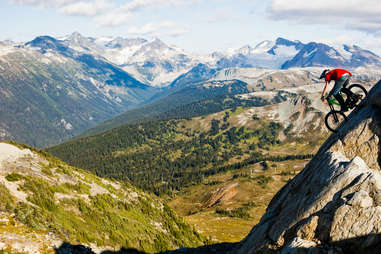 From May to October, when the last snows have melted and the skiers are long gone, the slopes are transformed into the Whistler Bike Park. There are over 70 trails running 50 miles across the mountains in four zones, from entry-level boardwalks in Fitzsimmons to the black-diamond runs of the Peak (and plenty in-between). The A-Line is perhaps the most famous (and feared), and then there's the Top of The World trail, which descends 5,000 feet from the peak to the valley floor.
Surprise, surprise, the pros want a piece of the action, too. Come in mid-August for the Crankworx festival, where the biggest mountain biking pros in the world compete on the very same trails you've been riding, just without clutching onto the brake the whole way down. The Super Bowl of mountain biking is the trick-loaded Red Bull Joyride on the final weekend -- seriously, do not try this at home.
Cost: Lift passes from $61 per day; Crankworx is free to attend
It's supposed to wobble, right? The new-for-2018 Cloudraker Skybridge stretches 400 feet between two cliffs at the very top of Whistler Peak. There's a floating platform with superlative views of the mountainscape, and a rocky path around the cliffs. You'll be up at 7,000 feet, so take an extra layer to keep you warm.
Cost: Free, but you'll need a lift pass to get up there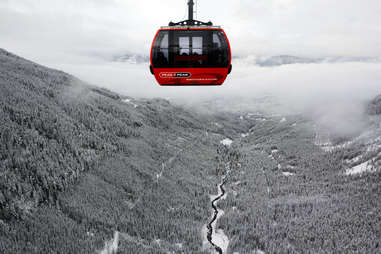 One of the many great things about this year-round alpine resort is that there's not just one mountain, but two: Whistler Mountain and Blackcomb Mountain. To get between the two, you'll want to take the Peak 2 Peak Gondola -- the 11-minute ride is the most efficient use of your time, and, y'know, it comes with absolutely mind-blowing views on the side. The three-mile cable is a record-breaking 1,430 feet above the forest (high enough to fit the Empire State Building underneath) -- for a real sense of perspective, take one of the glass-bottomed cars.
Cost: $58
All that snow has got to go somewhere. For a low-octane float try the scenic lower Squamish River, progress to the Cheakamus if you're up for a splash, or step up to the Elaho for thunderous Class 4 rapids. Remember: Squamish if you're squeamish, Elaho for yell-aho. No I know, that's not going to catch on.
Cost: From $99 per person. The season runs from April through September.
You're going to need at least a half dozen screams to cover the supersized Sasquatch zipline -- the ride is over a mile long and zooms 600ft over the Fitzsimmons valley for well over a minute. Don't forget your GoPro. If you don't have the appetite for the Big One, try Ziptrek's Bear Tour, which combines multiple shorter zip lines with treetop adventuring.
Cost: $95 for the Sasquatch zipline; $101 for the Bear Tour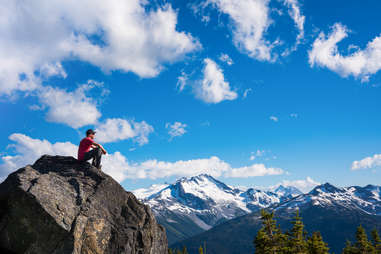 Take a hike into mountain forest
You're often surrounded by incredible scenery in Whistler, but most of the time you'll be speeding past it and focusing purely on the next turn. Explore at a more leisurely pace on the Valley Trail, an easy network of paved paths and boardwalk connecting lakes and parks to the village. For a big payoff, drive to the cascading Alexander Falls, or further down Sea-to-Sky Highway for the 230-foot Brandywine Falls. On the way back, make a stop for the short Train Wreck Trail, or maybe just a craft beer at Coast Mountain Brewing.
Cost: Free
The ice track at Whistler Sliding Center is the fastest in the world, and oh boy will you feel it. Live out your Cool Runnings fantasy (minus the tragic crash, and that weird egg-kissing ritual) with an 80mph bobsleigh run behind a qualified driver, or go it alone on a skeleton sled. Yes, that means launching yourself headfirst, on a glorified coffee tray.
Cost: $179, or $109 if you do the summer version (on wheels)
There's plenty of regular rock climbing around Whistler and Squamish, but there's only one Via Ferrata, or "Iron Way". A series of metal rungs and cables have been hammered into the rock, making for a challenging but no-experience-necessary climbing route to the peak of Whistler mountain, at 7,085 feet. It's open in summertime only.
Cost: $159, or $139 for ages 12-18
Motor across the mountains on a snowmobile
In deep midwinter, snowmobiling is a practical way of getting around the backcountry. It also makes you feel like James Bond, or at least one of the henchmen chasing him down. From November to April, join a trip with Blackcomb Snowmobiles -- there's the Scenic tour for beginners, the Extreme tour for powersliding pros, and the Mountain Fondue tour for people who like their adventure with a side of hot cheese.
Cost: From $119 per person
"The River of Golden Dreams" might sound like the mythical setting for the next Indiana Jones movie, but it's a real place, and one best visited by kayak or canoe in summer. It links Alta and Green Lake, passing through wildlife-packed wetlands on the way -- you can hope to see beavers, otters, and a whole lot of birds.
Cost: Kayaks $25 per hour, SUPs $30 per hour, canoes $35 per hour
Go for a dip in Lost Lake
On a sizzling summer day, follow the locals to Lost Lake -- it's a half hour walk along forest footpaths from the village, but your effort is rewarded with a sandy beach, a picnic-ready lawn, and clear, glassy lake reflecting the backdrop of pine trees and mountains. The water is cool enough that you feel like a big-shot leaping in off the diving platform, but not so cold that your legs go numb below the knees. There's a labyrinth of trails around the lake, for hikers and bikers in summer, and cross-country skiers in winter.
Cost: Free
Go boiiiiing over the Cheakamus River
If you can handle the whole "I'mgonnadieI'mgonnadie" feeling on the way down, bungee jumps are just about the most fun you can have with ten seconds of your life. This one is from a bridge 160 feet above the icy Cheakamus River.
Cost: $134
Take aim at Whistler Olympic Park
Biathlon has to be the world's most underratedly-badass sport. I mean, it's skiing, sometimes uphill, with a rifle on your back, and then holding your nerve (and breath) to shoot tiny targets in the distance. You can try it from early November until late April at the Whistler Olympic Park, or skip the shooting and stick to cross-country skiing or literally pedestrian snowshoeing. For the kids (and big kids), there's the free toboggan. Weeeee.
Cost: Park entry is $15 per vehicle; a biathlon lesson is $99 plus gear rental
Sit back and ride the tube
OK, so tubing is basically skiing for lazy people. But there's nothing wrong with wanting the thrill of flying down a snow-slope combined with the comfort of sitting on your butt. The run is 1,000 feet long, and open December through April.
Cost: $22 for adults, $17 for children
Most of the time you want to avoid bears, but this is not that time. Experienced guides will lead you to feeding sites deep in the forest, where you'll hope to catch sight of some of the 60 bears who call Whistler/Blackcomb home.
Cost: $235 per person in July and August; $198 in May, June, September, and October
There's no better way to immerse yourself in the Great White North than mushing through the snowfields on a sled pulled by huskies. Dress up warm, and don't expect easy goodbyes at the end of the day.
Cost: $438 for two people; available in winter only
Watch skiers and snowboarders leap through fire
As if hurtling off ramps and spinning through the air wasn't impressive enough, the weekly Fire & Ice show adds blazing rings of flames to the mix. Fire spinners do their own dazzling thing for the crowds, a live DJ provides the soundtrack, and there's a fireworks display at the end of the night.
Every Sunday evening, mid-December through March, at Skier's Plaza
Cost: Free
If you're going to blow your entire vacation budget in one afternoon, you may as well involve a helicopter. The tours from Blackcomb Helicopters whisk you up high into the mountains to untrodden glaciers and secret picnic spots, for a price.
Cost: $575 per person for a heli-picnic
Ski and board in a snow paradise
But you knew that already, right?
Cost: Lift passes work out at roughly $105 a day
Sign up here for our daily Thrillist email and subscribe here for our YouTube channel to get your fix of the best in food/drink/fun.
Jonathan Melmoth is a writer and editor based in Brooklyn, New York. Follow him on Instagram @mistermoho.