If the National Parks Service was the best idea America ever had, then Yellowstone -- the first national park not only in the US but in the world -- is its crowning achievement. Larger than Delaware and Rhode Island combined, the park spans three different states (Wyoming, Montana, and Idaho), is home to 67 species of mammals, 290 waterfalls, 1,800 archaeological sites, and, as you may or may not remember from the doomsday movie 2012, sits on top of an active volcano.
Yellowstone is sublimely beautiful, at times hostile, dangerous, even deadly -- just ask the guy who literally dissolved in boiling acid after falling into Norris Geyser Basin. But that doesn't deter millions of visitors from making the journey each year. As evidenced by these photos, a trip to Yellowstone is an awe-inspiring education on the badass complexities of nature. Here are some of the park's most magnificent sights to see.
Recommended Video
Proof That Iceland's Ring Road Is the World's Most Beautiful Road Trip
Castle Geyser
In the last 2 million years, Yellowstone has seen three major volcanic eruptions. And while scientist don't believe Yellowstone is due for an eruption anytime soon, it's the magic of the volcanic, seismic, and hydrothermal activity happening below ground that makes the park special. Castle is a cone geyser -- the largest in Yellowstone -- known to erupt every 10 to 12 hours, reaching up to 90 feet in the air. It's notable for its intense loud sounds created by the pressure of the water transforming into steam.
Grand Prismatic Spring
Like something straight from a JJ Abrams film, the Grand Prismatic is the third-largest hot spring in the world and the largest in the States (we're talking bigger than a football field). The brightly colored rings around the pool get their seemingly unnatural hue from heat-loving bacteria, while the piercing blue middle is created by extreme temperatures that sterilize the H2O.
Yellowstone Lake
Looking for America's biggest body of water over 7,000 feet above sea level? Or North America's largest population of wild cutthroat trout, perhaps? Yellowstone Lake is your jam on both counts. With an impressive surface area of 132 square miles, what's truly badass about this lake is what's underneath. It's believed by researchers that the bottom is covered with geysers, hot springs, and canyons, and contains ecosystems similar to those found near heat sources in the Pacific Ocean.
Grand Canyon of Yellowstone
At a youthful 10,000 to 14,000 years old, the Grand Canyon in Yellowstone River is considered one of the "newer" additions to the park. Formed by eons of erosion, it's nearly 20 miles long and as wide as 4,000 feet across. You'll find some of the most popular hiking trails in the park here, and the Canyon Visitor Education Center serves as a gateway into the history of the Canyon Village Area.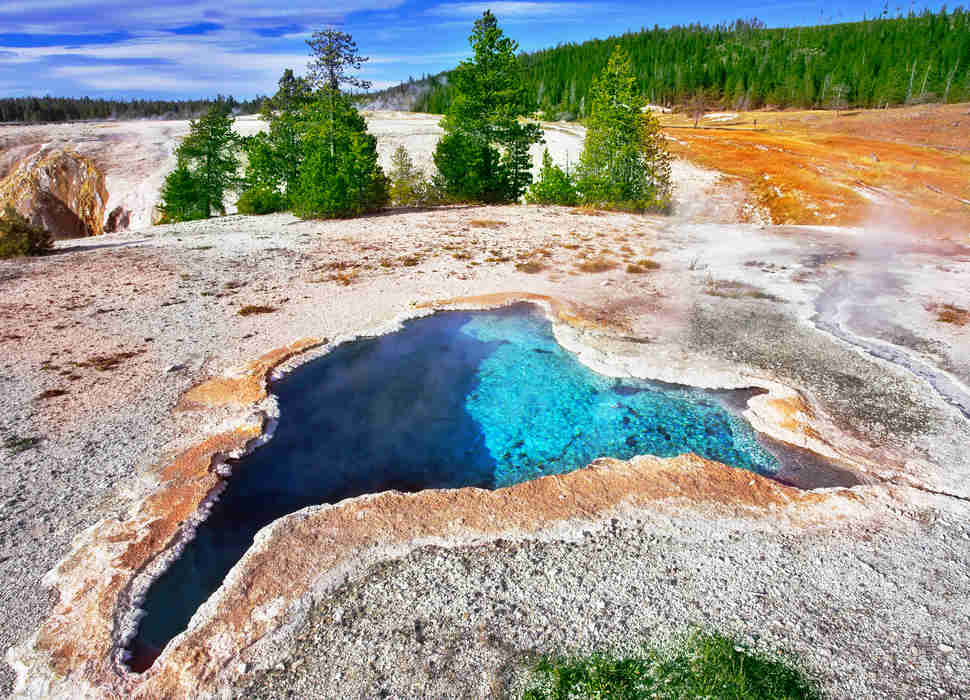 Blue Star Spring
Often overlooked for the glitz of nearby Old Faithful, Blue Star is a turquoise-blue spring that's usually sitting right at boiling temperature. Considered the most beautiful spring in the entire park, Blue Star was literally used as a trashcan by visitors until it was cleaned up in 1946. Looking closely at the pool, it's sometimes possible to see the bones of a young bison who, RIP, fell into the water in 1996.
Yellowstone bison
Bison have called this area home since prehistoric times. After being hunted to near-extinction in the 19th century, there are now over 5,000 bison thriving in Yellowstone and an incredible sight if you're lucky enough to spot some. As with approaching any animals in the park, common sense goes a long way, especially since bison can be aggressive and run as fast as 30 mph; they have been known to commit a goring or two.
West Thumb Geyser Basin
Situated on the western bay of Yellowstone Lake, West Thumb Geyser Basin was formed over 174,000 years ago by a volcanic eruption. The thermal hot springs along the lakeshore range between 100 and 200 degrees.
Minerva Terrace, Mammoth Hot Springs
Made from limestone, thermal water, and a natural procession of chemical reactions, the Mammoth Hot Springs Terraces are an otherworldly series of icy travertine that cascades and flow like a fountain. A crowd favorite, Minerva Spring boasts a vast array of colors because of thermal-vent-loving bacteria living in the water.
Fishing Cone
Fishermen used to stand at Fishing Cone -- sitting slightly off shore in the West Thumb Geyser Basin -- and cast their reels into Yellowstone Lake, catch a fish, drop it on the hook into the fishing cone, and cook it directly in the hot spring. Pretty ingenious. Fishing here is now prohibited, since the cone is an active geyser with known eruptions back in 1919 and 1939.
Winters in Yellowstone
With the majority of roads closed, freezing temperatures, mountains of snow, and tourists flocking to the ski slopes instead, Yellowstone's winters are eerily peaceful. Those who do brave the cold can travel around the park via snow coach, snowmobile, and the time-tested snowshoe. While most of the park is inaccessible, two lodges remain open so visitors can experience the bitter beauty.
Belgian Pool
Found in the Upper Geyser Basin, the Belgian pool is a prime example of the danger that comes with the park's fantastic sights. In 1929, distracted by eruptions from nearby geysers, a Belgian visitor died from burn wounds after falling into the pool, giving the water its name and reminding folks to err on the side of caution. Or not.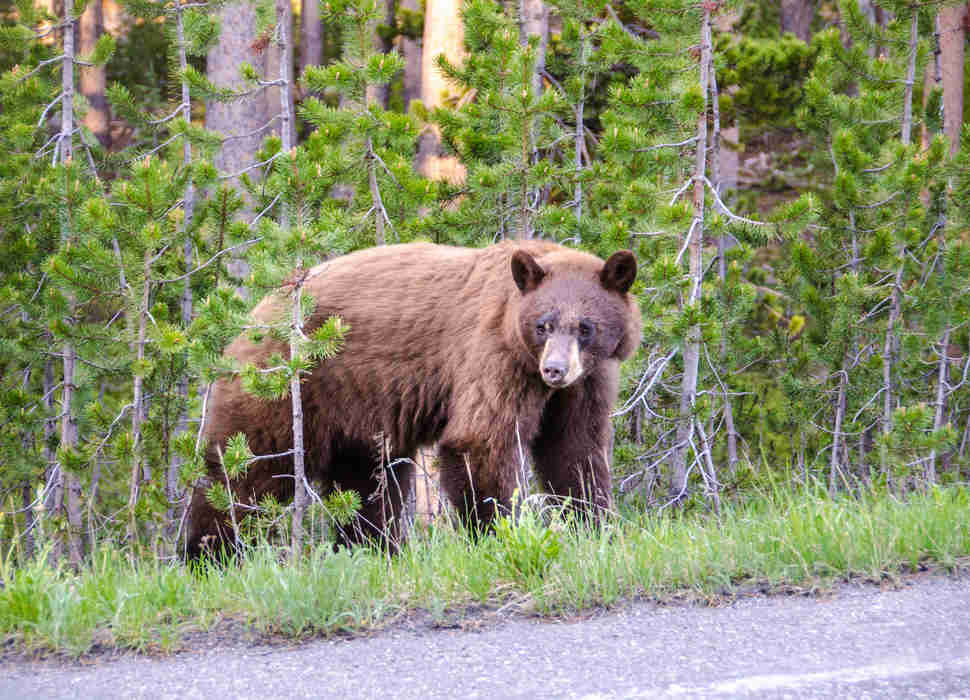 Grizzly bears
More than 700 grizzlies live in the greater Yellowstone area -- a massive increase from the 136 that called the park home in 1975. On more popular trails and park areas, rangers will alert you if there are recent reported bear sightings -- they're most active at night, dawn, and dusk. Tourists will sometimes clamor to catch a good look at these majestic animals without incident, but park officials are pretty serious about studying up on bear safety and carrying bear spray, especially if you're hiking alone. A word of advice: Don't run.  
Old Faithful
The original gangster of American geysers is usually the first stop for the park's 4.2 million-plus visitors each year. Discovered in 1870, Old Faithful was named for its almost clockwork eruptions of boiling water (between 3,700 and 8,400 gallons) that spew up to 180 feet in the air. While it's certainly not the most incredible sight in the park, it's a true icon, so you've gotta see it.
Sign up here for our daily Thrillist email and subscribe here for our YouTube channel to get your fix of the best in food/drink/fun.