Maybe Skip London and Head North to This UK Gem
For me, my home county of Yorkshire conjures to mind fireside pints in village pubs; bracken-covered hillsides; and moorland that rolls off into the distance, providing a verdant backdrop for smoke-blackened textile mills, hodgepodge hamlets and the spires of small-town churches.
Other people, especially non-Brits, think, "Where the hell is Yorkshire?" 
In a nutshell: it's near Manchester, the powerhouse of the north whose well-known football teams have cast it as an internationally recognized reference point for Brits the world over. And the somewhat longer answer? Yorkshire is equidistant from London and Edinburgh -- about 170 miles from each city -- on par size-wise with Connecticut, and populated by about the same number of people as Scotland.
It makes sense then that formerly industrial Yorkshire was once the country's largest county, before being sliced and diced into four smaller cardinal counties -- North, South, East, and West -- back in 1974. However, Yorkshire as a unified region remains a cultural touchstone and bonafide tourist destination. We even have our own international airport (shout out to Leeds Bradford!), although most visitors will probably want to filter over the moors into Yorkshire by way of the much larger Manchester Airport, grab the train from London, or even rent a car and tackle the three-and-a-half hour drive themselves. And yet, the birthplace of Captain Picard (Patrick Stewart), Doctor Who (Jodi Whittaker), and Cersei Lannister (Lena Headey) is regularly and wrongly overlooked by international visitors in favor of London.
The reasoning is unclear. While London is a city built for endless exploration, Yorkshire is cheaper, friendlier, and subjectively more beautiful. It's not for nothing that a region gets the nickname "God's Own Country" and, in my opinion at least, Yorkshire lives up to the deified hype. Then again, I'm from there so I would say that, wouldn't I? But for the visitor who wants to look beyond the London Eye, take a literary pilgrimage into the Yorkshire moors, sip on affordable pints, or just hang out in gothic towns, Yorkshire's got you covered. 
MORE: Plan a full itinerary with this handy UK road trip guide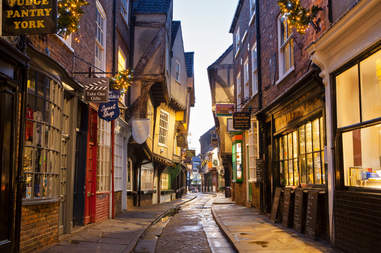 Step back into medieval times and take a stroll down Shambles

| Magdanatka/Shutterstock
Historic cities and seaside towns are everywhere
There's no point sticking to one specific city while in Yorkshire, because, quite frankly, it would be too tough to choose. But you've got to start somewhere, so head to the county capital: York. This historic walled city was once a Viking stronghold, kickstarted the country's confectionary industry, and is home to both a city center castle and The Shambles, a shopping street so old that it was mentioned in the 11th century Domesday Book. 
Learn more at the Jorvik Viking Centre and York's Chocolate Story, and don't miss the city's weirdly compelling National Railway Museum. Another oddly fascination Yorkshire museum that will give you a handle on our cultural context? The National Coal Mining Museum in Wakefield, where you can visit England's last deep coal mine and learn about the industry that dominated Yorkshire for decades via interactive exhibits. 
Afterwards, move onto Leeds, Yorkshire's biggest city. Watch a game of county cricket at Headingley Cricket Ground -- some consider the sport akin to watching paint dry, but you could say the same for American Football -- get cocktails at The Alchemist, catch a show at Leeds Playhouse, and visit the Royal Armouries, before traveling back in time at kitschy seaside destinations like Scarborough and Whitby. The former is all candy cane sticks of rock and hearty servings of fish and chips overlooking the seafront and Victorian architecture, while the latter inspired Bram Stoker's Dracula and now hosts a cult-classic Goth Weekend twice a year. 
If you're keen to attend another of the region's weirdest events, stop by Gawthorpe in April for the World Coal Carrying Championship. Northern Rail, our regional train provider, isn't exactly Northern Reliable, but it'll get you where you need to be if you want to hop between some of the aforementioned towns. Eventually, anyway.
Don't leave Yorkshire without grabbing some fish and chips at Scotts of Helmsley

| Josie Elias/Shutterstock
Yorkshire's signature foodstuffs go beyond beige and bland
Stodgy and beige just about sum up much of British cuisine, and while Yorkshire foodstuffs certainly contribute to that reputation, they also offer so much more. Yorkshire puddings -- golden buttery bowls of oven-baked batter -- show up on the dinner plates of diners the country. Don't leave without trying a homemade version at the local pub, carvery, or friendly neighbor's house, preferably alongside a slap-up Sunday Dinner and dripping in gravy.
Yorkshire Tea, obviously Britain's superior tea bag brand, is best served nutty brown and strong enough to stand your spoon in. Try it accompanied by a wodge of Yorkshire curd tart at one of the six iconic Bettys Tea Room locations across the county. While most popularly associated with the Leicestershire town of Melton Mowbray, pork pies even have their own squat Yorkshire iteration which you'll find at Farm Shops and butchers across Yorkshire. 
Once you're all beiged-out, reach for a sliver of Wensleydale cheese -- it was Wallace's (of Wallace and Gromit) snack of choice, and the cranberry studded version is a classic. Finish your Yorkshire feast with a slab of sticky parkin (a spiced gingerbread cake) or a rhubarb crumble. Rhubarb, a sour, pink celery-esque fruit, is produced at a rate of knots -- no, really. You can hear it growing -- in the Rhubarb Triangle between the Yorkshire towns of Wakefield, Morley, and Rothwell.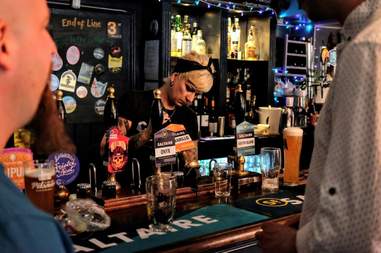 Sip on a cold drink at Saltaire Brewery

| Saltaire Brewery
Yorkshire is an unexpectedly boozy destination 
It's a universally acknowledged truth that you're not likely to get much change from a fiver (that's a five-pound note to the uninitiated) if you buy a pint of beer in Central London. Head up north to Yorkshire, and you'll probably get closer to two for that price. But although you can certainly enjoy a pint of real ale (see: Tetley's, Theakston, John Smith) in companionable silence at any local village pub -- including the highest in Britain at the 528 meters above sea level Tan Hill in Swaledale -- don't skip Yorkshire's craft breweries. 
Magic Rock Brewing, based in my hometown of Huddersfield, serves a half-a-dozen-strong range of core brews, including cracking hoppy pale ales and malty stouts, at their West Yorkshire taproom. Although, you should look for beers from Saltaire Brewery, Northern Monk, and Brew York beer hall too. 
Meanwhile, spirit-seekers will be satisfied with Yorkshire gins -- the region has really cottoned on to the country-wide gin boom and Sheffield's True North, York's York Gin Company and Harrogate's Slingsby are a few of the best. But perhaps most surprisingly of all, Yorkshire is both a historic and once again burgeoning wine region. Visit West Yorkshire's Holmfirth Vineyard, where grapes grow in a former sheep field, or head to the outskirts of Leeds, where viniculture veteran George Bowden operates Leventhorpe Vineyard. Further north still, you'll find Yorkshire Heart and the country's most northerly commercial winery, Ryedale.
There's a literary history to explore
Sylvia Plath is buried in Heptonstall and poet Ted Hughes was born in Mytholmroyd -- he also evoked Hebden Bridge's Stubbing Wharf pub in dreary detail in a poem of (almost) the same name -- while the Brontë's have a whole swathe of the Yorkshire countryside dedicated to them. Learn more about their lives at the Brontë Parsonage, but don't overlook one of the most recent writers evoking Yorkshire in poetic prose: Ben Myers. Pack a paperback of Under The Rock as reading fodder and gain some perspective on the landscapes you're traversing. 
Gordale Scar is one of the gems in Yorkshire Dales National Park

| Yorkshire Dales National Park
The English countryside is at its glorious best in Yorkshire 
Speaking of which: the Yorkshire countryside, particularly the Yorkshire Dales National Park, is arguably the county's most glorious asset. Visit castles, coves, and scale the Three Peaks -- if you're feeling particularly energetic, it takes a mere 12 hours to complete the walk between all three: Pen-y-ghent, Ingleborough, and Whernside -- before retiring to a country village for the evening. 
Find the real Wuthering Heights -- or, at least, the landscapes that were said to have inspired Emily Brontë -- at rugged Top Withens in Haworth, a town twinned (somewhat surprisingly) with Machu Picchu, Peru. Then, explore Yorkshire's blustery-but-not-that-bleak patchwork of moorland by walking (part of) the 268-mile long Pennine Way, a path which runs along the backbone of the Peak District, through the Yorkshire Dales, North Pennines, and into Northumberland. 
If a multi-day hike seems extreme, pop into the open-air Yorkshire Sculpture Park situated just outside Wakefield instead. Here, Highland cattle and flocks of sheep graze among works by Damien Hirst and Barbara Hepworth. Once you've finished traipsing around the county in the (probably) blistering cold, relax at West Yorkshire's Titanic Spa or soak in a Jacuzzi in the stately home of Armathwaite Hall's onsite spa. After that, relax further with a pint. After all, you're in Yorkshire.
Lauren Cocking is a Yorkshire-born, Mexico City-based writer who covers travel, food, drink, and culture across Mexico and the UK. Follow her on Twitter at @laurencocking or read her blog Northern Lauren.