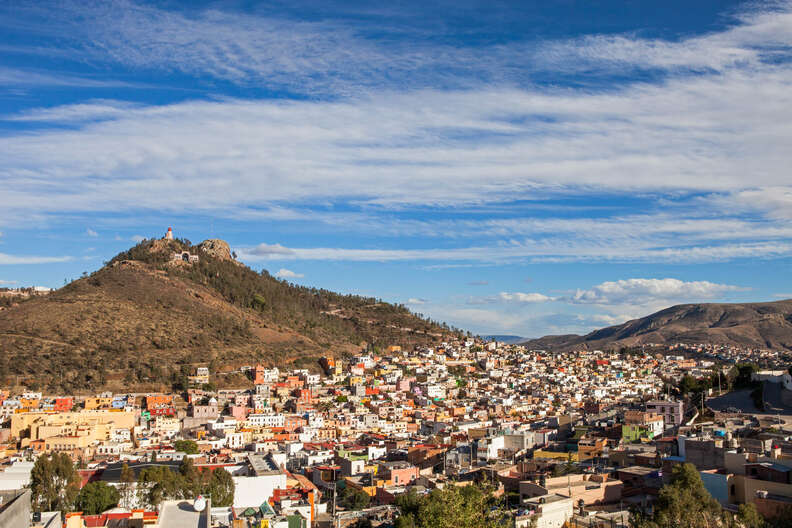 Put Zacatecas on your destination bucket list.

| Brigitte MERLE/Photononstop/Getty
Put Zacatecas on your destination bucket list.

| Brigitte MERLE/Photononstop/Getty
This Overlooked Mountain Town Might be Mexico's Most Beautiful City
The thick pine forests of Central Mexico gave way to the open northern deserts about three hours back, and the bus rolls steadily through a landscape dotted with plateaus, agaves, cacti, and a reddish dirt that makes the space between the blue sky and the earth rumble with golden wind.
The bus from Mexico City (by way of San Luis Potosí), as is typical, is freezing. The dubbed movie is, of course, American. Keanu Reeves, perhaps unsurprisingly, sounds better with a Mexican voiceover. Small homes on vast ranch property occasionally meet the highway. Farmers plow with oxen and horses. Hundreds of wind turbines churn and gleam in the sun. An occasional truck bed full of federales standing with machine guns passes by. But mostly, there is perpetual sky and waves of brown mountains, some of them topped with massive white crosses, as is customary in Mexico. Even its highest and most remote mountains serve as vestries to the religion that made its way here 500 years ago.
As we get closer to Zacatecas, the sparse landscape gives way to neatly manicured medians topped with red volcanic rock and mature agaves. When we arrive at the bus station, there are no cab drivers clamoring for our attention. I ask for an honest price to take my mother and I to the city center, and I get one. That's getting harder to find these days as hoards of foreigners from a vastly different economy descend upon towns such as Oaxaca, central areas of Mexico City, and beach destinations such as Tulum and Mazunte. Ignorance of fair prices for a region and willingness to pay any amount that seems less than what one would pay in New York or Portland, for example, drastically impacts the local economy, effectively shutting out those who earn in pesos and therefore changing the character of the very place one would want to visit for its character.
"It would not be a stretch to call it the most beautiful city in Mexico."
The taxi winds down the hillsides of this unexpectedly temperate city. We're in the desert in the summer and it's 75 degrees. Nearby San Luis Potosí -- lovely as it is with its museums, churches, and proximity to peyote-laden deserts and jungle surrealist gardens -- is dreadfully hot and we won't even speculate as to what's going on in Sonora, but you probably wouldn't survive it without air conditioning. Here, we won't need any. But it's clear that sunglasses and a palm hat will come in handy. We're at 8,010 feet above sea level, and though the altitude might prevent the heat from becoming excessive, the desert sun does not neglect its duties.
Zacatecas, currently with a population of 123,000, was one of the richest silver cities in the world while Mexico was under the crown of Spain. Today, it's quiet and more focused on the arts. The money that came with its silver is still visible in its architecture and its cleanliness. A popular destination for vacationing Mexicans, it has everything one needs to spend a few days sightseeing: museums, a lively downtown market, top-notch restaurants, hiking, nearby small towns -- namely Jerez, Tacoaleche and Fresnillo -- which are great for day trips and specialize in crafts and yes, plenty of mezcal. All while being fully walkable, with accommodations for a variety of socioeconomic levels.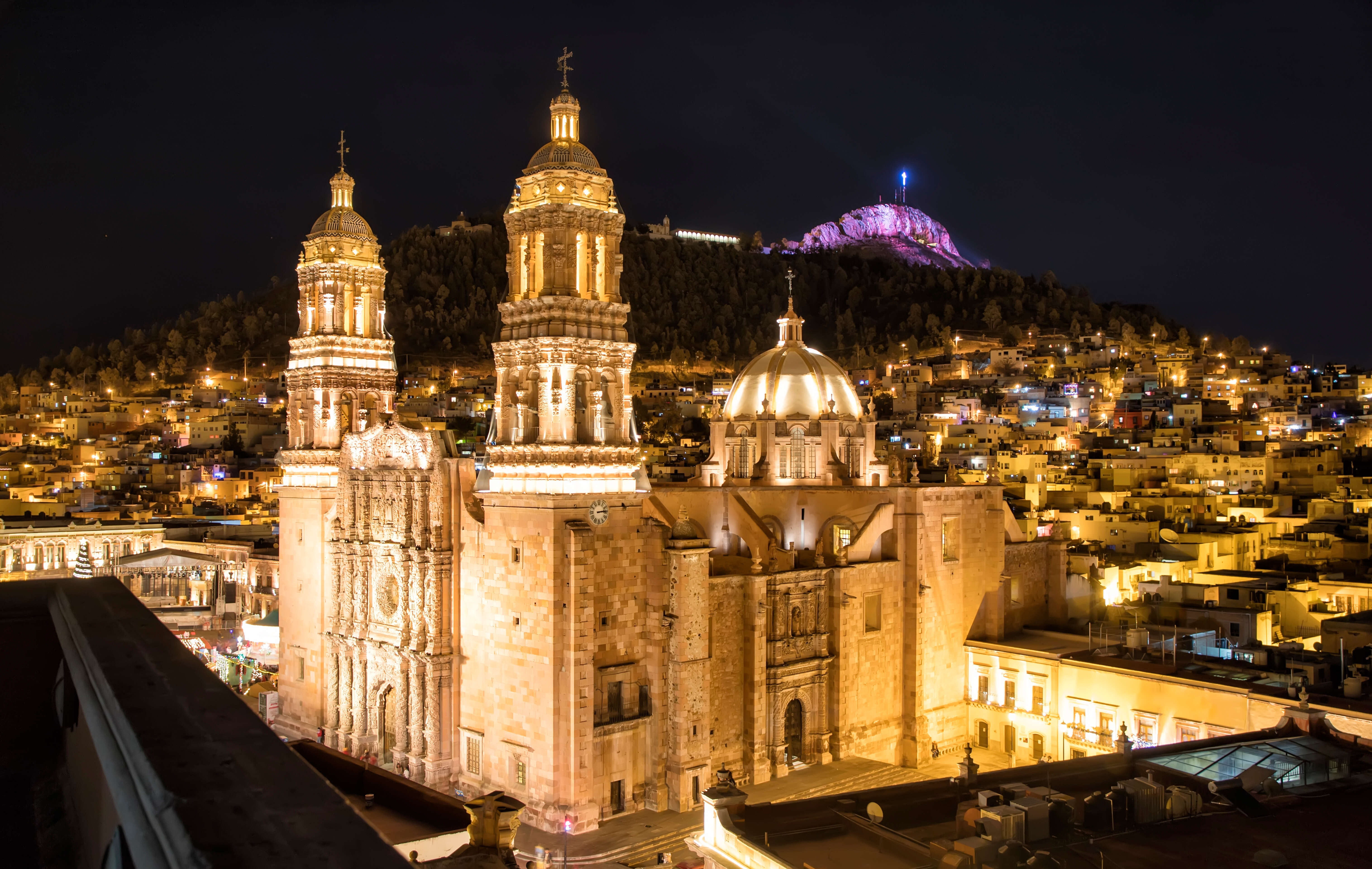 Supposedly, about 25 years or so ago, this colonial city was high on the backpacker trail list for foreigners, including gringos. Today, you can get here on direct flights from Chicago, Dallas, Los Angeles, and San José. Complications stemming from Mexico's war on drugs in the early aughts and its subsequent meltdown have left the state of Zacatecas, and its capital of the same name, on the US State Department's Travel Advisory list for years. While cartel violence is a serious issue in Mexico and elsewhere, the city of Zacatecas and the surrounding areas are not at all dangerous for tourists.
To be sure, foreigners come through these parts from time to time, but not as frequently as they used to. And that's a shame, because it would not be a stretch to call it the most beautiful city in Mexico. But I'll leave it at "one of the most beautiful cities in Mexico." Because in a country this vast and diverse, there's always bound to be a stunning surprise for those who, to quote the good doctor Hunter S. Thompson, "buy the ticket, take the ride."
Zacatecas is not on many travel lists outside of Mexico. It doesn't get the worldwide fame of other remarkable towns like San Cristóbal de las Casas or Guanajuato. But it has room for travelers and there are plenty of reasons to visit. Above all, here you can experience a Mexico embraced by its trademark tranquility, warmth, and beauty... natural and human made.
Mountains steeped in revolutionary history
The most visible landmark of Zacatecas is El Cerro de la Bufa, a rounded mountain overlooking the city, reachable by foot, car or, most ideally, a tram (with impeccably clean windows and glass bottoms for all your Instagram needs). It was the taking of this mountain and the others surrounding Zacatecas that made for a massive victory by general Pancho Villa in 1914, during the 10-year-long Mexican Revolution. Besides boasting a pristine view of the city itself, the top of the mountain is home to a convent built in 1728, a museum dedicated to the Battle of Zacatecas, food vendors selling chicharrón and nieves (shaved ice doused in flavored syrups), and Huichol artists from the greener mountains to the west, bordering the state of Jalisco.
Buy a roundtrip ticket on the teleférico and stay as long as you want. Then, from down in the city, enjoy the nightly light show when the mountain (and the white cross on top) is cast in shades of magenta, green, and yellow, visible all night from all points around town.
Desert surrealism and indigneous culture
It took me a few years of living in Mexico to make it to Zacatecas. I don't have a good reason for that other than perhaps I was awaiting the perfect travel partner (my mom) who would be enthralled by its history as an artistic capital fully accessible via its relaxed, yet steep, walkable streets. A neighbor of mine when I first moved to Mexico City was thrilled to go to Zacatecas for the weekend. A talented illustrator, he considered the city to display the best of Mexican painting, illustration, and sculpture. No long lines; no crowded metro rides; no trekking across hundreds of square miles, or even a few densely populated neighborhoods, to get from one site to the other.

The Pedro Coronel Museum honors the famed Zacatecan sculptor and is housed in a beautifully renovated 17th century Jesuit college and features a host of work by famous vanguard, surrealist, and Bauhaus artists who spent time in Mexico, including Salvador Dalí, Pablo Picasso, Joan Miró, Max Ernst, Vasili Kandinsky, Josef Albers and others.

Nearby, the Rafael Coronel Museum is a stunner, with an exceptional collection of more than 3,000 masks made across Mexico by traditional mask makers and involving human bones, armadillo skin, and every material in between. Other works of indigenous and local artists are also of note. Brother of Pedro Coronel and son-in-law of Diego Rivera, Rafael was a painter and his museum is housed in a restored (yet left appropriately crumbly in some places) monastery.

The Museo Zacatecano is a brilliantly curated historic, archaeological, and native-art museum which gives you a deeper dive into the culture of Zacatecas, before the Spanish arrived and of the indigenous communities which still thrive in the area. Huichol art is known for its bright beadwork, its emphasis on cosmogony and the place of the sacred blue deer and peyote within. It's truly a treat to visit this world in a way that does not cause harm. The Huichol communities are mostly in remote areas of the mountain range west of Zacatecas, there has already been upheaval over foreign mining interests in the region which is considered sacred. For the average tourist, entering these areas could disrupt life as it has been for centuries.
A silver city: At one point the glory of New Spain
About 2,000 people worked in the silver mines each day during the height of the mining business (in the late 1500s) and at least nine people died each day. At the beginning of the city's ascension into silver capital, enslaved indigenous people worked in the mines in exchange for meager amounts of corn and beans. Children carried water out of the mines up steep ladders, in bags made of cow stomach. In these hills, there's still an abundance of silver, copper, quartz, and even gold. Medieval, European wealth still echoes through the quarry stone Catholic churches and the narrow alleyways that slither through the arid and high city.
Today, you can still ride a minecart deep into Mina el Edén for a tour, and to visit its impressive geology museum. Six hundred feet below the earth, and entered the same way you'd enter the mine, is La Mina Club, open three nights per week and for special functions: one might say it's the most underground bar in the world and is noted for having excellent sound quality. I mean, it is in a mine. Just be aware that drinks tend to go down smoother when you're literally in the middle of a mountain -- and you'll eventually have to take that minecart back out.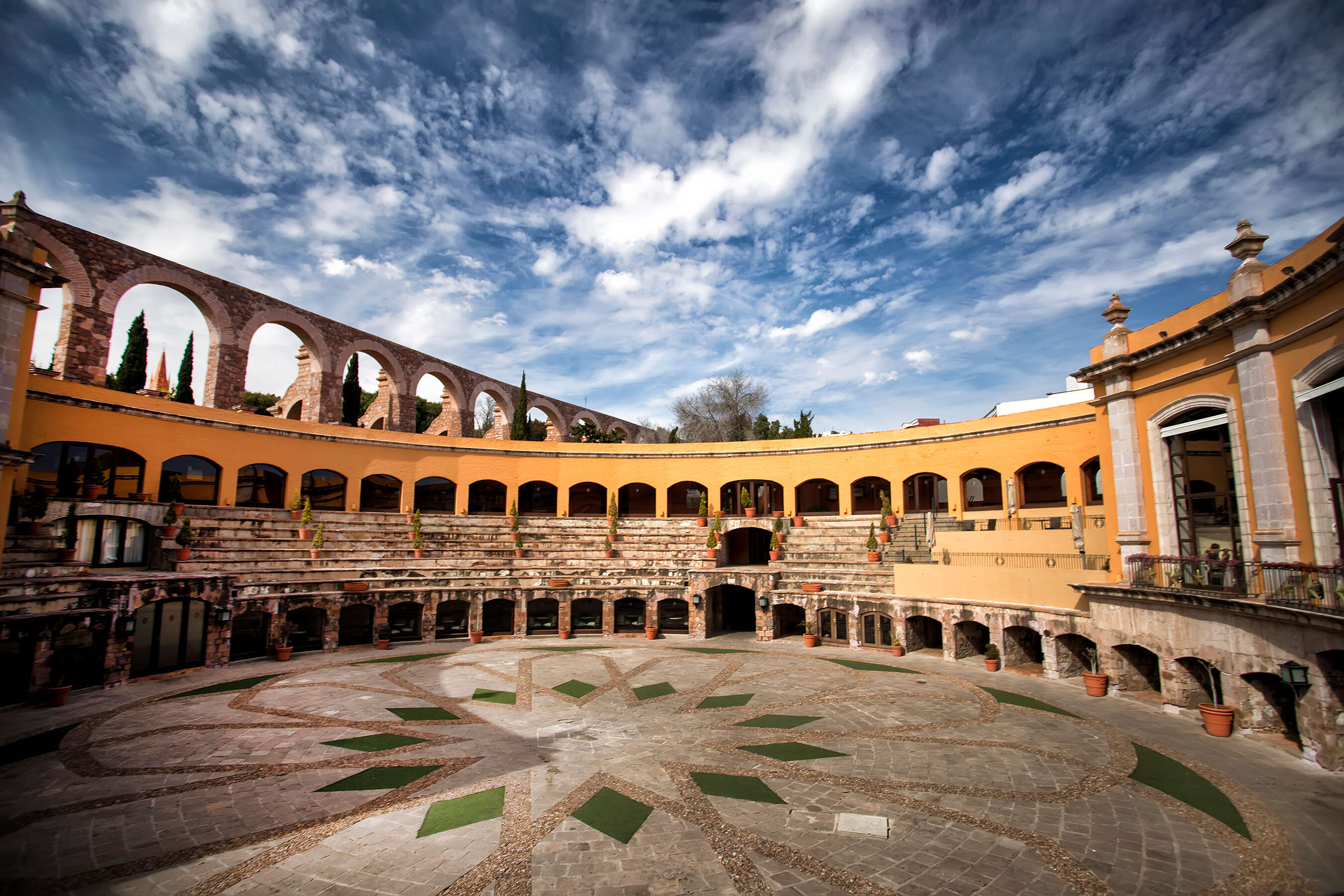 Impossibly cool hotels, Zacatecan food, and rare mezcal
One of Mexico's most stunning hotels and restaurants is the Hotel Quinta Real, in what is quite possibly the most luxurious bullfight stadium makeover in history (be our guest if you can name another). Guest rooms include private patios but you don't need to stay there in order to have an exquisite dinner outside above the old corrals (decades out of service), looking up at the city's 18th century aqueduct.
Downtown, along a leafy boulevard which doubles as a park, is Café Emilia, a laidback and quiet space where you can enjoy Mexican and international fare day and night, while overlooking the Alameda García Trinidad de la Cadena and its many sculptures. Meanwhile, La Traviata serves up delicious wood-fired pizzas and fresh pastas with indoor and outdoor seating along a narrow, pedestrian-only alleyway. If traditional fine dining is more your style, check out Finca Serrano for excellent cuts of grass-raised beef, Mexican wines, and fresh seafood brought in daily from the Sinaloa coast.
Across the street from the divine, Churrigueresque-style (think "super Baroque") Catedral Zacatecas church (built between 1729-1772) is the Hotel Santa Rita, immaculately clean, well-styled, and ideally situated to explore the city by foot without wearing yourself out on any of its hills.
While Zacatecas has restaurants to appease herbivores, the cuisine of the north is meat-based. Zacatecas is known for its birria (sheep meat stew); tostadas de cueritos in chile de árbol (pork rinds atop round, crispy tortillas and doused in flavorful and spicy salsa); and enchiladas zacatecas, filled with poblano-seasoned pork loin. Head to the city's main market, Mercado Municipal El Laberinto, and pull up a seat at one of the food stalls to try the best of it all.
Top the night off with a stop at La Caprichosa Mezcalería, which depending on the evening could be quiet and relatively tame or a raucous fiesta with norteña music and over-indulgence. Zacatecas is a mezcal-producing state, but its mezcal isn't frequently exported, even across state lines. So take the opportunity to get to know something that everyone should know a bit better... not unlike Zacatecas itself.
Megan Frye is a writer living in Mexico City. She did in fact buy the ticket and take the ride. Tweet her about all the times you've loved and lost, especially abroad, at @fryechild.