Jekyll Island, Georgia

| lphoto / Shutterstock
Jekyll Island, Georgia

| lphoto / Shutterstock
If this were any other year, cruising past illuminated displays of three French hens, two turtles doves, and a partridge in a pear tree for the 15th time in three nights would have me reaching for an extra shot in my eggnog. But this, of course, is not any other year.
Desperate to inject some joy into 2020's finale, after Thanksgiving I set about planning a last-minute holiday getaway with a specific set of criteria: It had to be within driving distance of Florida; semi-remote, with space to roam while staying COVID-safe; and it had to pack some good tidings and cheer.
Which is how I found myself on Jekyll Island, singing along to the Twelve Days of Christmas with my sugar-high kids in the back seat, ogling the same light display for the umpteenth time—and absolutely loving it.
Never heard of Jekyll? Just north of the Florida border, this bite-sized barrier island off the coast of Georgia was once the wintering grounds of banking elites with surnames like Rockefeller and Morgan. Today Jekyll Island is 100% state park: beautiful, bikeable, and blissfully chill. Days are best spent on the island's many bike trails, exploring maritime forests and driftwood-covered beaches, and eating all the shrimp and grits you can handle.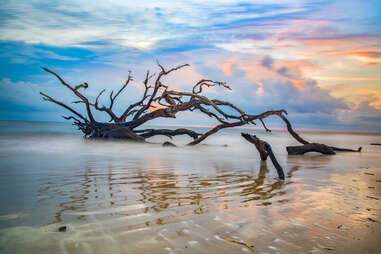 Now through January 3, Jekyll packs a ton of Christmas spirit into its small acreage. And while programming looks different this year due to the pandemic, they've got parades, fireworks, drive-in holiday movies, and a few Santa sightings on tap. Even if you skip the events, the island's atmosphere is straight-up magical: Its historic houses and oak-lined lanes are decked out with over a half a million twinkling lights.
Besides partaking in myriad loops of the lights drive each night, we also took a turn through the mini-golf course—currently festooned with sugar plums, swirly oversized lollipops, and the likeness of Frosty and friends. Honestly, after the year we've had, leaning into some cheesy old fashioned holiday cheer just felt necessary.
But this quiet island hideaway is an ideal escape any time of year. Here are some highlights.
Where to stay on Jekyll Island
Just steps from the mighty Atlantic, the casual Beachview Club Hotel has a pool, fire pit, and full suites overlooking tangles of live oaks. The Jekyll Island Club Resort, a Victorian hotel that dates back to 1888, is a more upscale option in the heart of the historic district.
At the island's northern end, a spacious campground shaded with enormous oaks is a dreamy spot to pitch a tent or park an RV. It sits just across from the very cool Driftwood Beach, so-named for the ancient trees that fell there due to beach erosion.
Rent a bike
The best way to see Jekyll Island is on two wheels. You can rent from the Jekyll Island Bike Barn to explore the island's coastal trails. You'll meander through maritime forests, past marshes and oyster beds that are exposed along the Intracoastal Waterway at low tide. At just seven miles long, it's hard to get lost on Jekyll, but here's a map just in case.

Spot island wildlife
On a ranger walk up the Crane Trail with park ranger Ray Emerson, we tasted wild pickle wort growing in the marsh (it tastes like a tiny Vlasic!) and peered through his scope at a massive bald eagle nest high in the trees. We scouted for alligators in a freshwater pond where the Jekyll Island Club once kept diamondback terrapins (a native Georgia reptile that used to appear on extravagant multi-course menus for the club's wealthy patrons). Nearby, the Georgia Sea Turtle Center is a best-in-class wildlife facility, where we were given an up-close view of a turtle rehabilitation in progress.

Spend some time with the area's history
On Jekyll's southern tip, the Wanderer Memory Trail tells the story of the last known slave ship to land in the US, The Wanderer, which departed Angola and arrived illegally on Jekyll Island in 1858. Exhibits along this walking trail share the stories of the 500 enslaved Africans who were brought ashore here, told through the eyes of a young boy named Umwalla.

Where to eat
Jekyll Island has several solid options for outdoor dining, including The Wharf, where we devoured a Low Country Boil thick with crab, sausage, and potatoes on a dock jutting out into the water. Another big hit was Zachry's Riverhouse, a no-frills spot near the sailing marina with a covered deck, light-strewn oak trees, and what I'm convinced are the best shrimp and grits on Jekyll.
Terry Ward is a freelance travel writer in Tampa, Florida, who has lived in France, New Zealand and Australia and gone scuba diving all over the world.