Everything is Awesome at Legoland, Even If You Don't Have Kids
Yes, Legoland is designed for kids. But then, so are Legos themselves, and that doesn't stop grownups from playing with them… or watching movies about them, or obsessing over video games based on them. So why would something like advancing age keep somebody from enjoying the seriously cool attractions waiting in the brick-based theme park?
Even though the park's target age range caps out at 12 and they describe their coasters as "pink-knuckle" rather than white, there's still a ton for adults to do. And guess what? It turns out a little pink-knuckle coaster action can be super fun.
While Legoland's been a fixture in Billund, Denmark since 1968, over the decades the park has expanded globally, with locations in England, California, Germany, Florida, Malaysia, Dubai, and Japan, plus an upstate New York park that's slated to open next summer. But the location in theme park-rich Florida is a full-blown vacation experience, and a must-visit destination for anyone with even a passing love of plastic bricks.
Located about an hour from Orlando in Winter Haven, Legoland Florida was built on the former site of Cypress Gardens, a 1930s amusement park that closed in 2009 after filing for bankruptcy. Why this matters is that Cypress Gardens was built on a 145-acre botanical garden -- which Legoland has preserved. So it's not just a bunch of Lego-themed rides: It's a bunch of Lego-themed rides plus gorgeous landscaping and, crucially, shady trees. As for said rides, there are more than 50 of them, ranging from an old-fashioned two-story carousel to immersive virtual-reality experiences like the Lego Movie: Masters of Flight ride. Each themed section of the park has interactive play areas, Lego sculpture creations, entertainment, and an adjoining waterpark. The resort also has a lakefront village of beach bungalows, a hotel with themed floors and forthcoming pirate-themed accommodations slated to open in April 2020.
Legoland Florida stays open year-round, so there's really no bad time to visit. Legoland isn't as big (or as overwhelming) as resorts Like Disney World, but insider tips are never a bad thing. Read on to plan your totally epic trip to Legoland, where everything is awesome.
Legoland's essential rides
One of the coolest attractions at Legoland isn't actually a ride, it's Miniland USA, a tiny town populated with replicas of iconic landmarks from Las Vegas, New York, Florida, and Washington DC. It's also got a pirate land and scenes from Star Wars, including life-sized characters made from Lego. (Don't miss getting a selfie with the Lego Chewbacca.) Walking through the cities and seeing "sights" like the Statue of Liberty, the Vegas strip, and the White House -- each created from thousands of Lego bricks in remarkable detail (with a good dose of Lego humor) -- is a great introduction to the park.
All the rides at Legoland have a tie-in with characters or "lands," like Ninjago World or the Lego Movie World. The Grand Carousel is at the center of Fun Town and is a nice, old-school start to the rides. It was refurbished in 2012, replacing classic horses with Lego-style horses. In Heartlake City (the Lego Friends-themed section of the park) Mia's Riding Adventure buckles guests onto a Lego horse on a disc that spins around while swinging back and forth in the air. In Lego Kingdoms, The Dragon is one of the park's most exciting coasters, bringing riders through a tunnel full of animated medieval-inspired Lego sculptures before blasting at top speed onto a twisting and turning steel track. Also in Kingdoms is Merlin's Challenge, a ride that looks like child's play (it's a train track that goes up and down along the same circular track) until your stomach drops.
In Land of Adventure, Beetlebounce is a scarab-themed dual-drop tower ride that whooshes up and down an obelisk at random intervals. Lost Kingdom Adventure is a dark tunnel videogame ride that lets guests channel their inner Indiana Jones, winding through rooms full of archaeology-themed Lego scenarios, shooting mummies and skeletons to rack up points. The Coastersaurus is a classic wooden twister coaster, with all the bouncing, creaking, and rattling included.
Lego Movie World, the newest addition to the resort, has two noteworthy rides: the aforementioned Lego Movie: Masters of Flight where riders take a 3-D journey on a triple-decker couch blasting through the Lego Movie universe (complete with Emmet's erratic steering skills); and Unikitty's Disco Drop, where duos of riders drop, spin, and bounce atop Cloud Cuckoo Land.
In Lego City, you'll find a pair of driving rides for tots, but there's a great coaster called Flying School that's among the most thrilling the park: a suspended coaster in which riders are strapped into chairs connected to the track above.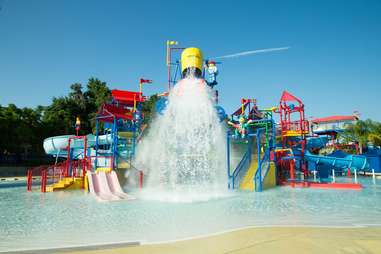 Cool out at the Legoland Waterpark
Legoland Florida's Waterpark is a revamped version of the former waterpark at Cypress Gardens. There are seven rides, ranging from a wave pool and the Joker Soaker interactive water playground to tubing rides and death-drop waterslides. This is a great option if you've already thoroughly explored the park, but still have an additional day on your stay. Note there is no towel service provided, so if you're staying on the property, bring towels from the hotel pool. Alternatively, rent a cabana, chill poolside, and make use of the souvenir Legoland towels that come with the cabana rental package.
Everything you need to eat and drink, from local craft beer to Taco Tuesday tacos
Legoland has plenty of your standard amusement park fare with some worthwhile and highly edible standouts. It's on a much smaller scale than megaparks like Disney, and the nicer restaurants are located inside the hotel and beach resort. But inside the park, the food is completely on theme.
In The Lego Movie, Lord Business masterminds Taco Tuesday, an event when he will attack Bricksburg with the Kragle, putting an end to everyone "messing with his stuff." In the Lego Movie World, one of its dining options has turned a once a week event into a daily occurrence with Taco Everyday. Chicken, brisket, and crab are filling options, with guacamole, cilantro or chipotle vegetable slaw and pickled onions. You can also get a pair of specials: Benny's Out of This World Taco and Unikitty's Cuckoo Taco, served in blue and pink soft tortillas, respectively, with Double Decker Sofa-Pilla bites for dessert.
In Lego Kingdoms, the Dragon's Den, as you'd expect, serves medieval-inspired fare. Turkey legs, bratwurst, honey-battered corn dogs, and beer from Winter Haven's first and only craft brewery. Grove Roots Brewing Co. has ownership of multiple taps, so there are a few choices, including a rotating selection of seasonal and special-release brews.
Another thing to keep an eye out for: apple fries. Yes, they're a thing at Legoland, and they're just what they sound like: Granny Smith apple sticks fried, dusted with cinnamon and sugar and served with whipped cream or a la mode. They make a great snack stop that isn't totally unhealthy and is unique to Legoland.
At the Kick'n Chicken Co., choose from a menu of salads, wraps, or tenders (including vegetarian-friendly 'chicken'), but the best bets are the chicken and waffles or the chicken BLT. This spot is seasonal only, and the closest options are Firehouse Ice Cream for floats, shakes, and ice cream or the Panini Grill (which has great sides like the corn salad, potato salad or kale salad, but skip the panini).
Within the Legloand Hotel, there are two dining options: Bricks Family Restaurant, a buffet-style restaurant that serves breakfast (included in your stay) and dinner; and the Skyline Lounge, serving an a la carte lunch and dinner menu. And the Beach Retreat part of the park features Sandy's Lighthouse Restaurant, with a breakfast buffet that's included in your stay and a la carte lunch and dinner menus with apps (nachos, eggrolls, wings), salads, sandwiches, burgers, and pizzas.
One super-cool thing about Legoland dining is that if a visitor has any food allergies or special dietary needs they don't have to miss out: a quick email to the Legoland chefs will be responded to with a list of restaurants and dishes that best suit their needs, or they'll even offer to prepare a special meal to be served at a specific restaurant at a specific time.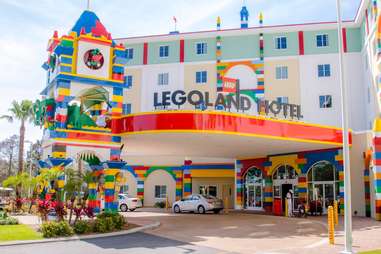 Where to stay when you're visiting Legoland
The Legoland Florida resort has two options for onsite accommodations, plus one opening in the spring.
The Beach Retreat: a collection of bungalows that house up to five guests and features a sandy beach, s'mores, family games and play areas.
The Legoland Hotel: the '5-gazillion star hotel,' features floors themed after Lego Kingdoms, Pirates, Friends and the Lego Movie. Fun stuff: The hotel has disco-party elevators, nightly pajama dance parties, an in-room scavenger hunt with prizes, 2,000 Lego models made with more than two million bricks, and Lego-building workshops with Master Builders. There is also an indoor playground, a mini-golf course, a boardwalk, and a swimming pool, all steps from the park.
Opening in April of 2020, Legoland Pirate Island will feature an immersive pirate-themed swashbuckling adventure. Adjacent to the Legoland Hotel, it's also steps from the park.
Outside of the park, there are several chain hotels very near to Legoland, plus some upscale options closer to Orlando, like the Wyndham or Four Seasons. In Winter Haven, there are several lakeside vacation homes available for rent, including a group of tiny homes on the lakefront, and a historic 1910 home that sleeps 8.
Shows and entertainment to watch out for
A nod to its Cypress Gardens roots, which featured a water-skiing show as one of its entertainment options starting in World War II, today, Legoland Pirates' Cove has two shows daily, featuring performers performing death-defying tricks all while dressed as Lego minifigures.
There are various Lego character visits and photo ops at different lands and times throughout the park. The 4-D Theater shows a variety of Lego-themed shows, and there are seasonal events ongoing throughout the year. Check the schedule to see what's coming up each month.
Skip the line to every last ride
Want to skip the line at Legoland and ride as many rides as possible? Fastrack Unlimited is a wristband that gives guests priority access. Unlike Disney's FastPass, where you have to select the few rides you want to queue up for, Fastrack Unlimited allows priority access to all the rides in the park. Want to do Legoland and be a little extra? Legoland offers a menu of VIP Experiences that range from basic upgrades to customized packages. Highlights include having a personal VIP host that escorts you around the park, priority ride access, a session with a Master Model Builder, unlimited snacks and refreshments, and valet parking.
Rebecca Treon is a contributor for Thrillist.