20 Unforgettable Things to Do in Mexico Before You Die
Hierve el Agua, Oaxaca, Mexico

| Byelikova Oksana/Shutterstock
Hierve el Agua, Oaxaca, Mexico

| Byelikova Oksana/Shutterstock
Sure, you've been to Mexico. You've breezed through Cozumel on your cruise du jour. You've downward-facing dogged in Tulum. You've sipped a sugary margarita overlooking El Arco in Los Cabos. Good for you.
But have you really been to Mexico? Our geographically vast neighbor to the south boasts towering peaks, jewel-colored lakes, and sprawling jungles. It has a "Grand Canyon" even deeper than ours. It has 34 UNESCO World Heritage Sites and over 100 Magic Towns -- a meaningful distinction given to villages that still embody the spirit of traditional Mexico. It has blissfully low-key beaches where time slows to a crawl, and vivacious, thrumming cities where world-class art and dining are yours to consume at a stupid-generous exchange rate.
So take a break from that great American bucket list of yours. Or hell, throw it out altogether, and go south, young man.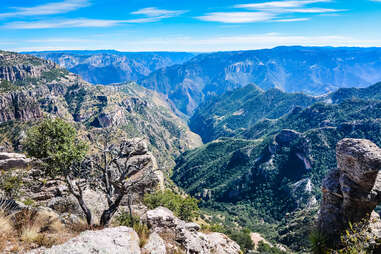 Take a train through Copper Canyon
It's true, Mexico has a canyon even more impressive than ours. Barrancas del Cobre, or Copper Canyon, is a massive canyon system in the northern state of Chihuahua. This natural phenomenon spans more than 25,000 square miles and is actually comprised of six smaller canyons in the Sierra Madre Occidental Mountains.
You can explore Copper Canyon by foot, by bike, or by horseback -- or ride the Ferrocarril Chihuahua al Pacifico railway (aka El Chepe). It links Chihuahua to the city of Los Mochis in Sinaloa, running 418 miles across the canyon, through 86 tunnels and over 37 bridges. Each one-way trip takes about 16 hours, but there are stops along the way so you can explore the canyon and its surrounding villages.
Swim with whale sharks off Isla Holbox
Did you know Mexico has its own Caribbean island? Sitting off the coast of the Yucatan Peninsula, the very chill Isla Holbox has a prevailing backpacker culture that favors lazy afternoons spent in beach bars, munching on seafood that was still swimming about 30 minutes before it hit the grill. But one of the biggest draws, besides the sugary white sands, are all the whale sharks. These gentle giants are about 40 feet in length, one of the largest aquatic species known to man, and swimming alongside them is an experience that cannot be missed. If you're into that whole being humbled by nature thing, then whale shark season is June to mid September.
Eat in Oaxaca until you can eat no more
Oaxaca City is THE premier place in Mexico to do away with your diet. Sink your teeth into crispy grilled tlayudas filled with chicken tinga. Savor huitlacoche quesadillas. Indulge in one of the many varieties of molé. Crunch into something weird, like grasshoppers sautéed in chili and garlic, or suck down a cow's head taco. Go high brow at the elegant Casa Oaxaca, or go cheap at the local market, Mercado 20 de Noviembre, or the innumerable street carts and hole-in-the-wall taquerias. Chase it all down with a small-batch mezcal. And if you have the incomprehensible urge to do something, oof, active, pay a visit to the nearby Zapotec archaeological site, Monte Albán.
Go surfing in Puerto Escondido
... or at least try. When you're through overindulging in Oaxaca City, make a beeline south to the coast. The surf pipeline at Puerto Escondido is one of the most famous in the world -- not ideal for beginners, but you don't have to be Kelly Slater to have a great time in Puerto, as the locals call it. Visit Costenito for banging ceviche, a mezcal cocktail, and a feet-in-the-sand dining experience. Meander down Zicatela Beach to Punta Zicatela -- an even more relaxed pocket of surf culture, if you can believe it. This sandy strip has an epically delicious Thai restaurant (Lychee), and smaller, more gentler rolling waves for newbies surfers.
Have a shaman cleanse your aura in San Cristóbal de las Casas
This colonial village in the state of Chiapas has a vaguely Alpine vibe, with lofty mountains, crisp weather, boutique shops, and many a wine bar. It's also a spiritual retreat that draws both affluent travelers and backpackers alike to its vegan food, sublime hot chocolate, and Mayan-run healing centers. For a legitimate out-of-body experience, visit a local shaman for deep meditation, prayer, and massage. To call it relaxing would be a lie; it's more akin to therapy, as the shaman asks you personal questions and massages the bad vibes out of your body. But when you're done, your aura will feel quite cleansed.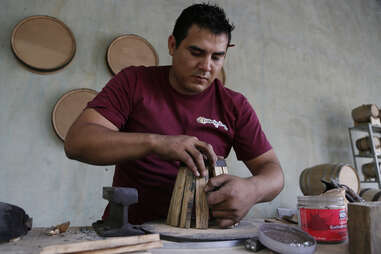 Sip tequila in... Tequila
Tequila is so named for the charming village where it originates. Within the state of Jalisco, Tequila is a designated Magic Town of Mexico, filled with cobblestone streets, a center square (which hosts epic night-long parties), a few boutique hotels (to crash after said party) and, of course, the Jose Cuervo factory. But this isn't the Cuervo you know from freshman year. In fact, Sr. Cuervo is known for making some truly top-of-the-line blends, so don't let this life pass you by without rectifying your college-era wrongs.
Catch a sunset over the Bay of Banderas
Within the western states of Jalisco and Nayarit, this bay is bound to the north by Punta Mita and to the south by Cabo Corrientes. It's one of the largest bays in the world, its most popular port being Puerto Vallarta. That hushed moment when the sun sinks below the horizon paints the sky over Puerto Vallarta brilliant shades of blood orange. When the show's over, nab a bar stool at El Solar for a shot of tequila and a plate of shrimp al pastor tacos. There's no better place in the world to call it a day.
Hike Cabo Corrientes for the most satisfying day trip of your life
Speaking of Puerto Vallarta, you should hop one of the local buses south along Highway 200 toward Boca de Tomatlan. Here you can catch a 2-mile trail that scales the mountain ridge hugging Banderas Bay. The gorgeous trail winds over mountains and meanders down to secluded, sugar-colored beaches (which is unusual for Puerto Vallarta), and eventually spills out at Las Animas, a beach hangout that's otherwise only accessible by boat.
About 15 minutes before you reach Las Animas, follow the path to the "secret" beach bar and bungalow, Casitas Maraika. Kick back at the beach club, order up some delicious seafood tacos or a dorado burrito, and enjoy the incredible views over a sea of topaz. Then head on to Las Animas, where you can grab the water taxi back to Boca.
Eat shark meat in Campeche City
The capital of Campeche is one of the most visually stunning colonial cities in Mexico, with a brightly colored historic center overlooking the Gulf from its long, meandering malecon. It's also, admittedly, a sleepy kind of place, so you'll certainly be catching an early bedtime after you chow down on local eats. A delicacy in Campeche is pan de cazón, meaning bread of small shark. This local dish is prepared lasagna-style with layers of tortillas stuffed with shark meat, black beans, and bathed in a spicy tomato sauce.
Explore the Mayan ruins of the Yucatan
Mayan sites like Chichen Itza and Tulum are by far the most famous, and easily accessible to boot. But the Yucatan Peninsula is home to dozens upon dozens of other Mayan archaeological sites that are equally impressive and much less touristed.
Make the journey to Kohunlich, near the city Chetumal on the border with Belize. The beautifully preserved city boasts the largest number of constructions in Mexico that are open to the public, with complexes like the Temple of Masks and the Stelae Square among the most impressive. The entire city rises out of the jungle, so that when you climb the Temple of Masks you'll encounter a thick blanket of green wilderness -- that, and the relative absence of other people, allows you to see the complex the way it's meant to be seen: as a truly lost city.
Spend a week in Mexico City
... and wish you had booked two. A week may seem like a long time to stay in one place, but the gargantuan capital city -- diverse, polluted, and among the world's largest -- offers endless adventures. Catch a Lucha Libre match, marvel at the architecture at the Museum of Anthropology, stroll the classy, shade-filled neighborhoods of Condesa and Roma, eat the A-list cuisine in Polanco, shop the Saturday bazaar in San Ángel, and munch on street food near the Zócalo in the Centro Historico. Take a day trip outside the city to the famous Aztec site at Teotihuacan. All that, and you'll still only be scratching the surface.
Plunge into the waterfalls of Roberto Barrios
Near the city of Palenque are the Cascadas de Roberto Barrios. They're not the most popular waterfalls in Chiapas -- that would be Aqua Azul, and they're overrun with hordes of sunbathing tourists. Roberto Barrios are lesser known, equally beautiful, and a million times more peaceful. Spend several hours exploring the falls and swimming holes that spill down the mountainside.
Experience the Day of the Dead
Mexico's Día de los Muertos is more than a holiday -- it's a cultural rite of passage, commemorating the return to Earth of friends and relatives who have passed. This multi-day celebration (October 31-November 2) is particularly vibrant in the Central and Southern regions of Mexico, where locals throw lively street parades, decorate elaborate altars strewn with marigolds, and hold graveside vigils. Some of the best places to experience the celebrations are Oaxaca, San Miguel de Allende, the island of Janitzio in Lake Pátzcuaro, Michoacán, or Ocotepec in the state of Morelos.
See the butterflies in Michoacán
One of the most breathtaking spectacles in the country comes in mid fall, when the skies above Michoacán swirl with blue and orange as millions of monarch butterflies make their journey from Eastern Canada to Central Mexico. Each year, anywhere from 60 million to 1 billion monarchs migrate more than 2,500 miles, settling for the winter in small areas of the Reserva de la Biosfera Mariposa Monarca, a natural preserve that covers more than 200 square miles.
Go boho-bougie in Sayulita
Once a sleepy fishing village home to backpackers and leathery surfers, the west coast town of Sayulita has blossomed into a haven for the boho-chic. Galleries, cocktail bars, boutique shopping, and yoga retreats are all part of what makes Sayulita awesome/awful. Still, a trip to this Magic Town is a must for anyone's Mexico bucket list.
Be alone on the Costalegre
Further south into the state of Jalisco, you will enter the Costalegre, an epic stretch of coast that's a cut above all the others. Why? It is virtually untouched by developers, one of the few remaining slices of Mexican beachfront that still feels like a world of its own. A trip here is about being one with nature and with the sea, seeing a side of the country that few tourists ever experience. Along the route are several off-the-radar boutique hotels and bungalows filled with other adventurous travelers. Consider a stay at Hotel Mayto, on Playa Mayto. This is the only hotel for miles around and comes with its own stretch of virgin beach.
Raise a glass in Valle de Guadalupe
Unbeknownst to many, Mexico has a fantastic wine scene, specifically in Baja's Valle de Guadalupe. The climate here is similar to California, resulting in some delicious bottles of local wines.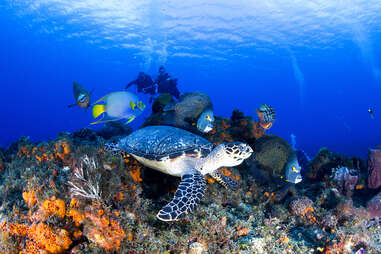 Snorkel among the stars in Cozumel
The Palancar Reef is a very, very close second -- if not neck and neck -- with the Great Barrier Reef. An unreal diver's paradise lies beneath the waves off the coast of Cozumel (and down into Belize). But even for those who prefer to slum it with a casual snorkel, there is still a feast for the eyes to be found at El Cielo, a beach whose name literally translates to Heaven. And for good reason. Not only is the water and sand straight up beach porn, but the shallow waters are teeming with starfish and stingrays. It's truly unmissable.
Party with fellow travelers in a bohemian jungle hideaway
If you're headed into the jungles of Chiapas to check out the Mayan ruins at Palenque, you will probably come across the jungle hideaway at El Panchan. This bohemian enclave is tucked in the forest off the main road that leads to the ruins. Inside you'll find several budget bungalow-style accommodations, two restaurants, and a community of backpackers looking to socialize and tie one on after a day of hiking the ruins. Embrace the unwashed ambiance as you suck back wood-fired pizzas, frosty beers, and listen to live music, all while bonding with an international band of fellow travelers who are making their way across Mexico by bus.
Be mystified at Hierve el Agua
For even the most jaded traveler, Hierva el Agua in Oaxaca will surely smack that smug look off your face. This truly awe-inspiring rock formation resembles a frozen waterfall tumbling down from the mountains. The area is dotted with mineral springs for soaking and long, poignant glances at the titanic formations and surrounding mountains.
Sign up here for our daily Thrillist email and subscribe here for our YouTube channel to get your fix of the best in food/drink/fun.

Meagan Drillinger is a travel writer living and breathing in NYC. But if you give her a plane ticket today, she will be somewhere else tomorrow.