Northern Wisconsin Is the Ultimate Wisco Winter Wonderland
Cabins, hearty meals, and wooded landscapes heartwarming enough to thaw the iciest polar vortex.
If you're the type of traveler who yearns for tranquility in a wooded locale that looks like the type of place Taylor Swift might hole up to write a pandemic-era album, then you'll find pastoral paradise in Oconto County, Wisconsin. A place where geese and horse-drawn carriages out-populate the people, this is the kind of happy hamlet where the hustle and bustle melts away faster than an icicle in a heatwave.
Here, supper club fish fries are haute cuisine. Log cabins lull you into a vintage vacation vibe. And considering its all-natural environs, home to the sprawling Chequamegon-Nicolet National Forest and practically as many lakes as in all of Minnesota, Oconto County is a particularly prime place for a wilderness escape—especially amidst the snowy serenity.
Located about an hour north of Green Bay, this far-flung county has "winter wonderland" sprinkled all over it. Beautiful year-round, from the verdant spring wildflowers to the fiery fall foliage setting valleys aglow, winter lends a sense of unparalleled zen.
Despite being a football's toss from Lambeau Field, it feels worlds away, thanks to its cozy cottages, sleigh rides, and olden restaurants heartwarming enough to thaw the iciest polar vortex. The best part? It all shares a zip code with icy ponds, snow-capped hills, and enough groomed trails to keep you snowshoeing or cross-country skiing all season long.
Indulge in Friday fish fry and meats at supper clubs and taverns
Wisconsin is the land of supper clubs—but perhaps nowhere in the state does fish fries like Oconto County. Marked by essentials like prime rib, broiled haddock, and Brandy Old Fashioneds, these timeworn Midwestern institutions are as quintessentially Americana as a Philly cheesesteak or a Las Vegas buffet. Chief among them is the decades-old Maiden Lake Supper Club, a place in Mountain that ticks all the boxes with its polished wood facade and Friday fish fries. Available only on Fridays, per Wisconsin tradition, guests choose from perch, pike, or cod, all breaded, fried-to-order, and served with a relish tray and potatoes. Other menu specialties are deliciously outre, like gorgonzola beef tenderloin, roast duck with raspberry lime citron sauce, and tomato cream shrimp.
Elsewhere in Mountain, Weatherwood Supper Club has the suitable look and feel of a darkwood saloon, bedecked with taxidermy, a quaint salad bar, stone fireplace, and all the freshwater surf & turf you can salivate over. The weekly fish fry is a mainstay, along with other crispy vittles like deep-fried haddock, stuffed shrimp, hash browns, and fried chicken.
For something a smidge less remote, The Boarding House Supper Club is a charmer in the middle of the town of Suring. Here, the feel is more like a B&B than your standard supper stopover—but in this case, at least one of those "B"s is a brandy old fashioned. The vibe is thanks to the building's origins from 1896, when it was used as a boarding house and saloon to provide lodging to railway construction workers and lumberjacks building the Chicago and Northeastern Railroad. Nowadays, the restaurant feels like dining in grandma's tchotchke-filled living room, feasting on fried cheese curds, prime rib, deep-fried walleye, and baby back ribs.
While The Olive Pit Bar & Grill also partakes in the Friday ritual, the dark and dive-y Townsend cornerstone (with a motif that looks directly inspired by Moe's Tavern from The Simpsons) is one frills-free institution that specializes in something truly distinct. The restaurant serves its signature olive burger, a singular sensation that somehow manages to one-up Wisconsin's other claim to beefy fame, the butter burger. What these patties lack in blatant butter usage it makes up for with a hefty smear of olive and cream cheese spread, plus sautéed olives and crispy bacon on a fluffy, cornmeal-kissed bun. At once tangy, creamy, acidic, and salty-sweet, it's in a new class of regional burger all its own.
It's not all deep-fried haddock and prime rib in Oconto County, though. Other preserved-in-time gems offer a full slate of homey eats as well. For burgers that are a bit less olive-oriented, The Penguin Again delivers the goods in Oconto Falls. Fear not, no penguins were harmed in the making of these burgers—just good ol' fashioned Angus beef. This modest eatery serves a whole slew of decadent snacks, from fried pickles to nachos, but the bulging burger menu is really where it's at. Look for unique combos like the Emperor burger with salami, bacon, mozzarella, and pesto mayo on a tomato-basil bun; the Waddler with American cheese, bacon, hash brown patty, and a fried egg; or the Hooked Burger with Swiss, shrimp, and cocktail sauce.
Things get zany at The Lazy Bear, where seafood dinners are served on Saturdays and Taco Tuesdays make way for… Taco Thursdays. Located in Mountain, the cabin-like restaurant accents its burger lineup with chicken cheesesteak sandwiches, lemon pepper salmon, and shrimp tacos. The latter, along with nachos and taco salads, is only available on Thursday evenings.
In the morning, check your Starbucks expectations at the door and fuel up at Northern Perks Coffee & Gift Shop, a place that feels part cafe and part garage sale, so you can snag both a latte and a vintage lamp. Snack-wise, they keep it simple with flaky scones, while whimsical espresso drinks run the gamut from the Black Forest (chocolate and cherry latte) to the Bear Tracks (chocolate, caramel, and chestnut) and the Celtic Latte (chocolate and mint, naturally).
Embrace snowy adventures
No matter the season, Oconto County is truly a wonderland of all-natural serenity and away-from-it-all relaxation. This is especially true during the quiet confines of winter. While much of the Midwest braces for arctic weather, there's still something undeniably charming about the snowy season in a region so well-adapted for it. Sure, you'll need to bring your best bundling-up clothes, and you may need to moderate your Brandy intake, but it's well worth it for the ultimate winter wonderland escape.
Throughout the county, adventure seekers have upwards of 480 miles of trails to zoom through on snowmobiles. This includes a 90-mile stretch of forest along the Nicolet State Recreational Trail that starts in Gillett, linking with multiple offshoot trails along the way. Those who like to be active, meanwhile, can opt to cross-country ski or snowshoe on 45 miles worth of groomed routes, like the Maranatha Ski Trail in Langlade and the Machickanee Forest Ski Trail, which zigs and zags through hearty flora like red pines, aspens, and coniferous swamps.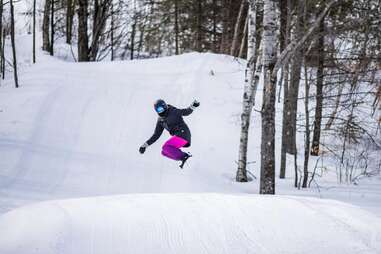 In case you're more comfortable gliding on blades of carbon steel, ice skating rinks can be found next to the Gillett Library, at the Townsend Rink on Pickerel Lake Road, and at the Riverview Town Hall ice rink—all rinks are free, with skates available to rent. Despite a darling town name like Mountain, Oconto County isn't exactly Vail when it comes to skiing. That said, the Paul Bunyan Ski Hill in Lakewood meets muster with its surprisingly steep ski lift ascending up the snowy hills, for skiers and snow tubers alike. Hot tip: in case you didn't come equipped with your own swag, Lakewood Ski & Sport offers rentals on everything from snowshoes and snowboards to cross-country and downhill skis, while companies like Northwoods Powersports Adventures have you covered with snowmobiles aplenty.
Beyond rentals and winter sports, the sheer staggering beauty of the Chequamegon-Nicolet National Forest is worth the price of gas alone. Encompassing a whopping 1.5-million-acre swath of prime northwoods real estate, ripe for snowshoeing, nordic skiing, and hiking, the pristine landscape is the ultimate place to unplug during the winter months. Prime areas include Cathedral Pines, which is a 40-acre patch with soaring white pine and hemlock trees, sweeping views of snow-capped trees from atop Butler Rock, and treks along the mighty Ice Age National Scenic Trail, one of only 11 designated national scenic trails by the National Park Service. Carving its way through the national forest along a 1,000-mile footpath, it hugs the edge of a bygone glacier that covered this part of North America some 15,000 years ago, when saber tooth cats and cave lions long preceded fish fries and the Green Bay Packers.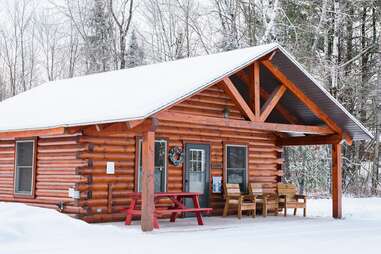 Where to stay in Northern Wisconsin
Deep in the woods of Oconto County, you won't find any Ritz-Carltons or Four Seasons to speak of. On the contrary, this pine-scented oasis is all about the intimate and independent—smaller abodes that eschew luxury for cozy comforts and quiet romance. After all, nothing says romantic getaway like a horse-drawn sleigh ride through the woods and a fireplace-equipped cottage.
Both adorable options can be found at Spur of the Moment Ranch, an all-year campground with numerous cabins perfectly befitting an escapist rendezvous for outdoorsy introverts. Quiet and remote, located near swan-strewn Chute Pond in the town of Mountain, the property features comfy log cabins in varying sizes, most equipped with kitchens, equally apt for family trips or R&R with a loved one. In the colder months, snuggle up on a horse-drawn sleigh ride along trails through the snowy woods and by the frosty pond. There's also a miniature donkey named Blackjack (because of course there is) who kids can learn how to groom and ride, or equine enthusiasts of all ages can sign up for riding lessons on horses in the paddock.
It's nothing but quintessential Wisconsin rusticity at Whispering Pine Lodge, a bit further north in St. Germain. Perched on picturesque Pickerel Lake, which is prime turf for wintry ice fishing, it's the ultimate northwoods nook. The resort is comprised of vacation homes, a huge 19th-century cottage, and log cabins so cute they look like they were built from super-sized Lincoln Logs. Said cabins are all lofted and situated along the lake shore, sizable enough to accommodate eight and winterized for year-round coziness. The main attraction is the old-timey main lodge, which was originally used by loggers more than a century ago. Since 1946, though, it's been a vacation retreat for families and large groups looking to hunker down in a sprawling wood-clad abode with room for 18.
For solitude with a side of Packers pride, rest your head at the one-and-only Wendt's Sandbar Resort, a place where kitsch and cozy collide in true Wisconsin fashion. The intimate retreat, located next to a huge lake called Townsend Flowage, features three wooden cabins with names like Bear's Den and Loon's Nest. You'll find all manner of year-round recreation here, which, come winter, means snowmobiling on miles of nearby ATV trails and ice fishing on the lake—for shelter from the tundra, portable sheds called Ice Shantys are available to rent. There's also an on-site bar, complete with pizza, requisite Bloody Marys, and big-screen TVs for all your football needs.
Matt Kirouac is a travel writer with a passion for national parks, Disney, and food. He's the co-founder and co-host of Hello Ranger, a national parks community blog, podcast, and app. Follow him on Instagram.