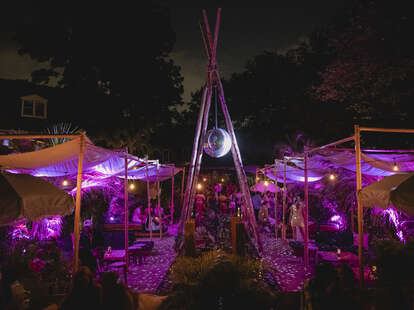 Gitano Island

| Photo courtesy of Gitano Island
Gitano Island

| Photo courtesy of Gitano Island
Real talk: It's okay if you still don't know exactly what Governors Island is. We're here to help.
First off, no it's not a borough. And second, no, you can't live there (but you can work from there). What the 172-acre island does offer is a wealth of outdoor activities, seasonal glamping, public art installations, delicious eats, and more, all within a whopping 800 yards of Lower Manhattan. And getting there is easy, we promise. All you have to do is hop on a picturesque, five-minute ferry ride from one of a few different ports in Manhattan and Brooklyn.
Read on to discover the best places to eat, drink, and play on New York City's Governors Island.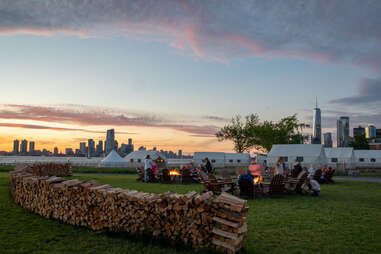 Settle in to a slower pace with a staycation, spa time, or naps
There are few places better to recharge than Governors Island. Apart from seasonal overnight accommodations, it's also home to one of the city's most serene spas, and even sheep for counting (for real).
New York City doesn't generally come to mind when you think of camping, but Collective Governors Island is perhaps one of the city's best-kept secrets. Surrounded by the island's 173 acres of green space, it's an excellent way to find a pocket of zen in this urban jungle. And, let's be honest, you're not really roughing it: the property offers everything from private chef's tasting menus, to charcuterie board crafting, to tents with en-suite bathrooms. And with nightly room rates starting at $229, it's one of the most affordable staycation options in the five boroughs.
But if an overnight isn't in the cards, the island is also perfect for a spa day trip. There are few places as transportative and unique as QC NY, Governors Island's only spa. A day pass here grants access to the entire wellness program, which includes everything from outdoor spa pools and vichy showers, to saunas; and you can also tack on massages for a larger dose of self-care. Plus, with opening hours stretching until 11 pm on weekends, opt to actually spend all day here before hopping the ferry home.
And finally, if you're looking for a no-cost way to get some R&R, the island's Hammock Grove, outfitted with oversized, red hammocks, is the perfect spot to catch a few afternoon winks after a morning spent biking or hiking. But, if you're still having trouble falling asleep, there are a few friends to help you. Their names are Evening, Chad, Philip Aries, Bowie, and Jupiter, and they're a sheep family from Friends of Tivoli Lake Pre­serve and Farm in Albany. The furry buddies have a summer-long residency in Hammock Grove helping to nibble on invasive plant species, and you know, look adorable. Look out for sheep herding demos at various points throughout the summer.
Chow down (and drink up) on summertime favorites
One of Governors Island's biggest draws are the plentiful outdoor food and drink options, none of which have the crowds of some of the city's busier enclaves. There are a surprising number of places to eat and sip a cocktail here, but the most photogenic spot is definitely seafood mecca Island Oyster: A colorful, waterfront restaurant helmed by chef Kerry Heffernan. Here, slurp sustainable oysters and snack on wild-caught seafood, all while gazing at some of the city's best skyline views. Don't skip out on the cocktail menu either, the tropical drinks here are the perfect way to end your day on the island.
Another popular spot is Gitano Island, which is back for its second season, bringing chill Mexican beach vibes with it. This waterfront restaurant and beach lounge, ensconced in a 27,000 square-foot palm tree jungle, feels truly removed from the hustle and bustle of the city. And for 2023, they also have a new menu, courtesy of chef Adam Maldonado; we're big fans of the Duck Carnitas Huarache and the Black Truffle Sopes.
As for booze: There are few spots more relaxing to crack open a can than Threes Brewing's seasonal outpost on the island's Liggett Terrace. Swing by every weekend during the summer for a taste of Public Property, the brewery's beer that's only available on the island, plus lunch specials from Brooklyn's own The Meat Hook.
Of course, you are also more than welcome to BYOB (that's bring your own blanket, of course). Governors Island is a picnic lover's dream: Not only are there tons of grassy, shaded spots, but the island also boasts plentiful Adirondack chairs and tables scattered throughout the grounds. And if you really want to get fancy, reserve one of the grills at Pic­nic Point or Nolan Park for a proper summer barbecue.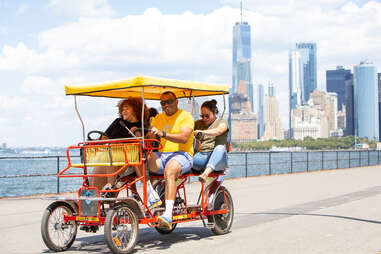 Explore the island by foot, bike, or… ball
The rolling acres of Governors Island allow for much larger sculptural commissions than virtually anywhere else in New York City, making it a must-see for any art lover. Currently, there are six pieces installed throughout the island, including the giant Yankee Hanger by Mark Handforth and the immersive (and slightly creepy) The Field Sta­tion of the Melan­choly Marine Biol­o­gist by nat­u­ral­ist, Mark Dion. Curate your own walk to see all of them, or enjoy the moment of surprise when you stumble upon one.
To move around even faster, rent bikes. Governors Island has seven miles of car-free biking, nearly all of it with postcard-perfect city views. Rent a bike on-site from Blazing Saddles, and with a fleet 1,000 strong, it's unlikely they'll ever run out. Plus, you can also rent Surrey bikes for two to six riders, if you and your friends are looking for some serious bonding time.
Another popular group activity here is Carreau Club's pétanque courts. And whether you're a veteran or an absolute beginner, their seasonal Governors Island outpost is one of the best places to throw some boules around. Plus, when you need a break from the action, swing by the club's outdoor beer garden for craft beer, wine, bottled cocktails or sandwiches.