Bask in Warm Sand and Chill Vibes in This Fishing Village Near Cape Town
White-washed homes, foraged seaweed, and coastal relaxation in South Africa.
There's a stretch of coastline along the West Coast of South Africa where the ocean and the Earth intertwine in a dance of natural contrasts. Coarse white sand beaches share the waves with jutted bouquets of rocks poking up through bitterly cold water. Faded white and Mykonos-blue cottages coexist with stark but beautiful smatterings of fynbos shrublands, wild flowers, and wheat fields. It's here—around an hour outside Cape Town—that you'll find Paternoster.
One of South Africa's oldest fishing villages with a population of under 2,000, much of Paternoster's architecture dates back to the 1800s. The village was almost exclusively built from limestone, which creates the signature white-washed style so often associated with the Greek islands. Consider Paternoster a teeny tiny version of that.
With one of the best restaurants in the world, coastal walks amid wildflowers, kayaking and kitesurfing, and a bar full of women's underwear, Paternoster is a jewel of the Strandveld region. It's a place to linger, where you while away a day, the sun warms your soul, the sand brushes off, and the day is finished with a late afternoon nap. Such is the essence of the village itself, where haste is not a part of local culture. Here's what to do in one of South Africa's most idyllic towns.
Wander local artisan shops
Paternoster is so small, you won't find a gas station or a proper supermarket. There are no big chain stores nor malls. But there are shops. They're just of the boutique, arty, offbeat variety. You'll find almost all of them either on the main road in this one-town street or taking up a small space down by the harbor.
Die Winkel Op Paternoster (literally translated as The Shop of Paternoster) is housed in an old shark-liver-oil factory. It now trades in an eclectic selection of goods that scream of the Strandveld region: homemade jams, gourmet salt, traditional Veldskoen shoes, artisan bread, and enamelware, to name but a few.
There are a handful of boutique stores from which artists flog their wares, which are all worth a peek inside. There you'll see handmade glass jewelry, clothes designed and made locally, quirky pottery, and African paintings. You'll likely find much of these wares hanging proudly in local B&Bs and seaside holiday homes, but they're all on offer in the shops for those who want a token to remember Paternoster by.
Stay in a hotel with character
When the shadows are getting longer and the sun is slowly sinking into the horizon, there's one watering hole that simply has to make your Paternoster itinerary. The Paternoster Hotel was built in 1863 and went through stints as a bank, church, school, library, and even a jail before becoming a hotel in 1940. Today, some of their rooms offer a partial sea-view of the bay. The hotel is within walking distance to many restaurants, shops, the Die Koelkamers theater, the ocean, and more. It's also easy to access hiking trails and horseback riding from here.
The pub at the hotel is called The Panty Bar. It's immediately obvious why, but even when you know what to expect, nothing quite prepares you for over 800 pairs of women's underwear suspended from the ceiling in a delightfully jumbled display. They were briefly removed in the '80s after backlash before being redisplayed in the '90s. Locals will swear that the policeman tasked with removing them would, for the rest of his life, be unable to live down the nickname bestowed upon him: 'Panty' Basson.
Shuck oysters and savor seaweed
In South Africa, the art of eating and drinking is a beloved pastime, yet many tourists flock to the winelands, overlooking the unpolished hidden gems in the Western Cape's gleaming crown. Despite its modest size, Paternoster offers a gastronomy scene to rival the culinary capital of Cape Town, minus the crowds.
Kobus van der Merwe's Wolfgat—named World's Best Restaurant of the Year in 2019—is but one of the options on offer. It's true Strandveld food featuring sustainable seafood, venison meat, and locally foraged ingredients like seaweed. Van der Merwe has artfully infused indigenous ingredients and dishes with grandeur to create a seven-course tasting menu that changes monthly.
With chef Garth Almazan at the helm, Leeto also dishes up traditional fine-dining fare with a hint of West Coast culture. Don't miss the Malay Spiced Mussel Soup. It's a delicate, spicy, coconutty celebration of everything that makes you fall in love with the West Coast.
If fancy isn't the way you like your meals served, De See Kat dishes up fresh and delicious sushi with a sea view, On the Rocks serves traditional fish and chips doused in vinegar and wrapped in paper, and The Noisy Oyster offers an imaginative menu in a whimsical garden setting. From shrimp ceviche in pillowy tacos to lemon cheesecake to superbly charred lamb riblets, it's all served in an Alice in Wonderland garden complete with fairy lights, succulent plants, and askew wooden benches.
In nearby Cape Columbine Nature Reserve, the See Kombuis (Sea Kitchen) is the only real place to stop for a bite to eat in the park, but it's not a place where you'll have to settle for second best. Deceptively rustic, this spot offers an unapologetically local experience. Take a seat at one of the converted fishing boat tables, bury your toes in the sand, and sip a cold beer while you take your pick from a menu of dirt-cheap, freshly caught seafood.
Be warned: the portions are enormous and the wine flows freely.
Hike through flowers by the sea
After stuffing yourself with West Coast gastronomic delights, you might feel like an activity that involves more than just lifting your hand to your mouth. Fortunately, Paternoster (like most of the Western Cape's coastal areas) is a bit of an activity haven during the summer months. Hiking is freely available and beautiful in both the West Coast National Park and Cape Columbine Nature Reserve.
Cape Columbine Nature Reserve is just outside the village itself. From July to September, it bursts into a tapestry of colors as the ground gets covered in a blanket of orange, white, yellow, and purple spring flowers. Even outside those months though, it's worth a languid and lazy day trip. The lighthouse is one of the last manned lighthouses in South Africa. For a small fee, you can climb to the top to take in the panoramic view. If lady luck is smiling, you might even spot whales or dolphins out at sea.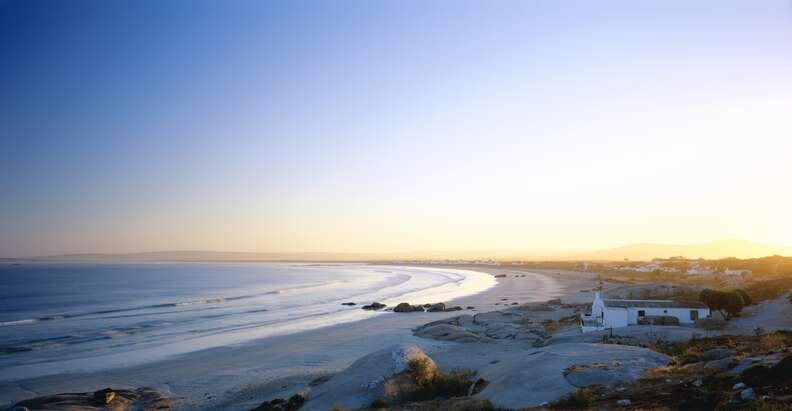 There's a near-constant breeze in this part of the world, so you'll find plenty of kite-surfing instruction is available both in Paternoster and neighboring towns of Yzerfontein and Velddrif. There's also kayaking, canoeing, and other on-the-water sports available for those who simply have to flex their athletic muscles regularly.
A word of warning: don't be tempted towards the more "in the water" sports, and stick to swimming in hotel pools instead. Despite looking like a Grecian postcard, the water is icy cold all year round. Unless you're a polar-plunge masochist, it's bitterly unpleasant to swim in, though every summer you'll see a handful of courageous souls and small, toughened local children who brave the foot-numbingly chilly waters for a dip.