The Gateway to Alaska Is a Nexus for Glaciers, Sea Life, and Flightseeing
From wilderness tours to unbeatable stargazing, this one-time whistle stop town lives up to its motto, "Alaska Starts Here."
In 1926, Governor George Parks had a vision. At that time, Alaska was still a territory, and its citizens lacked federal representation. But Parks hoped that one day this massive swath of land he governed, purchased from Russia over half a century earlier in 1867, would enjoy the perks of being a full-fledged state.
So he schemed. He surmised that in order to seem more attractive for statehood, Alaska would need its own flag (previously, they had just flown the American flag). He devised a flag-designing competition open to all Alaskan children from grades seven to 12. And it was an objective success: By the end, Alaska not only had its new design, but could also claim a new hero.
The young artist was 13-year-old Benny Benson. He lived in an orphanage in the port city of Seward, but his entry was familiar to every Alaskan who had ever gazed upward at the unpolluted night sky: seven yellow stars of the Big Dipper and a guiding North Star, shining bright against a deep blue background. Benson himself was somewhat of a representation of Alaska as well. A melange of cultural influences, born in the small fishing village of Chignik to John Ben Benson, a Swedish fisherman, and Tatiana Schebolein, an indigenous Aleut-Russian.
By the end, Alaska not only had its new design, but could also claim a new hero.
With his Aleut ancestry, Benson's victory meant much more than the engraved watch and $1,000 prize. The feat inspired fellow Alaska Native Peoples whose relationship with the men who had bought and sold the land of their ancestors had been fraught, to put it lightly. Just four years prior, tribes were finally granted citizenship and voting rights—but it turned out to be largely symbolic, not to mention traumatic, with ongoing documented episodes of widespread voter suppression like 1925's Alaska Voters Literacy Act, which required voters to speak and read English.
From his then home in Seward, Benson and his flag acted as a point of strength for Alaska Natives, instilling hope for the future. And when Alaska achieved statehood in 1959, his design became the official state flag. Benson died in 1972, but his memory is omnipresent. In Kodiak, where he spent the end of his life, there's Kodiak Benny Benson State Airport. In Anchorage, there's Benny Benson Alternative High School. And near Seward, you can climb Mount Benson in the Kenai Mountains, or stop by Benny Benson Memorial Park off the Seward Highway. Here you'll also see Benson's big dipper flag, flapping in the wind.
Think of Seward, Alaska, population 2,625, and you might just think it's all fishing and cruise ships. But this city—one of the oldest in the state, complete with a walkable historic downtown—played a significant role in the Alaska we know today. And it's a compact snapshot of Alaska itself, an end of the road charming mural-decorated urban hub stocked with modern conveniences, and just off in the watery distance, untamed wilderness.
Founded in 1903 as the terminus for what is now the Alaska Railroad, the city was named after William H. Seward, the US Secretary of State who negotiated the $7.2 million Alaska Purchase from Russia. Then, the railroad provided access to mining deposits and helped to build the state's economy. Today, it serves another economic purpose as one of Alaska's premier tourist attractions, as well as a practical means of transportation for locals, including one of the last flagstop routes in the country.
Today, just like the Alaska Railroad, the opportunities for fun in Seward have grown. Get out on the water in Resurrection Bay, or see the animals by land at the acclaimed Alaska SeaLife Center. Take a self-guided walking tour, have a cocktail at the throwback Flamingo Lounge, or come in the summer to witness (or run!) the grueling July 4th Mt. Marathon Race, taking place since 1915. And though it's not a part of the famous Iditarod race, Seward is Mile O for the Iditarod National Historic Trail, a 1,000-mile winter trek up to Nome that was once used to transport supplies and inspired the original dog-sled competition. And you can (and should) always make time to experience that untamed wilderness, perhaps with a boat tour into spectacular Kenai Fjords National Park.
Here's everything you need to know to get the most out of your next trip to Seward, Alaska.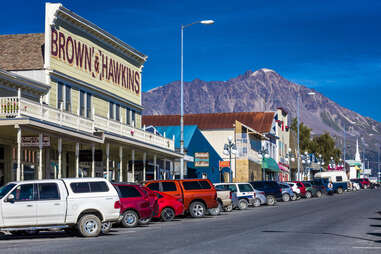 When to go and where to stay in Seward
Alaska is our 49th state, but it can seem like worlds way. Luckily, it can easily be reached with direct flights to Anchorage from many major US hubs. Once in Anchorage, Seward is 120 miles south. Hop on the Alaska Railroad's Coastal Classic Train, which winds along the scenic Turnagain Arm and offers daily service from May 13 through September 25. Alternatively, rent a car and cruise the picturesque Seward Highway, or climb aboard a seasonal motor coach from providers like Alaska Cruise Transportation, ACT Big Bus, Park Connection, and Seward Bus Line. And if you have the vacation time and the pocket change, you'll find that almost every cruise line with an Alaska route famously docks in Seward.
Visiting during the sun-filled summer months is optimal, as many local and state businesses are seasonal. However, snowy months provide more opportunities for aurora viewing, dog sledding, cross-country and backcountry skiing, fat tire biking and other exciting winter sports. The Iditarod also takes place every winter, with its ceremonial start in Anchorage; in 2024 it will run March 2 through 17.
Most people visit Seward to enjoy the great outdoors, so lodging in town is somewhat utilitarian (for a luxury option, consider the Alyeska Resort, complete with a new outdoor spa and located about an hour and a half away in Girdwood). But some in-town properties, like the waterfront Harbor 360 Hotel, come with awe-inspiring views of the mountains and Resurrection Bay.
Others, like the Windsong Lodge, plop you right in the region's temperate rainforest, allowing you to fall asleep to the sounds of nature after a meal at the bustling onsite restaurant. Near the waterfront, Hotel Edgewater and the historic Hotel Seward, built in 1905, are right in the middle of the action. Or get away from it all wilderness-style by renting an upscale yurt on Orca Island or Shearwater Cove, a luxury cabin at Kenai Fjords Wilderness Lodge on Fox Island, or a peaceful log cabin at Kenai Fjords Glacier Lodge inside Kenai Fjords National Park. Tucked into a Native-owned wildlife sanctuary, the later comes with views of majestic Pedersen Glacier.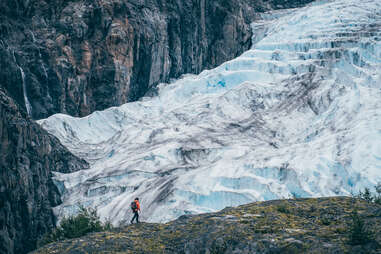 Walk on a glacier in Kenai Fjords National Park
The 700-square-mile Harding Icefield, one of four major ice caps in the US, accounts for nearly 40 glaciers scattered around Kenai Fjords National Park. But there's only one that you can actually walk on. That's the stunning wall of blue ice that makes up Exit Glacier, accessible by road and located just a 10-minute drive from Seward.
Hike the surrounding trails—including the epic 8.2-mile Harding Icefield Trail—or take a free ranger-led tour and learn how to identify the markers of glacier shrinkage over time, aided by historical photographs. You can also book a guided ice-hiking excursion and actually clamp your way onto the ice. Either way, you're sure to hear the frozen water crackle.
The Exit Glacier area is open year-round, with three cabins available for booking if you want to make a night of it. In winter, when the roads are covered with snow, access options include snowmobiles, fat tires, and dog sledding. You may even be able to spot some moose along the way.
Meet the local sea life
You might have been to an aquarium before, but guaranteed you've never been to an aquarium like this one. Opened in 1998 near Seward's lush Waterfront Park, the Alaska SeaLife Center is a marine research, education, and conservation facility and wildlife response all in one. In the back, scientists stationed in wet and dry labs study issues like the declining population of Steller sea lions and pioneer the remote tracking of marine life while also rehabbing sick, stray, and injured sea animals. Out front, visitors can actually enjoy the antics of said sea animals, from sea lions and otters to fish and seals and deep-diving aquatic birds. There's also the rare opportunity to examine elusive puffins, or maybe even pufflings, up close. Afterwards, you can compare these guys to the animals in their natural habitat from the outside deck, which looks out onto Resurrection Bay.
In 2021, the SeaLife Center opened the Rocky Coast Discovery Pool, a new and improved touch pool with six basins and three feature tanks housing plenty of animals to caress for hands-on experiences. Here, you can roll up your sleeves and introduce yourselves to lyre crabs, hermit crabs, sea anemones, and sea stars, which are squishier than you think they'll be. Check the online schedule for opening hours, tours times, and ticketing info.
Sample some Alaskan-sized seafood
Descriptions of Alaskan seafood can sound almost like hyperbole: crabs that are kings, and oysters you can wear as earmuffs. Salmon runs so plentiful they change the color of waterways, and halibut that sometimes takes two or more people to lift. But it's all true—and if you're a fan of seafood, you should definitely collect them all.
In Seward, there are more than a few spots that you can get your fix. The old-school Ray's Waterfront comes with a stunning view of the marina and mountains, plus king crab legs as long as your forearm. The Cookery skews fine dining with a rotating menu while food truck Los Chanchitos is worth several visits for its fish tacos. If fluffy fish and chips and clam chowder is your jam, head to Gold Rush Bistro downtown, or Resurrection Roadhouse at the Windsong Lodge. And if you want to pick it up fresh—or better yet, catch it yourself—visit the family-owned J-Dock Fishing Co. and score that coveted halibut-in-hand pic for your Tinder profile.
Scope out some caffeine
You wouldn't necessarily think of Seward as having much of a coffee scene, but hey, they've got to get through those 20-hours-of-darkness winter days somehow. The caffeine offerings around town run the gamut, with most places serving Kaladi Brothers, a local brand that began as an Anchorage espresso cart and can now be found all throughout Alaska and Washington.
Rise and shine with the fishermen and women at Coho Joe's Dockside Coffee, open at 5:30 am. Or pair your latte with an Alaskan souvenir at Frontier Trading Post. Downtown's Sea Bean Cafe comes with vegan cuisine and vintage issues of National Geographic to peruse should you stay a while, while Summit Sips serves espresso out of a repurposed Alaska Railroad car. And if you want to go meta, Seward's Cup pulls its shots inside a gigantic roadside coffee mug. Trippy.
But if you have some time on your hands, the one place you should definitely stop for a prolonged sip is Resurrect Art. Part local art shop, part bakery and cafe, and part music venue, it's housed in a 1917 church that's operated as a bakery since 1933. With cozy nooks and crannies all over—including a belfry tower and choir loft—it's the type of place you'll want to sit and stay awhile when it's chilly outside, accompanied, of course, by one of their oven-fresh baked goods.
Get the lay of the land in an air taxi or flightseeing tour
Seward may be a jumping-off point for seeing Alaska by cruise ship, but that's not the only method the city supplies for taking in the state's grandeur. If you really want to feel tiny, flightseeing tours—a.k.a. sightseeing from a seaplane typically seating two to eight people—offer a perspective you won't get any other way.
With limited road infrastructure, aviation has always been critical to life in Alaska—and almost every town in the state has a business that will take tourists up, offering sky-high views of everything from Denali National Park and the glacier fields to the fat, salmon-swiping bears of Katmai and Lake Clark. And if you need help securing transportation to a fancy upscale remote lodge on top of an actual glacier (or your more modest wilderness cabin), these multi-hyphenates can be counted on to get you there safely.
The most well-known Alaskan flightseeing operation is probably Rust's Aviation, based in Anchorage. From Seward, you also have your pick of several air taxi and helicopter services for bear viewing, glacier landing, backcountry hiking, heliskiing, or just admiring the scenery from way up high.
Spot animals and glaciers out on the water
Seward is just a boat ride away from the gorgeous and ancient ice-carved peaks and valleys of Kenai Fjords National Park. Hop on a kayak tour or book one of several short cruise options from the harbor to get up close and personal with the gunshot sounds and dramatic splashes of calving glaciers, and the just as exciting wildlife, like humpbacks, sea lions, orcas, and more, straight out of a nature documentary. Operators like Kenai Fjords Tours are on hand to guide you around the calmer waters of nearby Resurrection Bay, or carry you off on a day-long excursion into the open sea (that's where all the action happens). And even if you think you won't need it, don't forget your Dramamine for that one.