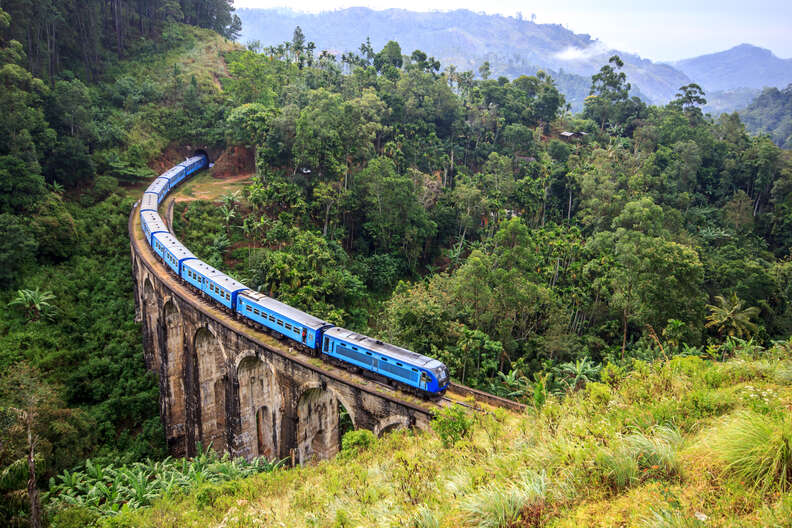 Insanely Beautiful Photos of Sri Lanka That'll Make You Want to Go
Sri Lanka is one of those places that always got "honorable mention" on my travel bucket list, behind front-runners like Thailand, Botswana, or Montana's Glacier National Park. But I was so, so wrong. Dig a little deeper and you'll see why this South Asian island is worth bumping up -- if not topping -- the list. It's full of breathtaking beaches, tea plantations, and wildlife -- and happens to be one of the more culturally, architecturally, and spiritually enhanced countries on planet Earth. It's essentially a real-life version of The Lion King, except only the parts the light touches (none of that dark and dodgy hyena land).
Don't believe me? Take a gander at these stunning examples, and you'll buy a plane ticket faster than you can belt out "Naaaants een-vwen-yaaaaaaa ma-ba-gee-chi-ba-va" (or however the hell that song starts).
The Golden Temple of Dambulla
Buddhism on this island traces as far back as the 3rd century BCE. Of the hundreds of Buddhist temples and historical sites to be seen here, this is the literal gold star, the biggest and best-preserved of them all. There are -- count 'em -- 153 Buddha statues, as well as countless paintings and sculptures documenting the famous sage's life.
Tea plantations
Are you drinking tea right now? There's a decent chance it came from right here. Sri Lanka is the fourth-largest producer of tea in the world, specializing in Ceylon black, Ceylon green, and Ceylon white tea (starting to make a lot more sense why this country was formerly called Ceylon).
Colombo
The capital city used to be a little like Athens in that you could hit all the obligatory sites in half a day and then hightail it to the beaches. But thanks to a resurgence in galleries, museums, cafes -- and the historic architecture that's been there all along -- Colombo's proving to be a vibrant city worth a longer stop-over.
Nine Arch Bridge
Located in quaint Hill Country, between Ella and Demodara, this 80ft-high bridge in the sky is part of a train track that winds through the tea plantations. Looking up at the arches from underneath feels like looking into nine separate skies -- or at least, that's what the name implies.
Sigiriya Lion Rock fortress
This incredible ancient fortress -- complete with frescoes, water gardens, and killer panoramic jungle views at the top -- was once home to a king who constructed the gateway to look like a giant lion. We can only assume this was top-of-the-line security for its day.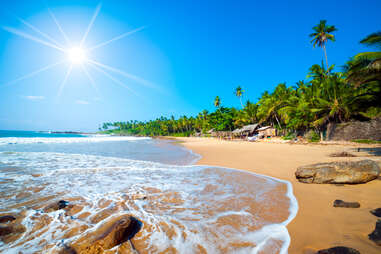 Mirissa
Finally, what we all came to Sri Lanka for -- the beaches! The scenic little village of Mirissa has immaculately clean shores dotted with simple waterfront shacks serving the fresh catch of the day and cheap beer. Surfing, whale watching, and napping in a hammock are about as strenuous as life gets here.
Tsunami Memorial/Peraliya Buddha Statue
The day after Christmas in 2004, a massive earthquake in the Indian Ocean triggered a series of tsunamis that devastated Indonesia, Sri Lanka, India, and Thailand. Upwards of 30,000 Sri Lankans were killed. Perched where the tragedy took place, this Buddha statue was a gift from Japan to honor the victims.
Pinnawala Elephant Orphanage
The elephants swarming the Pinnawala Elephant Orphanage are quite possibly the most lovable-looking things on the whole damn planet. This is the largest herd of captive elephants in the world, and while visitor interaction with the elephants is limited, watching baby elephants take a bath is well worth the excursion.
Stilt fishermen at sunset
This method of fishing reportedly started around World War II and was implemented for one very simple reason: not enough fish. Locals had to get crafty, using sticks to carefully wade further out where they were more likely to make a catch. It's a skill that has remained crucial ever since the tsunami wiped out much of the marine life here -- although these days, the fishermen allegedly prosper more from tourists snapping their pics.
Ella Rock
High above the town of Ella, this iconic cliff isn't for the casual hiker -- but if you;re up for the two-, three-, or possibly even four-hour challenge, the top of the rock offers unparalleled views of the hilltop village, tea plantations, and lush plains below.
The ruins of Polonnaruwa
The remains of this ancient city, once a thriving commercial center 800 years ago, look like something straight out of Indiana Jones. Archaeological treasures like temples, tombs, statues, and stupas are so incredibly well-preserved, you'd almost think they were for sale in a gift shop.
Gangaramaya temple
The 120-year-old Gangaramaya temple is certainly not the biggest, but what it lacks in size it makes up for in a serene Beira Lake-adjacent location, lavish architecture, and a staggering collection of ancient statues and artifacts.
Seema Malaka temple
While technically part of Gangaramaya, the Seema Malaka temple is basically its own Zen island isolated from the rest. Built on platforms in the middle of Beira Lake, its sole purpose is meditation and rest. OM… yes.
Baker's Falls
Tucked in Horton Plains National Park, Baker's Falls is not just one waterfall, but a collection of several flowing parts and one of the widest, most famous falls in Sri Lanka. Swimming is strictly prohibited -- a hidden 40ft plunge pool at the base of the falls has claimed many lives.
Yala National Park
Calling all crazy cat ladies. Aside from being the second-largest national park in Sri Lanka, Yala has the densest population of leopards in the world.
Adam's Peak
Don't let the fact that it sounds like a daytime soap throw you. Adam's Peak is arguably the most stunning place on this list. Although a bit riskier, hiking to the top just in time to catch the sunrise is both worth it and life-affirming.
Sign up here for our daily Thrillist email, and get your fix of the best in food/drink/fun.
Liz Newman is a contributing writer for Thrillist, and thinks Sri Lanka may be just the place for her to get over her lingering sadness over Mufasa's untimely death. Follow her on Instagram and Twitter @lizn813.