How to Actually Have Fun While Camping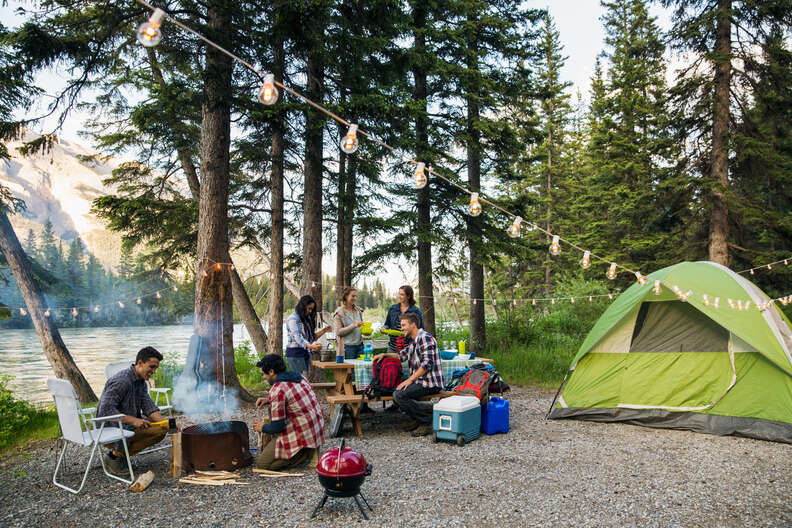 Hero Images/Getty Images
Hero Images/Getty Images
If you're indoors right now, you're missing out. The first step to getting outside can be the most daunting -- just get to the woods, or the beach, or a riverbank, or a mountainside. Next, do whatever you want for a while.
Naturally, many newcomers arrive at parks and campsites and don't know what to do during that second part. Cell reception sucks. Batteries run low. You gotta get creative. So we've reached out to expert sources from across North America to give you the lowdown on the best things to do while camping.
How you spend your time depends on who you're with, so we've organized activities by group type. We spoke with an esteemed panel of campers in a variety of locales including REI Outdoor School instructor Gregory Kanter in the New York area; Canadian Skyline Adventures co-owner Sarah Peterson in the Canadian Rockies; and Christopher Hagedorn, owner/lead guide for Get in the Wild Adventures in southern Utah. In addition to being experts in what gear to bring camping, turns out they're experts in killing time.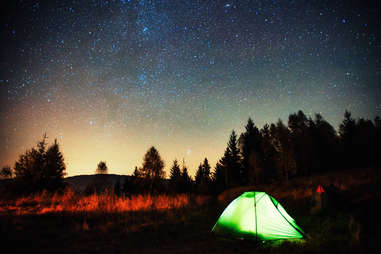 The best things to do when camping solo, besides strut around nude
When solo camping, the main activities actually take place before you get to the campsite. Kanter prefers to really push himself hiking or climbing to get to the site so when he does get there, "all I want to do is go to sleep."
Peterson echoes this sentiment. "You don't want to get in too early," she says, but when you do get to the campsite, it's the perfect place to practice some kind of meditative art, like drawing, writing, painting, taking photos, journaling, or playing music -- adding that when no one else is around is the perfect time to practice "if you play music badly." She adds it's also nice to go on walks to see how many birds, plants, and flowers you can identify, but not to overbook yourself. "The whole point of being there," she says, "is you don't have to actually do anything." Laze in the sun all you want -- no one is gonna say boo. Hagedorn adds it's all about "being one with myself and taking in the wilderness."
Solo camping is also a good time to treat yourself to a real meal. "Make something that people around you don't usually eat," Peterson says. Kanter brings a few "luxury items" when he's camping solo, such as Oreos and hummus with cucumber, while Hagedorn prefers meals like "cowboy burritos" that you make at home and then wrap in tinfoil to heat on the fire.
Kanter adds that a solo trek makes a great time to take your dog camping, provided your pooch has some experience. "Having no people around is the perfect opportunity to bond," he says. Dogs are part of nature, after all, and you're here to commune with the wild. The other best things to bring? A paperback you've been meaning to finish, and whatever helps you sleep in the latest.
The best stuff to do when camping with friends, besides drinking
Straight up, just make it a party. Peterson says having someone bring an instrument "goes a long way towards entertaining people" and that you should divide tasks so that everyone has a job and feels involved. Friends can take turns cooking meals, setting up the tent, and making fires (provided fires are allowed, you need to check first!). You can play fold-up travel games, but the best thing is to go exploring. This can mean group excursions into nearby towns if you're car camping or, if you're out in the wilderness, expeditions to nearby waterfalls or overlooks. Go swimming in a river, lake, or swimming hole. Or just zone out in front of the fire, an essential activity Peterson calls "caveman TV."
Hagedorn votes for games, whether that be "a light-up Frisbee" you can chuck around in the dark or use to knock over beer bottles (yes, drinking is considered an activity). Cornhole, chess, and checkers aren't bad. Or gamify chores. Kanter saying he likes to engage in a little "friendly rivalry" to see who can set up their tent the fastest or pack up their gear first.
Kanter also believes a "mid-trip check-in" is crucial with groups of people who may be at different levels of camping expertise. Don't assume everyone has the same stamina for hikes or weather exposure. For fun, pack cards or "anything that works for car camping that doesn't require a lot of weight" and toss around a football or "anything you can play catch with that doesn't make noise." If you are bringing a radio or playing music, make sure no one is close enough to be bothered by what's certainly your sweet-ass taste in jams.
The best stuff to do when camping as a couple, besides duh
Go ahead and romance it up, kids. Take a walk at sunset -- provided you set up camp BEFORE you go on the hike (lest you be setting up your tent in the dark and, most likely, fighting). You can also wake up early and watch the sunrise together. Peterson recommends you "treat it like a date" with a nice meal you can cook together paired with a night of stargazing or observing wildlife. Find pretty places ahead of time and schedule some activities you both actually enjoy.
Hagedorn says you can get a little fancier with the food by packing items like hors d'oeuvres or cheese boards paired with a nice bottle of wine, and a moonlight walk is never a bad idea. Couples are also more prone to "more of a refined experience" which, depending on your interests, could include yoga and meditation. But, as always, make sure your date or significant other is into camping and comfortable in the outdoors. Not everyone is as turned on as you by being sunburnt, bug-bitten, dehydrated, and cold, you animal, you.
The best stuff to do when camping with kids, besides telling them scary-ass stories
Kanter recommends easing kids into nature gradually to make sure they enjoy it every step of the way. This means spending a day doing some easy hiking and seeing how they like it, then spending a day having them sleep on the floor in a sleeping bag in their room before setting up a tent in the backyard, and so on. You don't want to overwhelm them and have them hate it and never want to do it again. National parks, with their infrastructure and facilities, are outstanding for taking kids.
Then work to keep them off their damn phones. Peterson says a scavenger hunt and games of hide-and-go-seek tend to do especially well (provided they aren't clambering into bears' dens) as well as the usual rainy-day coloring books and decks of cards you'd play at home. You also want to engage them in all the activities and make them feel useful, so you can have them help chop veggies and gather firewood. "Make it fun so it's a treat," Peterson says. Give them foods they normally wouldn't be able to eat at home. Mere s'mores have turned many a tyke into a camping lifer.
The best stuff to do when camping in large groups, besides re-enact The Hunger Games
In a word, get organized. Tackle technical rock climbs, running rapids, and fly-fishing. People are more prone to try new things when they're surrounded by friends. Splurge on a guide service and chase adventures that wouldn't be safe for you to do on your own, activities you'll then know how to do the next trip. Hagedorn often operates in one of the most remote areas of southern Utah where guides are a must, but you do you. Being lazy with a whole team of fellow lazies can be great.
Peterson says that, like when with camping with kids, national parks or area with lots of facilities are better suited for larger groups. Kanter emphasized the importance of communication with all members of the group, and suggested a group camping excursion is "an absolutely fantastic opportunity to get people into the woods that otherwise wouldn't be interested."
Play music by a campfire, kick around a soccer ball, or roll out the Cards Against Humanity. Canoe trips are also great for larger groups. Everyone's personality changes a bit in a boat, even small ones.
Bottom line? It doesn't have to be complicated. Just get out there with whoever the hell you can get to go with you and enjoy doing as little as possible for a while.
Sign up here for our daily Thrillist email and subscribe here for our YouTube channel to get your fix of the best in food/drink/fun.

Jay Gentile is a Thrillist contributor who once camped in the boardroom of the newspaper he worked for in Colorado. Follow @innerviewmag.