They've popped up in movies and on TV. You may have even caught a passing glimpse of one on the open road. But long before Matthew McConaughey stepped out of his retooled Airstream onto the beach and (probably) said "alright, alright, alright," there's been a fascination -- some might say obsession -- with America's iconic silver campers.
Which is why we thought it'd be fun to dig up 12 little-known facts about them.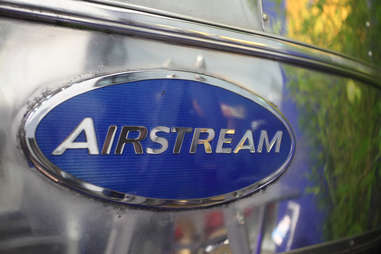 1. They didn't always boast the iconic design
The original Airstreams were teardrop shaped and two-toned. Their creator, Wallace (Wally) Merle Byam, thought making colored Airstreams to match the popular pastel cars of the '50s would be a good idea. He later reconsidered and opted instead for the now famous silver.

2. The Airstream is like a second White House
A number of US Presidents and their families have spent time in them. Not only did JFK use an Airstream as a mobile office while previewing new army weaponry in White Sands, New Mexico, but First Lady Laura Bush rocked her own private trailer while visiting troops in Afghanistan in 2008. Vice Presidents Dick Cheney and Joe Biden have also toured around in the classic camper.
3. Early Airstream models were DIY, and made out of wood
Original models of the Airstream were built of Masonite, a type of hardboard made of pressed-wood fibers. Not only that, but they were sold as wood-and-canvas kits, with model names like Model 2 and Silver Cloud, in the back of magazines. It wasn't until the arrival of the Airstream Clipper in 1936 that we got the first bullet-shaped trailer made out of aluminum.

4. And there were no bathrooms inside
Despite coming up with the design to appease his wife's complaints about camping without a kitchen or bed, original owners still had to rough it with a "thunder mug" -- aka, a bedpan. Today, trailers come with all the comforts of home, including a wet bath.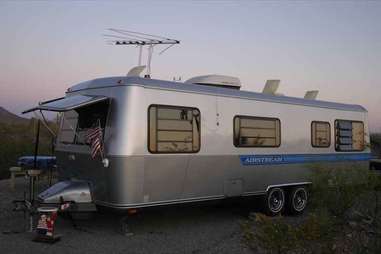 5. There was a square Airstream
The famous cruiser has a lot of nicknames, including Silver Bullet and Toaster-on-Wheels, most of which tip their hats to its seminal shape. Wanting to mix things up a bit in the mid-'80s (and who didn't really?), the company added a new design to its line: a square-shaped trailer. From 1986 to 1991 the "Squarestream" hit the roads, drawing the ire of many fans/enthusiasts who went so far as to ban the new model from the Wally Byam Caravan Club.

6. They have a huge celebrity following
Matthew McConaughey may be the most outspoken about his love for the Airstream (living in one for years before buying a house), but other celebrities have enjoyed a good ride or two as well. Johnny Depp, Adrien Brody, Brad Pitt, Tom Hanks, Denzel Washington, Lenny Kravitz, and Sean Penn are all, reportedly, fans. And even Hugh Hefner gifted an all-white one to Pamela Anderson (dubbed the "Lovestream") that came equipped with mirrored ceilings, white shag carpeting, a circular vibrating bed, and stripper pole. Naturally.
7. Wally wasn't the first to come up with the design
Airstream may have become the most popular trailer company of its time, but it didn't create the unique design. William Hawley Bowlus, a veteran designer who had previously worked on Charles Lindbergh's Spirit of St. Louis airplane, was the first to use that streamlined shape on an RV. Applying his background in airplane design, he created a silver trailer called the Bowlus Road Chief. His company went under in 1935, however, just as the Airstream was gaining in popularity.

8. Although the Airstream's original competitor is making a comeback
Wally may have bested William Hawley Bowlus in the 1930s, but fans of the Road Chief are attempting to bring back. Only 80 were built before the company went under, but a Canadian couple has recently revived the Bowlus, adding modern amenities like Wi-Fi and solar paneling.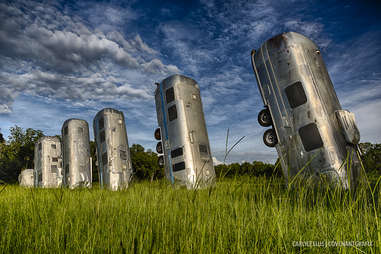 9. There are eight Airstreams buried nose down in the ground
After years of legal battles citing it as a visual nuisance, the Airstream Ranch still stands strong on I-4 about 15 miles outside Tampa, Florida; 10,000 people signed a petition to save it in 2012. Frank and Dorothy Bates originally installed the shiny row of silver RVs in 2007 as an art exhibit to draw in tourists from all over the world.

10. They're actually pretty light
Towing an Airstream trailer is not nearly as difficult as many people think. In fact, one of Wally's primary design goals was for it to be lightweight. To prove the point, the company staged a publicity photo in the 1940's in which a cyclist pulled the trailer with his bike.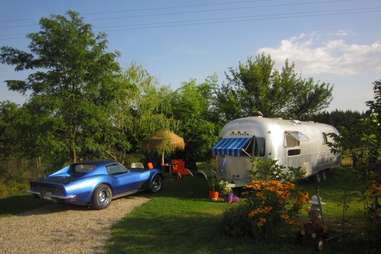 11. There are Airstream hotels
With such a loyal following, it was only natural that hotels would pop up around the world featuring Airstreams. The Granddaddy Hotel in South Africa used a crane to create a rooftop trailer park, while the BelRepayre Airstream and Retro Trailer Park in France rocks an Airstream bar dubbed the Apollo Lounge. Of course, there are plenty of Airstream-themed hotels scattered across the US as well (Kate's Lazy Desert, Santa Barbara Autocamp, etc.), not to mention trailer parks, campsites, and B&Bs.

12. NASA nicknamed them the Astrovan
Sure they look futuristic, but who knew that actual astronauts made use of the spacey motor home. When Neil, Buzz, and Michael first returned from the moon, they headed straight to a modified Airstream. Nicknamed the Astrovan, Airstreams were also used by NASA to bring astronauts to the launchpad. Richard Nixon even interviewed the crew of Apollo 11 in one, as they were quarantined inside until being cleared of potentially hazardous moon particles.