9 Things You Didn't Know About the Miami Open
Ahh, the Miami Open, an under-appreciated stop in the tennis tournament circuit. Sometimes called "the fifth Grand Slam," the Open places brutal hard-court tennis in an oceanside paradise, pretty much the best-possible setting for a tennis tourney. And because it's one of the newer contests on the tour, we're pretty sure you don't know a heck of a lot about it -- and that's where we come in. Now strap on your shortest shorts and prepare to get hit with a volley of fun facts.
Clive Brunskill/Getty Images
1. It's one of the newest major tournaments
Tennis has one of the longest histories of any modern sport, so it's pretty rare that a new tournament gets started in the modern era. The Miami Open was started in 1985 by pro player Butch Buchholz (for comparison, the first Wimbledon championships were held in 1877). This is even more impressive when you consider how big the Open has become in such a short time.
 
2. They give away roughly two M1 Abrams tanks-worth of prize money
The Miami Open needed to make a name for themselves when the tournament first started, and they definitely succeeded. Part of their strategy to get on the map of major tournaments was to offer up some of the largest cash prizes for winners, at the time only topped by the U.S. Open and Wimbledon. In 2015, the total cash money given out was over $12 million (yep, that's about two tanks worth of cash), with the singles finalists taking home $900,000 of that.
Alamy
3. They have weirdly bad luck with their finalists
The men's final has been called off three times in Miami Open history. In 1989, Thomas Munster was hit by a car right after his semifinals victory, putting him in a wheelchair for months (don't worry though, he would go on to win the open eight years later). In 2004, Guillermo Coria withdrew from the final during the fourth set due to kidney stones. Maybe the courts were built on an ancient Indian beach resort?
 
4. "Bad luck" at the Open might also just mean a bad pillow
What's the worst reason for not finishing a final? Ivanišević's left the 1996 final early because his neck was stiff from sleeping awkwardly. With that much cash on the line, you'd think he would've stuck it out. Or at least shelled out for a better pillow.
Alamy
5. Maria Sharapova's been in the final five times
And lost every single time. Maybe it's karma for her recent performance enhancing troubles, or maybe she's just no good in the Miami heat. Either way, her record at the Miami Open is worse than the Browns' record with quarterbacks.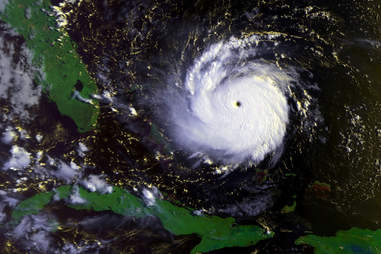 <a href="https://upload.wikimedia.org/wikipedia/commons/4/44/Andrew_23_aug_1992_1231Z.jpg" rel="nofollow" target="_blank">NOAA/Wikimedia</a>
6. Weather hasn't always been their friend, either
In 1992, construction began on a massive upgrade on the Tennis Center (now moved to Crandon Park), including a million-dollar clubhouse and new stadium. Then, in a stroke of more bad luck, the park was hit by Hurricane Andrew in August and a cyclone that was called "The Storm of the Century" in March of 1993. Miami! Come for the weather, stay because the weather shut down the airport.
Clive Brunskill/Getty Images
7. It pulls in the population of St. Louis every year
It's not just celebs hitting up Key Biscayne for tennis. Turns out that the Miami Open pulls in huge crowds: in recent years, attendance has topped 300,000 people. That's roughly the population of St. Louis coming to visit for a couple weeks. For a non-Majors tournament, that's huge. It makes sense though -- even if you grew tired of tennis rallies, the park is surrounded by unbelievable beaches and golf courses, so the perks are endless.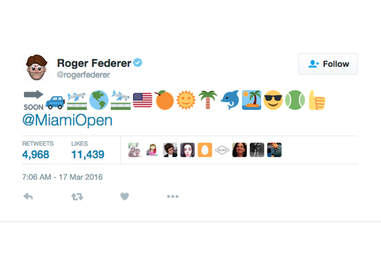 Roger Federer/Twitter
8. It's the perfect place for a comeback
Tennis fans breathed a collective sigh of relief after Roger Federer announced he was returning to competitive play at the Miami Open. His medium of choice? A tweet using only emojis @-ing the Miami Open account. It it too soon for the champagne emojis?
 
9. Monica Seles kicked off a record winning streak there
1990 was a great year for young stars on the tennis circuit. Monica Seles exploded onto the professional scene by winning the Miami Open at just 16 years old, kicking off a 36-match winning streak, including a win at the French Open. A young Andre Agassi also made a name for himself, winning in Miami at age 19 with a hairline aged 45.