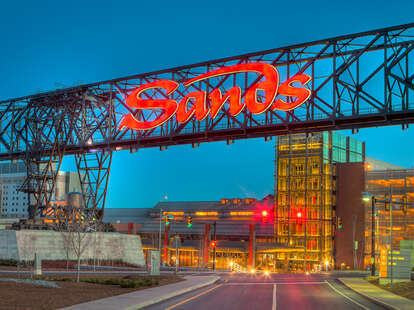 Yes, that picture up there doesn't look like Vegas, and you're about to find out why. From its surprising location to restaurants from everyone's favorite notch-kicking-up chef, Sands Bethlehem is packed with surprises you'd never expect. Check it out here, then maybe test your IRL luck at the tables.
1. There is only one Sands outside the old West, and it's on the East Coast
Located in an awesomely charming downtown in Pennsylvania, it only takes an hour and a half to get there from the Big Apple, and that's really just 90 wee-minutes.
2. There are three more Emeril restaurants than you have in your apartment
You already know Emeril for putting a twist on established dishes, and for saying Bam!, but what if you want to experience his take on American and Italian cuisine in the same span? There's only one East Coast spot with three different Emeril locales under the same roof, and that's Sands Bethlehem. It boasts the full gamut of Emeril's Chop House, Emeril's Italian Table, and Burgers And More by Emeril, all of which serve up top-notch eats. The property also has 7 other g'noshin' options to choose from, should you have an appetite for diversity.
3. It would take you more than two days to play just one minute of slots at all their machines
Got a favorite way to game? Sands Bethlehem has got it! That's right, there are more than 3,000 slot machines, plus 200 table games, a 30-table poker room, and a whole lot more.
4. You can clown with circus performers at Vision Bar
At the Event Center, they hire straight-up circus performers at its Vision Bar, which hosts a bash called Cirque Saturdays most weeks -- it's where mixed drinks are $4, and the hangover is an acrobat hanging over you by an actual thread.
5. Sands Bethlehem self-park garage is always free, and always open
There are 3,300 parking spaces in the garage at Sands Bethlehem, which is open every day, all the time, for whenever you feel like shopping, spa-ing, or just a bit lucky. Plus, there's valet service for $7, which is both a good price and a lucky number.
6. It has the only east coast Carnegie Deli outside of New York City
The original Carnegie Deli is on 7th avenue and is a quintessentially New York institution, which is to say its motto is "If you can finish your meal, we've done something wrong." But if you want a big sandwich outside the big city, there are only two Carnegie Delis beyond NYC: one is in Vegas and the other is in Bethlehem, PA. Good to know, if you're the type to nosh on New York pastrami between hands of Texas Hold 'Em.
7. The Event Center can hold more people than 15 commercial planes
The vast space can accommodate 3,500 people, which is more than all of the passengers on 15 fully booked Boeing 767s. Additionally, the exclusive mezzanine level adds 158 seats, which cozily provide a tremendous view. Whether you're into learning how to snub-train your pooch with Cesar Milan, or you'd rather ride with Nelly, the Event Center stage will be graced by someone you dig soon.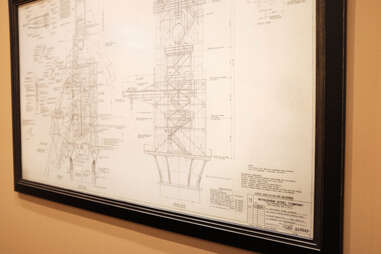 8. The casino grounds used to be the Bethlehem Steel plant
At its height, Bethlehem Steel made the second most steel of any company in the world -- steel that was used to construct famous New York City landmarks like the Waldorf Astoria, Rockefeller Center, Madison Square Garden, and the Chrysler Building. But in 1995, they closed shop, and Bethlehem's Pennsylvania manufacturing plant became the country's largest abandoned industrial site. Thankfully, the Las Vegas Sands Corporation bought the space, built a hotel, resort, and casino, thereby reinvigorating a town that was once a hallmark of American industrial might, and refurbishing a local landmark with high-end amenities.
Gambling Problem? Call 1-800-GAMBLER.