Paid Content For
Jose Cuervo
This Is the Craziest Hour of Any Party
Paid Content For
Jose Cuervo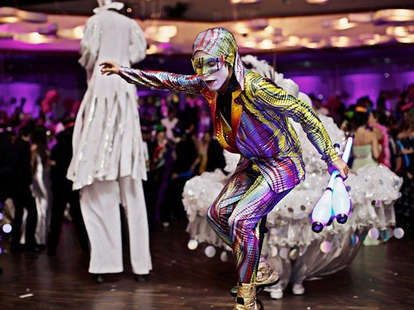 <a href="https://www.facebook.com/partyspecialists/photos/a.10151337635619786.1073741828.188339424785/10151412340064786/" rel="nofollow" target="_blank">Party Specialists, Inc./Facebook</a>
<a href="https://www.facebook.com/partyspecialists/photos/a.10151337635619786.1073741828.188339424785/10151412340064786/" rel="nofollow" target="_blank">Party Specialists, Inc./Facebook</a>
La Hora Loca -- if you've never experienced it, you've missed the most brain-blisteringly insane hour of partying you will ever enjoy.
What is La Hora Loca?
The cool thing about La Hora Loca ("The Crazy Hour") is it's our species' most floating holiday. You can insert it anywhere a party is starting to drag: graduations, quinceañeras, wakes, Stanley Cup finals, and emergency meetings of the Joint Chiefs of Staff.
Say you've had yourself a little wedding, and a cocktail hour, and a reception complete with Aunt Donna telling that story about the full diaper and the Jolly Jumper (looking at you, cousin Chris). The boring folks have gone home because they only booked the sitter till 11, but a few bleary parents hang on, rudely delaying your generation's plan to get raucous until dawn by the pool.
That's when La Hora Loca strikes! A siren whoops! Stilt-walkers, feathered dancers, and fire breathers somersault into the room! (Well...except for the stilt-walkers. Those folks stride in like the Cloverfield monster.) Chaos, wonderful chaos, surrounds you! It's the big hurrah at the end of another, fairly unrelated, big hurrah! Life doesn't get better than this! Unless for some reason you hate acrobats and pageantry (perhaps because your father was killed by a harlequin? It's possible).
An hour later, the olds shuffle off to bed laughing that the last time they had this much fun was that live-taping of Fibber McGee & Molly. Meanwhile, those who remain are reinvigorated and ready to keep the party going until Uber surge pricing kicks in.
Where did La Hora Loca begin?
Ehhhh, kinda depends? According to the Miami Herald, it's based on a New Year celebration in Spain (not Brazilian Carnival, to which it's commonly compared). But -- and this but is a big but! -- that spark of a celebration caught fire in the tinder of a Venezuelan couple's hearts.
Returning home, they had the idea to put a celebration in the middle of a celebration, possibly because they were visited by the archangel Xzibit. They opened a shop specifically dedicated to this mid-party party, and it blossomed round the western world. (The question, of course, is do random Horas Locas break out in the shop whenever the employees get bored? In your heart, you already know the answer.)
The reality is blurrier: Donna Paredes, of New Jersey-based party planners Crespita Entertainment, says, "Other countries have La Hora Loca. In the Dominican Republic it's just called 'Carnaval'" as it is in Brazil, while other cultures may simply call it "Festival."
Paredes, whose family is Peruvian, says, "In Peru we do have The Crazy Hour. It's not called The Crazy Hour, but it's similar. In every culture they have something similar. 'La Hora Loca' is just a way for them to refer to it here. The wording helps people define what type of entertainment they want. The showgirls come out, the stilt-walkers come out, and get everybody hyped."
La Hora Loca made major inroads in the States around Miami and Florida at large, and is now celebrated all over the country.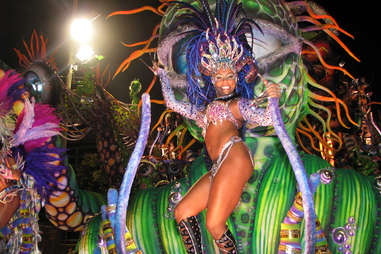 Like distillation, La Hora Loca reached the New World from Spain. And though the latter is new while the other is ancient, both are a way to toast your loved ones. Revelers don't know things are about to get crazy. They're enjoying the moment. And really -- isn't the same true of you, guy about to do a shot? Like Jose Antonio de Cuervo and his son distilling their first batch of tequila in 1795, you're on the brink of greatness. If you're willing to get a little loco, anything can happen.
How do I make this happen?
It's easy! Got masks? Got fun props? Wear one and wave the other in the air like you just don't care, even though we all know how much you do. Pump up the volume and drop the lights! You are currently medio loco.
But wait! Add ribbons and streamers! Don super-bright colored attire! Your loco-motion is increasing! Throw beads! Bring in the performers you hired to get everybody on the dance floor! (At this point, you should probably hire professional locos, unless you have a lot of friends on the Olympic gymnastics team.) Good job. Now it's the fun-jection your party was gasping for.
Be sure to tell your DJ you are doing this, though. Nothing kills a crazy hour faster than the DJ packing up his equipment because the wedding is over. Especially since the DJ is often the one who arranges all the Hora Loca excitement for you.
Oh, and your guests have been dancing and drinking all evening so you should probably serve some junk food right about now. Pizza is good. Empanadas are better. They're never not the appropriate food. Unless, you're like… at a funeral for someone who choked on an empanada. Boy, that'd be a grim time for everyb— LOOK OUT! HERE COMES LA HORA LOCA TO PUT THE FUN IN FUNERAL!
How much is this going to cost me?
First off, never ask a wedding vendor that question. What you say is "I only have this much to spend but my Hora won't be Loca without kangaroo-boxing." Then nudge that price up from the basics.
Like the celebration itself, the cost is up to you. Stilt insurance ain't cheap, and mere flames aren't enough to feed even the hungriest fire swallower. On the other hand, beads are dollar-store fare, and all you really need is loud music and enthusiastic guests.
Paredes says a typical wedding event runs about $800, but had a crazy hour in New York City go as high as $2,200 when a customer went all out with a full suite of performers.
The important thing is that the party never stops. Ever. It only yields the floor to more party. Party until it becomes toil. Now let that toil overwhelm you. Good. You are transformed into something that would frighten even Andrew W.K. You are become Party, Destroyer of Boredom.
Anyway, in answer to your question, a few bucks (if you do it yourself) to a couple grand if you go for the gusto.
Now go forth and party till things get crazy.
Sign up here for our daily Thrillist email, and get your fix of the best in food/drink/fun.

Brendan McGinley is not the man you want on a pair of stilts. If you are a dancing lady who wants to liven up his Twitter, it's @BrendanMcGinley.