This ultra luxe resort was voted the #1 hotel in Europe
Sure, a European hostel might not cost an arm and a leg (well, not all of them), but instead you might opt for a place Eli Roth would likely stay if he actually still had money: the Onyria Marinha Hotel in Quinta da Marinha, Portugal. A short drive from Lisbon, Onyria's equipped with 68 Deluxe rooms, 12 Edition Villas, 4 Suites, and enough class to probably have at least, like, six bottles of fancy vino stored in the cellar -- just a few of the reasons that it was recently voted no. 1 hotel in Europe and no. 3 in the freaking world on TripAdvisor.
This pearly white room is the lobby. Man, Billy Mays would have loved it here.
Remember that aforementioned class? This suite is straight dripping with it. Note the wood paneled walls, flatscreen TV, and 24hr room service.
The Edition Villas are something that'd show up in a search result for "Amanda Bynes" because it's crazy how awesome they are. The villas are situated directly on the golf course and give immediate access to that swimming pool. Cannonbongball!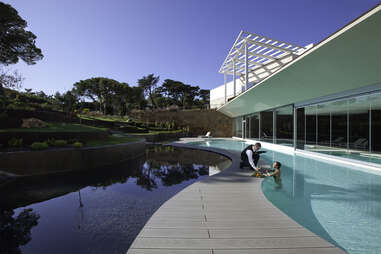 This pool is part of their spa, where you'll be served mixed drinks and tranquility simultaneously, so be sure to wait 20mins before getting out of the water.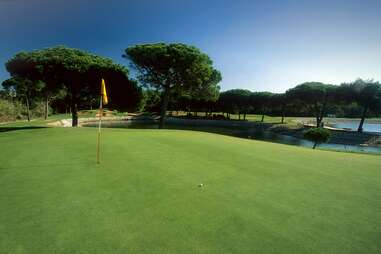 Hit the links for a round of golf on their acclaimed course, designed by famous architect Robert Trent Jones -- all in all, way better than having to keep an eye out for that hostel.