Will This Invention Finally Solve the Awful Middle Seat?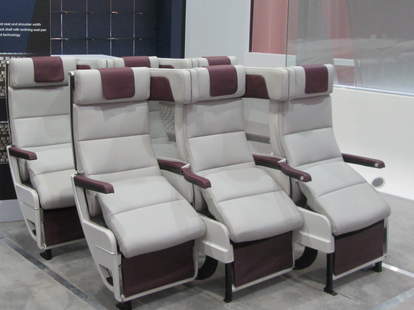 There's no way around it: if you're flying coach, anywhere you sit is going to suck. But the lack of legroom, inch of armrest, and zero personal space are all exacerbated by sitting in the middle seat. Though that might be changing.
This innovative, tiered seat design could actually make the standard middle seat comfortable by freeing up more legroom and stretch space. Designed by Northern-Ireland-based manufacturer Thompson Aero Seating, the Cozy Suite staggers traditional triple economy seating to maximize space for passengers -- particularly those stuck in the middle -- while enabling airlines to install more seats on planes. Because they're gonna do that anyway.
Here's what the beast with three backs looks like:
Thompson Aero Seating
The Cozy Suite also comes with extra space-saving features like a retracting seat bottom and a hardback casing behind the seat so when you recline your seat, you'll rest back while the seat goes forward, negating the need for a knee defender for the guy behind you.
Dual headrests give the middle seat someplace to lie a weary head, and increased armrest space means there's no battle for who's using the armrest. Plus, seat width -- available in 17, 18, 18.5, and 20 inches -- is wider for everyone. Of course, that last part's up to the airline.
Oh, and there are HD screens on the back...
Thompson Aero Seating
While the Cozy Suite was developed in 2008, the design got newfound attention earlier this month at Hamburg's Aircraft Interiors Expo. Amid concerns that cramped airplane seats can cause health problems, and given that airlines aren't getting any better, there's arguably no better time for innovation in making coach less terrible.
If it ends up taking off, Cozy Suite will make middle-seaters sing a different tune -- though definitely not that Stealers Wheel song, because it's hard to not think of that guy getting his ear cut off in Resevoir Dogs every time it plays.

Chloe Pantazi is an editorial assistant on Thrillist's travel team. Yes, that's a British accent. No, she doesn't watch Doctor Who. Follow her on Twitter at @ChloePantazi.