Recommended Video
Debatable: It's Fine To Recline Your Seat On a Plane
Mole and Mezcal: A Taste of Oaxaca
September 30 - October 4, 2020
From $2,995
Immerse yourself in the lively markets, shaded plazas, and colorful streets of Oaxaca, one of Mexico's beloved foodie destinations. Some of the country's most renowned, exciting cuisine hails from this southern region, which is also known for its archaeological ruins, Indigenous artisanry, and mezcal culture.
On this five-day trip, you'll get to know the incredible colonial architecture, hospitality, and flavors of Oaxaca City. Go behind the scenes with chefs, brewers, and distillers to experience the delicious subtleties of Oaxacan mole and smoky mezcal straight from the agave fields. Taste for yourself why Oaxaca represents the best of both old and new Mexico.
What you'll love:
Learn how to drink mezcal the right way -- slow and steady -- from a master mezcalier.
Tour rural agave fields and see firsthand how local distilleries make the "nectar of the gods."
Wander Oaxaca's textile, craft, and food markets and snack on tasty local specialties.
Learn how to cook mole with a leading Oaxacan chef.
Meet the brewmaster of a nanobrewery and get acquainted with Mexico's craft beer scene.
Explore ancient ruins on the outskirts of Oaxaca and pay respects to one of the world's oldest trees -- soaking up carbon for more than 2,000 years.
Stay in a charming, family-run boutique right in the heart of town.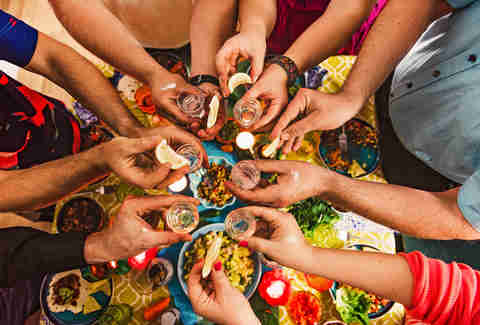 Day 1: ¡Bienvenidos a Oaxaca!
Arrive in Oaxaca, Mexico, and check into the Hotel Casantica. Meet your travel crew this evening and toast the trip with a craft beer tasting at the nanobrewery Santísima Flor de Lúpulo, with a chance to meet their enthusiastic brewer. Later, enjoy a welcome dinner at Los Danzantes, where you'll taste Oaxaca's ancient culinary traditions melded with contemporary dishes in a gorgeous space.
Included meals: Beer tasting, dinner
Accommodations: Hotel Casantica
Day 2: Mole, Mezcal & Markets
Let's make some mole! Start your day with a walking tour of the Zócalo (central plaza) and several of its colorful markets. You'll learn about Mexican handicrafts at the Mercado de Artesanias and sample Oaxacan cheese, chapulines (grasshoppers), chocolate, and mole at Mercado 20 de Noviembre and Mercado Benito Juárez. Along the way, your local guide will teach you about the production process, ingredients, and history of the famous seven moles of Oaxaca. You'll also visit a traditional chocolate mill to see -- and taste -- how they process this Oaxacan specialty. 
Next, try your hand at making your own mole. Meet up with chef Oscar Carrizosa at the market to source ingredients for a private cooking class, where you'll learn to prepare mole rojo (red), negro (black), or verde (green). Carrizosa will also talk you through a tasting of locally distilled mezcal. After a late lunch with your personal chef, enjoy a free evening out on the town.
Included meals: Breakfast, lunch, mezcal tastings
Accommodations: Hotel Casantica
Day 3: Monte Albán & Mitla
Hit the road on a daytrip to explore the astounding ancient pyramids, tombs, and passageways of Monte Albán and Mitla -- both UNESCO World Heritage Sites. On the way back to Oaxaca, you'll have a chance to pay tribute to El Árbol del Tule (The Tree at Tule), thought to be one of the oldest trees in the world. 
This evening, enjoy a casual dinner and mezcal tasting at a fun local spot off the tourist track. Sink your teeth into grilled tlayuda – large tortillas topped with meat, cheese, veggies, and salsa.
Included meals: Breakfast, lunch, dinner, mezcal tastings
Accommodations: Hotel Casantica
Day 4: Mezcal Production and Tasting
Venture out into the valley of Oaxaca to visit three family-run distilleries making premium mezcal. Learn how the art of making mezcal has evolved and see how old-school techniques are still used in the fermentation process (spoiler, donkeys are involved!). Have lunch with a mezcalier amid the agave fields before returning to the hotel for a few hours at leisure. Tonight, gather as a group for a farewell feast at Pitiona.
Included meals: Breakfast, lunch, dinner
Accommodations: Hotel Casantica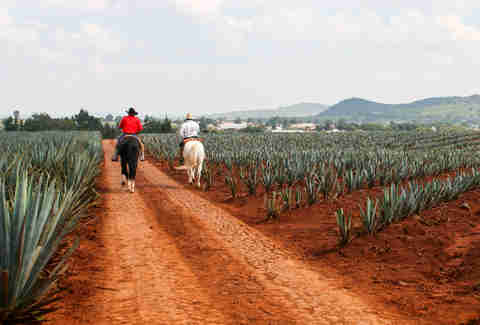 Day 5: Adiós
After breakfast, depart from the hotel for individual flights home. 
Included meals: Breakfast