All photos by Adam Robb unless otherwise indicated
The Kentucky Bourbon Trail is basically like Vegas, except instead of swimming pools, they've got distilleries, and almost every one of them welcomes visitors to stop by and get wet. With seven big boys and another seven craft operations, there's no way to hit all 14 official stops in one trip, so we picked six, and added in some fine dining and barroom drinking to round out your pilgrimage.
Day 1: Louisville Drinking, Dining, Art-Looking-At, and Your First Distillery
Welcome to Kentucky! First tip: don't buy one of those wax-dipped Maker's bottles in the airport. They're barbecue sauce.
You now have a choice. Head straight to your lodgings in the Pip Mobile, 21c Museum Hotel's rhinestone-caulked limousine, designed to resemble the interior of a pomegranate, or...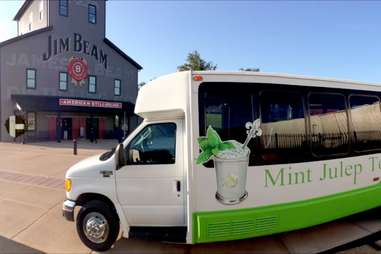 ... get on a Mint Julep Tours bus and head to the closest distillery, about 20 miles South of the airport.
Distillery #1: The Jim Beam American Stillhouse, Clermont, KY
Jim Beam just built this visitor center last year. It's a replica of a post-Prohibition building from the '30s, when Col James Beauregard "Jim" Beam resumed production immediately after America admitted, "I've made a huge mistake."
The distillery is famous for its unorthodox methods of teaching martial arts.
Beam produces half the world's bourbon supply. To give you a sense of the scope of their global operation: that pickup truck will probably have to make a second trip.
The bourbon's history goes back seven generations to 1795, starting with Jacob Beam and his distillery, Old Tub, and moving through David, David M., The Colonel, T. Jeremiah, Booker Noe, and Frederick Booker Noe III. Normal-sized scrolls can't handle that much heritage.
Booker Noe wanted his 100-proof small batch Knob Creek barreled nine years, as was the custom before Prohibition made extended aging prohibitively expensive. Every bottle's hand-dipped in hot black wax, a surprise to people who assume small-town bottles "wouldn't be into that kind of thing".
Sample any marque you want from their Trail-exclusive enomatic taps, from Knob Creek's 100-proof rye, to the Jacob's Ghost white whiskey they encourage you to "drink any damn way you please" -- including out of an enomatic tap!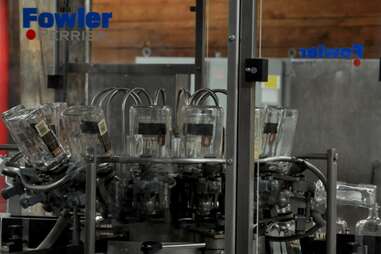 The new tour encourages guests to relieve this Fowler washing machine of its duties and hand-bourbon-rinse the same bottles they can later buy.
Book a VIP tour with Master Distiller Fred Noe, and he'll teach you how to smell whiskey by raising the glass to your nose and then inhaling through your mouth. Sometimes it's good to be a mouth-breather.
Fred'll also teach you how to sample a barrel. 125-proof Booker's is bottled uncut straight out of these suckers, which is why the stuff is so strong. That doesn't mean you can't cut it: in his book American Still Life, F. Paul Pacult has Booker Noe himself saying, "Do I add water ta Booker's? At a hunnert twenty-six percent alcohol, you kiddin'? Don't an' it'll blow the top o' your head right off."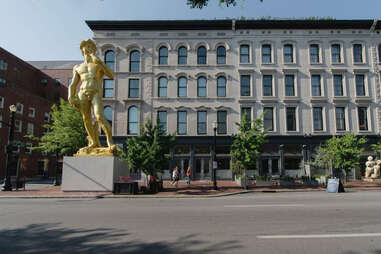 Back to Louisville
Okay, back to your hotel to prep for the night. On Museum Row, 21C occupies five former bourbon and tobacco warehouses and doubles as a contemporary art museum open to the public 24/7, with pieces like conceptual artist Serkan Özkaya's double-height David...
... and this really cool secret door. Not the secret door to the secret penthouse apartment where everyone from Justin Bieber to Bruce Springsteen's stayed, but still pretty secret.
Dine at the hotel's Proof on Main. These Creole-buttered fried oysters come straight from the pan...
... the very same Greek god/flute manufacturer whose statue here keeps a loose grip on the bar's Death's Grip cocktail, made with Old Grand-Dad and house-made Dark Star Porter jam syrup.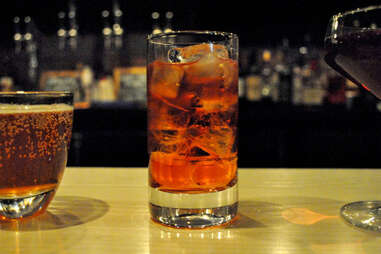 Stroll down the block to Actors Theatre and take a front-row seat at MilkWood, a Top Chef vet's basement bar/resto where booze is served by a sommelier/fetish model you'll be running into again at Woodford Reserve. Hopefully tonight she'll say something like, "Oh, you want to breathe, wine? I don't think so. You've been a bad, bad wine."
No matter what you order here, you'll definitely be stimulated.
Another great thing about Louisville: you can wander the galleries with a drink in your hand. Just know that not everybody will be as impressed by that as you are.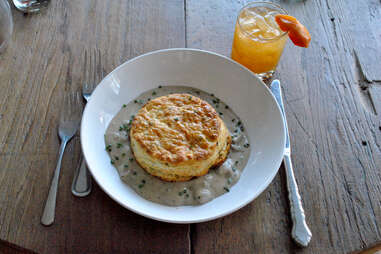 Day Two: Hit the Trail!
Breakfast time. Score a farm table at farm-to-table Harvest on E Market St, where everything that goes into your mouth -- from the scratch biscuit w/ chorizo gravy to the muddled-peach Old Forester Old Fashioned -- is sourced from within 100mi.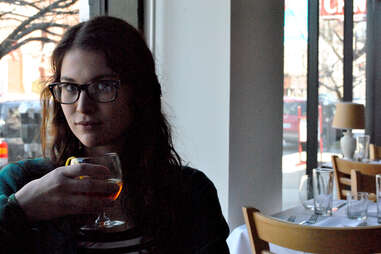 This girl is also locally sourced and old-fashioned.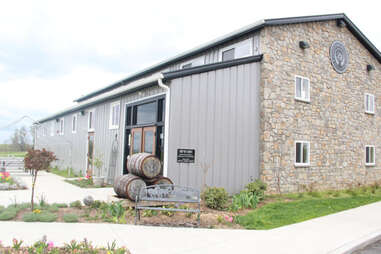 Distillery #2: Limestone Branch, Lebanon, KY, aka "Kind of Like the Paris, TX of Kentucky"
This microdistillery is so new, its whiskey isn't even bourbon yet (it's moonshine).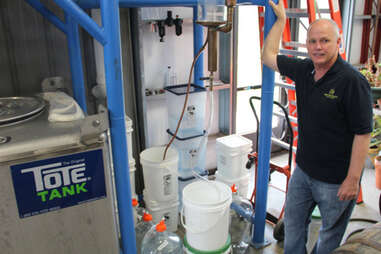 This is Steve Beam. His great-great-grandfather was Joseph Washington Dant, and his great-grandfather on the other side was Minor Case Beam, a name that prevented him from ever appearing on Law & Order: Criminal Intent.
Minor Case sold Old Trump to the Dant family before Prohibition, then died before he could open another distillery. Also, Revenge is a moonshine best served with a glass finger loop.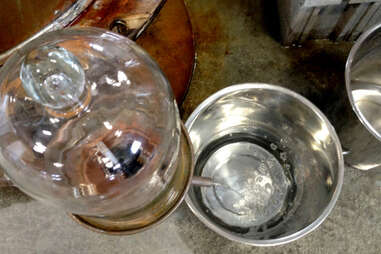 The sugar whiskey's uncooked in the old Appalachian style, with 50% corn and 50% cane sugar. It's distilled with a bucket and... another bucket.
That jar of "Heads" contains the first stuff that's cut during distillation: acetone (nail polish) and methanol ("stuff that makes you go blind"). "Hearts" comprise the center part of distillation -- good alcohol whose quality's gauged strictly by taste. "Tails" are congeners (the sugary compounds that cause hangovers). The flavor's made distinct based on how much Tail the Heart gets. Poetry.
Steve's grandfather was a master distiller for Yellowstone and Seagram's. Steve swabbed the inside of his grandfather's old yeast jug -- which is stored in the Bourbon Museum -- and found two strains from which to cultivate what will eventually be Limestone's bourbon. Until then...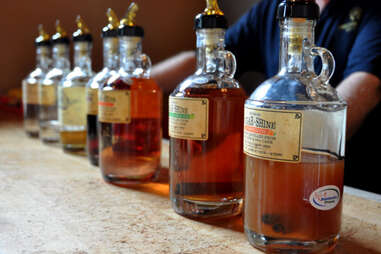 ... they'll peddle eight varieties of sugar whiskey and moonshine cordials (apple & pumpkin pie, strawberry...), but for now only in Kentucky and Indiana, yet another reason to get down here. Or Indiana. (Also, before you leave, pick up some Moonshine Balls -- you'll find out why later.)
Distillery #3: Maker's Mark, Loretto, KY
This is the only reception you'll find on the road to Loretto, so save directions to your phone.
The Maker's Mark campus was designed by the current COO/distillery GM's grandmother, an engineer who insisted on brown, red, and cream to reflect the bottle's bourbon, label, and wax.
She also provided the name -- inspired by the maker's marks on her collection of handmade English pewter -- and designed the bottle, which hasn't changed since. The label and wax are hand-torn and hand-sealed respectively, making each bottle unique. Here's the key to reading the label:
*S IV: Maker's was founded by the fourth (legal) generation of Samuels bourbon distillers.
*The Star: Star Hill Farm is the site of the original distillery.
*The breaks in the circle around S IV: These represent the periods when it was illegal to produce whiskey in the US (Prohibition, WWI, and the Civil War).
*"Whisky": They spell it in the e-less style as a tribute to their Scottish heritage (Samuels have distilled there since the early 1500s).
Besides the aforementioned COO and GM duties, the current face of Maker's Mark makes mean bacon-jalapeño wings. He's named for Robert Samuels, Jr., who fought in the Whiskey Rebellion before moving his family to Kentucky back when when it was still Bourbon County, VA.
Just like his namesake, he's still full of whisky and rebellion.
Not all of the family history's been dipped in hot wax. This pistol was surrendered to Dr. Reuben Samuels by his stepson Frank James, brother of Jesse.
To maintain flavor consistency, a majority-female (women have more taste buds) panel of fifteen staffers sample every batch five times from still to barrel. This dude is not in the majority.
Why do Scotches spend longer in the barrel than bourbons? Because intense Kentucky Winters and Summers speed up aging -- one year here's equivalent to four years in Scotland, making a 5yr bourbon equal to an 18-22yr old scotch.
Maker's White moonshine is only for sale at the distillery. You can even dip your own bottle, but you can't dip then sip then dip again. This isn't fountain soda, son.
Your lodgings: the historic Beaumont Inn, Harrodsburg, Kentucky
The rooms inside the Beaumont's Greystone Lodge have whirlpool tubs, electric fireplaces, and no minibars...
... because Mercer's a dry county. No worries, because after check-in you've still got a few more stops. You can either grab a six-pack by heading nine miles down one of these unmarked roads or cutting across the property and walking down the Route 127 bypass, or...
Distillery #4: Alltech Lexington Brewing Co.
... drive on to the brewery popularly known as Kentucky Ale, which also opened the first new distillery in Lexington in 100 years. Besides beer, they make Town Branch Bourbon and Pearse Lyons Reserve: a malt whiskey distilled in Scottish-built copper pots (pick up a bottle -- you'll need it for a surprise you'll find out about in a few minutes).
The story is wacky:
In 1999, the president of the Irish animal food & nutrition company Alltech, Dr. Pearse Lyons, called the owner of what was then just a brewery to get his son an internship. The owner said sure, but since the place was closing for good that next Friday, he'd better hurry. So Dr. Lyons bought the brewery, and a year later started making Kentucky Ale -- a cross between an Irish Red and English Pale available in 13 states, Ireland, Canada, and of course China. Eight years later, they built out the distillery.
Beer yeast. You can tell where you are in the fermentation process by its sweetness or sourness.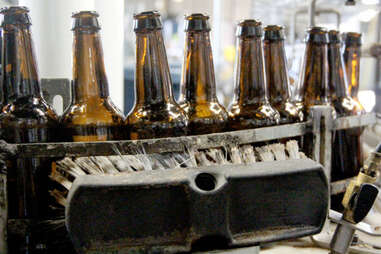 This bottling line dates back to the 1940s, when all beer was made by chimney sweeps.
After the Haiti earthquake, Alltech started marketing the Haitian bean coffee Café Citadelle, sending proceeds back to the island. Their latest beer, Kentucky Bourbon Barrel Stout, is brewed with the coffee, then aged six weeks in said barrels.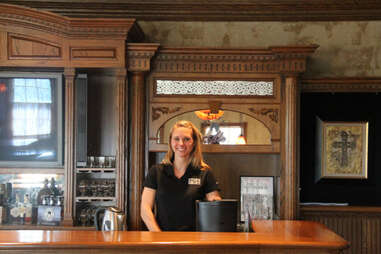 Because Kentucky Ale's too popular to be considered a micro-brewery you can't sample their brews in their in-house pub... until mid-June! The KY legislature just legalized it. Don't criticize it.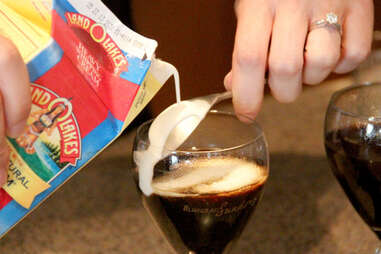 You can revive yourself with a Bluegrass Sundown: roasted Haitian beans + Town Branch bourbon + sugar & cream.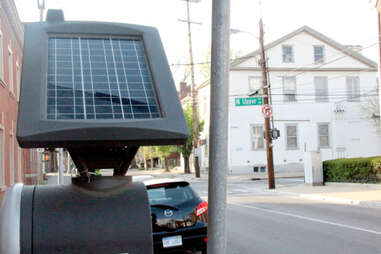 Snack time. As the parking meter outside Lexington's Jonathan at Gratz Park powers down, hit up the bar for low country bites like Country Ham Potstickers and something off their bourbon menu.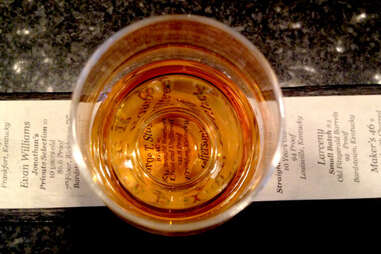 Which literally is a bourbon menu, in that it's glued to a charred oak barrel stave. You like how we used "literally" there? Cool. Sometimes people get angry.
Before heading back to the hotel, stop by Guy Fieri-favorite The Parkette Diner Drive-in Dive.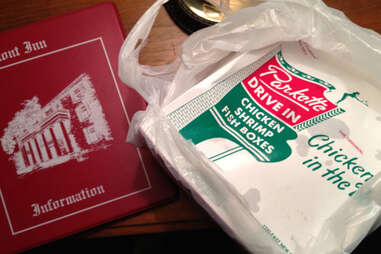 Pick up a long, lonely night's worth of fried chicken & gravy to go -- all will be explained in a minute.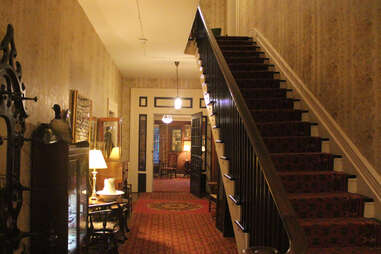 Get back to the Beaumont Inn's main house by 9p, when complimentary glasses of Beaumont Cocktail are left beside the ladies' room door. Those in the know refer to it as "ice water".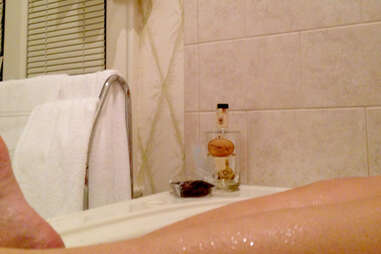 Okay, now get in the bathtub, and lay out your Limestone Branch moonshine balls and a bottle of Pearse Lyons Reserve, both of which have notes of brown sugar and vanilla that go great with...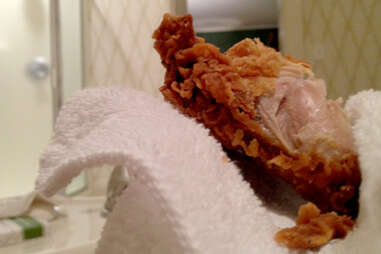 ... Tub Chicken. Or as you'll frantically call it on Twitter, #tubchicken. God your life is good right now.
Day Three: Oh man, you shouldn't have eaten so much #tubchicken.
You have 15min to listen to Rosetta Stone before you reach Four Roses.
Distillery #5: Four Roses, Lawrenceburg, KY
Listed on the National Register of Historic Places, Roses' Spanish Mission-style buildings date back to 1910. They were built by Louisville architecture firm Brown & Brown, which now has absolutely no idea why they designed the former Frankfort Distilling Co buildings Mission-style.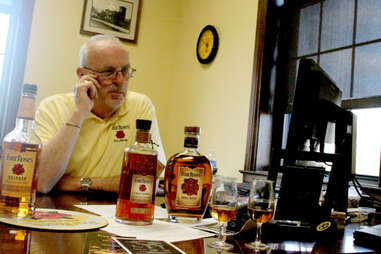 Despite studying marketing, chemistry and physics, by the time Jim Rutledge became Four Roses' master distiller all he remembered from college is where he went.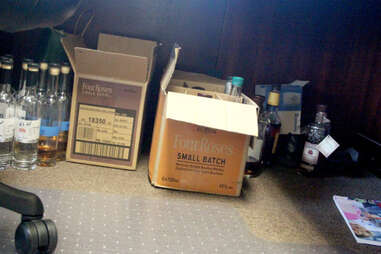 In 2001 Jim convinced new parent company Kirin to sell Americans the premium version of Four Roses that by then was the most popular whiskey in Asia. In 2002 Kirin bought up all the inferior blended whiskey that'd carried the Four Roses label in the US and either dumped it, or hid it under Jim's desk.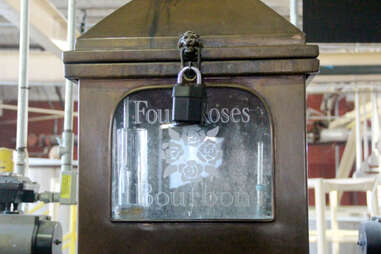 By 2004, the superior version of Four Roses you're probably enjoying right now was no longer under lock and key.
Four Roses is made from GMO-free Yellow Corn #2 grown in south-central Indiana. They pay surrounding farmers over commodity price to not grow anything that could contaminate it through cross-pollination. The resulting grain flavors are so smooth and mellow that people think they're drinking 80 proof, but it's actually 100 proof. Psych.
To gauge aroma, Jim'll pour just a drop into a tasting glass, cover it up, and let it vaporize overnight. He'll smell the vapors the next day, then do the same to a full glass and see if he can detect the same notes through the alcohol.
To ascertain the worthiness of grain samples, he'll pop 'em in the microwave just long enough so they don't pop back.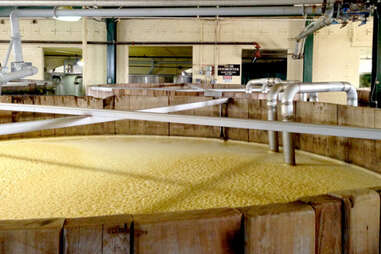 After Four Roses couldn't find any more Red Cypress for their mash tubs, a Florida dude convinced them he could pull logs from river beds and dry them off, even though he'd never done it before. The first attempt failed, but then... great success!
Distillery #6: Woodford Reserve, Versailles, KY
How nice is this backyard? The Pepper family first distilled here in 1812. They sold it to Labrot & Graham, who sold it to Brown Forman, who sold it to a farmer who just kind of farmed while the buildings sat there.
Then Brown Forman bought it back from the same farmer when they decided to make a bourbon that appealed to single malt & cognac drinkers -- named Woodford for the county the property rests in.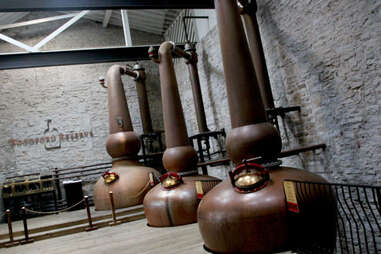 The original operation was pot still. They switched to these column stills, then dialed down the corn and brought up the rye and malt ratios. The water's pumped in direct from a 95ft limestone well, which doesn't bode well for that chick from The Ring.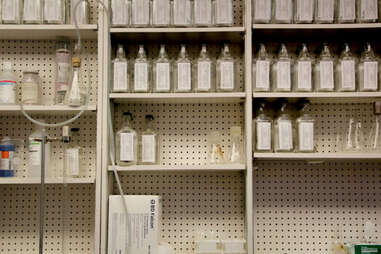 What happens in the Yeast Culture Fridge, stays in the Yeast Culture Fridge.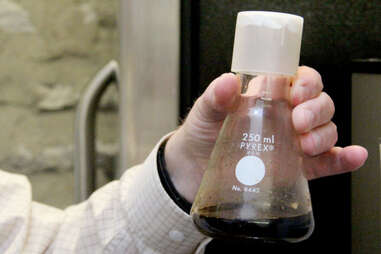 Woodford mutated 27 generations of the oldest yeast strain in the industry, Old Forrester, to get the fruitier 27-B strain.
Master Distiller Chris Morris followed his parents into the bourbon game at 18. He has a business degree and two masters, but there's no Bachelor of Distilling -- you just have to get as much experience as you can.
Morris says "Bourbon's born in a barrel for a reason", which is why he doesn't market the moonshine this lovely lady's drinking. Hey, isn't that the sommelier/fetish model from Milkwood? Yup.
According to Morris, Woodford's essentially a 16yr-old bourbon aged in half that time. The barrels get "ricked up" and aren't moved until they're tested and selected for bottling, providing for 14-15yrs of oxidation despite only seven years of tannin absorption.
ricked past participle, past tense of rick (Verb)
1. Form into a rick or ricks; stack.2. Strain (one's neck or back) slightly.
The barrels heat cycle all Winter long, which is much better for them than spin class.
Back to Louisville
Craving more brown? Check into the Brown: a 16-story, 1923 landmark that's smoke-free except for when the ghost of James Graham Brown fills a room with smoke (he loved to wander around greeting guests while puffing a cigar).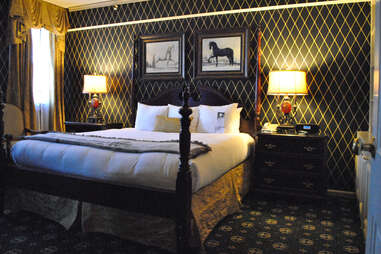 This is the four-room Muhammad Ali suite, where you can float like a butterfly and sleep like a champ.
Time to hit industry hangout The Silver Dollar. How seriously do they take their bourbons & ryes? Well, they have 70 of them, and only one gin, one rum, and one vodka (Tito's, "from Texas, of course").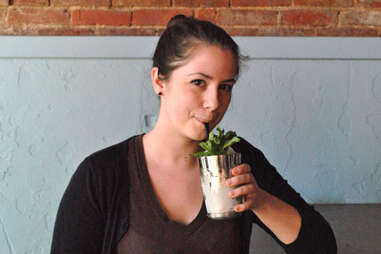 Silver Dollar's mint julep. It should be renamed the Susan Bourbon Anthony.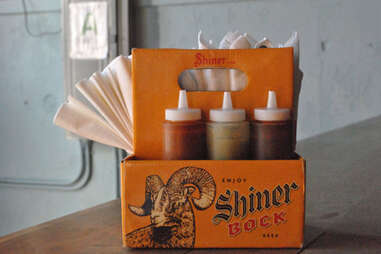 The Dollar's also famous for its house-made hot sauces. Slogan: "So hot, they're horny".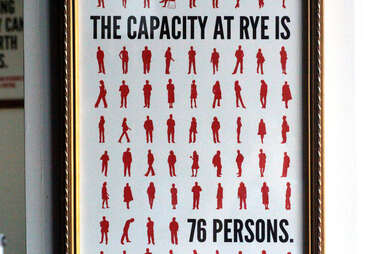 Move on to Rye on Market. FYI, the capacity at Rye is 76 persons...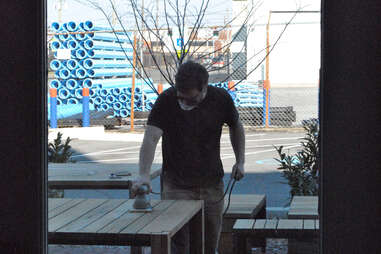 ... though they're always making room for more.
The chef comes from New York restaurant The Breslin.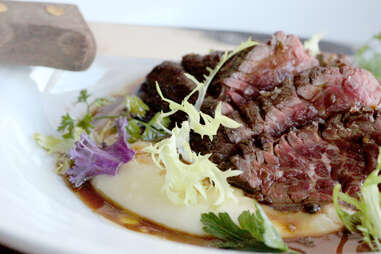 He grills up a mean hanger steak with cipollini peperonata and castelvetrano olive puree.
Shown here mixing two drinks at once, Rye's bartender really knows his sh*t.
He'd better, because this spicy chile/lemon/lime/gin number is actually called "The Sh*t".
Back at the Brown. If you're still hungry, order a room-service Hot Brown: a Welsh Rarebit-inspired open-faced baked turkey & Texas Toast sandwich smothered in Mornay sauce and piled with tomato and bacon, invented by the staff in 1926 when they got tired of late-night ham & eggs.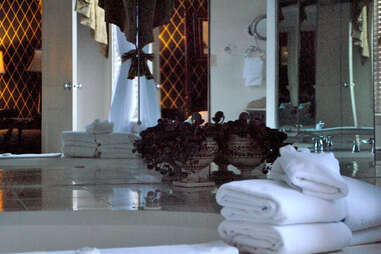 This soaking tub might be too nice to eat in...
... but lucky for you, the suite comes with a dining room.
Day Four: (Almost) Time to Say Goodbye.
Good morning! You're probably exhausted after several days of bourbon and a few hours waiting for that cow to move out of the way. To perk up before hitting the airport, follow the tracks to Frankford Ave for Blue Dog Bakery coffee.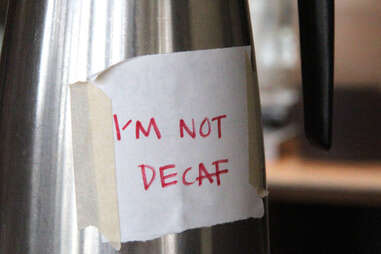 At Blue Dog, you always know exactly what you're getting.
Now just pick up one more thing before you leave. Hope you had as great a time as the TSA guys will once they find this in your suitcase!