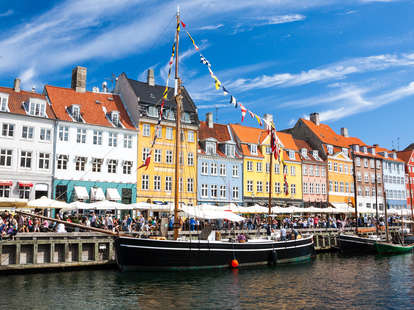 Bucchi Francesco/Shutterstock
Copenhagen is quickly becoming one of the must-visit destinations in Europe and for good reason: the outstanding food and beer. And, uh, culture and design and stuff. Which means you should definitely book a trip.
But wait, where should you eat? And drink? And get cultured, while you're there? Look no further than our handy guide, which will tell you (almost) everything you need to know to plan your visit to the City of Spires (starting with the fact that it's nicknamed the City of Spires).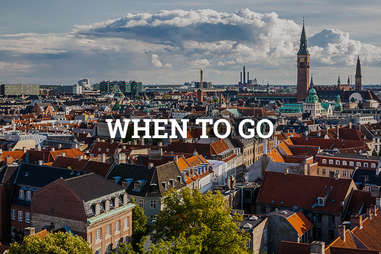 The weather is best from May to August, which means the city really comes alive, outdoor cafes are bustling, people swim in the harbor, and, most important: you can leave your puffy jacket at home. Just try to avoid going in late July because that's when everyone in Copenhagen takes their summer holiday and even some of the best restaurants close.
However, if you don't mind colder temps, you can pretty much visit Copenhagen year-round as snow is rarely an issue and the city lights up (literally) over the winter holidays. Just be sure to bundle up.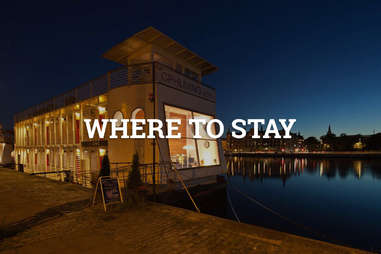 On somewhat of a budget? Find a room near Central Station (walking distance to pretty much everything) where there are tons of boutique hotels -- like the Absalon or the Andersen Boutique Hotel -- and even a few strip clubs, if you're into that kind of thing.
If you want more of an "experience," you can stay at Hotel CPH Living, a floating hotel on the water near the city center, or Hotel Central. Good luck getting a reservation at the latter; it's the smallest hotel in the world with only one room. Worth stopping by the café though if you need a caffeine boost or a pastry.
If you're looking to hit the best hostel in town, it's Urban House in Vesterbro; and there's even a tattoo parlor inside.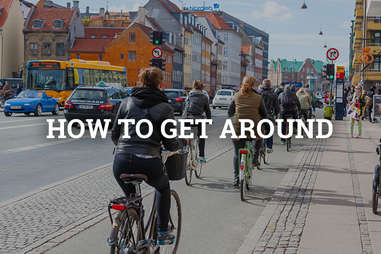 Pack your finest Rockports/walking shoes because the best way to get around the heart of Copenhagen is on foot. You'll easily end up walking upwards of six or seven miles a day, but since the city is extremely flat, it's all chill. That being said, the buses and trains are super easy to navigate and are free with your Copenhagen Card, so if you're headed to the outskirts or taking a day trip, that's your best bet. Copenhagen also has a city bikes program and there's good chance your hotel will have two-wheelers you can borrow. Once you get the lay of the land, bikes are a fun and fast way to get from place to place, especially since the city has one of the best bike-path infrastructures you'll ever see. (No seriously, why can't we make that happen in the States?)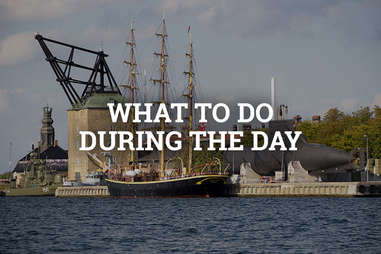 Copenhagen's a bustling city, so whether you like looking at art, learning about history, shopping, sipping coffee with locals, or just want to drink beer and chill, you'll easily be able to create an itinerary that fits your style. On a budget? Check out all of this cheap (and free) stuff to do.

Mandatory activities
While we're obviously cool with you doing your own thing based on your own interests, there are a few activities we're going to insist you do:
Take a canal tour. Yes, it's cheesy. But, you're a tourist, so deal with it. Plus, it's a great way to rest those tired dogs and appreciate the city from the water.
Take an urban bike tour with Cycling Copenhagen. There are lots of bike tours in Copenhagen, but there's only one that takes you through a diverse range of neighborhoods, shows you the stuff you haven't already seen, and gives you honest insight into how the locals live, as well as the cool stuff to do, see, eat, and drink.
Visit Tivoli Gardens. This amusement park is the second oldest in the world, and it's right in the center of the city. There are rides, restaurants, carnival games, open-air stage shows, and plenty of adult beverages, but if you go in the early evening when all of the lights are on, it's also just a cool place to explore.
OK, back to your previously mapped-out itinerary.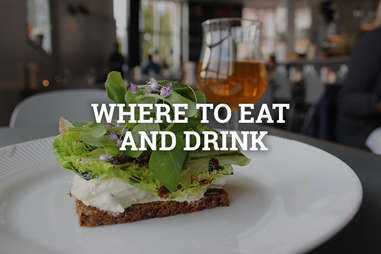 Breakfast
Eat it for free at your hotel, but save space for coffee because Copenhagen's got some of the best. And be sure to indulge in some pastries, because even though they don't call a Danish a Danish in Denmark, it still tastes better than any other Danish (aka: Vienna bread) you'll eat anywhere else.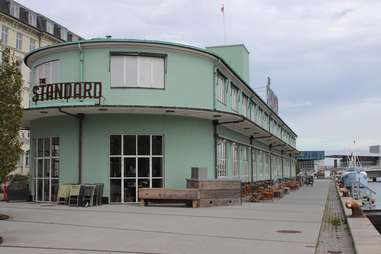 Lunch
Think you're going to lose weight thanks to all of that walking? Think again. Danish food is oddly indulgent and comes in huge portions, though they don't see it that way. ("But... you're AMERICAN!") You definitely have to eat a hot dog from the street, but we probably didn't need to tell you that, and, of course, you'll need to try the traditional Danish open sandwich (smørrebrød), which can be made hundreds of ways with anything from pickled herring to tartar of deer to roast beef. Check out Almanak at The Standard for a classic version with a twist (and great views of the water). Copenhagen Street Food on Paper Island is also a solid spot for lunch; you can get food from 35 stalls and trucks, grab a beer, and if the weather's nice, sit outside in the sun and listen to music.
Dinner
Obviously, if you can afford and get a reservation for Noma (named "The World's Best Restaurant" in 2010, 2011, 2012, and 2014) when it reopens later this year, go for it. But since that probably won't happen, instead head to the Meatpacking District where there's a bunch of trendy new spots like WarPigs (22 beers on tap), Fleisch (restaurant, bar, and butchery), Gorilla (Mediterranean cuisine and great wine), NOHO (great cocktails), and more. The best part is they're all nestled together in one small area, so you can cruise around and hit them all.
Copenhagen's food scene is pretty outstanding, so truthfully, it's hard to go wrong; just go to a bar, get a drink, and ask a local what they recommend.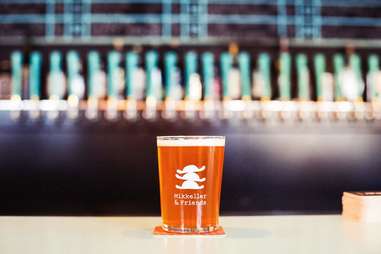 Local brews
Sorry, there's just not really any good beer in Copenhagen. Oh wait: EXCEPT SOME OF THE BEST BEERS OF THEM ALL. Yeah, you've probably heard of a little Danish beer operation called Mikkeller, a gypsy brewer without its own brewery, which means you probably know that there are only a few places you can get it on tap, a lot of which are in Copenhagen. Definitely check out Mikkeller Bar in Vesterbro which has 20 taps or Mikkeller & Friends in Nørrebro, which is bigger than the original and has 40 beers on tap. Or probably just go to both.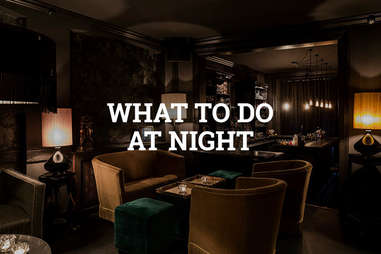 Thrillist named Vesterbro one of the 10 most hipster neighborhoods on Earth for good reason, and it's not just because everyone who lives and works there appears to have teleported from Brooklyn (or has everybody in Brooklyn teleported from Vesterbro? Hmmmmm...) Vesterbro is right by the Meatpacking District so it's the perfect place for cocktails (or beer as that's where Mikkeller Bar is). Grab a drink at Lidkoeb, a three-floor hipster haven with a courtyard and legit cocktails; 1656, a spot with innovative cocktails that feels totally classy until you go to take a piss and realize you're listening to a soundtrack of orgasms; or Mc. Kluud, a Western-themed bar where you can play pool -- sorry, billiards -- and get reasonably priced drinks.
There are also a bunch of clubs in Vesterbro and the Meatpacking District if that's your thing. Check out Ideal Bar at Vega, KB3, or Jolene to keep the party going late night.
And speaking of late night... need a snack with live jazz? Foderbraettet on Vesterbrogade serves up gourmet hot dogs until 11pm on the weekends and cocktails and Champagne until close.
For talking
Everyone in Copenhagen speaks English. Like, everyone. The only words you'll really need are "skål," which means "cheers" and "tak," which means "thank you." (And both of those are just you showing that you made the tiniest bit of effort.)
Here's an odd thing you may notice though: there's no word for "please" in Danish. Everyone is so polite and kind that the sentiment of please is just implied when you ask for something. Most people in Copenhagen are also exceedingly friendly; however, if you want to interact with them, you need to initiate the conversation. Simply, if you're sitting somewhere alone, they're going to assume you'd rather not be bothered. Once you start chatting though, you may find yourself still doing so three hours later, surrounded by empty bottles and cocktail glasses.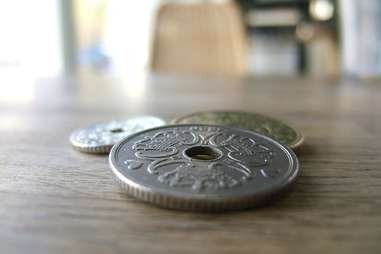 For spending
There's almost no reason to convert dollars to kroner except so that you can buy things from the street stalls (see: hot dogs and hash) and avoid the fee your credit card company will likely charge you for using your card overseas. That being said, be sure your card has an EMV microchip in it as the card-swiping machines we use in the States are not the norm in Copenhagen.

For getting drugs
No judgment here. And no judgment from the Copenhagen police either, as long as you procure your drugs on Pusher St in "The Green Light" district in Christiania. It's a long story, but Danish law is overlooked in this part of town (you'll know it when you get there thanks to the signs insisting you put away your camera), and so you can buy pot and hash from little stalls that line the streets. Think Hamsterdam from The Wire.
For feeling cozy
Well, the answer to that is: everywhere. Danes have this way of being called "hygge," which essentially translates (kinda) to "coziness." Hygge is just about good friends (who you may have just met), easy conversation, and a warm ambience, whether that's candlelight day and night or just enjoying yourself at an outdoor cafe. Hard to explain until you experience it. Which you definitely will throughout your trip.
Sign up here for our daily Thrillist email, and get your fix of the best in food/drink/fun.
Daisy Barringer is a freelance writer who definitely went to Pusher St while she was in Copenhagen, but was too chicken to approach any of the vendors. She did, however, drink a ton of Mikkeller beer. Follow her on Twitter: @daisy.