Looking for a hotel that's literally in the middle of nowhere? Welcome, isolationist, to the Tikchik Lodge in Alaska's untrodden Bristol Bay, where the phrase "off-the-grid" is elevated to whole new levels. For starters, the lodge is in Alaska, so naturally it's super far from the America you know and love, and the state's guarded by native Palins, who deter uncountable would-be tourists from even considering it as a travel destination. Assessed the risks? Now consider the multi-pronged journey; begin by flight to Anchorage, then hop a Saab turbo prop to Dillingham. Never heard of Dillingham? No problem, neither has anyone else with things to do. Now, just as you realize that Dillingham isn't connected to any state-road system, await your private floatplane which will deliver you for the final leg to unadulterated wilderness.
Recommended Video
Lovers Are Making the Pilgrimage to Kiss In This Hidden Alleyway
Aaaand you've made it! As you make the descent into the bay, your pilot will take drink orders and radio them in to the bar, so as to ensure a cold one waiting at check-in. Slick.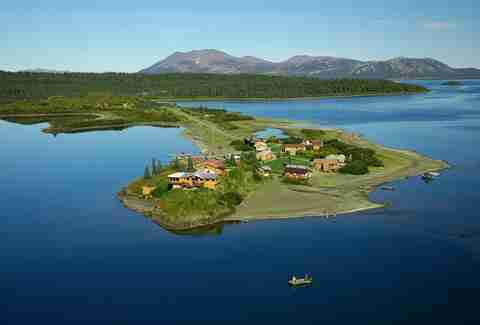 Everything at Tikchik has to be flown in and out, including people, trash, supplies... everything. So guests are required to stay a full week, as the float planes only do weekly runs to Dillingham and'll be flying to secluded fishing spots on the other days of your visit.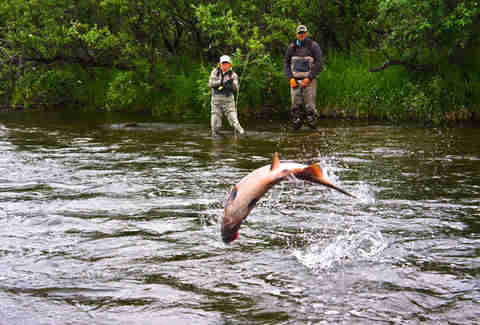 The best time to visit is between June and September, depending on what kinds of fish you like to catch/ eat. Each morning you'll be served breakfast from 6:45a - 7:15a, then flown to an even more isolated spot deep within the wilderness to get your fly on. Depending on the month, there's a solid chance you'll pull in salmon, trout, grayling, or northern pike, as northern sigma chi are too busy losing flag football matches. Suck it, nerds!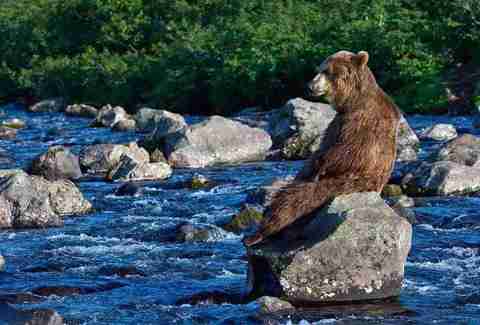 There's a good chance you'll encounter a bear out there, so hope for this one. Stoic bears are usually too busy pondering existential bear issues, like what the right to bear arms really means.
Most of the rooms are equipped with queen and single beds and a Big Mouth Billy Bass over the window. They also come with a shared porch that overlooks the adjacent lake and the Kilbuck mountains.
After a full day of fishing in the backcountry, fly back to the main lodge and converse with other guests about how you almost brought in the "big one", sidle up to the full-service bar for a bevy, or relax on the huge outdoor deck and think of ways to revoke Larry the Cable Guy's Right to Bare Arms. Someone really needs to stop that guy.
Previous Venue
Next Venue
Venue Description
1. Tikchik Lodge
, , AK 99576
This lodge is only accessible by floatplane, and is approximately 300 miles away from the nearest road, making it the most remote place you're likely to visit in the continental United States. Once there, you'll stay at one of the guest cabins and have access to amenities such as a sauna, sun room, gourmet dining, and excellent fishing opportunities.