Worried you'll have no one to talk to on an upcoming jaunt overseas, and "table for one" is the only foreign language phrase you'll be able to master? Well, lonely soul, we gots an app for that: join Tint on Facebook and you'll be able to connect with folks who are friends of your actual friends, and go local (instead of solo).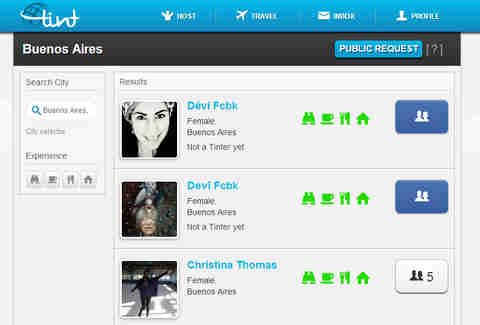 How's it work? Pretty easy: install the app, and indicate whether you're traveling or up to host (it goes both ways, brother). Then create a profile; if you're on the road and looking for food, friends, and fun, plug in your city and Tint will display all of the one-degree-of-separation buds you've got anywhere in the world. It'll also show what they're up for: sightseeing, coffee, dinner, and a few will even pre-elect to let you crash at their pad.
If your social network doesn't yield any finds in a particular city, friendless Frank, you can send out a public request to Tint users across the entire network and connect that way. The slick app spells the end of single sauntering and ushers in the awesomeness associated with fraternizing with people you "kinda" know... in places you truly don't.