Anyone who's dropped a 20% tip in Czech crowns for a few pilsners has likely found themselves treated like Prague's biggest-ever pimp. This isn't because they think you're Fillmore Slim (the pope of pimping) -- it's because like the citizens of many other countries, the Czechs don't expect you to gift 'em with gratuities, ever. Then again, some countries' service industry workers aren't so awesome at actually getting paid a fair wage by their employer, and expect the extra scratch like they do over here. What's a clueless traveler to do?
Read the below guide, of course, so you know exactly what's expected of you come tip time around the globe.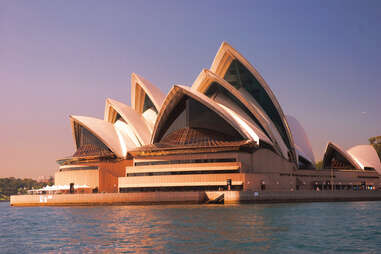 Australia
What to tip: Australians don't expect tips. No, really. The wait staff Down Under are paid over $20/hr, and they basically get an eternal summer, so don't feel bad for them -- although you should be prepared to beg for a glass of water and have to ask for your check multiple times. On the rare occasion you encounter decent service, round up the change.
That means: Order a couple Little Creatures drafts at The Australian's bar in Sydney for $12.50, and leave $13 without feeling like a heel.
Scandinavia
What to tip: Like so many things here, tipping is fairly formalized; service will be included in the bill if expected, and if it isn't, keep the change.
That means: Your meatballs with cream sauce, gherkins, and lingonberry jam at Stockholm's beer hall/ resto Pelikan may set you back 192 krona; leave 192 like the good people ask.
Spain
What to tip: Most checks don't list a service charge, but you should consider it included; leaving without a tip isn't a problem, though if you're feeling generous keep it under 13%.
That means: Four different tapas and a bottle of Rioja at Madrid fave Casa Labra will set you back €13.35; leave €14-14.50 and you're golden.

Thailand
What to tip: While not a local custom, tips are usually expected from foreigners -- but don't feel obliged to, especially if service was crap. Leave around $1 per person at restaurants, or round up to the nearest 5 baht. More upscale hotels and restos, however, often include a 10% service charge, in which case further tipping isn't expected.
That means: You'll only have to cough up 100 baht for your Pad Thai Goong at Bangkok's Munjai Cafe; if you leave a spare 15 baht, expect exceptional service when you come back tomorrow.
China
What to tip: Nothing. At all. In fact, it's officially forbidden by the government (like Facebook!).
That means: The xiaolongbau and vegetable dumplings'll set you back ¥101 at Din Tai Fung in Beijing, so leave exactly ¥101 and not a penny more. You're being watched.
UK
What to tip: It's painful to tip on top of an already astronomical bill, but service is often included, so be sure to inspect your check. If it isn't, throw in another 10-15%. No need to tip in pubs.
That means: Your haddock, chips, and mushy peas at Islington's top notch Fish & Chip Shop may set you back £15.75; leave an extra 2 quid and you're good, chap.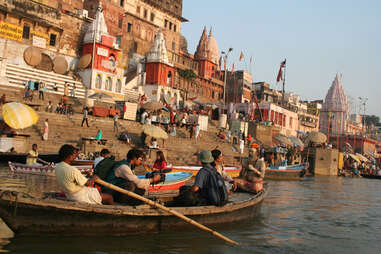 India
What to tip: While it's not mandatory, wallet-greasing is customary in every industry here -- and a little can go a long way. 10% is a good benchmark at restaurants. Elsewhere, 20 rupees is fine.
That means: The guy who insists on turning on the water faucet for you in the bathroom (does he even work there?) can be divested of with 20 rupees (about $0.30).
Japan
What to tip: The Japanese are way too polite to accept tips (good service is standard), so don't even try.
That means: If a Sapporo and some Yakitori at Birdland sets you back 6,960 yen in Tokyo, shell out 6,960 yen. Simple!
Mexico
What to tip: The country's been gringo-fied, and the expectation sits at 10-15% at restos. For anything else, you can get away with 10 to 20 pesos (70 cents to $1.50), but keep in mind the minimum wage is under $5/ day.
That means: If the chicken wing platter sets you back 280 pesos at Señor Frog's, leave 310 and you're good to go. Wait, why are you ordering food at Señor Frog's?
Croatia
What to tip: Unless you're eating at a nice restaurant, leave your change (or about $1), and get ready to be treated like a king.
That means: A steak and a bottle of local beer will set you back 68 kuna at Mali Medo; leave 72 and the serving staff'll adore you.
Caribbean
What to tip: Pretty much everywhere, bills include a service fee of 15% or more. If not, tip 15-20%.
That means: In the Dominican Republic, your chicken fajitas and an ice-cold Presidente may set you back 350 Dominican pesos at D'Luis Parrillada; leave 402 and get back on the beach.
France
What to tip: Generally, a tip is not expected -- especially not for drinks. Impress your date with the knowledge most bills will say "service compris" (service included). That said, most locals leave their pocket change -- starting from as little as 50 cents, and up to 10%.
That means: A crepe à la banane et chocolat at Paris' beloved Ti Jos will leave you 5 kilos heavier and your wallet €7 lighter; leave 50 cents, and the server will forgive your poor pronunciation.
Germany
What to tip: Service is included all over Germany, though it's typical to round up the bill to an even figure (which generally ends up being 5-10% extra).
That means: In Berlin, get a €1.90 Currywurst and a Hefeweizen for €2.80 at Ziervogels' Kult Curry for €4.70. Leave €5.
Canada
What to tip: Just like in Real America, gratuity isn't included, so tip the standard 15-20%.
That means: Your salmon and sour cream beignewich at Chez Boris in Montreal may set you back $6.50 CAD; you're fine leaving aboot $1 CAD on top of that.
Sophie-Claire Hoeller is Thrillist's über-efficient German travel writer. She's had frequent flyer status ever since her mother gave birth to her at a Lufthansa terminal. Follow her adventures via Twitter at @Sohostyle.