'Star Walking' Will Take Your Next Hike to a New Level
Gain a whole new perspective hiking at night.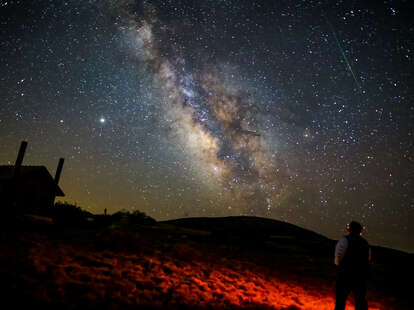 You, too, can spot a meteor shower on your hike.

| Courtesy of Maggie Martin
You, too, can spot a meteor shower on your hike.

| Courtesy of Maggie Martin
This past year and a half has made us veritable outdoor enthusiasts. We climb mountains, bathe with trees, birdwatch, forage, surf, hike, camp out— some of us for the very first time.
And when the sun goes down, we have options too.
Star walking—or hiking while stargazing—brings new perspective to the great outdoors. A familiar path easily navigated during the day can feel like a fresh experience in the darkness. Temperatures are cooler, and trails unpopulated. There's a stillness, occasionally broken by nocturnal wildlife giving texture with croaks and chirps. Mosquitoes give way to fireflies, stars right on earth.
"[Going out at night] taught me how to meditate, quiet my mind," says Maggie Martin, an astrophotographer based in Colorado. "All these places I go are so overpopulated during the day. At night you just kind of have everything to yourself, and feel like you are the only one in the mountains. I have really found that feeling to be therapeutic."
And then there's the added dimension of the expansive night sky. As opposed to staying in one place and stargazing, a star walk allows you to take in constellations from multiple viewpoints and heights. It's just you and the diamond-studded sky—celestial beings that seem close enough to touch.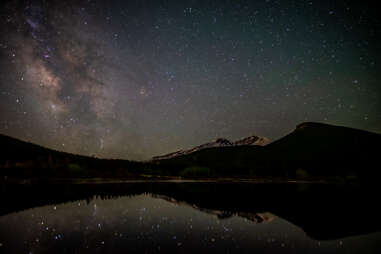 Martin runs Colorado Astrophotography, where she guides wannabe Nat Geo photographers on after-dark tours through Colorado's mountainous backroads. Participants can bring their own camera or use Martin's equipment to learn how to capture the starry sky. (She also offers fancy star-backed engagement shots and instruction on psychedelic light painting, using everything from car headlights to glow sticks.)
Martin gets all types, from space and astronomy enthusiasts to Wiccan covens to astrology acolytes. From behind the camera, participants see with an incredible crispness not available to the naked eye. "That's actually my favorite part of an experience, the first couple pictures people take," says Martin. "It is very drastically different the amount you catch in your camera versus what your eyes can see. And there's a moment where people are like 'huh!' and that little gasp is the best. It's pretty mind-blowing."
If you want to get into astrophotography, Martin's advice (after choosing the right camera) is to go up, away from trees. "Find somewhere that is wide open that has a good view of the sky." For the least obstruction by moonlight, go within four days before or after a New Moon phase.
And of course, get out of the city. The best spots for stargazing are Dark Sky Places: locations certified by the International Dark Sky Association where light pollution is at a minimum. "They're the most amazing places to see the stars," says Martin.
For more star walking experiences, check with your local astronomy club or a nearby observatory. Several national parks run guided full moon hikes and events—like Nevada's Great Basin, a designated Dark Sky Park where you'll go out with superhero-sounding Dark Sky Rangers. Great Basin goes all-in on night sky activities, with an annual astronomy festival, and in the summer months their rangers also help run the Star Train astronomy experience based out of Ely, Nevada.
But if you're going to go it alone, here are some tips to get you trekking out into the night. Be safe out there.
Yes, night hiking is tranquil and the trails are less crowded, but that means there are fewer options for assistance should something go haywire. Check the weather forecast before heading out, wear sturdy boots, and dress in layers, as temperatures can drop drastically at night. Take a buddy along or drop a pin for friends. Know where everything is in your pack, should you have to find something quickly without turning on your light. Have ample water on hand (and keep it near the top of your pack), and if you anticipate it getting slick as the night goes on, consider bringing some ice cleats.

Carry the optimal equipment
You want to observe the night sky, but also see where you're going. A bright flashlight will illuminate your surroundings, but also hinder actually seeing the stars. Instead, use a flashlight or headlamp that has a red light setting as well as a white light setting. A red light allows you to light your way while still preserving night vision.
Your naked eyes are all you need to get started, but you may want to eventually invest in a telescope or binoculars for clearer views. Just make sure what you bring is compact, and not too heavy. Remember, you'll have to lug it with you.
And do research ahead of time. Websites like NASA's Space Place and Sky & Telescope will prepare you for what you'll see, while apps like Star Walk 2, Sky Safari, or Star Rover will aid you while you're out. Something else to research? The animals you might encounter. They'll most likely be harmless but you want to know what you're up against.
Unless you're an expert, a night hike should definitely not be the first time you're encountering your chosen trail. "I always advise people to know and scout the locations in the day," says Martin. "The locations I do, I've driven thousands of times, and prior to every tour I still drive them again just to make sure the road is open and safe, and there's not any avalanches or things that I might be unaware of."
Even if a trail is familiar you'll want to take it slow, and step carefully, lest a rock jump up out of nowhere and trip you. Be especially vigilant about spotting trail markers, and if you stray off course for some prime viewing, make sure you know how to get back to the trail. Or just set up camp and wait until sunrise.
Vanita Salisbury is Thrillist's Senior Travel Writer. She looked up songs about stars and the Star-Spangled Banner came up lol. This one is better.