5 of the world's craziest toilet-themed restaurants
Whether you've got a Freudian fixation, an affinity for potty humor, or just enjoy eating Chinese food out of a bidet, here are five restaurants where the theme is lav-chic, the dress code's pants-down (well, not really, you'd get arrested for that), and the chairs are -- you guessed it -- old toilets. Ummm... bon appétit!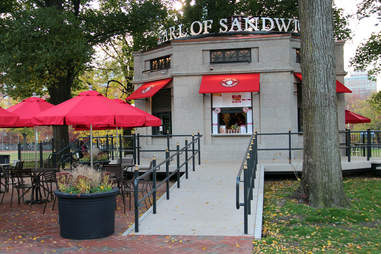 5. The Earl of Sandwich -- Boston, MA
Delightfully dubbed the "Pink Palace" by locals (thanks to the structure's formerly speculative pink hue), the Earl of Sandwich on Boston Common slings its signature cheddar-smothered roast beef sammie and Brownie Barks out of a wee tiny public restroom that -- though erected in the 1920s -- laid dormant for over 40 years.
<font><font>China News</font></font>
4. Pian pian man wu -- Taiyuan, Shanxi Province, China
Riding the recent potty-food chain trend sweeping across China, "House full of poo" (no seriously, that's what "Pian pian man wu" means) proudly proclaims its sh*ttiness with bathroom decor, turd-shaped cushions atop flushable toilets, and even diarrhea-esque swirls of ice cream for dessert.
2. Modern Toilet-- Taipei, Taiwan
Taipei is perhaps the capital of outlandish eateries, so it's no surprise that people there happily sip from urinals and eat out of bidet-shaped bowls. At Modern Toilet, diners sit on acrylic toilets -- festooned with sea animals, the American flag, etc -- at glass-top tables made from bathtubs.
1. The Attendant -- London, UK
It took two years to transform this former Victorian whizz-palace – built in Fitzrovia, London in 1890 and shuttered since the 1960s -- into a swanky espresso café that serves breakfast and lunch. Patrons chow down French toast, brekkie soufflés, and hearty bacon, egg, and avocado sammies amid old hand dryers affixed to tiled walls and a coffee bar built from porcelain urinals.
Chloe Pantazi is an editorial assistant on Thrillist's travel team. She never sh*ts where she eats, but has to admit that The Attendant looks pretty tempting. Follow her on Twitter at @ChloePantazi.