Presented By
Everything to See, Eat, and Do on Your Big Trip to Tokyo
It's never been easier to access Japan's ancient-meets-neon metropolis.
Presented By
Note: The US State Department has issued a Level 3 travel advisory to reconsider travel to Japan. For more information on the current travel restrictions to Japan, click here. The Summer Olympics in Tokyo have been postponed for one year until July 23, 2021. For now, use this guide as inspiration to satisfy your wanderlust safely from home.
With tourism booming in the approach to the 2020 Olympics, Tokyo's dichotomies are the secret to its charm. Strolls between skyscrapers reveal quiet shrines, distant backstreets host Michelin-star ramen joints, and world-famous bullet trains serve traditional bento lunch boxes. A megatropolis that retains its quiet neighborhoods, hidden oases, and bar-studded drinking alleys, Tokyo is the city to get truly, temporarily lost in.
We don't necessarily recommend visiting during the 2020 Olympics (July 24 through August 9), but you should absolutely go. The secret Olympics travel hack is to go to host cities just before or after the games, to take advantage of the city at its most accessible, but without the crowds. That's why we've chosen Tokyo as one of our 20 Places We're Dreaming About in 2020.
What follows is a handy, 10-day itinerary for Tokyo and beyond -- packed with tips for places to visit, things to eat, and maybe a couple robots.
Where to stay on a trip to Tokyo
On the practical front, base yourself close to the city's hubs -- pick neighboring stations for the perfect combination of lower prices, well-connected transport, and a relief from the city crowds. Naka-Meguro, Sangenjaya, and Koenji are great for the local neighborhood feel in the west, while in the east the Ningyocho, Okachimachi, and Nihonbashi neighborhoods have a more downtown feel to them (and the food scenes to go with it). Grab yourself a travelcard (Suica or Pasmo) and get familiar with the trains -- they're your new best friend for getting around and offer the perfect snapshot of a hectically busy but meticulously ordered city.
MORE:First time in Tokyo? Here are 11 ways to avoid looking like an idiot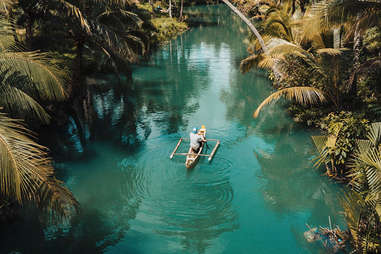 Traveling may be on pause, but that doesn't mean your dreaming and planning has to be. With The Marriott Bonvoy Boundless™ Card, earn 6X Points at 7,000+ hotels participating in Marriott Bonvoy™ and 2X Points on all other purchases, including future flights. For the journey ahead, carry a card that's here for you now.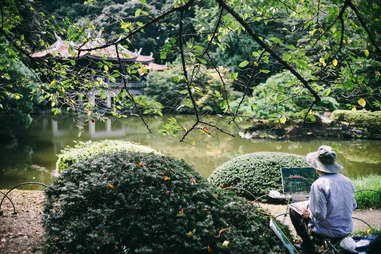 Day 1: Shinjuku, Harajuku, and Shibuya Crossing
Kick off with a stroll through the autumn leaves of Shinjuku's expansive park, Shinjuku Gyoen, featuring Japanese, French, and English gardens. For a bird's-eye view of the city, head to the nearby Metropolitan Government Building: two imposing office towers with 200-meter-high observation decks that are open to the public for free. Get your bearings with panoramic city views and spot Fuji in the distance (if you're lucky).
Hectic fashion district Harajuku is the testing ground for new trends, with countless independent and department stores offering the unique and unusual, with crowds of young customers often sporting more of the same. Try out a new look, taste the rainbow cotton candy, and snap your own souvenir shots in the kawaii purikura photo booths... it's a Harajuku right of passage.
Just across the street but a world away, the tranquil, forested gardens of Meiji Shrine are cedar-shaded and perfect for a breather. Once you're ready to face the crowds, board the metro and see the Shibuya Crossing in all its rush-hour glory before grabbing dinner and drinks in Udagawacho's alleys. Quite literally stacked with restaurant upon restaurant -- don't be concerned about heading up to the seventh floor for food, as space is at a premium in these narrow streets -- this is the dining hub of Shibuya. With the added bonus of drinking in public being legal, the crowded streets are as much of a hangout spot as the bars and ramen joints that line them.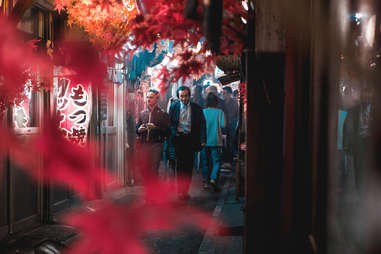 Day 2: Yanaka, Ueno, and Akihabara
For a taste of Tokyo's downtown shitamachi atmosphere, spend the morning exploring the curled streets of Yanaka, complete with cats, ancient cedar trees, and surprisingly contemporary cafes. Bathed in nostalgia, the quiet district is a window into old Tokyo -- known for its traditional shopping street and vast cemetery as well as its relaxing atmosphere.
Stroll on through Ueno Park and up to Kappabashi, the kitchenware hub and shopping spot for high-end chefs and amateur cooks alike. Pick up a hand-forged Japanese knife and admire the endless shelves of unerringly realistic plastic "sample foods" on offer before heading to Ameya-Yokocho market -- a stretch of stalls and hawkers offering everything from ancient tech to new shoes. Stallholders are there to be bargained with, so strike a deal for your dream souvenirs.
Finally, hit the neon-bright streets of Akihabara, the city's buzzing gaming and electronics district, where you can go retro at game centers like Super Potato and even visit a maid cafe (totally ironically of course).
Day 3: Daytrip to Nikko National Park
Trade in the neon for the temples and golden haze of Nikko National Park, with direct two-hour Limited Express trains from Tokyo's central Asakusa Station. Hit up the lavish temple-and-shrine triad of Toshogu, Rinnoji, and Futarasan; sample the mild-flavored yuba tofu; and soak up that autumn atmosphere.
Make the most of the local bus pass and choose from the impressive Kegon Falls at Chuzenji Lake or the traditional wooden-boat cruise of Kinugawa Onsen -- or squeeze in both if you are keen to spend a night in one of the area's traditional ryokan inns.
Day 4: Asakusa and Ryogoku
Back to the city's east side, wake up with a stroll through the grounds of Sensoji -- Tokyo's most impressive (and busiest) temple. Grab street food from the stalls of 200-meter-long Nakamise shopping stretch and be sure to try Kagetsudo bakery's freshly baked melon pan just around the corner (no melon involved, but the sweet bread is delicious nonetheless). If you're in town at the right time, swing by the Kokugikan sumo hall for a day at the September sumo tournament (if not, catch an early morning training session instead).
You can pop out for breaks during this full-day schedule, so head out to the nearby Sumida Hokusai Museum, explore the Edo-Tokyo Museum, or take a refreshing soak at the Fuji-adorned baths of the Edoyu sento. Feast on the sumo special of chanko-nabe -- a protein-filled stew -- and catch a late-night view of the modern entertainment district of Odaiba if you're still fighting that jet lag (also home to the building-sized Gundam robot, for those of an anime persuasion).
Day 5: Daytrip to Kamakura
De-facto capital of Japan for over a century, Kamakura is a small, temple-strewn city with plenty of charm. Less than an hour from Tokyo Station, start your day in Kita-Kamakura by catching your somen noodles as they flow down a wide bamboo shoot -- a summer treat served until October at the popular restaurant Chayakado. Walk it off along the Daibutsu trail, smashing dishes to ward off bad luck (and any stress you might have) at Kuzuharaokashrine and washing money for good luck at Zeniarai Benten's cave-trailed shrine along the way. Arriving into Kamakura proper, you'll be greeted by the Great Buddha of the Kotoku-in and Hasedera temples and you can use the Kamakura bus pass or the retro tram to visit the bamboo gardens of Hokokuji and the grand Tsurugaoka Hachimangu shrine.
Please note, some of the trails are closed after typhoon damage, but should be repaired by next autumn.
Day 6: Tsukiji, Ginza, and Yurakucho
No longer home to the official fish market but still host to the loyal family businesses and restaurants that surrounded it, Tsukiji remains the best spot for an early morning sashimi breakfast. Grab a coffee at tiny, tatami-seated Turret Coffee when you arrive and seek out your breakfast from the outer-market stalls. If you're keen to see the famous tuna auction in its new home, you'll need to head to Toyosu -- the massive and modern complex where the Tsukiji Fish Market relocated -- for the opening at 5am: General entry is open, but a lottery is used for the better viewing deck below and requires advance registration.
Hamarikyu Gardens offer a lovely hit of koyo -- aka autumn leaves -- before you circle back to Ginza, the high-end and glitzy shopping district. Enjoy a lunch-set deal from one of the high-end dinner spots and stroll to the Imperial Palace for a glimpse of royal life, albeit from afar. Neighboring district Yurakucho railway tunnels are the perfect rowdy dinner spot with izakayas and bars galore, so join the salarymen and order a nama-biru to get things started. Offering a rowdier, sketchier side to Tokyo, a night in the underground izakayas sharing drinks with neighbors will be confusing, crowded, and no doubt incredibly memorable.
Day 7: Mount Takao and Shinjuku
Technically still in Tokyo but far more scenic than the skyscrapers, the sacred Mount Takao has a web of hiking trails as well as a cable car. Spot the decidedly creepy tengu statues guarding Yakuoin Temple and see if you can spot Fuji from the summit. A bowl of tororo soba (noodles topped with yam) was a strength-building favorite of the mountain's pilgrims in the past, while the largely vegetarian Buddhist dish shojin ryori is a fancier option. When you're all hiked out, head back to the bustling Shinjuku ward for a night on the town -- the famed robot restaurant is nearby if you want your senses duly assaulted; the Insta-famous Omoide Yokocho (aka "Piss Alley") will place you in a labyrinth of tiny, stacked-up restaurants serving up plenty of questionable yakitori skewers; and Golden Gai alley's smashed-together, tiny bars are the perfect place to get lost in late at night.
Keep it going: Explore Kansai
If you have a few days to spare and want to extend your trip, the culture-rich Kansai region is the perfect excuse to try out the bullet train.
Days 8-9: Kyoto
Kyoto is the ancient capital and the classiest of culture spots in the country. With more than 2,000 shrines and temples to choose from, spend a day in the east visiting Nishiki Market, strolling up past Yasaka Shrine, and crossing over to the Higashiyama district's Kodaijitemple before finding yourself in the winding streets of the Higashiyama district and onward to the wooden balconies of Kiyomizu-dera temple. Mountain shrine Fushimi Inari-taisha's ancient and iconic red gates are a short train ride away and the gentle uphill hike to the top is the perfect way to finish the day.
Bright and early on day two, grab a city bus pass and head north for the golden Kinkakuji temple and the zen gardens of Ryoanji temple before making your way by train to the world-famous Arashiyama district for the famous bamboo forests. When you're back in Kyoto, head to the historic Gion district for some geisha-spotting and grab dinner nearby, or risk famous restaurant Menbakaichidai's fire ramen if you're feeling brave.
Day 10: Nara and Osaka
If you can't get enough of the temples, catch a train to neighboring Nara. Another one-time capital, it's a quieter spot known for resident deer and imposing temples. Bow to the deer and they'll bow in return. Show them a senbei, they'll surround and devour you -- so keep an eye out. In the ancient Todaiji temple, try climbing through the legendary Buddha's Nostril -- a tiny hole in a pillar -- if you can: You'll trade your public humiliation and bruises for longevity (probably worth it).
When you're done, spend the night in Osaka, "Japan's kitchen" and a city with a rep for kuidaore -- literally bankrupting yourself for food. Take on the modern Dotonbori district's neon lights and larger-than-life signs and do a DIY food tour to try squid-filled takoyaki, deep-fried kushikatsu, and the suspiciously chewy horumon skewers before crashing at the city's much-loved capsule hotel, Asahi Plaza.
MEET THE WRITER
A Brit based in Tokyo, Lily Crossley-Baxter has been travel writing for four years, focusing on Japan and its capital. Her bylines with the BBC, The Independent, The Japan Times, and The Daily Beast have included unique experiences, cultural deep-dives, and city-spotlights, with plenty of the country left to explore.
How long have you been living in Japan? What drew you there?
I moved to Japan on a whim from the UK, thinking it would be for a year and find myself still exploring the place five years later. I spent my first year in rural Mie and then moved to Tokyo: I'm really glad I got to experience both sides of Japan.
What was the most surprising thing about living in Tokyo you didn't expect?
I didn't expect the quiet neighborhoods. My area, Setagaya, has a small tram line and everyone cycles to the shops or schools: It's really calm and I love the local feel. I thought it would be faceless apartments and supermarkets, but it's not at all.

What's something about the city people probably don't understand if they haven't been there?
I think the sheer scale of Tokyo amazes visitors at first, but it's soon overtaken by a fascination with the endless tiny elements that make up the city. From the orderly train boarding to the endless maze of alleys, there are so many little, everyday things that can be hard to fathom, but make the city unique.

Number one can't-miss recommendation for a visitor?
One of the best experiences, I think, has to be an onsen -- the traditional hot springs. Most people are put off by the naked element, but sitting in a steaming outdoor bath, surrounded by nature is just an unmissable experience. Food-wise I always take people for okonomiyaki -- it's nicknamed Japan's pizza and is like a pancake. It means "what you like, grilled," and it's delicious!

How easy is it to get around for English speakers?
While Tokyo's not as English-friendly as you might expect, it's definitely improving, and the Olympics will really boost it. The country is 98% Japanese and is still getting used to being open to the world. It's not as multicultural as the cities it's often listed alongside, like London or New York. That means some things that are common in many places, like vegetarianism, for example, are still pretty unusual here, but it's getting there.

Top piece of advice for someone going for the first time?
I would say pick up a few phrases of Japanese. If you have the time, learn the simplified hiragana alphabet... it makes life so much easier and people really appreciate the effort! Otherwise, just explore -- the smaller neighborhoods, the day trips -- make the most of the great transport system, and try to see a few different sides of Japan.

Next big trip you have planned in 2020?
I'm currently planning a trip South India for early next year and trying to convince my brother to come along. I've wanted to go for ages (mostly inspired by the food) so fingers crossed!

Ultimate bucket list destination?
India is pretty high up there, but I've also always wanted to go to the Galapagos Islands. Given the impact of travel however, I think I'll be doing more train travel in Japan and Europe in the future -- it's easy to forget how many fantastic places there are to see that are closer to home.