Who doesn't want a custom gypsy cart with hydraulics?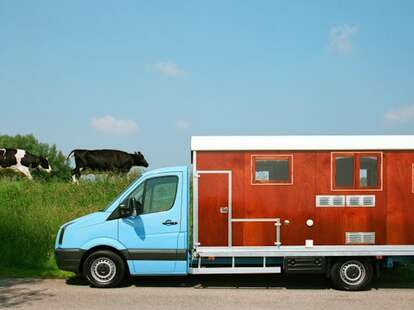 Because nobody wants to show up to the Iron Bowl in a crappy old Winnebago, check out Tonke: a line of retro, custom-made, "definitely not a dump truck" Dutch campers inspired by old-world gypsy carts
This Fieldsleeper 1 is mounted atop a Mercedes Sprinter, sleeps three, and even boasts enough counter space for you to prep your "famous" pizza-wrapped hotdogs
And you thought you were going to need to find a KOA. No sir. Teak-floored shower and eco-friendly toilet are included
Ripped a huge one? No worries, the back doors open wide, and not only is there a spot under the bed to stash your outdoor furniture, but there's even a hidden vertical "garage" to store up to three bikes. No joke
Like this spot? Want to stay awhile? No problem, the easy-to-use raise/lower hydraulic legs allow you to leave the camper in the woods while driving back into town for a pint.
Finally, go inside the actual workshop and watch how these bad boys are made, right here.