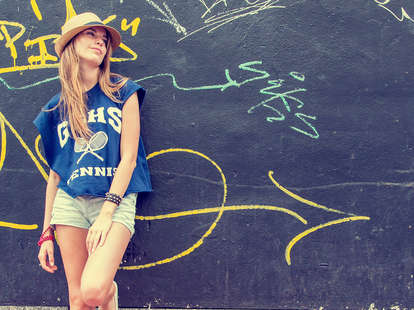 Shutterstock
Shutterstock
It's happened to us all before: wandering through an unfamiliar part of town, you suddenly realize you're surrounded by throngs of devastatingly attractive people. It's as if you stumbled into a dream, or at least onto the set of an Abercrombie & Fitch catalogue shoot.
And while your good fortune might appear to defy the laws of science, allow us to be the Scully to your Mulder by suggesting that there is, in fact, a perfectly logical explanation for this phenomenon. Thanks to chic shopping, trendy bars, and high-end real estate, certain neighborhoods just happen to be populated by really ridiculously good-looking people. Here are 10 of them.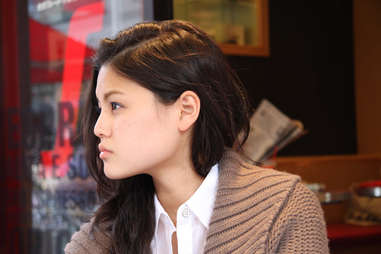 10. Shimokitazawa
Tokyo, Japan
"Shimokita" for short, this hood is one of Tokyo's hippest hangouts -- meaning that the crowd is young, trendy, and about as far from the Salaryman stereotype as you can get. Untouched by WWII bombing, Shimokita's bustling (if narrow) alleys and streets are littered with live-music venues, swanky bars, and chic secondhand shops that draw fresh-faced college coeds from all over the city.
9. Saint-Germain-des-Pres
Paris, France
Just about all of Paris seems filled with smoldering Frenchies and high-end shopping -- it is one of the world's top fashion destinations after all -- but no part of town offers quite the same number of sights as Saint-Germain-des-Pres. Whether you're people-watching from the Cafe de Flore or indulging in a little window shopping, if you know what we mean (we mean looking into store windows but not buying anything), there's no shortage of eye candy in this part of town.
8. El Born
Barcelona, Spain
With a reputation as one of the most visually stunning neighborhoods in Barcelona, El Born sports enough chic boutiques to ensure that its denizens remain equally as alluring. Highbrow attractions like the Picasso Museum and the Santa Maria Del Mar, together with the boozy cocktail and tapas bars that riddle the alleys and side streets, make this hood a perfect storm for both body and mind.
7. Palermo Soho
Buenos Aires, Argentina
This hip area of Argentina's capital city is actually a part of the larger Palermo neighborhood, acquiring the unofficial "Soho" descriptor thanks to the number of high-fashion outlets and upscale eateries.
Palermo Soho's crowd is a blend of young, trendy locals and internationals, all swirling together in nights of reckless, Fernet-fueled abandon that inevitably end with a steak and bottle of wine -- just like everything in Argentina, right?
6. Tamarama
Sydney, Australia
A predominantly gay beach town during the '80s and '90s, "Glamarama" (as it was affectionately known) is decidedly less gay these days, though equally as welcoming. With nearly half its residents between the ages of 20 and 39, this seaside suburb of Sydney is exactly what you'd expect from an Australian beach community: laid back, insanely expensive, and packed to the gills with obnoxiously attractive yet friendly Aussies.
5. Le Plateau-Mont Royal
Montreal, Canada
In a town already filled with a staggering number of beautiful Québécois, the Plateau elevates MTL's "holy crap these people are gorgeous" game to new heights. It's bisected by Boulevard St. Laurent, which is one of the city's main drags and peppered with lively bars, clubs, and scores of nubile young coeds -- most of whom speak French and English! -- from nearby McGill University.
4. Quadrilatero della Moda
Milan, Italy
Internationally regarded as one of the most important fashion districts in the world, Milan's "Quadrilateral of Fashion" contains a dizzying array of high-end boutiques, and is a prime destination for svelte Milanese models looking to keep up with the latest trends.
The district also contains one of the oldest shopping malls in the world, the Galleria Vittorio Emanuele II, which features breathtaking glass ceilings, luxe retail outlets, and a healthy abundance of Italian mall rats milling about with pensive looks and Roman noses. If only Kevin Smith had set his movie here.
3. SoHo
New York City, USA
If NYC's the fashion hub of America (it is), SoHo's the Inception-style hub within a hub. Thanks to the boutique shops that line streets like Prince and Spring, the sidewalks are crawling with an inordinate number of stunning lookers. Also, apparently sexy women doing yoga in their underwear. Add in the high density of modeling agencies, not to mention a close proximity to the NYU campus, and it'd be weird if you didn't see as many model-types as you do.
Also, Thrillist HQ is in SoHo. Just sayin'.
2. Gan Hahashmal
Tel Aviv, Israel
Israel's renowned for its gorgeous citizenry, having produced the wonders that are Bar Refaeli and Gal Gadot, but Tel Aviv in particular serves as a crossroads of international and domestic hotties. Add in the fact that the city's population is overwhelmingly single, and you'll start to see how a hip neighborhood like Gan Hahashmal -- with its public garden, late-Ottoman-era houses, and cutting-edge boutiques -- can be a hotbed of sexy people doing sexy things.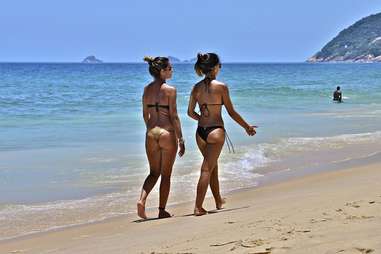 1. Ipanema
Rio de Janeiro, Brazil
In a land populated by arguably the sexiest individuals on the planet, Rio has no equal; and tucked between the posh Leblon district and the famous Copacabana beach, Ipanema's about as jam-packed with tight bodies and svelte curves as any municipal district should probably be allowed. It provides the best of both worlds -- outrageous designer fashions, and outrageous designer physiques.
Gianni Jaccoma is an editorial assistant for Thrillist Travel, and he really hopes people don't take this too seriously. Follow him to the fine dimes on Twitter @gjaccoma.