You can tell a lot about a person by their Google search history. Just ask that ex who discovered "Star Trek role-playing" in your browser while looking up movie listings. But embarrassing fetishes aside, people search for some pretty random stuff, and the travel world is no different.
Want to know how random? Well, the good folks at Google just released a list of this year's MOST-ASKED travel-related questions (in no particular order) from across the country. And as a service to our intrepid readers, we answered the top 10.

Where is Disneyland?
Disneyland lives in the hearts of children all over the world. It's also in Anaheim, California. (Remember, it's Disney WORLD that's in Florida; and if you're going, here are our best Disney hacks.) Once you've mastered that little bit of trivia, though, you'll want to read these 30 other things you didn't know about Disneyland, some cool secrets you can annoy people with, and the absolute worst people you'll find there.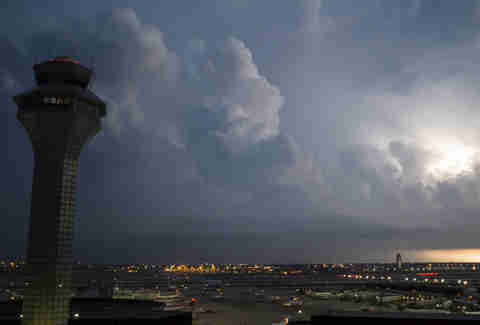 What to do in St. Louis?
Other than see that cool arch and watch a Cardinals game from a hotel roofdeck that looks down on Busch Stadium, not much. There's always the delectable cracker-thin St. Louis-style pizza. But if gooey cheese on saltines isn't your jam, visit Frank and Helen's Pizzeria (one of the 33 best pizzerias in America) or Perennial Artisan Ales, the best craft brewery in Missouri. There's also a world-renowned ballet company, and some other brewery people have been known to visit.

What to do in Missoula, Montana?
See? We TOLD you it was one of the hottest (figurative) cities in the country. And Google backs us up! What now, non-Missoula believers! Sadly, aside from the breweries, distilleries, and restaurants we already mentioned in that story, we had to Google that one too. But what we didn't have to Google is why the relatively nearby towns of Whitefish and Bozeman are so damn great. We tell you that, here.
Where is Yellowstone National Park?
Admittedly, this is confusing since it sits in three states (Wyoming, Montana, and Idaho) and there are actually still people who believe it's called "Jellystone." But America's best national park is worth all the geographic confusion, even if black bears will chase you down.

Matt Meltzer is a staff writer for Thrillist who still uses AltaVista. If you can't reach him on CompuServe, hit him up on Twitter: @mmeltzer.