Following its acquisition by a Kentucky billionaire earlier this year, popular guide book company Lonely Planet has pieced together its list of the top ten cities for 2014. Unfortunately for LP, and the rest of the world, the list's glaringly flawed in oh-so-many ways -- here's what made the cut, and why you should probably think twice before treating it as gospel.
Recommended Video
The Most Overlooked Mediterranean Paradise in Europe
10. Auckland, New Zealand
PRO: There are more sheep than people here, so if you're romantically confused, a big knitter, or a just huge fan of wool, you might call this place paradise.
CON: It's on NZ's North Island, which is far inferior to its southern relative. Duh!
ALT: Head down to Queenstown, which is actually beautiful and has a great bar scene to boot.
9. Adelaide, Australia
PRO: It's been described as "Radelaide", and is also known as the "City of Churches". Yep.
CON: See above. Adelaide has all the trappings of a big city without any of the fun; even Perth has a better rep, fer cryin' out loud.
ALT: Sydney, obviously. Killer nightlife, beaches, restos, and hella-sexy locals who will find your American accent endearing.

8. Chicago, IL
PRO: Deep-dish pizza! Cloud Gate! Da Bearss!
CON: You know how it's allegedly "always sunny in Philadelphia"? Well, it's a perpetual blizzard at O'Hare, so good luck.
ALT: NOLA. All the food fests and bacchanalian bests, minus that pesky little thing called "winter".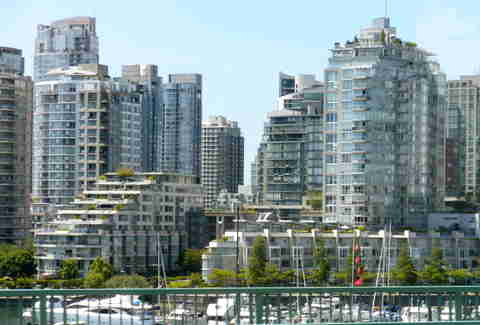 7. Vancouver, Canada
PRO: According to the locals, you can kayak and snowboard in the same day, since both outdoor activities are mere minutes from the city center.
CON: They spell it "city centre", no one actually does either of the aforementioned outdoor activities in the same day, and, well... it's Canada.
ALT: If you could fly directly to Whistler, we'd say Whistler. As it stands, you've actually got to fly into Vancouver to get to Whistler. Sorry.
6. Shanghai, China
PRO: Pirated DVDs and dumplings, both of which are awesome, cheap, and plentiful throughout the city.
CON: Smog, spitting, and squat toilets.
ALT: Hong Kong's the place to dine, drink, and never have to leave air-conditioned indoor beauty when moving between buildings.
5. Zurich, Switzerland
PRO: It's actually one of the most beautiful cities in the world.
CON: It'll cost you a month's paycheck to do or eat anything, stay the night, or purchase something that costs a paltry ten bucks in the States.
ALT: Bischofszell, or Beromunster. Both are way more fun to say, just as picturesque, and infinitely less expensive.
4. Riga, Latvia
PRO: Low-cost airlines make it easy for bachelor party groups to get here from the UK and Germany. Cheap beer and prostitutes abound!
CON: Low-cost airlines make it easy for bachelor party groups to get here from the UK and Germany. Drunk Brits and Germans abound.
ALT: Check out Jurmala, about 16mi west of Riga -- less Brits, less Germans, and a whole lot more beach. The place's name literally translates to "seaside".
3. Cape Town, South Africa
PRO: Where else can you find Victoria's Secret models, excellent wine, and shark diving, all in the same place?
CON: The flight is literally one of the longest in the entire world, and you'll probably be in coach. We know you.
ALT: Port Elizabeth -- beautiful, pristine beaches, a small-town vibe, and amazing game parks nearby so you can combine your sand and surf with a safari.
2. Trinidad, Cuba
PRO: Cigars and rum! Quaint automobiles from a bygone age! Old women smoking cigars and drinking rum in barely-functioning automobiles!
CON: You're probably here illegally, and there are far nicer parts of the country worth breaking the law for.
ALT: Check out Havana, the capital city, and hit up a resort town like Varadero. If you fly in from Mexico City or Toronto and ask the nice man not to stamp your passport, Uncle Sam'll be none the wiser.
1. Paris, France
PRO: Wine and cigarettes are considered "breakfast foods", along with pain au chocolat.
CON: It'd be cliche to say "the French" here, so instead we'll just say this: the French!
ALT: Cassis -- this quiet little fishing village features one of the greatest cliff jumping spots in the entire world. Pack a spare speedo, in case you soil yourself mid-jump.