The world's 7 best party countries (other than the US of A)
If your idea of an epic vacation involves all-night beach parties, heavy drinking, and the company of women you probably wouldn't bring home to meet Mom, then do NOT book the Hershey Park "Sweetest Place On Earth" Springtime Getaway package. Seriously, it's waaaay overrated. Instead, plan to burn some vacay days in one of the seven most free-wheeling, vice-celebrating countries in the world, all of which are as party-friendly as they are picturesque.
7. Uruguay
Hot spots: Montevideo, Punta del Este, Colonia del Sacramento
A well-kept secret, Uruguay isn't drawing partiers (and select international supermodels) with its major world attractions, 'cause there ain't many. Rather, it's the lure of sunset parties on Montevideo's pristine beaches, no minimum drinking age, and the fact that -- as of April 2014 -- it will be entirely legal to sell, cultivate, and distribute cannabis there.
Don't miss: The world's (alleged) longest carnival -- topping out at around 40 days of bead-swinging debauchery, Montevideo's fest kicks off in late January.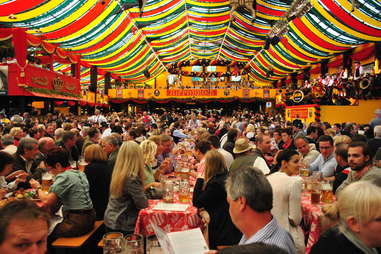 6. Germany
Hot spots: Berlin, Munich, Hamburg
Berlin's nightclubs aren't legally required to close on weekends, so they don't -- parties sometimes last for days. Erstwhile, Munich's synonymous with Oktoberfest and boasts enough beer halls and bars to keep you occupied. Drinking in public is totally cool (German teens can even drink at age 16), as long as you can keep a modicum of composure.
Don't miss: Berghain, Berlin's most famous club. Though it's often cited as the world's best, be forewarned: it's equally famous for its strict door policy. In Munich, P1 (lovingly known as the "Einser") has been the place to see and be seen since the early '80s, and is the perfect aprés-Oktoberfest spot.
5. The Netherlands
Hot spots: Amsterdam, Rotterdam, the Hague
No brainer, right? In Am'dam, you can party until 6am at the Rembrandtplein bars, then wet your whistle well into the next day at the city's after-hours clubs. And the country's policy of non-enforcement means you'll never miss out on the Dutch coffee shop scene. Finally, if you'd enjoy the simple pleasure of a woman's company but struggle to say, "Come here often?" in Dutch, the red-light district offers all the delights of the flesh.
Don't miss: King's Day (formerly known as Queen's Day) on April 30th, when orange-clad locals turn the town -- streets, canals, all of it -- into an open-air madhouse of revelry.
4. Portugal
Hot spots: Lisbon, Porto, Lagos
The Portuguese love their wines -- especially their ports and green-tinted vinho verde, and bottles won't set you back much. Lagos, in the Algarve on the Southern coast, specializes in party hostels, booze cruises, and all-night pub-crawls (where a beer bong will cost you a mere $3), not to mention beachfront parties. While you shouldn't have much trouble indulging your other vices (with a measure of discretion), you can also quietly hop across the border to Spain, where growing cannabis plants for personal use is permitted and grow-shops have turned a pretty profit by bending the rules.
Don't miss: The experience of staying in a hostel (hopefully not like this). If you really want to keep the party going all night long, a hostel with likeminded folks is the place to be. In the Algarve, that would be The Rising Cock in Lagos, famous for its hard-charging guest, wild booze cruises, and beach parties.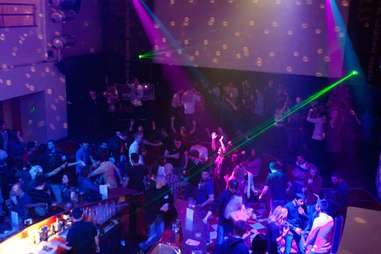 3. The Czech Republic
Hot spots: Prague, Moravia, Brno
While Prague's known for its top-quality lagers at bottom-of-the-barrel prices (think under $3) -- not to mention clubs that rock 'til dawn -- breweries in the Czech countryside often host epic beer fests. Or, if your idea of a good time's of a more psychedelic bent, the possession of small amounts of mind-altering substances is punishable only by a small fine, more or less the amount of a parking ticket.
Don't miss: Ordering an absinthe at the flaming sugar show. It might call you out as a tourist, but hey, when in Prague... A must-hit for beer enthusiasts is the Augustine Hotel, a five-star complex that includes a 13th-century monastery and brewery where you can sip local suds while indulging in a beer exfoliation. You know, if you're into that kind of thing...

2. Peru
Hot spots: Lima, Cusco, Huacachina
Many of Lima's nightclubs boast beachfront terraces where parties rage until the wee hours of the morning, while the country's smaller villages throw vibrant Andean festivals highlighted by costumed processions and plenty of pisco sours. In addition to the heady brew of cheap liquor and plentiful coca leaves, Peruvian law allows for the possession a small amount of certain, ahem, recreational substances, though you still don't want to get caught lighting up in public. That discretion'll also serve well if you plan on visiting one of the nation's many licensed brothels.
Don't miss: Rebel Rave at Asia beach, a huge concert with an international lineup. Peruvians are mad into electro and Rebel hosts the rave-iest of raves, so pack your glow sticks.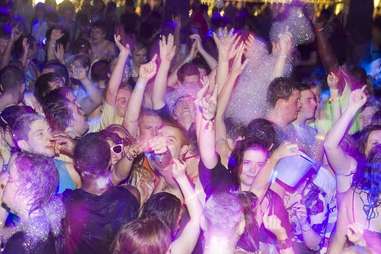 1. Thailand
Hot spots: Bangkok, Chiang Mai, Phuket
Thailand's a funny one: prostitution is illegal and drug users are punished with hard labor (or even execution), and yet there're few places on Earth more synonymous with total reckless abandon. Why the paradox? Probably because law enforcement looks the other way when it comes to wealthy tourists. The liquor's plentiful and cheap (try the Mae Khong "whisky" to get loose on a budget), there's a booming sex trade, and rumor has it there're still bars serving booze with a side of amphetamine.
Don't miss: Tiger Disco in Phuket. If you can't plan your Thai adventure around the all-night Full Moon Party on Ko Phangan's Had Rin beach, don't worry, they keep the party going at massive uber-clubs like Tiger. And those "ping-pong" shows promoted on the street? Let's just say you probably won't need a paddle.