Faraway flings: 10 spots to sneak off with your mistress
Everybody knows where to go on vacation if you're single and looking to meet -- any place that's NOT Indonesia where the alcohol flows and your accent's considered exotic. But where do you take your mistress on vacation, other than LaQuinta and the Applebees in the next town over? That's the bigger question. Thankfully, "OKCupid for philanderers" AshleyMadison.com's polled almost 50,000 cheaters and has the answer.
10. Mexico
Whether it's the sun, sand, or shots at Señor Frog's, Mexico's close proximity, easy flights, and myriad destination options make this Spring Break mainstay a favorite for getaways where getting off is the goal.
Infidelity factoid: Having admitted to cheating on his wife, Mexico's President, Enrique Peña Nieto, became the unwitting poster boy for infidelity. Literally -- AshleyMadison.com used his image on a local billboard.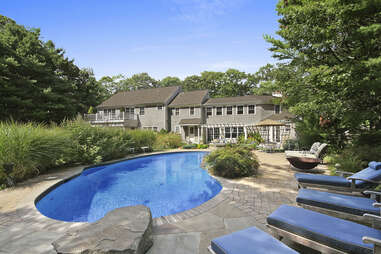 9. The Hamptons, NY
Assuming you don't resemble a cast member from Revenge (and maybe even if you do), you can stay relatively anonymous in this scene-y section of Long Island luxe. It's not as if there aren't a thousand other people also having affairs here.
Infidelity factoid: Adultery's actually illegal in otherwise liberal New York! Though rarely enforced, Section 255.17 of the State Penal Law lists adultery as a Class B Misdemeanor. If convicted, you can do up to three months in jail.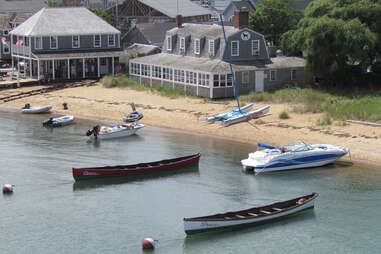 8. Martha's Vineyard, MA
This isolated island retreat for the East Coast elite is plush with privacy and peppered with quaint weekend rentals. Want to really go off the grid? Hit neighboring Nantucket instead.
Infidelity factoid: Perhaps the most famous never-to-be-confirmed affair on Martha's Vineyard occurred in 1969, when married Senator Ted Kennedy drove his car off a bridge at Chappaquiddick en route home from a party, killing his female passenger, while his wife was bedridden and pregnant.
7. Napa Valley, CA
Despite the fact that Sideways kind of put this one the map for cheaters, there's no better spot for a furtive romantic retreat than California wine country. Just remember, go easy on the Merlot.
Infidelity factoid: Over four million tourists come to this wine region every year, so you might just run into your soon-to-be ex and her fling. Awkward...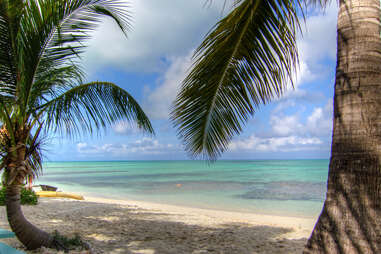 6. Turks & Caicos
Anyone who's ever been to these Caribbean islands knows their allure; white sand, crystal-clear waters, and bikini shoots with models (Ok, not all the time). With a population of only 46,000, they're the perfect place hide out, relax, and take part in sexy-time with your secret lady friend.
Infidelity factoid: Eva Longoria and her then-husband Tony Parker had their honeymoon here in 2007. In 2010 she divorced his cheating ass after finding hundreds of text messages from another woman on his phone. Cheater 101: Cover your tracks! Disposable phones aren't just for drug dealers anymore.
5. Los Angeles, CA
It's only a city of four million people -- your odds of blending in with the crowd are pretty good. Add to that the beach, the weather, and the food; it makes sense.
Infidelity factoid: In 1969, California was the first US state to allow for no-fault divorces between couples, following a precedent first set in Bolshevik Russia in 1918. Think the Bolshies were ahead of their time? The ancient Egyptians had pre-nups and pyramids!
4. New York, NY
With its bars, restaurants, and bumping nightlife that doesn't stop, even at 3a on a Tuesday, New York City's the perfect place to blend in and get sideways with your side piece. Plus, everybody goes on business trips to NY -- a great cover for multitasking skirt-chasing.
Infidelity factoid: You can see a Broadway show while you're in town that'll be a bit of art-imitating-life -- Betrayal tells the story of a dude whose wife is having an affair with his best friend. Too close to home?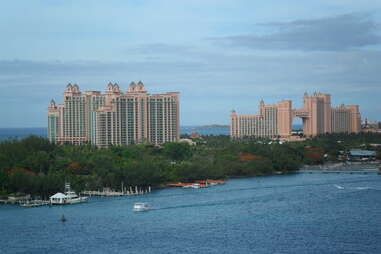 3. Paradise Island, The Bahamas
Once known as Hog Island, PI's got a bit more "resort town" feel than neighboring Turks & Caicos, so go ahead and rock that Hawaiian shirt along with your mistress. Hey-oh!
Infidelity factoid: Cheating on more than just your spouse? The Bahamas serves as a tax haven if you'd also like to cheat on your taxes, and the banking industry is second only to tourism.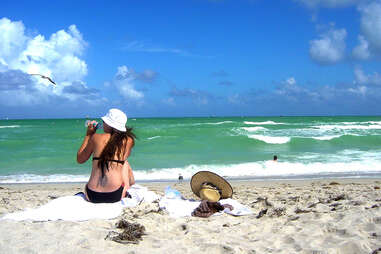 2. Miami, FL
For womanizers who want a city vibe to complement their midnight skinny dips, Miami's rocking a serious party scene and plenty of cheap flights.
Infidelity factoid: While it's actually Panama City that takes top billing as America's Divorce Capital (with over 15 percent of it's population split), Miami wasn't that far behind, finishing a strong #26. But you won't get found out, will you?
1. Las Vegas, NV
Oh, denizens of AshleyMadison.com, why so cliché? The crown jewel for those traveling with the specific goal of scoring some action on the side, we all know (ho-hum): "What happens in Vegas stays in Vegas"... apart, of course, from the STDs.
Infidelity factoid: Got the itch to cheat but haven't found a suitable mistress during your online troll sessions? No probs! Prostitution's been allowed in the great state of Nevada since the middle of the 19th century.