The best topless European sledding competition you'll see all week
Because the only thing standing between the sport of luge and unparalleled mass appeal is a thin layer of aerodynamic fabric, the fifth-annual Naked Sledding World Championships took place over the weekend in Altenberg, Germany. And while we don't yet have footage from Saturday's event, we do have hot pics from last year to indulge your curiosity.

Welcome to gorgeous Altenberg in the Ore Mountains: home of The Naked Sledding World Championship, five years running. And our new favorite place in the world...
The 30 topless Olympians… errrr… contestants hail from 15 countries across Europe including Germany, Austria, Norway, and this year for the first time, Great Britain. And, as this shot illustrates, the selection criteria is strict -- female sledders boast tight bodies and supermodel looks while their male contestants, clearly, do NOT. Seriously, I think we know who organized this thing, and it's probably the overweight dude on the right rocking the Hitler 'stache.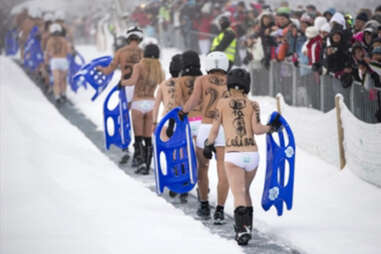 With 14,000 gawking fans cheering them on, even the march to the starting house is like a sexy Victoria's Secret parade.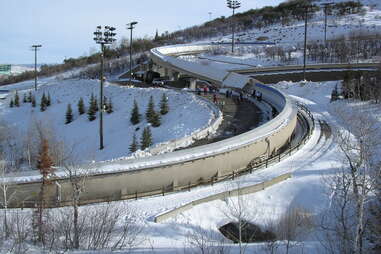 At 1,316ft in length, the track rocks 17 turns, a 106ft vertical drop, and can propel naked sliders to speeds of 80mph. JK! That'd be insane -- can you imagine the carpet burn (bad pun intended) if you crashed? This is actually the luge track from the Salt Lake Olympics, although -- no joke -- the town of Altenburg does have a real bobsled track.
Now that's more like it: a friendly 295ft hill covered in soft powdery snow and festive, half-naked Europeans vying for the €1,000 prize awarded to each (one male/ one female) winner. Although that's a lot of good-natured laughing going on with $2,700 on the line.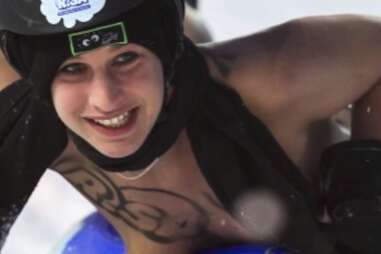 Really, it's not like the contestants are that cold. She is wearing a scarf, right?
As any good sledder will tell you, it's not the race so much as the waiting.
Assuming the contestants are adequately able to warm up their private bits, what better way to celebrate surviving topless tobogganing in the freezing cold than a giant party with bands, laser lights, and kinda-creepy fans who are going to think about you later in that way?
Sure, pictures are fine, but it's 2014, right? If you want to see real-life race action (and real-life naked people without those annoying black censor bars plastered across their ample bosoms) from last year's event, check out this recent recruitment video. Or, perhaps, this news report.
Chloe Pantazi is an editorial assistant on Thrillist's travel team. Regrettably, she wasn't able to represent Great Britain at The Naked Sledding Championship over the weekend, as she was binge-watching House of Cards under a blanket. Follow her on Twitter at @ChloePantazi.