South America's Center of Adventure Just Got More Accessible -- And Luxurious
Note: We know COVID-19 is impacting travel plans right now. For a little inspiration, we'll continue to share stories from our favorite places around the world so you can keep daydreaming about your next adventure.
The Patagonias of Southern Chile are among the most stark and stunning mountain ranges on the planet, and regular fixtures of the dreams of adventure-seekers. Serrated shards of granite puncture the clouds, towering thousands of feet above hanging glaciers and glimmering pools with emerald sheen. Torres del Paine National Park forms the panoramic heart of this remote landscape, which has long been topped many travelers' list of must-see places, but seemingly inaccessible to all but the most hardened outdoor enthusiast.
Now, in the age of Instagram, it has evolved beyond the exclusive purview of experienced backpackers into one of the continent's most visited attractions. It remains a place of serene beauty and solidarity, but now the barriers to entry have been slightly broken down, allowing more people to experience it firsthand.
To accommodate the influx of visitors, the Chilean government officially opened a 1,700-mile trail through this swath of terrain in 2019. It is one of the longest hiking paths in the world, but you no longer need to be a rugged naturalist in order to appreciate the beauty of this place. Upmarket amenities have flourished in recent years--including stylish transport to and from the servicing airports. And some properties have fully leaned into conscientious practices to reduce their impact on the pristine landscape. Here's how high-end travelers can experience southern Chile, minimizing risk and impact while maximizing their scenic enjoyment.
Getting to Torres Del Paine has never been easier
Not long ago, arriving at Torres Del Paine was an exercise in sheer determination. After a 3.5 hour flight from Santiago to Punta Arenas -- one of the world's southernmost cities -- you'll need to brave another four hours by road, much of it unpaved. Getting there can be an adventure in and of itself, and often a very uncertain one. Luckily, with the emergence of actual accommodations beyond the tent in your backpack, many of the higher-end lodges in the park now provide transportation to and from the airport.
Patagonia Camp is one of the emergent high-end accommodations you'll find near the park, serving as an amenities-packed base-camp for adventurers. The camp offers a cluster of luxury yurts -- equipped with plumbing, electricity, and, in some cases, hot tubs -- on Toro Lake, near the southern entrance to the park. But the locals suggest taking your time getting here.
"When people visit Torres del Paine, we recommend to stay at least one day in Puerto Natales," says Isabel Meneses Rencorect, tour and travel manager for Patagonia Camp. "It is a picturesque small city full of secret treasures [halfway between Punta Arenas and the park]. Walk along the promenade and visit the fisherman's pier, have a coffee in one of the cozy and stylish cafés located at the waterfront of the fiord, learn to knit your own scarf with Patagonian wools, and try the local craft beers. It's nice to know a bit more about the local culture and understand the context."
Patagonia offers a taste of sustainability and a little luxury
Throughout the park, elegance and eco-friendliness are becoming increasingly synonymous, with resorts and properties offering up an alternative to the tried-and-true -- and highly sustainable in its own right -- outdoor camping, which requires permits with a long waitlist.
"I have been to Patagonia many times, having taken my first trip in 1990. It has always been a wonderful national park, but the accommodations have become world-class," observes Marcelo Papa, a winemaker for Marques de Casa Conch in Santiago, Chile.
At the eastern entrance is Tierra, a four-star resort that seems to melt into the surrounding pampas. The impressive timber-lined structure was designed by Chilean architect Cazú Zegers to minimize environmental impact by maximizing thermal efficiency. LED lighting and the integration of a kitchen-garden are some of the ways in which its carbon footprint is diminished. They've also partnered with the Reforestemos Patagonia in a commitment to reforest Patagonia's national parks with more than 1 million trees.
On the shores of Lake Pehoé -- under the shadows of the iconic, horn-shaped Cuernos del Paine -- Explora offers breathtaking views without even having to leave your suite. The property is also committed to low energy consumption and reusable resources. Plastic is all but banned on-site, and guides follow a 'leave no trace' ethos in the backcountry. Features such as low-consumption lighting, glass bottles, and metallic canteens add to the ambience, rather than detracting from it.
At the all-inclusive Awasi Patagonia, each suite comes with its own dedicated guide and vehicle. The five-star Relais & Chateaux property attracts more than just well-heeled travelers: it frequently hosts teams of biologists studying endangered fauna of the region. A series of sleek wooden boxes, the rooms are stilted above ground to protect plantlife. The kitchen is stocked primarily with greens from a local organic farmer.
Properties like these are helping to redefine the very notion of what a base camp can be, but don't worry: Once you're inside the park, modern niceties quickly disappear, giving way to an untamed and stunning wilderness unchanged for millennia.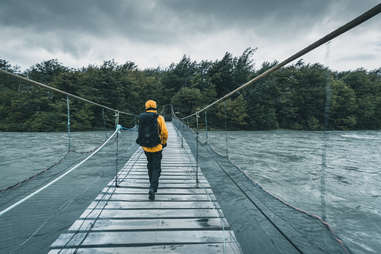 Be prepared for Torres Del Paine's unpredictability
Once you get to Torres Del Paine and away from your creature comforts, expect the unexpected when it comes to weather. This part of the world boasts some of the most extreme and unpredictable turns you can imagine. Many come here to hike the legendary 50-mile 'W Trail' that traces its namesake letter around the park's most prominent features. But many are turned away by unexpected storms and fierce 100-mph winds.
"The entire park is a visually stunning and enchanting, though it can be grueling on the body to get from camp to camp if you're not prepared," warns Matthew O'Brien, an avid hiker and co-founder of Träkál, a Chilean liquor brand dubbed the "spirit of Patagonia." "It's even more grueling if you run into cold-wet-snowy weather, as we did. It can flip from sunshine to flurries and back, seemingly in an instant."
When backcountry trekking becomes treacherous, it's critical to have experienced guides leading the way. Most upmarket lodges staff accomplished professionals to pilot excursions into the awe-inspiring terrain. But no matter how talented, they can't control the weather.
"Definitely pack layers, waterproof gloves, pants, and jacket," advises Laura Grier, a professional photographer who spent a week shooting throughout the region. "Bring your own external battery charger or solar-powered charger for your headlamp or cell phone, so you can have music or snap photos."
Grier also cautions not to underestimate the park's vastness. Navigating from one trailhead to the next can involve half a day of driving. "Definitely research the hikes and activities to do there ahead of time," she adds. "Build a few extra days into your trip to allow for the unpredictable weather -- especially if you have your heart set on a specific hike. Sometimes you may have to push your plans a day."
Patagonia Camp was her preferred homebase because of its location at the edge of the park. It affords easy access for day-hiking the most notable points along the W. "But you can still come back to your yurt and hot tub and have amazing dinners and wine pairings waiting for you," she says. "Not to mention a hot shower."
As far as when to plan your trip, the Southern Hemisphere's high season runs from the beginning of November to the end of March. Many of the upscale accommodations listed above will run you more than $2,000 per night during this time of year. Consider the shoulder months of September and April for reduced rates and less traffic on the trail. "I recommend avoiding June, July, and August," says Papa of a time when wind and snow can be particularly punishing.
Though no matter when you arrive, you're likely to observe all four seasons in a single day. Adventurers ought to take heed. For photographers, however, it's something worth cherishing.
"The most beautiful thing I saw in Patagonia were the Towers [Torres del Paine]," recalls Grier of the three massive granite formations soaring 8,000 feet toward the heavens. "After hiking for hours through forests and up rocky cliffs you're rewarded with this otherworldly spectacle. The light is always changing up there. So you'll never be able to capture the same image more than once."
Even more unique, of course, are the memories formed along the way; cherished experiences that are, at long last, safely within reach.
Brad Japhe is a contributor for Thrillist.